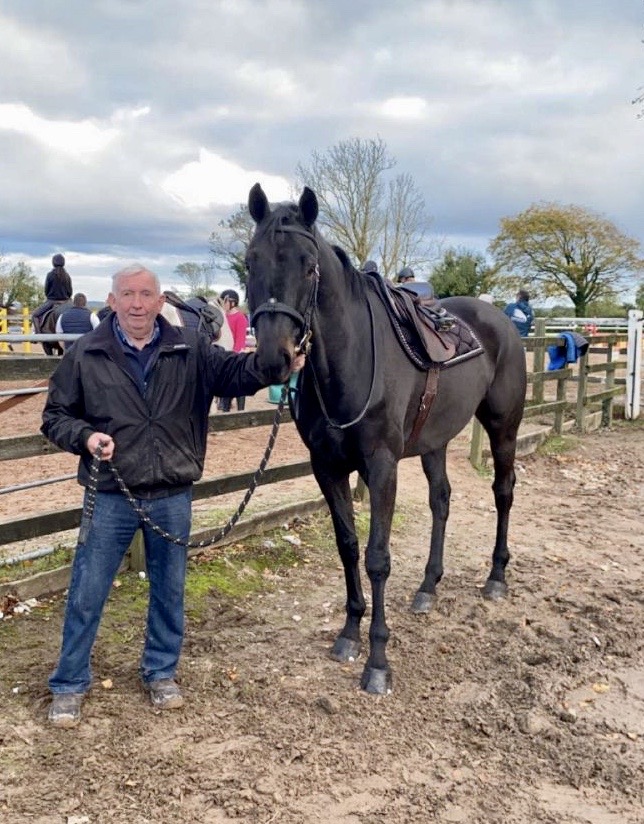 <<<<<<<<<<<
New Hair Stylist on Church Street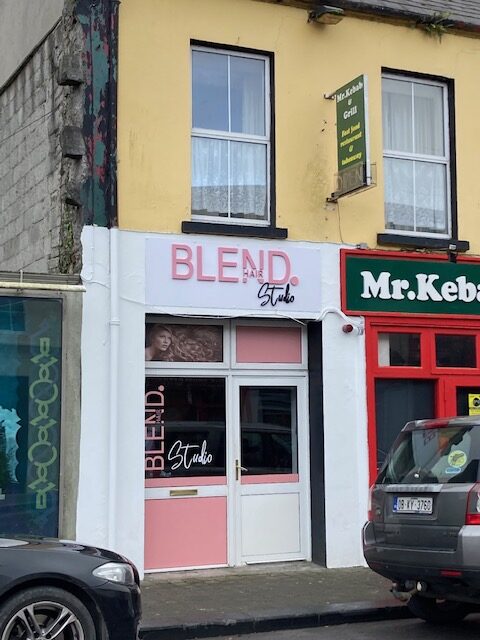 <<<<<<<<<<<
Listowel Pitch and Putt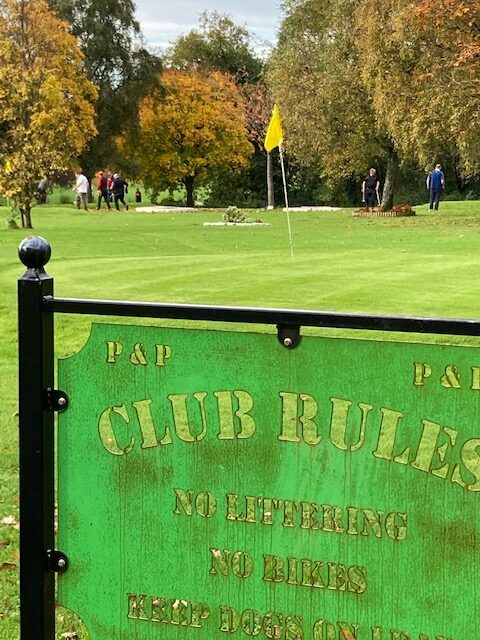 I happened to walk by the clubhouse on Sunday last and I enquired what sort of competition was in progress. It was a three club invitational. The day was sunny and warm and the course was in tip top condition as usual.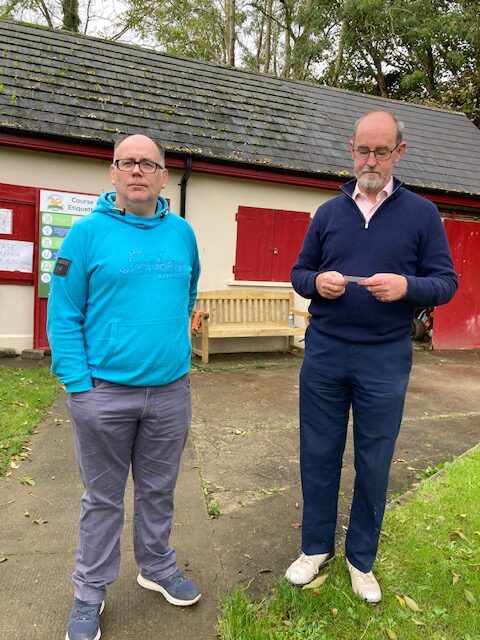 These friendly gentlemen were minding the house. I asked them is they had a photo of the founding fathers. The club is 50 this year and I have so much respect for those early pioneers who gave us this beautiful amenity, that I'd love to post a picture of them.
They told me that a photo collage is in the making to mark the 50th. All the photographs are with Billy Moloney who is looking after this project. I look forward to seeing the finished picture.
I subsequently met Billy and he says that there is non picture among the ones he has of the men who set up the club. So if you have such a picture, will you give it into the clubhouse or to Billy, These men deserve recognition in this the 50th anniversary year.
Billy told me that the delay with the collage is the difficulty in getting a frame big enough, but he's on it.
Watch this space!
<<<<<<<<<<<<<
St. Michael's Class of 1972 Reunion
When these men got together to reminisce, much of the talk centred around football, a big part of their St. Mick's days. (Essay on the way from David Kissane)
Christy Walsh and Jason Foley got together to crown their night with a visit from Sam Maguire.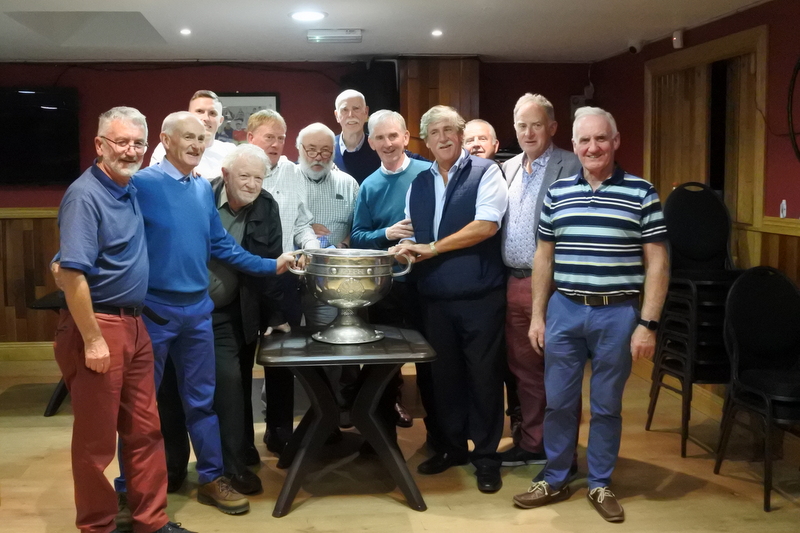 Jim Fitzmaurice sent us Gerard Hussey's great essay capturing life in St. Michael's in the early days of "free education".
"Donagh O'Malley's Boys" by Gerard Hussey
They came in those first yellow school buses in 1967 from Listowel's hinterland, from Dromerin, Clounmacon, Lisselton , Bunagara and Bunglaise in Duagh, and mixed with the Borough Boys of the Town.
Donagh O'Malley's inspired free education policy spawned a rake of the newly educated that met again on Sat. Sept 17th after fifty years (fifty five if you count the lost years!). Those fellas from the country taught us townies a thing or three.
Their compositions stood out, descriptions of the bog went deeper than a sleán. They knew a thing or two about sciortáns and ciaráns – "lá breá brothallach" how are you?
And they could field a ball for you – Paddy Quilter and Tim Kennelly, the Horse with his trademark drive out from the square and a drop-kick from the lawn end that went into Captain Shanahan's yard. That's two hundred yards, by the way, and speaking of which – wasn't Eamonn Carroll (RIP) the champion sprinter in our day. I once teamed up with him and Conor Heaphy in a relay ….. a few Pilates are all I can manage now! I still pine for a two-hundred yarder with a Callaway driver!
I remember Old John 'volunteering' me one Friday for a week-end cross-country event and coming along to Neilius Brosnan only to be told… "No thanks, Sir". Courage a plenty, Neilius – fair dues. Sure it was no pleasure to be lapped by Gerry Kiernan or Dave Kissane and John Hartnett .
Despite the regime, we learned a lot to prepare us for life during our five years. Sure, didn't Rocky's "Sets" stand to us …… back in the Gaeltacht and Ballai Luimnigh! And Greek and Roman history ….useful when perusing Budget Travel brochures! And, Miss Murphy telling us that a triangle was the finest form in the natural world, and I, innocently thinking it was 36-26-36 !
Funny incidents, mixed with humiliations , were the order of the day for many of us. One day Danny Kelliher, a Butcher's Lad was driving sheep down Cahirdown ….. and they darted into St. Michael's. Mad for classical learning – no doubt. "Ye can't goin thare", roared Danny, so we helped unround the sheep – which gave us fifteen minutes of distraction from the regime.
We all recall the unhelpful refrain…. " and what colour chalk shall we use?" when someone lost their way trying to solve a difficult Maths problem. Humiliation was too quick to follow any mistake.
The heart of the matter was captured by Tim Danaher, who once offered up "Hard Times" to Fr. Danny when he inquired what we were reading outside of school books. I think our knowing laughter was not lost on him either! Hard times indeed, but it formed us into a bunch of fellas that would stick together and you'd be happy to meet again.
We were imbued with a sense of justice and fair play from our experiences. Neilius reminded us of a week's strike that we took once to make our point about a grave injustice to one of our own – a good sign of fellowship.
Donagh's Boys went on to make a worthy contribution to Irish life, in Education, Construction, Business, Agriculture and Miscellaneous Professions. It is worth noting that our year of 72 produced 10 teachers. The basic education was no burden – I gained my own further education during 3rd Arts in UCG, when I shared room with Padraic Breathnach!
It's the fine fellas that you meet along the way that lighten the world's load – I can count those I met at Christy's on our 50th Re-Union as fine a cross-section as you'd like to meet ….. a fine "Set" indeed. Thanks Rocky!
Footnote : A few little anecdotes of our times at St. Michael's
WE learned hand-stands at P.E. ……. we held each other up …….. time to do it again surely, Lads!
My first concussion ….. it wasn't the Horse giving me a mighty shoulder ….. t'was the bringing down the full weight of a hard-back anthology on my noggin….."Alliteration, young Hussey is things sounding alike", oblivious to the effects of the bounce of the book on my head!
Junior was putting up a rough chalk map of Ireland and throwing in mountains that were fish bones, for some odd reason. "The Comeraghs", I offered as he pointed towards Tipperary. "You're too small Hussey to be moving mountains!" says he. The Galtees me boy.
Fr. Danny coming around once a month to collect for his propagation of the faith and checking for long hair and the trade-mark yellow-stained cigarette fingers – Frank got caught on both counts. Down to Quigleys for the hair, with Danny paying the bill, while Frank rubbed his fingers at the front school pillars to remove the yellow stains. Maggie Stack had his measure though by putting the haircut money in his pocket and never returning. I hear he still has a fine head of hair!
Free spirits, we had a few, and our reunion noted the missing souls: John Scully, Tim Kennelly, Vincent Donegan, Eamonn Carroll, Tim Danaher. Rest easy boys!
Our final leavetaking had Fr. Danny giving us the profound declaration "Ye're going out into the world as rare birds with ye're classical training" ….. while Brendan Keane whispered "extinct birds more likely". Wit, the great leveller !
" All life was there", John B said of McKenna's corner …… well, so too it was at Christy's – a well-rounded crew and not a chip in sight,…. except those paired with the goujons!
<<<<<<<<<<<
Some Halloween Windows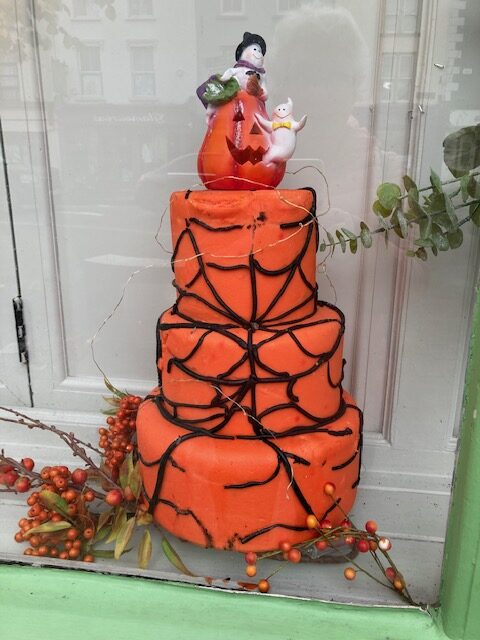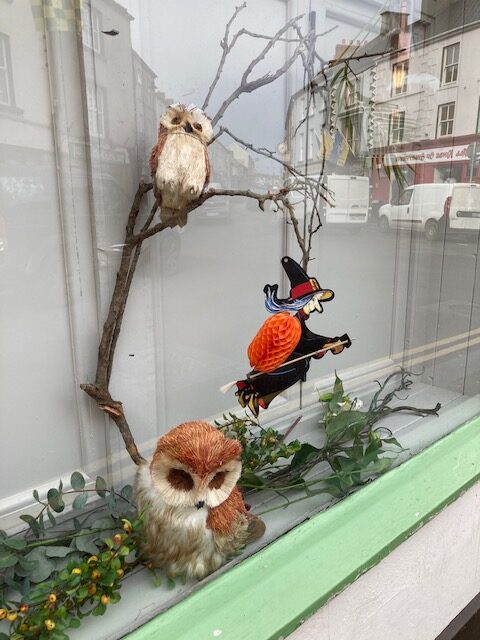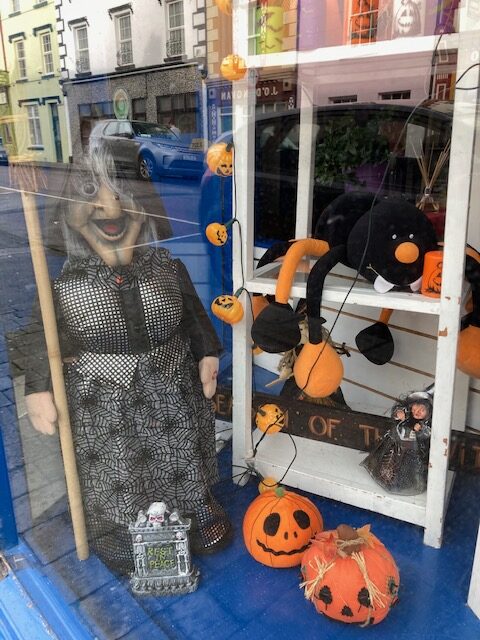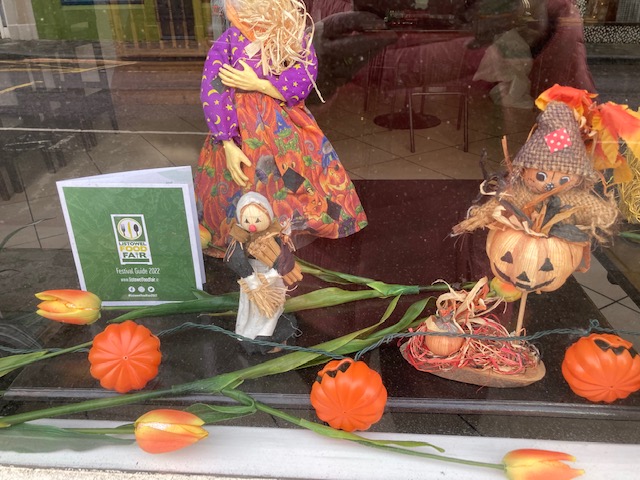 <<<<<<<<<<
Listowel Food Fair
Here's the link;