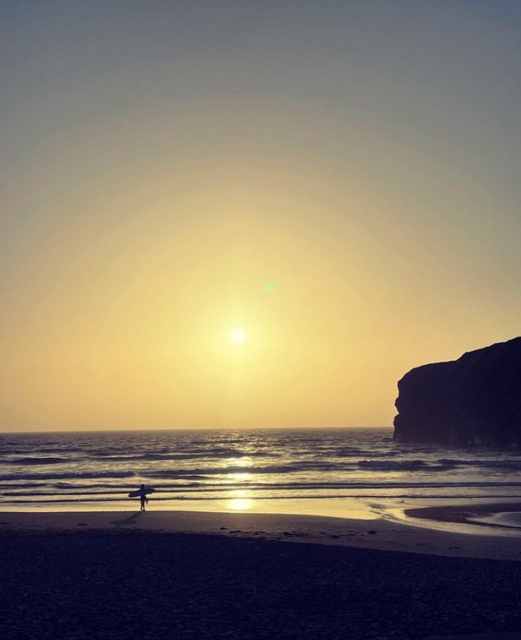 Late Evening Surfer…Photo: Alice Moylan
<<<<<<
Great Bealtaine Idea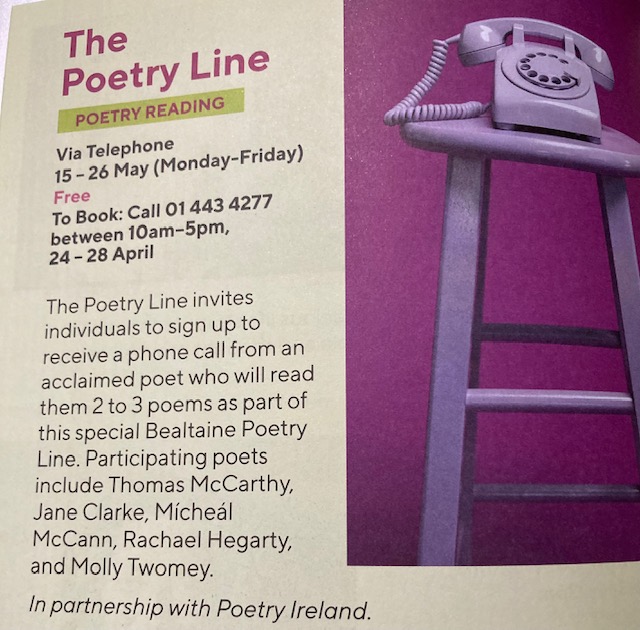 Molly Twomey is one of the poet's. Here is a poem of hers
recently published in the newspaper.
Have you ever lied to me? I ask. You reply,
that on our fifth date, you said a rock hit the wheel,
but it was a chaffinch. You didn't turn and hand me
that small flame of news but drove into the mango
and gunpowder sunset. Afraid I'd make you pull up
to check that there were no quavers stuck in its throat.
That if its pulse didn't react to my fingers
tap-dancing on its keel bone, I'd want to bury it
under heather and moss. You thought I'd make you pray
every time we drove from Lismore to Ballynoe, that our date
would become not the boardwalk, chips and the anemones
but broken wings and blood wet feathers. I think of your ex
in North Carolina. How she might have perched and looked out
to razed earth, waiting for you with your newly shaved beard,
hand luggage of notebooks and craft beer. Only for the fast
and brutal machine of my heart to catch you off guard.
Molly Twomey has won the Padraic Colum Poetry Prize, the Waterford Poetry Prize, and has been awarded the Eavan Boland Mentorship Award and an Arts Council Literature Bursary. She is currently working on her debut collection.
<<<<<<<<<
Serendipity
Serendipity is all about making happy discoveries by chance.
Recently I got a demand for more money from Google as I had used up 70% of my storage. You will appreciate that the blog with all its pictures uses up a lot of storage space. I decided to clear out some of the old stuff to free up some space. I started with gmail.
Did you know that gmail has lots of strange folders called names like Promotions and Social? They slot emails into these folders without your spotting.
Long story short, in the folder called Social I found all of the late Fr. Pat Moore's emails from Caring Bridge which was where he had a blog before he had his own website.
Here is his upbeat post from May 2016 with his individual take on life, complete with his unique appreciation of his home, his friends, and country folk in general.
R.I.P. Fr. Pat.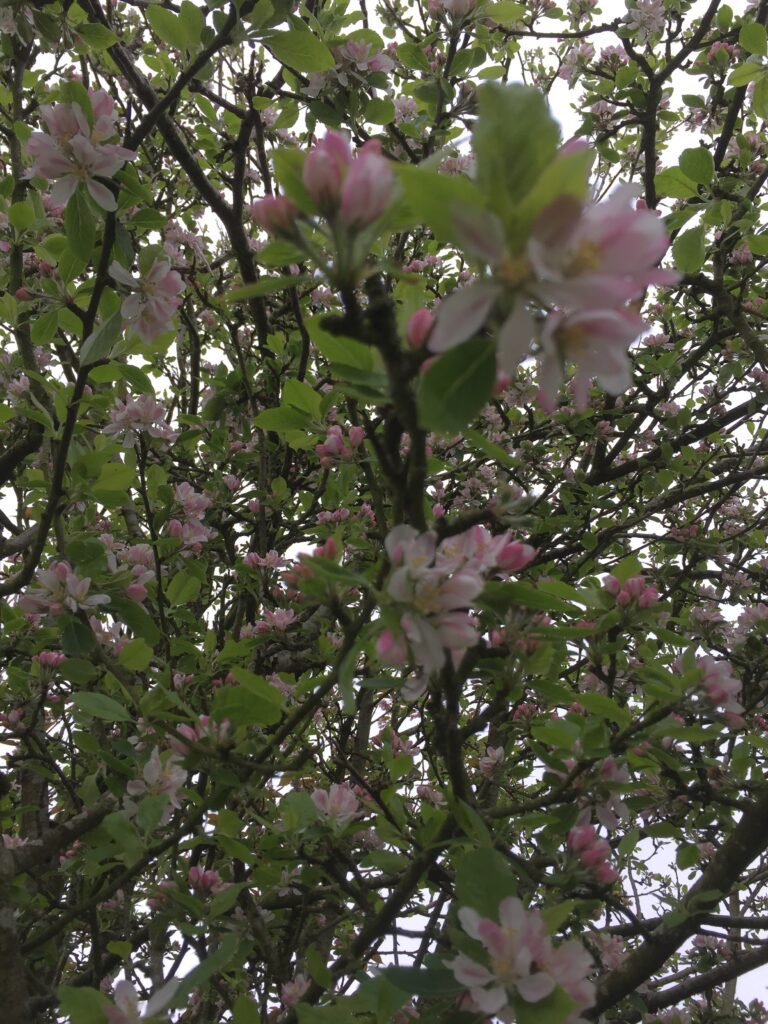 The bees are busy in the apple blossoms at the side of the house. I prefer apple blossoms to cherry blossoms for they seem to share more with the green leaves. And they seem to last much longer perhaps because they are more native than the Japanese cherry blossom.
Tom Costello lives on the banks of the river Feale. Someone called to him lately collecting for a new swimming pool they are building down in Limerick and asked for a contribution. He was delighted to support the project. He gave them a bucket of water from the river!
Sonny Egan told me of a local happening. A builder he knows was asked to build a two storey house for a rather mean tight man. Would he get enough money to complete the job he thought? 'Do you know what we will do,' he suggested. 'We will build one storey and the second storey might be another story.'
Last night we remembered the wit of the late Jackie Healy as we recalled a different world. Jackie made a career out of being perceived to be lazy. At his 80th birthday party at The Jessie James Pub he was asked if he had any regrets. 'I think I worked one day in my life,' he said. ' Have you a garden this year,' he was asked. 'The only earth turned on my behalf will be the day I'm buried in the grave!' Other sayings are either too local or wicked!
It's First Communion season. My god-child, Caoimhe, made her Communion on Saturday and she came to see me on Sunday with her lovely family. My cousin Debbie is with me again.
The young swallows are learning to fly.
And all is well with the world this May evening.
May 16 2016
<<<<<<<<<<<<
Listowel Success at The Kingdom County Fair
Photo and text from The Irish Examiner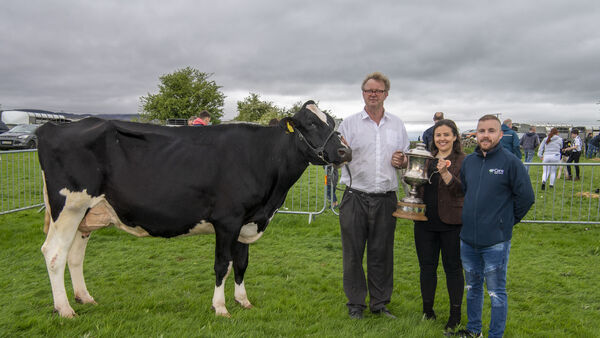 Many competing on the weekend said that the Kingdom County Fair was a great start to the season for them.
Michael Laffan from Kilfinny, Adare, Co Limerick, certainly agreed, as in the dairy classes on Sunday, he took home the Senior Champion and Supreme Female Champion titles for 2023 for Everground Hagley Gail 51.
"It's great to be back," Mr Laffan said, and the animals may have known they were gearing up for something too because in advance, "you're washing them, and they would have got a little extra feed, just getting ready for today".
"For a cow like this, you start with a nice udder that looks like it's high and wide; good teat placement, from a milking point of view that they're in the right place; and then we like a high-yielding cow so a cow with the capacity to yield," he added.
As Mr Laffan was competing, he said he took notice of a lot of young people in attendance at the show – which instills great confidence in him about the future of these competitions, and brought back some memories for him.
"We started showing when our children were small and even though they've grown up, myself and my wife Margaret kept showing away," he explained.
"We enjoy it, it's nice to do of a Sunday, and it's nice to take out the cows now and again," according to Mr Laffan, who said his children continue to help out on the dairy farm and to prepare the cattle for competitions.
In the dairy section on Sunday at the Kingdom County Fair, the Junior Champion, Reserve Junior Champion, and Reserve Senior Champion titles went to Daniel and Emer Curtin from Listowel, Co Kerry.
Meanwhile, in the Young Handlers U-12 dairy class, Stephen Harty came first, Clodagh Kennelly in second, and Nora O'Carroll in third.
Jennifer Harty placed first in the Young Handlers 13-16 class, with Sarah O'Connell and Jacqui O'Connell in second and third.
<<<<<<<<<<
An Artefact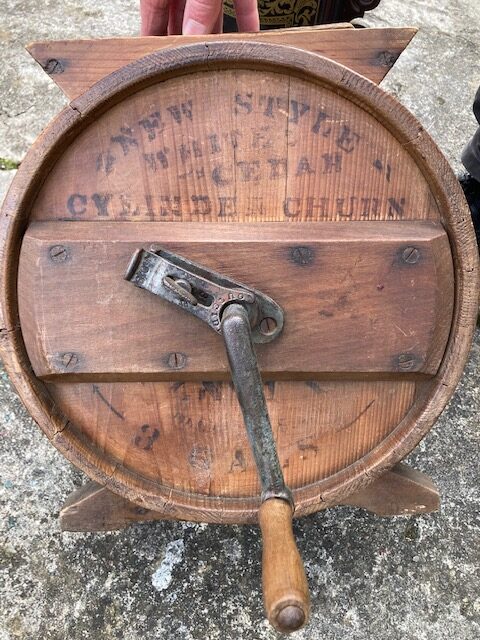 A butter churn…when our forefathers made butter this is what they used. It was a job that required careful attention to timing.
<<<<<<<<
A Fact
The Ancient Romans used to drop a piece of toast into their wine for good health. That is where we got the phrase to raise a toast.
<<<<<<<<