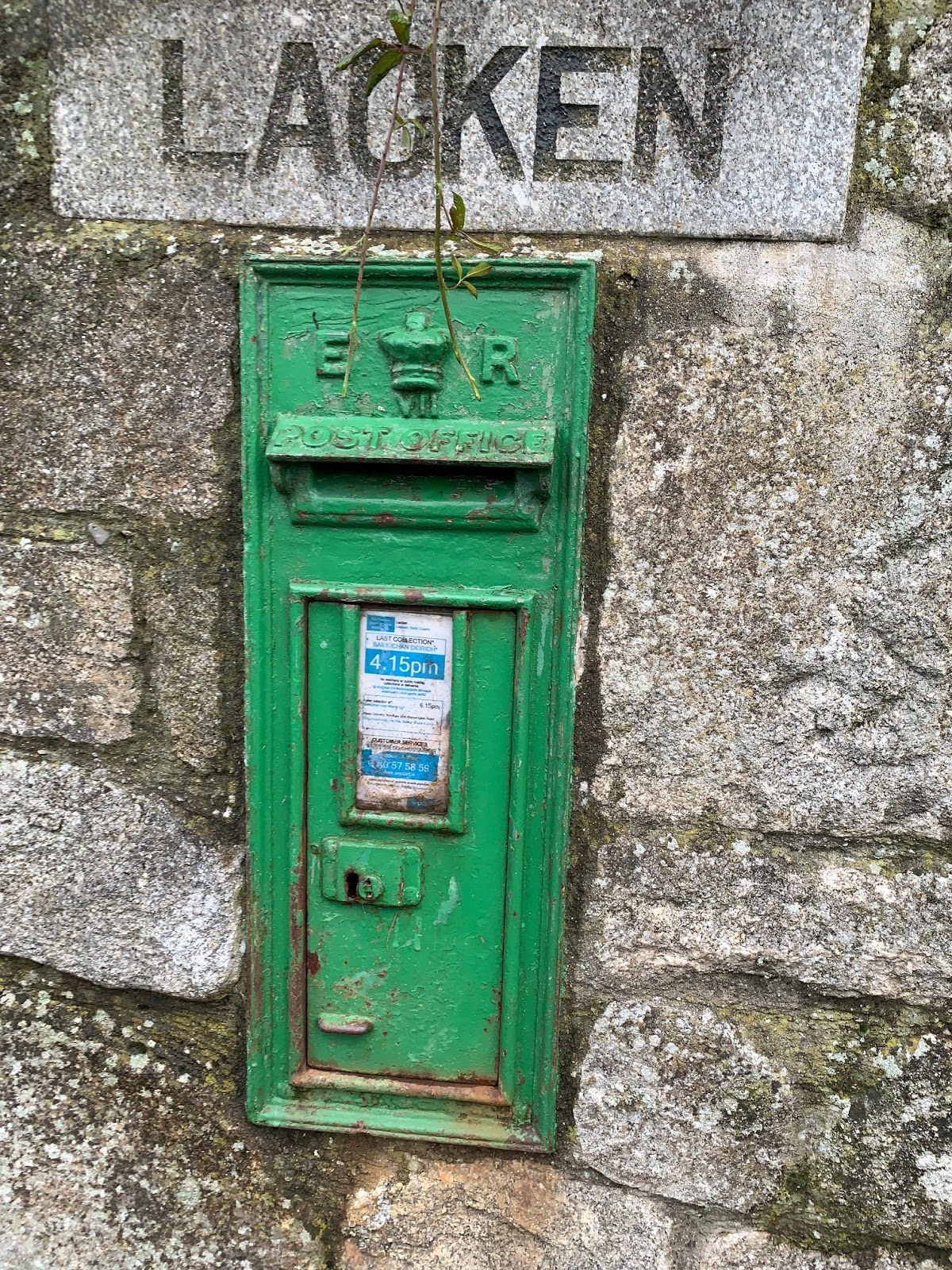 Knowing my fascination with post boxes Mattie Lennon sent us a photo of this one in Lacken.
Sometimes its nice to look back on the days when we were all the one and those times when a lick of green paint could make it all alright.
<<<<<<
Gleeson's
Eileen Sheridan's photo brought back many happy memories for blog fiollowers.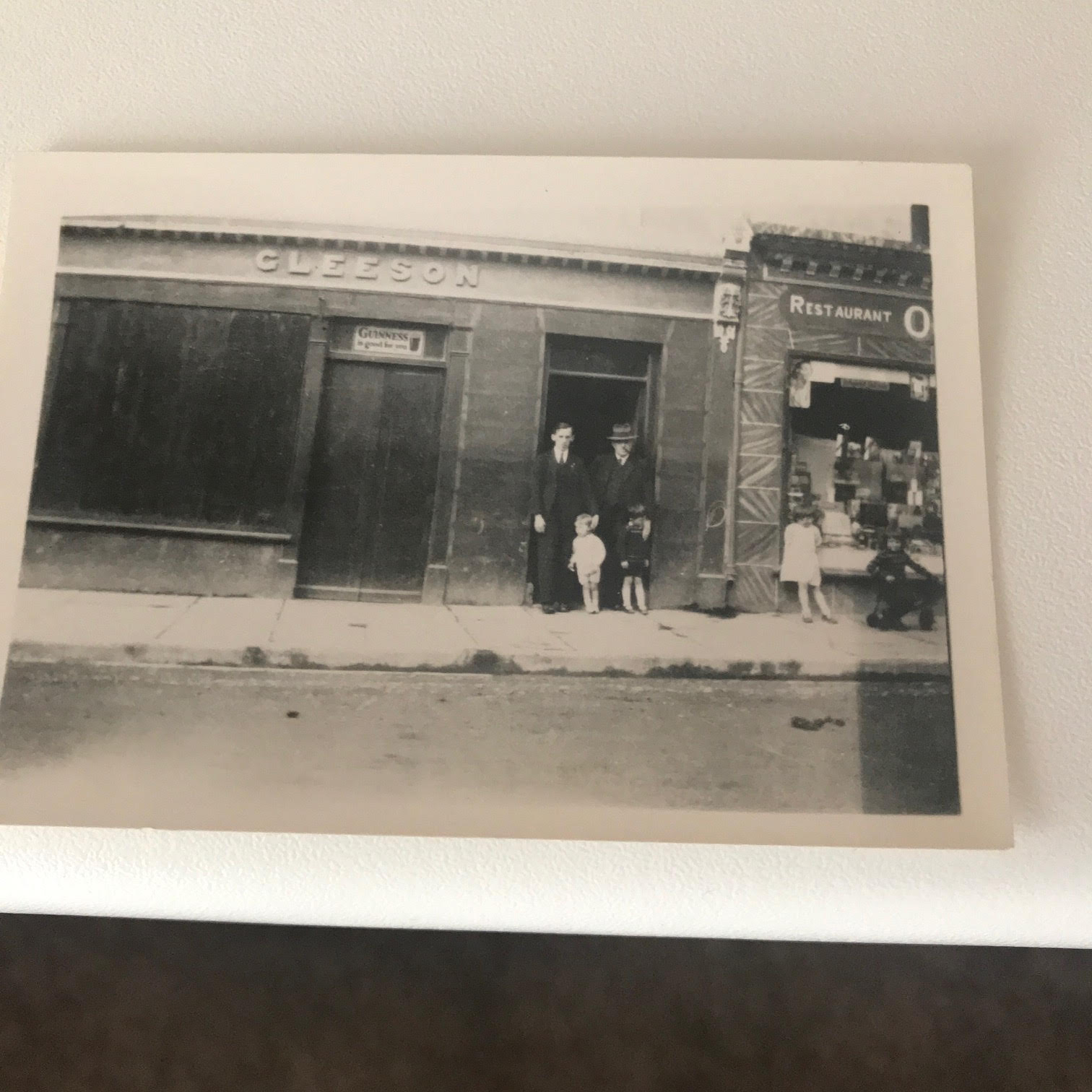 Marie Nelligan Shaw wrote
Love, love, love the picture of Gleesons/Jumbos. Remember Ned Gleason, his son Eddie, his wife Annie? And Eddies wife Frances? who played the organ at St. Mary's. Old Mrs. Gleason was blind and would trace my face with her hands to see if I looked like the Neligan's or the Fitzgerald's. There was also a lady who lived with them (believe her name was also Annie) who would walk Mrs. Gleason to mass at the convent chapel every morning. Great memories. Thanks Mary!
Philomena Moriarty Kuhn also had happy memories of the Gleeson family
I used to sing in the choir. Mrs. Gleeson was our teacher. Lovely memories.
Imelda Murphy remembers too.
I remember Gleeson's pub lovely memories of my Grandfather Jackie Hartnett taking us in there for A bottle of lemonade
Vincent Carmody wrote this for us.
The Gleeson picture reminded me of the history of the house, I carried a mention in my 2012 book, pages 88 & 89 and more in the 2018 book, pages 66 & 67.
The house (Gleesons/Jumbos) was actually built in the 1860's by Daniel Broder for his daughter Johanna and her husband John Buckley. They had gone to America previously and John had died there. Johanna came home with her three children and operated the pub/grocery business, operating under the name, the Widow Buckley (page 89, 2012 book) Her three Buckley children were, Lar, John and Daniel.
Lar became a cooper, serving his time at Kirby's in the Square, having completed his apprentice he married Ellen Kearney and set up a cooperage in Upper Church Street in a house which belonged to the Kearney family, Been of an entrepreneurial nature, Lar was aware of the ongoing development of Upper William Street and it's potential with its closeness to the Market and the Railway Station. he purchased a site from Lord Listowel on which he built two houses, now, No's 24 and 26. He lived and worked in No. 26, the other he leased. It was in No 26 that he raised his family, his eldest Kathy, afterwards finding fame as chief cook in the White House. Laurence was an elected member of the Listowel U.D.C. in three elections between 1905 and 1918.
John Buckley, ( Lar's brother) married a Matilda Walsh from Tarbert and then went to Melbourne.
Daniel, the third of the Johanna's children died as a young boy.
In the 1870's a rail connection was developed between Limerick and Tralee. Listowel then became an important terminus due to its large fairs and vibrant butter market. One of the railway personnel that found employment in Listowel was Tipperary man (I think he was from Upperchurch ?) Timothy Gleeson. Over time he met with the Widow Buckley, first friendship, then romance and in December 1871 they married. They had five children, Edward, Julia, James, Mary and Daniel. Edward (Ned) was the man the gave the address of welcome to Parnell.
Johanna Buckley and Timothy Gleeson had a long life together, they both died within 4 days of each other, Timothy, on the 19th of December 1918, aged 76 and Johanna on the 22nd of December, aged 98.
My first cousin, Eileen (Buckley) McCaffrey, Johanna's great granddaughter once told me the her family attributed Johanna's longevity to her having a daily, morning full body dip. in a water filled large whiskey casket, which she kept for that purpose in a back shed.
In my book of 2018, page 45, I presented a poster of the sale of a cottage in Courthouse Road, this was in 1903, the seller was Daniel Broderick (Broder), aged 82.. He was the man previously mentioned as having built the house for his daughter Johanna Buckley In my comment about the poster I pointed out that Daniel Broderick, beside's his daughter having a business in the town, he also had two sons, John, who owned a public house in the premises now housing the Credit Union (he was grandfather of Fr. Tony Gaughan) and Joseph, who was grandfather of Joe Broderick and great grandfather of Diarmuid, who runs Brodericks well known hostelry down in Tay-Lane.
<<<<<<<<
A Trip on the Lartigue
I brought some visitors to the Latrigue last week. As usual they really enjoyed the visit and they learned so much. They were delighted.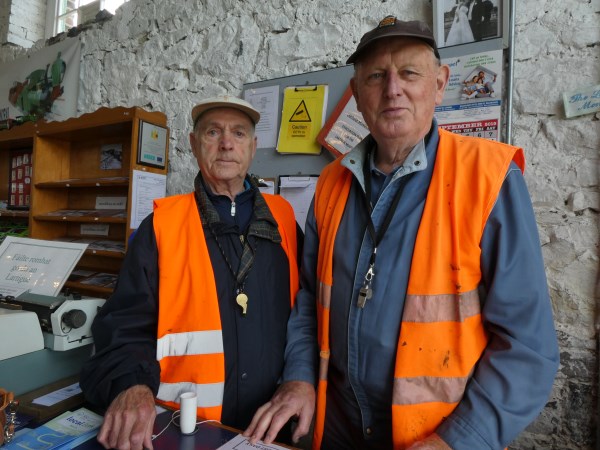 Bill and Tim were two of the volunteers on duty.
Michael Guerin was our driver and guide for the day.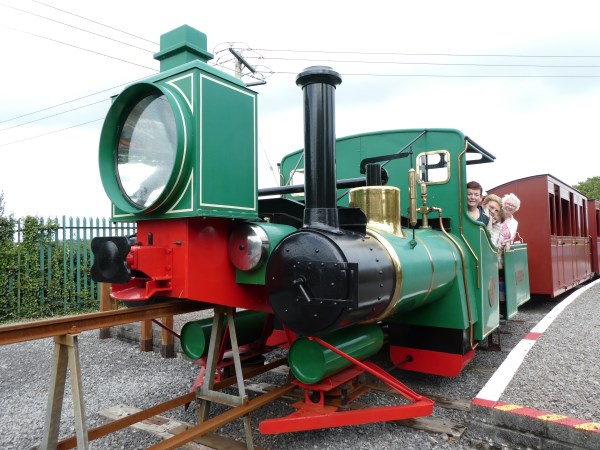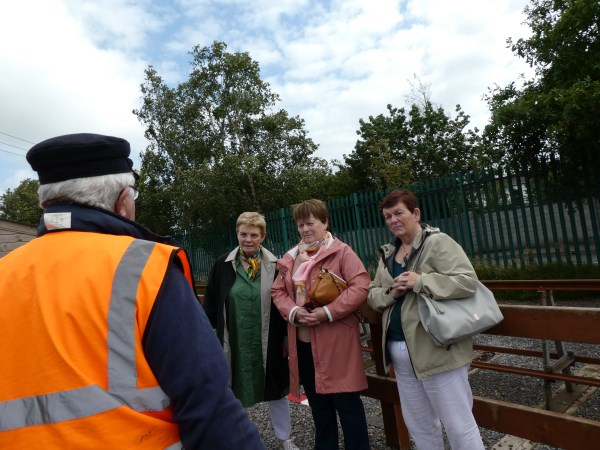 As well as looking after the train and the museum, the volunteers also look after the flowers.
Pat was doing a bit of dead heading. The flowers are beautiful and a credit to all who care for them.
<<<<<<<<
Home from Spain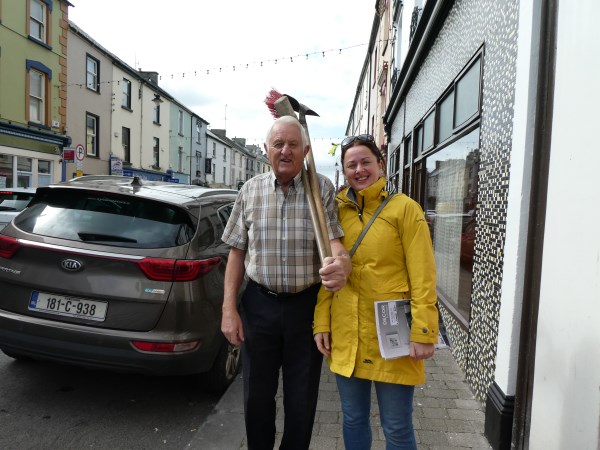 I met Ursula (Carmody) Stack and her dad as they set out to do a spot of tidying up before The Races.