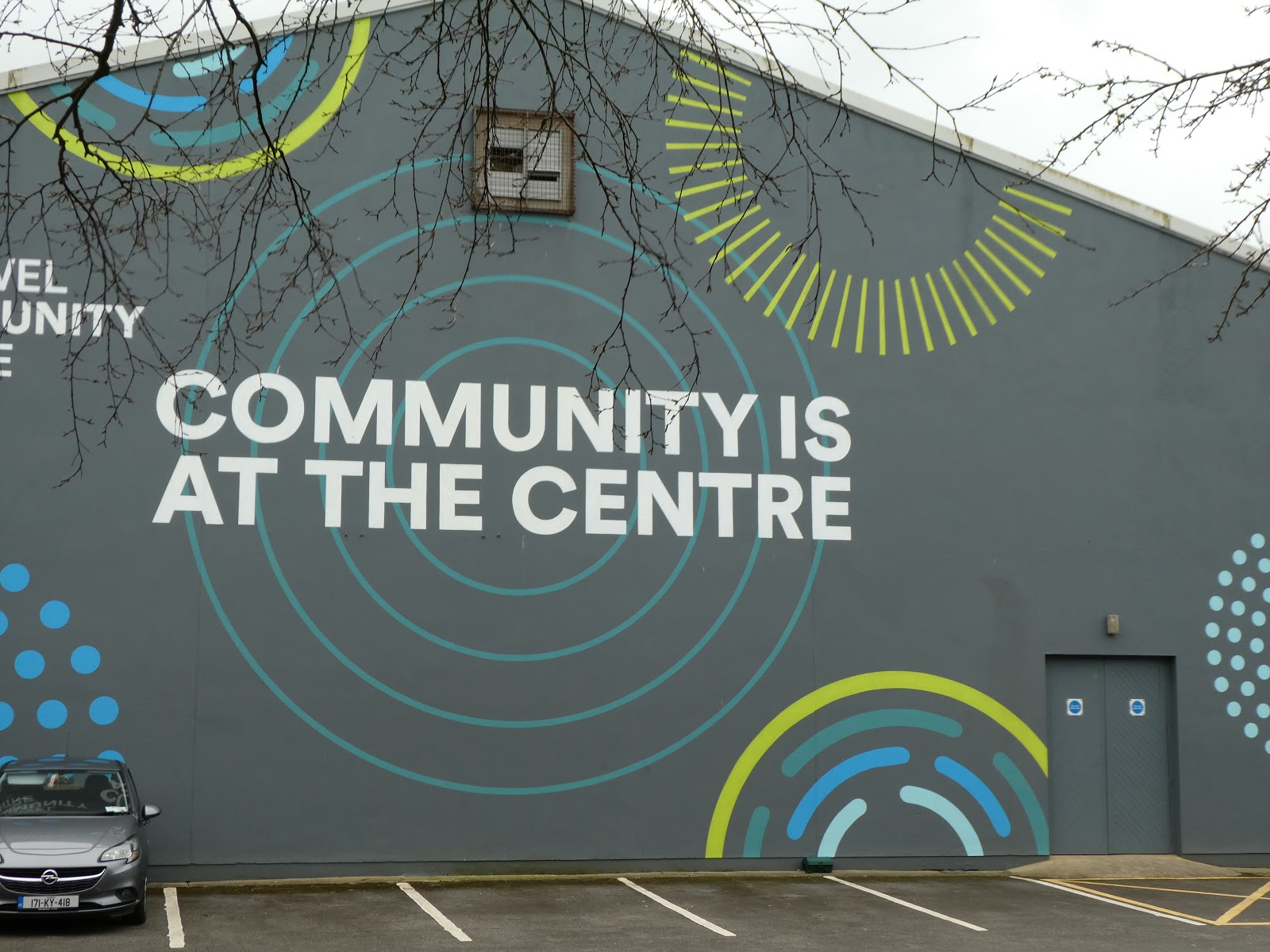 We were never more conscious of the truth of this statement on the Listowel Community Centre gable than now in March 2020 at the height of the Covid 19 crisis.
Greg McDonough of Listowel and China who has just come out of quarantine set up a Facebook group for us
Here you can find up to date information about shop closures, services and who to turn to for help.
<<<<<<<<
Listowel Writers Week
Plans for a big birthday celebration are frozen for the moment but hope springs eternal….
In the meantime Mattie Lennon, a great of friend of Writers' Week and a great friend of this blog has been reminiscing. Here are his memories of the 2007 festival. His essay is a long diary like text so I'll give it to you over a few days.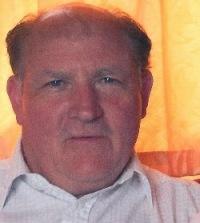 Once again I paid my annual visit to the most prestigious literary festival in Europe, if not in the world. On Wednesday 30th May Writers' Week 2007 was officially opened by renowned writer Joseph O 'Connor. The author of such masterpieces as Star Of The Sea and more recently Redemption Falls, as well as many humorous works, complimented the Kerry people on their organising skills, literary and artistic prowess, footballing ability and of course . . . their great humility.
He later gave an example of Kerry wit when he told about meeting a friend of his who was on his way to meet Carlo Gebler and Joseph was asked, "Will you follow me up to Carlo?"Prize-winners were announced (Roddy Doyle won the €10,000 Kerry Group Irish Fiction Award for Paula Spencer). Pauline Scanlon who spent three years with the Sharon Shannon Band provided music, to a packed house.
On Thursday a full schedule started with a recording of Sunday Miscellany in Saint John's Theatre where local writer Cyril Kelly regaled us with the story of how he had been in that particular venue when it was a mortal sin (Saint John's was a Protestant Church at the time).
Through the day readings by Joseph O'Connor, Colm Tobin, John McGrath (whose book of poetry Blue Sky Day was launched), Roger McGough, and others stimulated the literary minds of the visitor.
Food for thought was in plentiful supply at Amnesty Event with Fergal Keane, Gerard Stembridge and Zlata Filipovic. Next Door by Listowel man John McAuliffe was launched and Poet Laureate, Andrew Motion read from his autobiography In The Blood; A Memoir of My Childhood.
Poets, essayists and others got a chance to perform their own work at the microphone at Poet's Corner where the Master-of-ceremonies was the inimitable George Rowley.
(I've just read that and marvelled at the star studded lineup of visitors in 2007.)
<<<<<<<
St. Patrick's Day Pageant 1961
Máire MacMahon found these among some old Drama Group stuff. Does anyone remember this?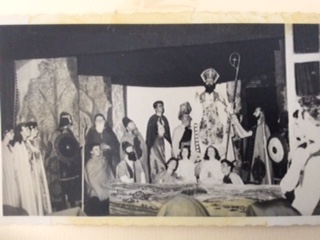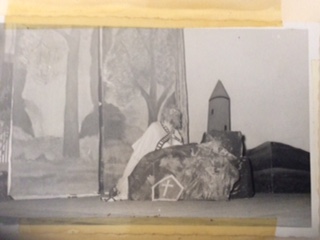 <<<<<<<<
Mr. Kenny's Fourth Class sometime in the 1980s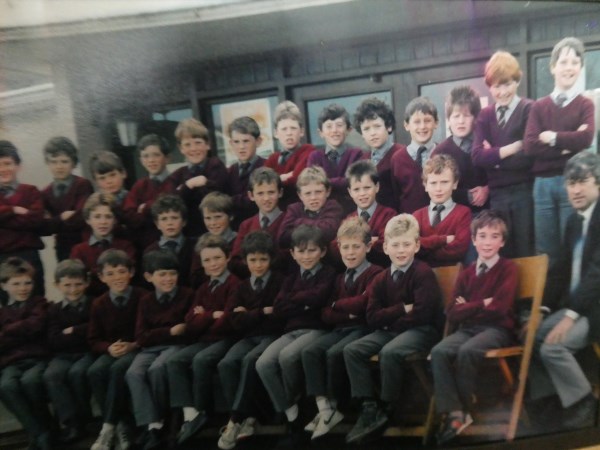 <<<<<
+ R.I.P. Helen O'Connor +
Helen O'Connor, who passed away at the weekend was very happy and proud on this summer Sunday in her beloved Duagh as she introduced me to her godson, John Relihan, who had brought a taste of international outdoor dining to her little corner of the world.
Helen had a gifted pair of hands. Her name will live on in the many many crochet and knitted pieces that she made for clients all over the world. If you have one of Helen's creations, keep it and treasure it and tell your family that it was made by a lovely lady, who was one of the best crafters in Kerry in her time.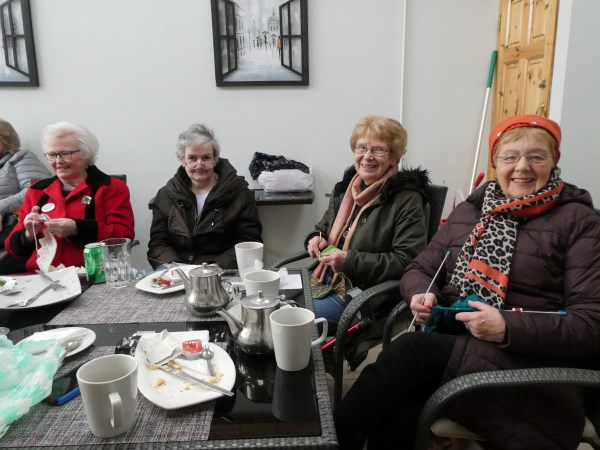 I took this photo of Helen with our knitting group in Scribes the last time I met her. She was in good form and breathing a sigh of relief that she was free of treatment for a while. Helen told us that she had done something while on chemo that she hadn't done before. She knitted a sweater for herself. It was beautiful. Helen was pleased with it and was planning to knit the pattern again in another colour. She had lost a lot of weight but Helen was seeing this as a positive and was determined to keep her weight down in future.
Because of the present Covid 19 restrictions, Helen's grieving family are deprived of the comfort of a funeral. We, her many many friends are deprived of a chance to tell Tom and all her family how much we loved her and we will miss her too.
Helen's busy hands are now still, A huge wealth of talent and skill has gone into the grave with her. I count myself among the many who were blessed to have known this humble and kind lady.
May she rest in peace.