Did you watch The Open yesterday? Ernie Els had an unexpected victory as poor hapless Adam Scott suffered a dramatic collapse. It was painful to watch.
Maradona said "Football isn't a game or a sport, it's a religion."
Some wag replied, "Football is not a religion. It's far more serious than that."
If football is not a religion, golf certainly is.
Check out this incredible story from wartime Britain;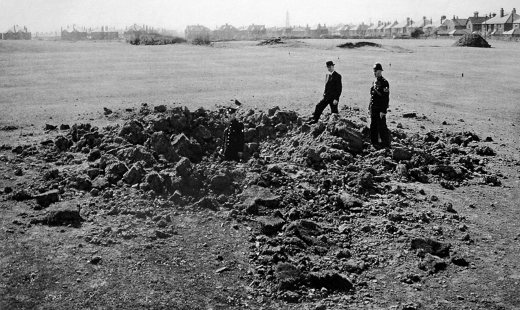 As the Battle of Britain began to take hold in 1940, a bomb fell on an outbuilding belonging to Richmond Golf Club in Surrey, England. As a result, the club — rather than halt future rounds of golf — issued an incredible list of temporary golf rules to all members that took into account the potentially life-threatening conditions on the course.
The list read as follows.
(Source: Richmond Golf Club; Image: Policemen inspect a bomb crater at North Shore Golf Course in Blackpool, 1940. Source.)
Players are asked to collect Bomb and Shrapnel splinters to save these causing damage to the mowing machines.
In competitions, during gunfire, or while bombs are falling, players may take cover without penalty for ceasing play.
The positions of known delayed-action bombs are marked by red flags placed at reasonably, but not guaranteed safe distance therefrom.
Shrapnel/and/or bomb splinters on the Fairways, or in Bunkers within a club's length of a ball may be moved without penalty, and no penalty shall be incurred if a ball is thereby caused to move accidentally.
A ball moved by enemy action may be replaced, or if lost or destroyed, a ball may be dropped not nearer the hole without penalty.
A ball lying in a crater may be lifted and dropped not nearer the hole, preserving the line to the hole without penalty.
A player whose stroke is affected by the simultaneous explosion of a bomb may play another ball from the same place. Penalty, one stroke.
This must be taking the exhortation to "Keep calm and carry on " to the extreme.
>>>>>>>>>
I had a photograph of Bunny Dalton last week. I am told that the people in the photo with him are Dr. Johnny and Vincent Walshe and Tim O'Sullivan and the photo was most likely taken in Walshe's Ballroom and not in Ballybunion.
>>>>>>>>
I had an email last week from a lovely young lady who stumbled upon my blog at a time of deep sadness in her life. She is Niamh Ashe. She lost both of her parents within a short timeframe. Her beloved father was John Ashe of Church St.
Niamh contacted me because she was sorting through some of her father's memorabilia nd she found some newspaper cuttings and photographs that she though I might be interested in. She will send these in due course but, in the meantime, at my request, she sent me a photograph of her dad and the obituary she wrote for The Kerryman. At the time she wrote it her mother was still alive .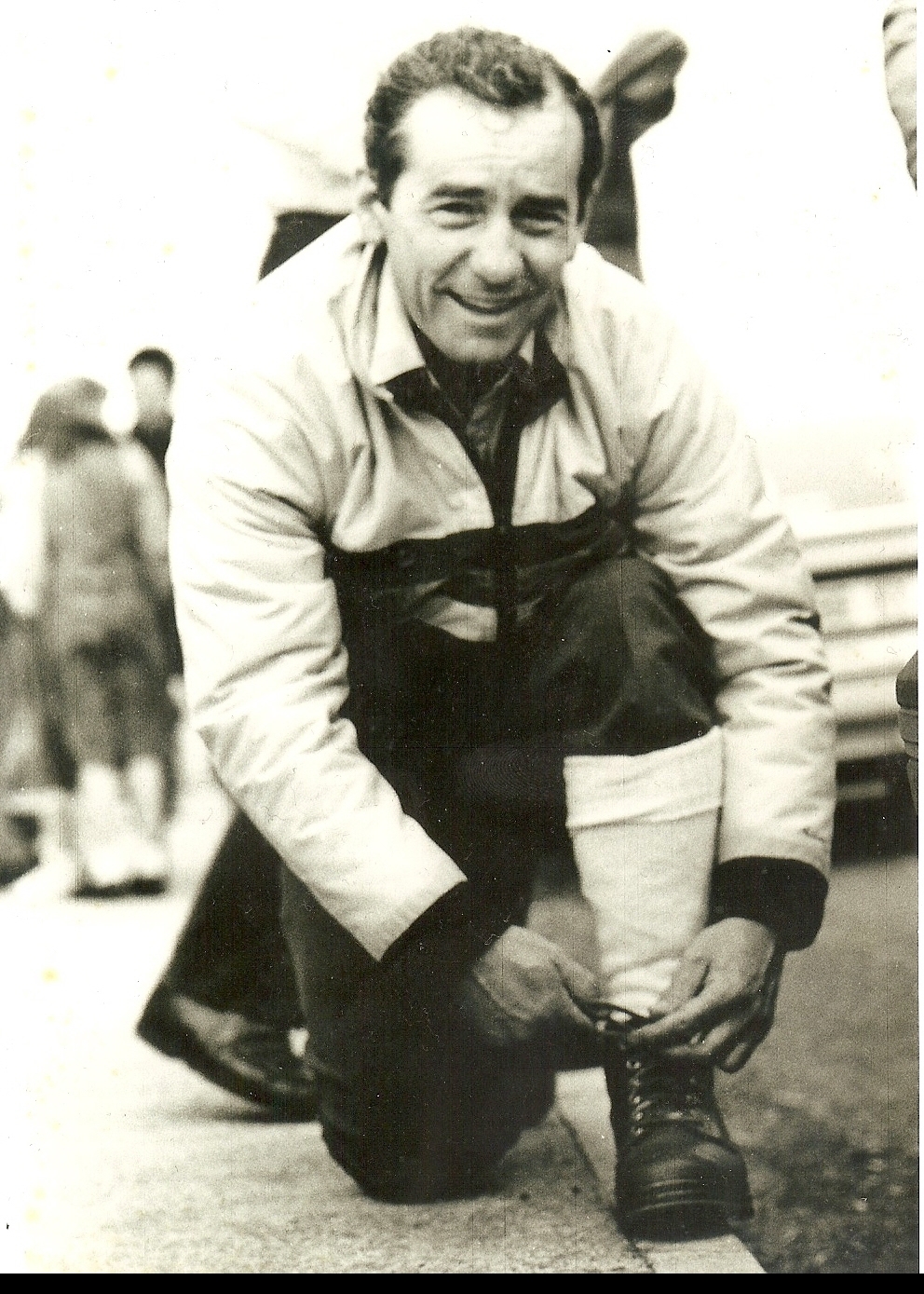 John Ashe of Derrylea, Tralee passed away peacefully on 4th
March 2012 after a short illness.
John was born on 12th September 1937 in Listowel, Co. Kerry,
son of Michael and Julia Ashe. He was
the middle child with two brothers and two sisters, Mary, Hallie, Thomas and
Aine. John grew up on Church Street Listowel and attended Listowel National
School followed by St. Michael's College. He had many a colourful story
recalling his childhood and school years. He was also a regular to the dance
halls in Ballybunion and it was there that he met Mary Hickey, from Rush Co.
Dublin one weekend. They were later married in 1965. John worked in London for
a number of years in the late 50s to early 60s. He worked for Murphy
Construction in their accounts department and lived in Shepherd's Bush. On his
return from London, he married Mary and they lived in Limerick for a brief
period, before moving to Raheny in Dublin. In Dublin John worked with Bord na gCon
from June 1962 and then undertook a position as senior clerk with Co. Dublin Vocational
Education Committee (VEC) in 1969. It was while he was with Co. Dublin VEC that
the opportunity arose in 1972 for him to take up a position with Kerry VEC and
it was then he relocated back to Kerry. John and Mary lived in Bridge Street
initially, before moving into Derrylea in 1973. They were the first residents
in Derrylea at the time and moved in just before the birth of their third
child.
John was very popular within the VEC and served under Seamus MacDwyer,
John Falvey and Barney O'Reilly, before retiring in 1997. He was well known
amongst the principals and teaching staff throughout Kerry. It was during his
time with Kerry VEC that John became involved in many ventures and
organisations, including Cospoir, The Kerry Way and Tralee Credit Union, to
mention just a few. In 2002, he was honoured to be awarded a beautiful piece of
Valentia slate in recognition of his contribution to the Kerry and Dingle Way. He
was also greatly involved in Cappanalea and organised sailing events throughout
the schools each summer. It wasn't unusual for him to be seen on the roads, dragging
a sailing boat behind his car. He was also greatly involved in the Oakpark Residents'
Association for many years. John was a very popular character in Na Gael GAA
where he was happy to debate religion and politics amongst his friends. He was
a fantastic story teller and he was always guaranteed an attentive audience. He
was a keen gardener and spent hours tending to his various shrubs and plants.
He was well known for his crops of gooseberries, blackcurrants and strawberries
each year and was quick to donate shrubs to anybody who was starting their own garden.

He was a loyal husband and devoted father to his four children. He was
always encouraging and full of advice. He adored his seven grandchildren and
spoke very proudly of each of them. He was a very likeable character with a
great sense of humour and plenty of stories.
John will be missed greatly by everyone who was fortunate enough to have
met him but especially by his wife Mary, his four children, Michael, Gregory,
Niamh and Brendan, as well as his brothers and sisters, his grandchildren, his
daughters-in-law, his nephews and nieces, his many friends and wonderful
neighbours.
John's family would like to express sincere gratitude to the Palliative
Care Team in Tralee General hospital and the staff of Fatima home, Oakpark
where he received excellent care in the later stage of his illness.
+ Ar dheis láimh Dé go raibh anam John agus anam a bhean, Mary. +
<<<<<<<
Barefaced plug coming up:
Give a listen to my cousin, singer/ songwriter, Eugene Brosnan singing Spring Wind here:
http://eugenebrosnan.us5.list-manage.com/track/click?u=1a789130ddbed7dcaa4c2105d&id=bb173f870c&e=80e40b045c