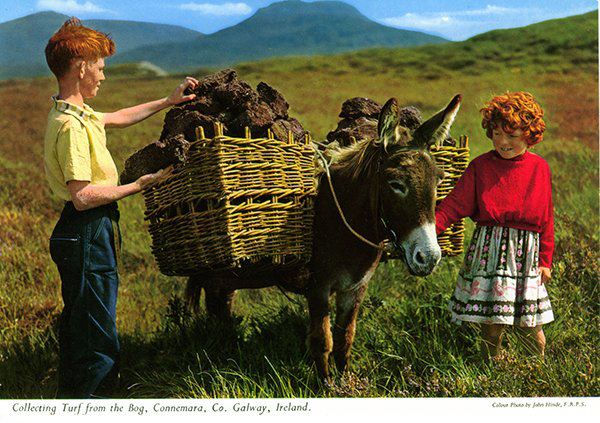 I love donkeys. This John Hinde one is a lovely specimen, young and energetic yet placid enough to be handled by children. This postcard photo has been in the news recently since the death of Paddy Lydon, who was photographed as a young boy with his sister, Mary, bringing home turf in Connemara. I have heard words like romantic and even idyllic used to describe the image.
I know better. There was nothing romantic about tramping through boggy ground, stooping and rising to fill two creels with turf and then coax a stubborn ass to plod his way back to the cottage. Once Paddy and Mary had unloaded the turf, they would set off straight away for another load.
>>>>>>>
This is one for all you amateur genealogists
Judy
Walkman, a professional genealogy researcher in southern California , was doing
some personal work on her own family tree. She discovered that Senator Harry
Reid's great-great uncle, Remus Reid, was hanged for horse stealing and train
robbery in Montana in 1889. Both Judy and Harry Reid share this common
ancestor.

The only known photograph of Remus shows him standing on the gallows
in Montana territory.
On the back
of the picture Judy obtained during her research is this inscription: 'Remus
Reid, horse thief, sent to Montana Territorial Prison 1885, escaped 1887,
robbed the Montana Flyer six times. Caught by Pinkerton detectives, convicted
and hanged in 1889.' 


So Judy recently e-mailed Senator Harry Reid for
information about their great-great uncle. 

Believe it or not, Harry
Reid's staff sent back the following biographical sketch for her genealogy
research:


"Remus Reid was a famous cowboy in the Montana
Territory . His business empire grew to include acquisition of valuable
equestrian assets and intimate dealings with the Montana railroad. Beginning in
1883, he devoted several years of his life to government service, finally
taking leave to resume his dealings with the railroad. In 1887, he was a key
player in a vital investigation run by the renowned Pinkerton Detective Agency.
In 1889, Remus passed away during an important civic function held in his
honor when the platform upon which he was standing collapsed."
<<<<<<
Teampall Bán
About a half kilometer from town is a famine burial ground called An Teampall Bán.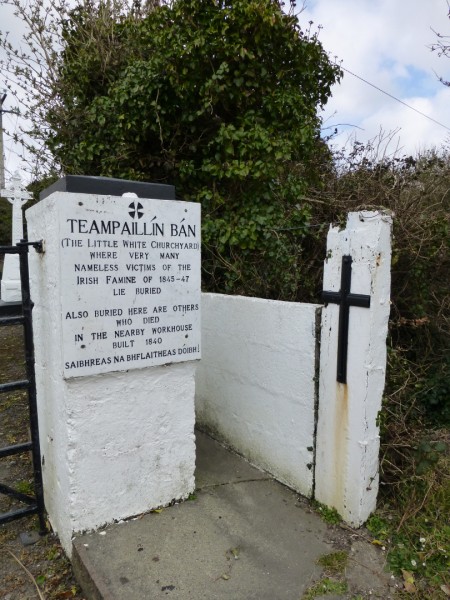 Day one of the Tar Abhaile adventure was Sunday April 7 2013. I had arranged to meet the Red Pepper crew at Teampall Bán to do a recce for filming the next day. This was as near to the workhouse as we could get since there is nothing of that old building left.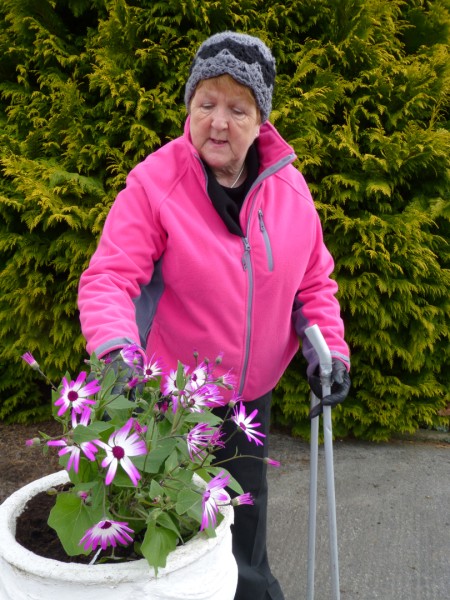 The ever so hard working and obliging Mary Hanlon of the Tidy Town Committee prepared the place for our visit and it was a credit to her and the other volunteers.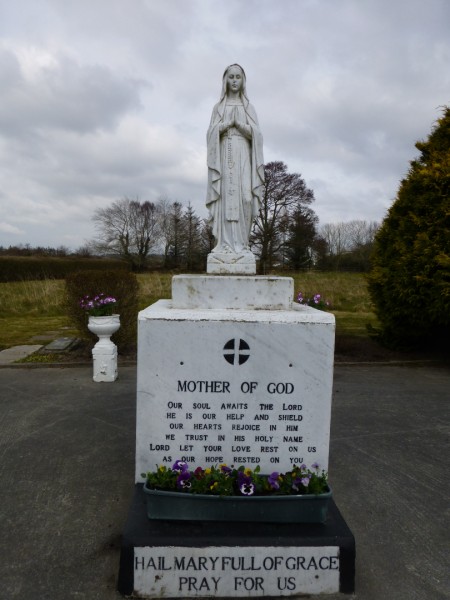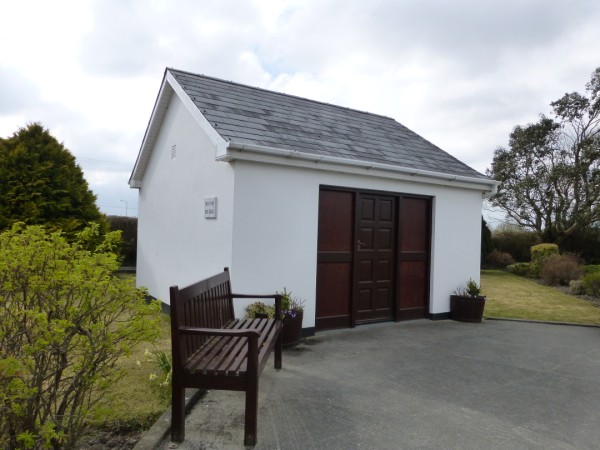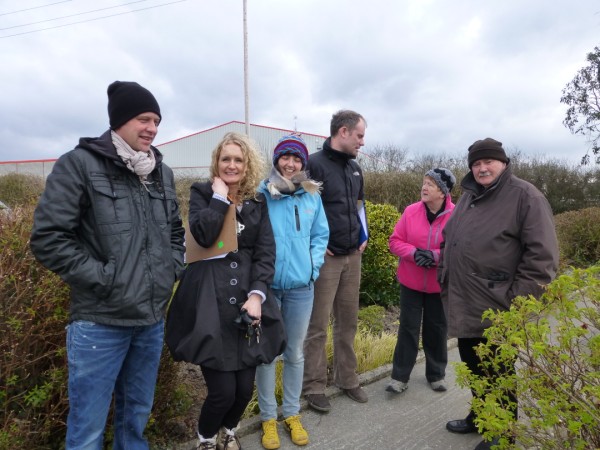 The Red Pepper advance troops, Martain, Michelle, Áine and Tom chat to Mary and Joe Hanlon.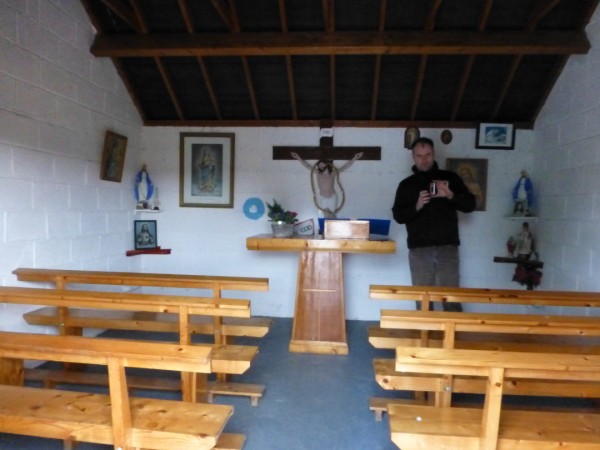 Tom checked out the oratory. It looks beautiful.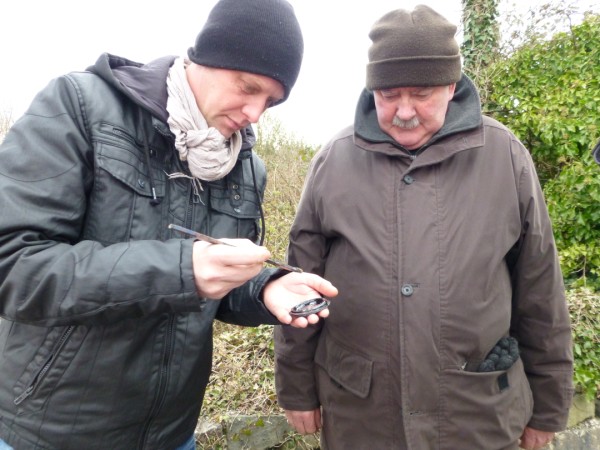 John Pierse brought a pot of paint and a brush and Martain, who was an artist in a previous life, put the finishing touches to an inscription.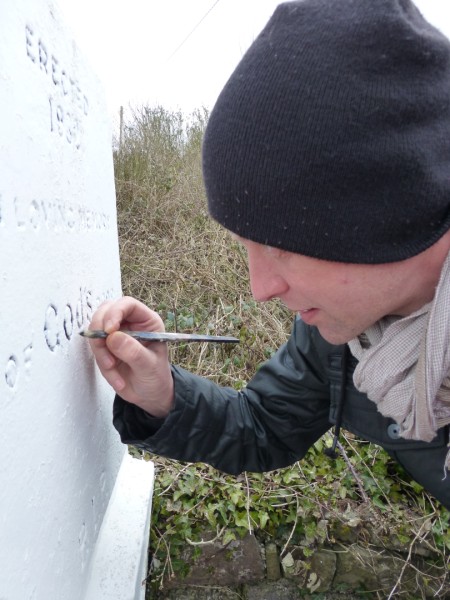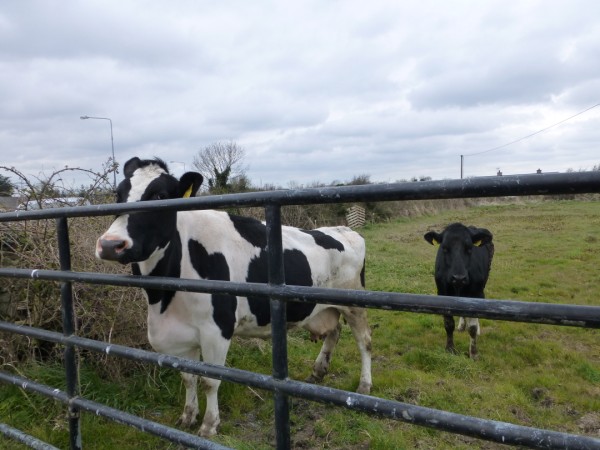 Some curious cows in the neighbouring field kept watch over it all.
>>>>>
The Irish Times glowing review of Pilgrim Hill
A myth still permeates that Irish
cinema is a little too concerned with the rural and the miserable. Quite the
opposite is now the case. We don't see nearly enough about disenfranchised
agricultural communities on our screens.
The extraordinary debut feature
from youngGerard Barrett, a determined Kerryman, sets the record straight in stirring
style. Shot in unhurried, cautious fashion – making occasional gestures to the
mock documentary genre – Pilgrim Hill offers a quietly devastating
portrait of Jimmy Walsh (Joe Mullins), a bachelor farmer eking out his life in
a lonely farm on a windy outcrop. He spends his days taking care of the cattle
and tending to the needs of his ailing, unseen father. At night, he allows
himself the occasional pint at a distant pub.
There are shades of the great
French documentary Modern Life, a study of farmers in the Cévennes, in
the sequences where Jimmy talks directly to the camera. But the film gets at a
very Irish class of misery: the wretchedness of being stranded with the
previous generation while one's contemporaries surge into the modern world.
None of this sociological
observation would matter if Pilgrim Hill lacked cinematic juice. As it
happens, Ian D Murphy's cinematography has a limpidity that soaks up the damp
landscapes to beautiful and mournful effect.
Barrett choreographs the slow march
towards an expected catastrophe with rhythms that are positively Russian in
their leisurely grace. The decision to hold back on non-diegetic music until
the final searing denouement speaks of an impressive degree of maturity (and restraint)
from a young film-maker.
Barrett is also to be congratulated
for drawing such a disciplined performance from his lead. A farmer and
occasional amateur actor, Mullins has a steadiness and commitment that cannot
be easily faked. But it takes real talent to make effective use of such
authenticity. The moment where Jimmy speculates about dying and meeting the
"person he could have been" fairly takes the breath away.
Don't let Pilgrim Hill pass
you by.
<<<<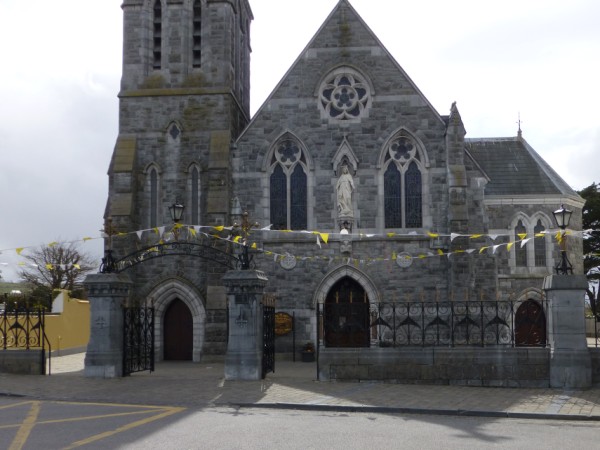 Yesterday was confirmation day in town.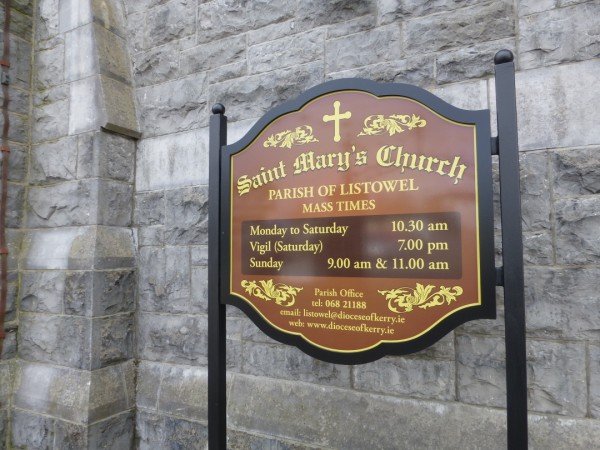 The confirmandi had done a great job in decorating the church. I'll bring you the fruits of their hard work over the next few days.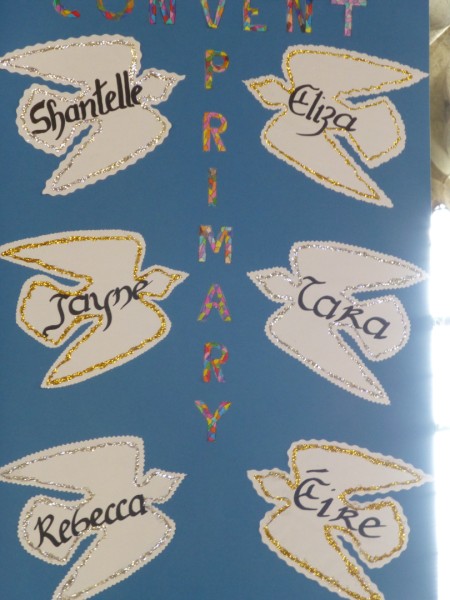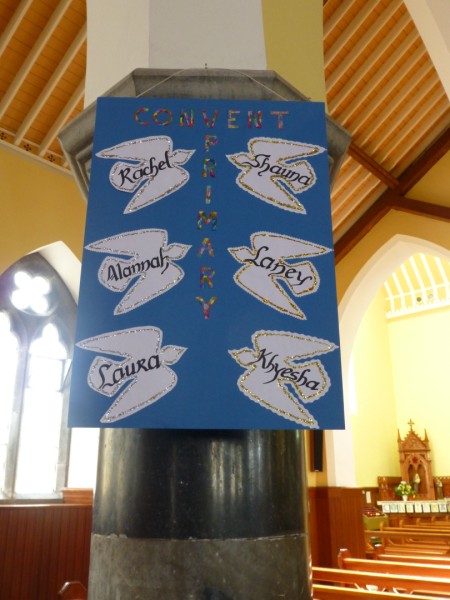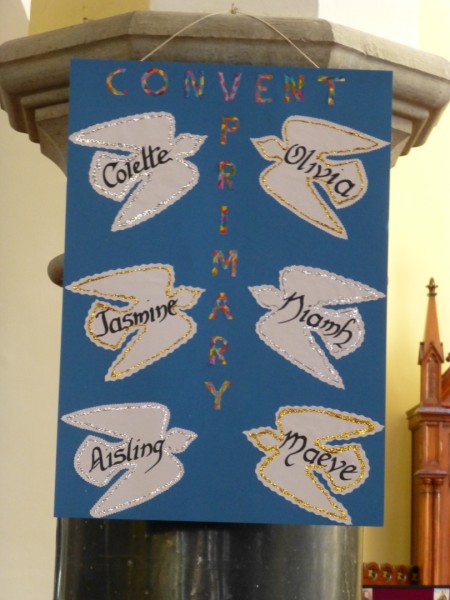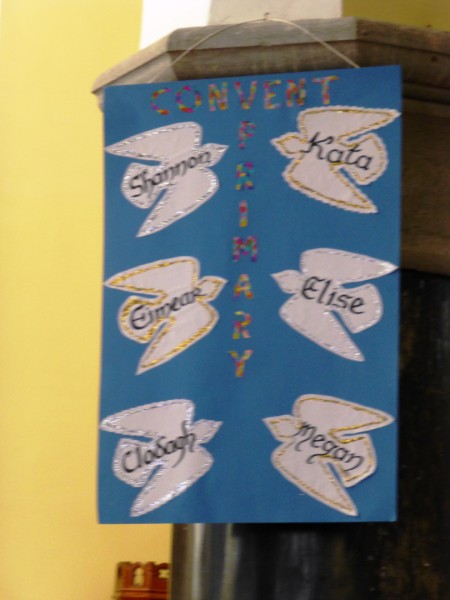 >>>>>>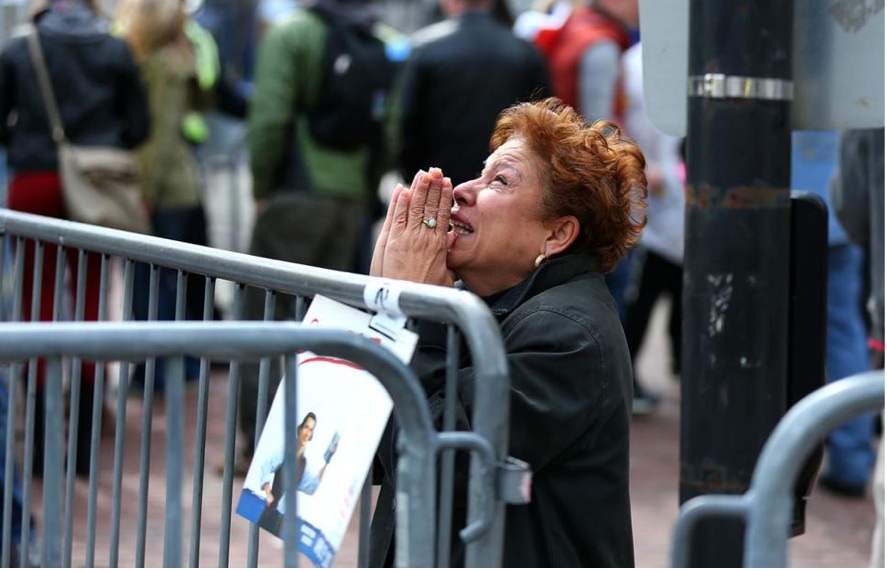 One of the many iconic images emerging from Boston overnight.
Listowel Connection has many friends and followers in the Boston area. Our sympathies are with them and with everyone affected by the awful tragedy.
In an example of the triumph of hope over experience, the London marathon will go ahead on Sunday.