Eason, Church Street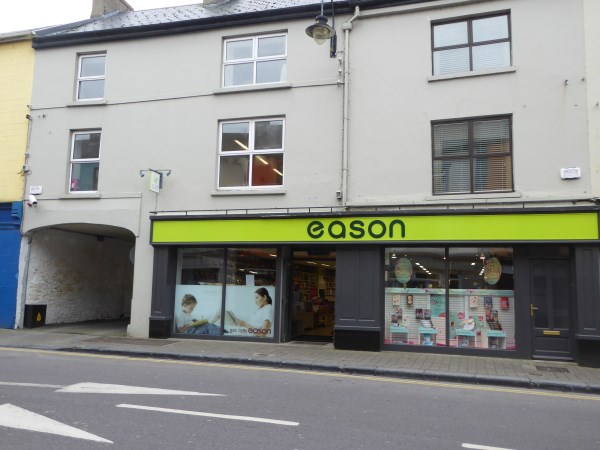 This used to be Listowel Printing Works and before that was Kearney's
<<<<<<<<<


Sportsfile Picture captures the joy of Ireland's Win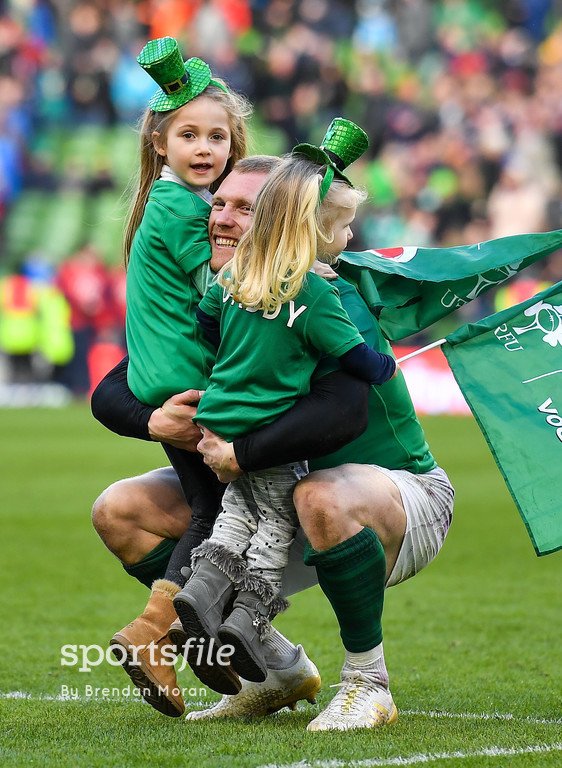 Keith Earls celebrates with his daughters after Ireland's great win on Saturday.
<<<<<<<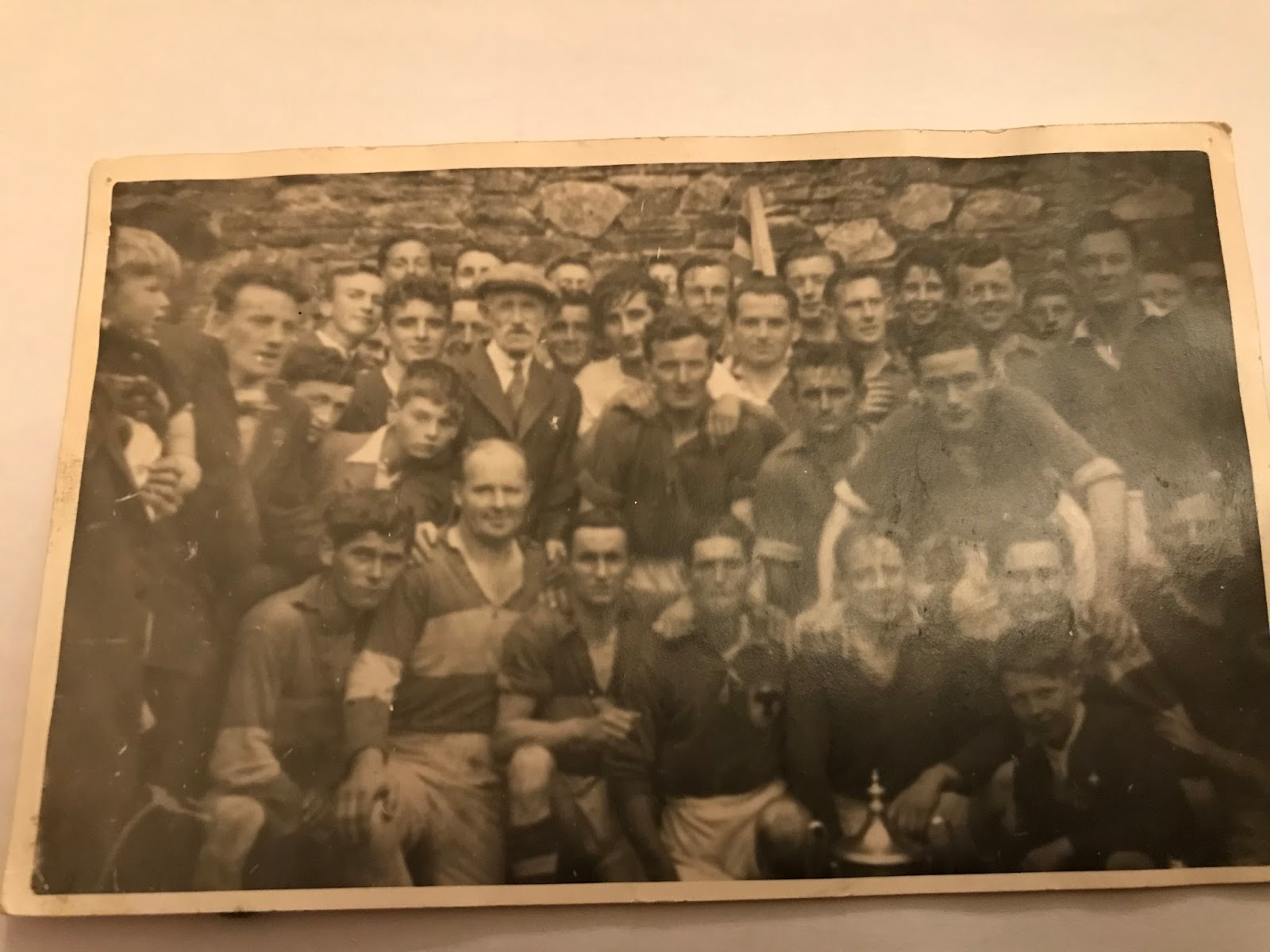 This is the Boro team who played in the Town League in 1944. Denis Quille sent us the photo.
<<<<<<<<
Vincent Carmody's essay on Listowel's Sporting Ballads and Ballad Makers
Continuing from where I left off last week…..
Bryan McMahon is widely remembered, locally and nationally, for the
writing of very many well-known ballads, of sporting and of a local nationalistic
fervour. Among them, The Hounds of Glenoe (his recall of younger days hunting
with fellow townsman, Berkie Brown and others they spent days hunting in the
hills behind Banemore) A verse is worth recalling,
See Reynard is golden as there he goes roving,
He twists and he turns, he's the bracken's old hue,
He pauses to sniff the mad winds of the evening,
Then pointing his cloosheens he fades from the view,
You'll pay for your crimes now, my tawny marauder'
The hens and the chickens, the turkeys you owe,
For here they come roaring with music full-throated,
North Kerry's avengers, the hounds of Glenoe.
'Victory song for Old Kentucky Minstrel' This was to honour the feat of the
greyhound of that name, owned by Ballybunion Bookmaker and Publican, Jim Clarke,
winning the famed Waterloo Cup. It begins;
The Ballybunion Sandhills now, with bonfires are all aflame,
On the green fields of Tipperary, sure, they shout a greyhound's name,
The coursers of Kilkenny brave, they raise a loud 'halloo',
Since Old Kentucky Minstrel won the English Waterloo.
Local ballads, The Town of Listowel, My Silver River Feale, The Valley
of Knockanure, The Brow of Piper Hill (this was written in his later years,
when he used drive with his wife Kitty out to Smearla Bridge, parking his car, before
walking up to the top of Pipers Hill)
In one verse he recalled,
In the evening late, from McCarthy's gate
I climb to Dillon's lawn
Below me then in that lovely glen
A picture fair is drawn
O'er the River Feale from Purt to Beale
And home by the ruined mill
A rainbow see, arching fair and free
To engarland Pipers Hill.
Bryan also had a great love of hurling, and among his ballads he wrote
two recalling the deeds of famed Tommy Daly of Clare and Cork's peerless
Christy Ring. On the football front he wrote a memory of the 1953 All Ireland
Football Final, between Armagh and Kerry, called, 'Saffron and Green and Gold'.
Garry McMahon inherited his father's gift of writing ballads and had
left a legacy of these before his untimely death.
Even though John B. is remembered locally, nationally and
internationally through all his great works, his only football remembrance is one,
where he recalls the fete of the Greenville team winning the 1956 Listowel Troy
Cup (this was the secondary football competition run by the Listowel football
club, known locally as Listowel's National League in deference to the Town
League, which would have been classed as The All Ireland) John B. would have traditionally played with
Church Street- The Ashes, however when
he bought the pub in William Street, he threw his lot and considerable skill
with the Greenville team, because, as he often said, the team members were
better customers and porter drinkers than the townies.)
The Gallant Greenville Team, 1956
Come all you true born Irishmen, from here to Healy's gate
And I'll sing for you a verse or two as I my tale relate
You may speak about Cuchulann bold or the mighty men from Sneem
But they wouldn't hold a candle to that gallant Greenville team.
Ha-Ha! said Billeen Sweeney "sure I'll tackle up my ass
And I'll put on my new brown suit that I wear going to mass
I'll hit the road for Listowel town by the morning's airy beam
And I'll bring home Berkie's mutton for that gallant Greenville team"
The dry ball won't suit 'em said the pundits from the town
But they pulverised the Ashes and they mesmerised the Gleann
Next came the famous Boro, their fortunes to redeem
But
they shrivelled up like autumn leaves before the Greenville team.
"T'was the white trout that done the trick" John L. was heard to say
"We ate 'em morning, noon and night in the run up to the fray
They hardened up the muscles and they built up the steam
Until no power on earth could beat that gallant Greenville team"
<<<<<<


Deirdre Lyons in a cave in Ballybunion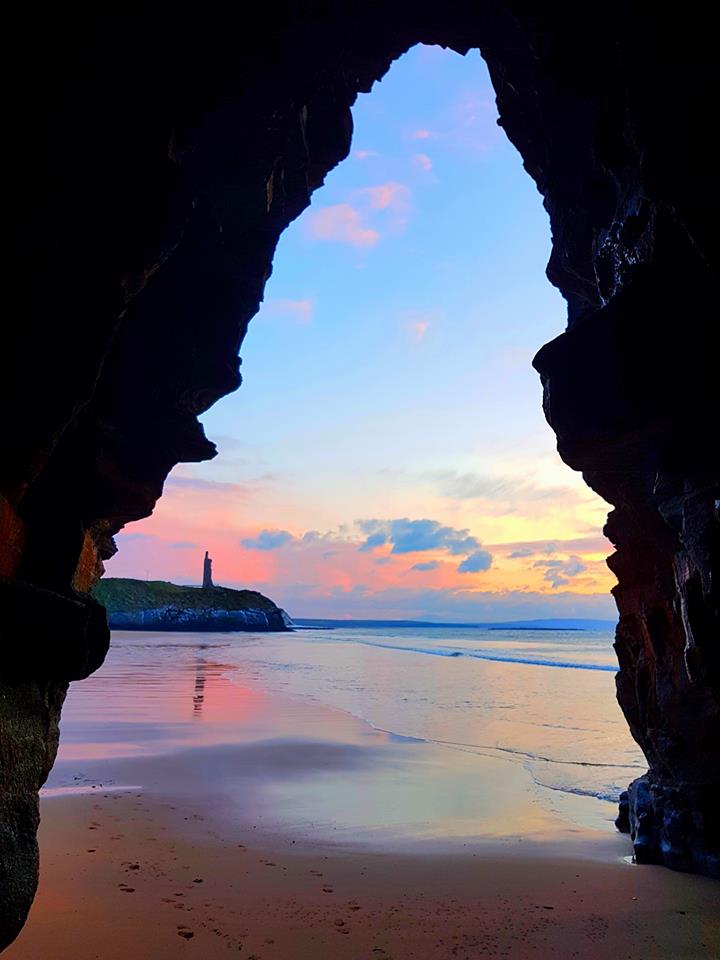 <<<<<<<


A Poem


Some people shared this on the internet for Mothers' Day, March 11 2018 but it's true for everyday.
DEATH IS SMALLER THAN I THOUGHT
by adrian Mitchell
My Mother and Father died some years ago
I loved them very much.
When they died my love for them
Did not vanish or fade away.
It stayed just about the same,
Only a sadder colour.
And I can feel their love for me,
Same as it ever was.
Nowadays, in good times or bad,
I sometimes ask my Mother and Father
To walk beside me or to sit with me
So we can talk together
Or be silent.
They always come to me.
I talk to them and listen to them
And think I hear them talk to me.
It's very simple –
Nothing to do with spiritualism
Or religion or mumbo jumbo.
It is imaginary.
It is real.
It is love.