Yesterday March 29 2012 was a balmy summer day in Listowel. The temperatures reached an incredible 20 degrees.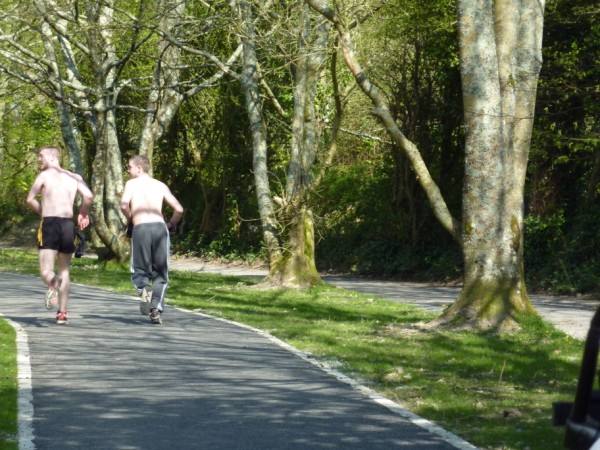 As we walked in the beautiful new pathway around the park we met these two running shirtless.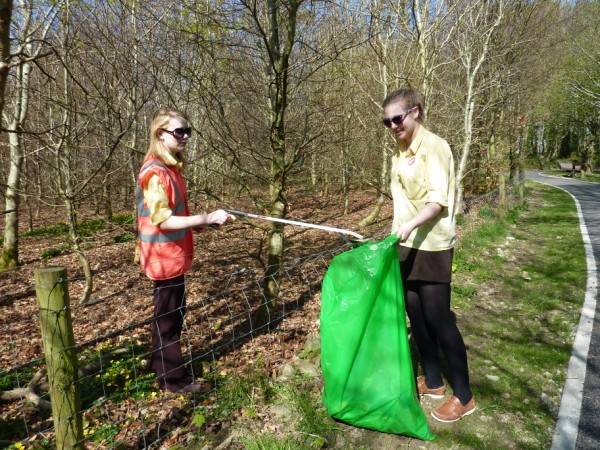 Two convent girls were clearing up litter.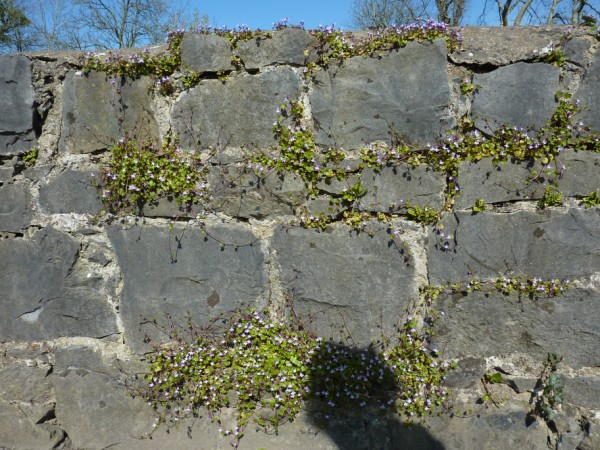 Flowers were blooming in the crevices in the stone walls.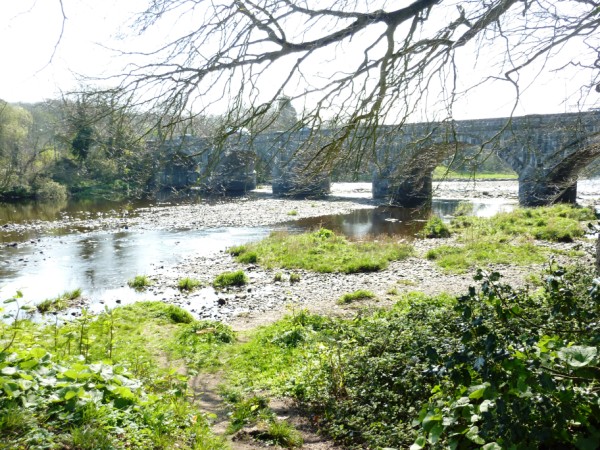 The level of water in the river was even lower than on Saturday.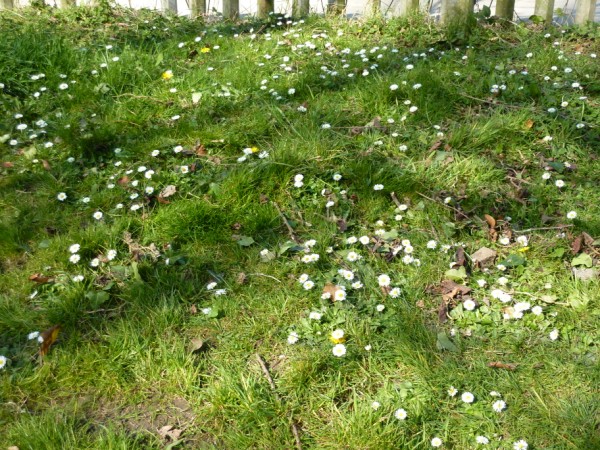 Daisies in March!
>>>>>>>>>
Next: A trip down memory lane for some local ladies.
Sr. Patricia's class in Listowel girls primary school 1971
Front: Mary O'Flaherty, Siobhán
O'Shea, Kay Sayers, Bridget O'Brien, Kathleen Curtin, Geraldine Kenny, Breda
Sugrue R.I.P. Deirdre Sullivan
Middle: Theresa Conway, Kathleen
Curtin, Margaret Doyle, Isobel O'Dowd, Joan Loughnane, Anne Costello, Margaret
Canavan, Bernadette Costello
Back: Marie Scanlon, Margo Kennedy,
Cora Stack, Marie O'Sullivan, Marie Stack, Veronica Corridan, Eileen Kennelly
and Bernadette Walsh
Thank you very much to all who helped with the naming the girls.
>>>>>>>>
For people who love everything and anything to do with The Titanic, Joanne Dillon found this comprehensive website.
http://www.encyclopedia-titanica.org/
>>>>>>>>>>>>>
Finally not such good news from the U.K.
Kerry Foods plant in Durham faces closure with 350 job losses
A food firm is planning to close a factory in Durham with the loss of up to 350 jobs.
Irish-based Kerry Foods said competition from rival manufacturers had forced it to consider transferring work to other UK plants.
The company is known for its Mattessons, Richmond and Wall's brands of sausages.
A spokesman for the union Usdaw said staff had been left "stunned" by the "absolutely disastrous" news.
In a statement the company said formal, 90-day consultation had started with the workforce, adding that the cut meat sector had become "highly competitive" in the past year.
It went on: "While we have made significant adjustments to our cost base and have sought to win new business, to date we have not identified a plan or a strategy to restore profitability to a sustainable level.
'Shocked and angry"
"Unless an alternative plan can be identified, we may have no option but to consider the closure of the Durham factory and transfer of production to other Kerry sites."
Joanne Thomas, Usdaw's North East divisional officer, said: "This is absolutely disastrous news for everyone who works at Kerry Foods, for their families and for the whole community. Any closure could destroy the incomes of entire families.
"There has been no prior warning that closure was being considered, or even a suggestion that the future of the site could be in doubt, so our members are understandably extremely shocked, angry and distressed.
"We will examine the company's business case for the proposed closure in detail but our overriding objective will be to keep the site open and to save jobs."
The factory is one of Durham's largest private sector employers.
Last year Kerry Group reported an increase in annual pre-tax profits of almost 11% at 449m euros (£376m), up from 405m euros the previous year.
>>>>>>>>
P.S. Random bit of silly news
San Marino has had to amend its
entry to the Eurovision Song Contest after it was deemed to violate a
trademark. The song which was originally called 'Facebook Uh, Oh, Oh (A
Satirical Song)' is now called 'The Social Network Song (OH OH – Uh – OH OH)'.
>>>>>>
PPS. The is not a Kerry joke from today's Irish Independent !
NDEPENDENT TD Michael Healy-Rae says too much money is being spent on road signs — because local people know exactly where they're going.
The Kerry South TD — who has been pictured canvassing on the back of a donkey — asked Transport Minister Leo Varadkar why the National Roads Authority (NRA) "is spending money on unnecessary road signs at present".
"Persons living on local roads, pulling out on to national primary routes, are now seeing signs directing them to their nearest town or village, which they are perfectly capable of finding without having the NRA putting up signs to direct them as to where they are to go," Mr Healy-Rae said.
Mr Varadkar pointed out that road signs are generally not for locals, who know where they are going.
"Rather they exist to serve visitors to an area, who would not have such knowledge," Mr Varadkar said.
"In particular, in areas such as Kerry they are an important aid to tourists, and adequate and appropriate signposting allows them to travel independently without the stress of getting lost."
Mr Healy-Rae tabled a Dail question on the issue, which perplexed officials in Mr Varadkar's department. And the minister's reply illustrated this.
Upgrading
"Obviously signage is for people travelling to and through a region," Sean O'Neill of the NRA said.
"We're glad to know locals know where they're going — and we'd assume they do — but signs are for people who are going to and passing through the area."
In 2006, the NRA started work on upgrading all signs on the entire 5,500km of national roads around the country.
Mr O'Neill last night said the work on the new signs was ongoing, and would be complete by late 2013 or early 2014.
The NRA has spent €35m on the work to date, and it is expected to cost a total of €40m by completion.
Mr Healy-Rae last night insisted he was talking about roads with only three or four homes on it, which may be cul-de-sacs only local people would use and would not attract tourists.
"You'd have to know where I'm talking about to know that no road signs are needed," he added last night.
– Fiach Kelly Political Correspondent