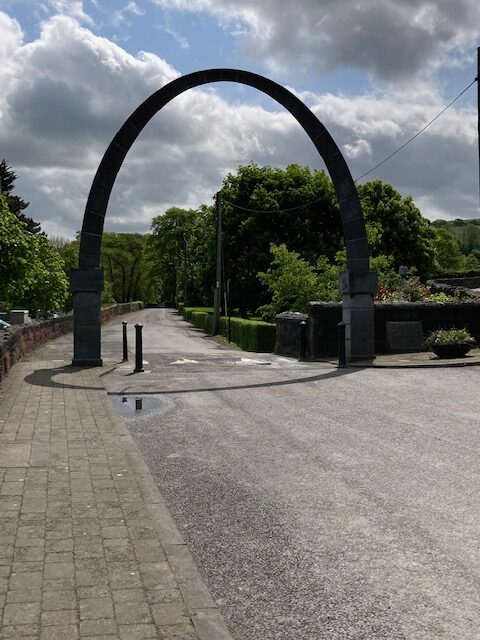 Millenium Arch in May 2023
<<<<<<<<<<<<<
How it used to look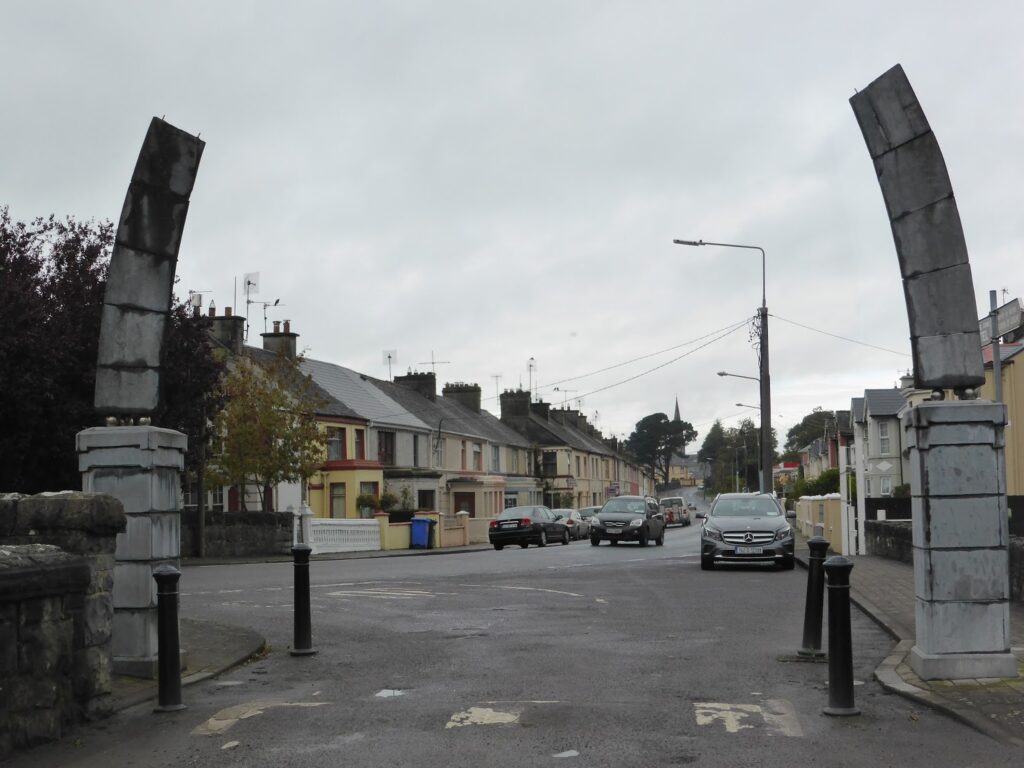 This is the remains of the first arch in 2016, It was damaged in a big storm. You will notice the the new designer didn't bother with the things that looked like very big ball bearing between the arch and the pillars.
<<<<<<<<<
Wolfgang and Anita Mertens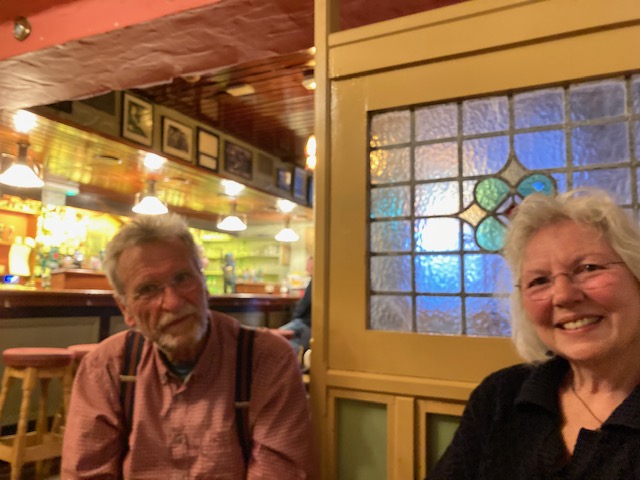 in John B. Keane's Bar, May 16th 2023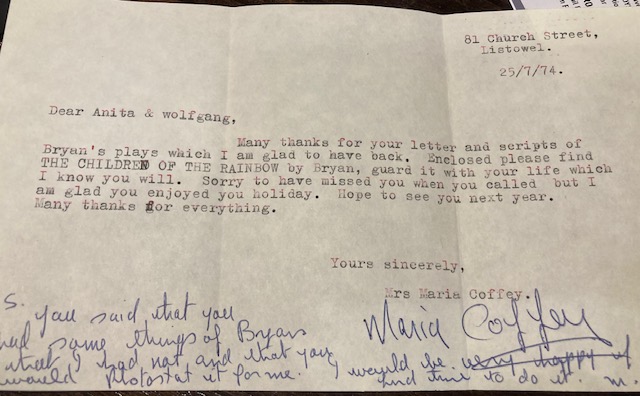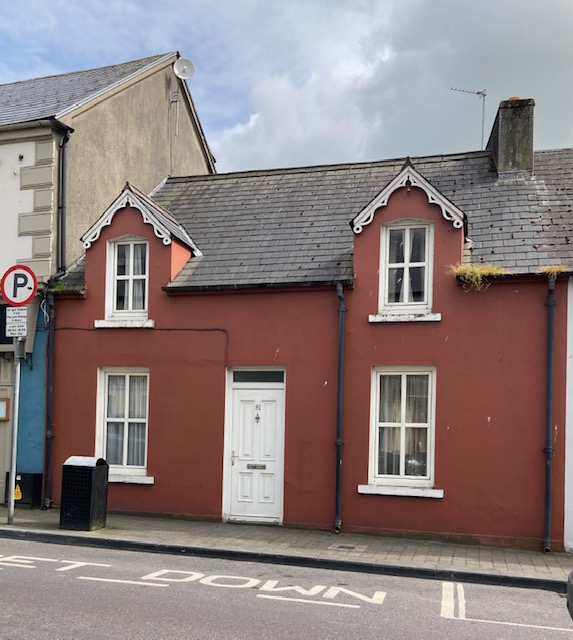 This is the house from which Maria wrote to Wolfgang.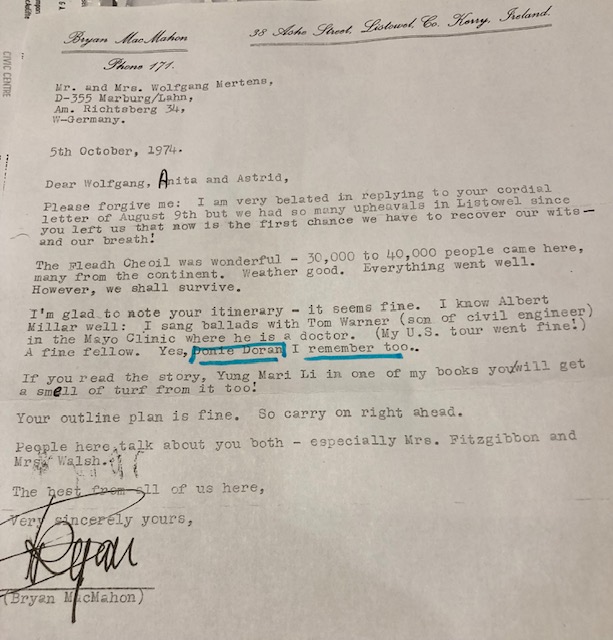 Here are 2 letters Wolfgang kept as souvenirs of his visit to Writers Week in 1974. The first is from Maria Coffey who was, I think, writing on behalf of Writers Week and one from Bryan MacMahon with whom he had a long correspondence. Wolfgang was writing his thesis on his work.
Anita and Wolfgang can't remember where they stayed which is surprising because they remember a lot about their trip.
On their last night they saw a production of The Honey Spike by the Carrick- on-Siur Drama Group and they were enthralled by it.
Wolfgang in his library has almost all of MacMahon's published works, in English and some in translation as well.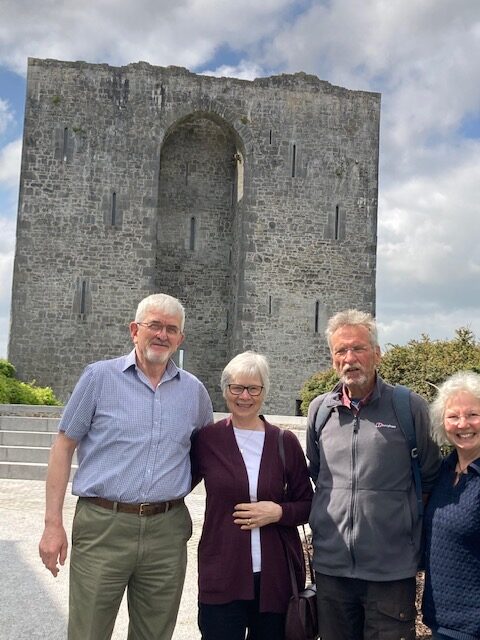 While we were at the MacMahon statue we met Maggie and Mac Donald who were just returning from a visit to Kerry Writers' Museum.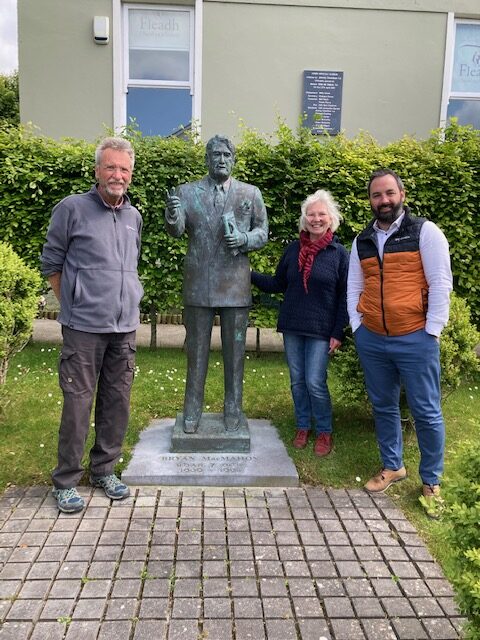 Brían MacMahon took time out of his busy day to welcome the German visitors. He told them a few stories about his famous grandfather and generally charmed them with his wit and friendliness.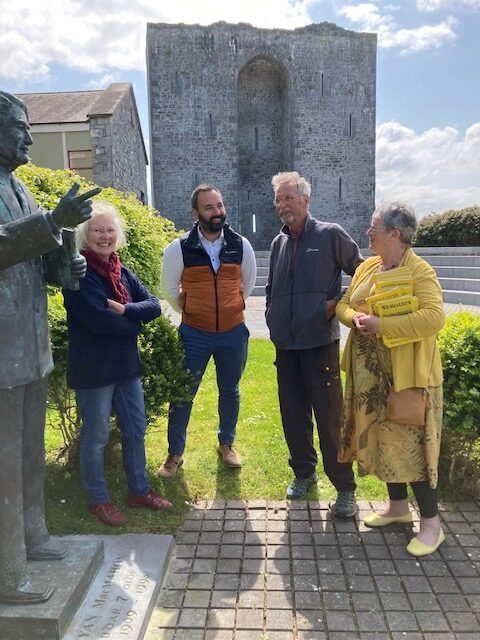 We met Liz Dunn who gave them a brochure for this year's Writers' Week. Wolfgang promises to send me his 1974 programme.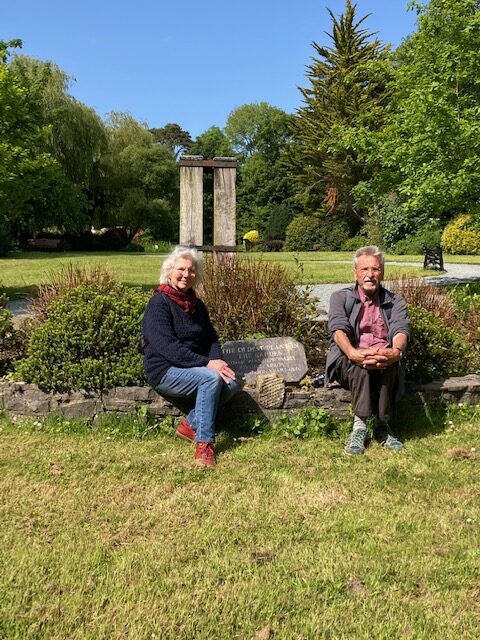 We called to the Garden of Europe on the way home from town.
<<<<<<<<<
A 1980 Visitor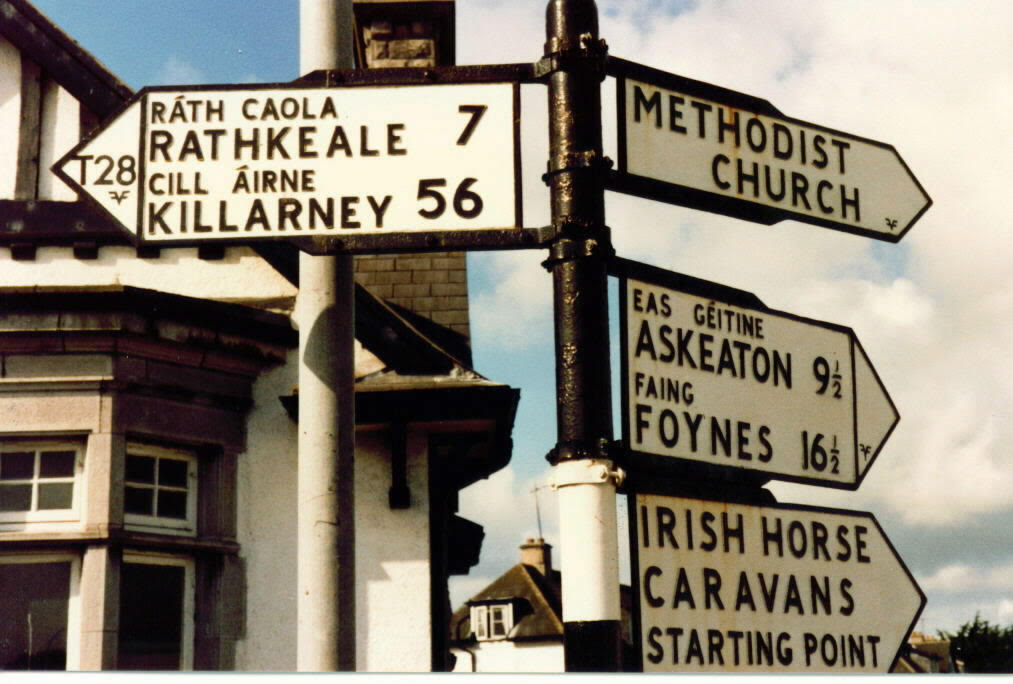 Hello Mary.
I came upon your blog while searching for "Irish Horse Caravans".
I was a young soldier in the US Army on leave in 1980 when I hitchhiked/walked through Ireland.
I have a photo in this email, which I think may possibly be in Adare or very close to it. I was wondering if you perhaps recognize this image and the signs for the roads they reference and could tell me where this may have been.
Regards from the US, Marietta, GA
Bob Jewell
Is Bob correct? Is that Adare? I think so.
<<<<<<<<<<
Kevins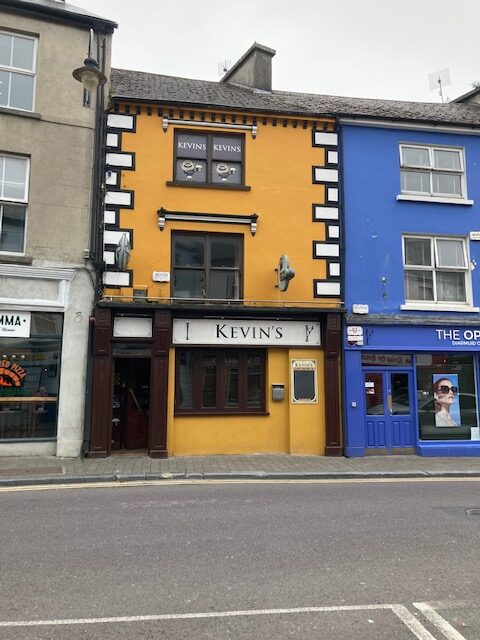 Is your name Kevin or Caoimhín?
If the answer is yes, the place for you to be is this Listowel pub on Friday June 2 in the late evening.
The first annual gathering of people called Kevin in Kevin's is happening there.
The back story; Stephen Connolly, curator of this year's Writers' Week programme was, by chance, in Kevin's on the late owner, Kevin Broderick's, birthday and he happened to sit beside a man called Kevin. This sparked this idea; Why not have a gathering of people called Kevin in a pub called Kevin's during Writers' Week.
BTW you can come too if your name is not Kevin.
<<<<<<<<<<
On the Prowl with Camera
I was in The Square on Saturday May 20 2023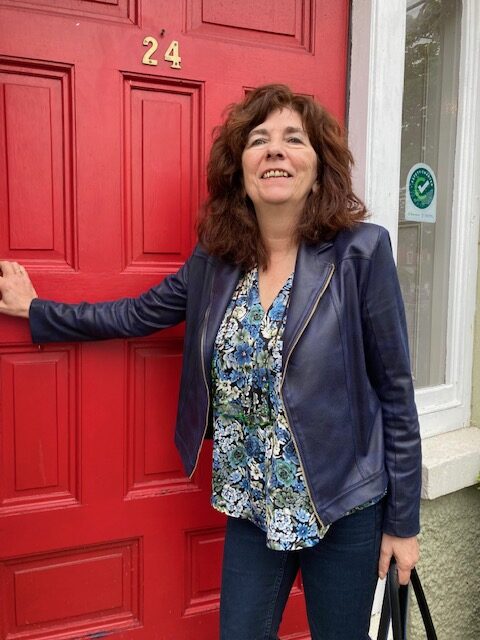 I met the lovely and very talented Eileen Sheehan as she went into Kerry Writers' Museum to facilitate a poetry workshop.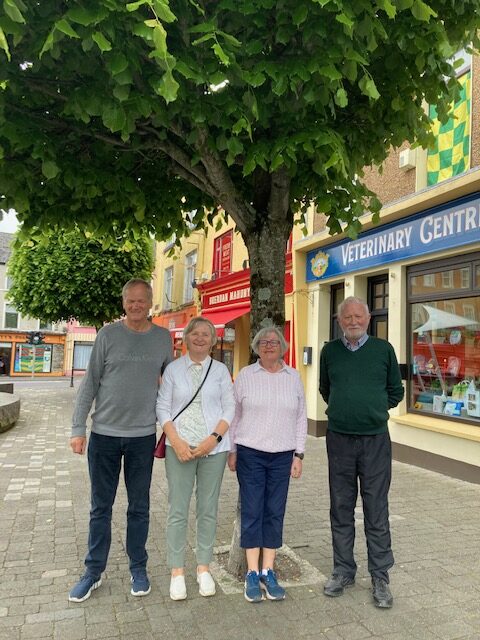 I had a lovely chat with friends, Brian and May Griffin and Mary and Seán Comerford.
<<<<<<<<<<<<
Serendipity
The meaning of the word, good luck in finding valuable things unintentionally, refers to the fairy tale characters who were always making discoveries through chance. You can thank serendipity if you find a pencil at an empty desk just as you walk into an exam and realize that you forgot yours.
I have so often experienced serendipity at Listowel Writers Week. I have gone to a book launch by someone I had never heard of and find the writer or subject so fascinating that I can't wait to read the book.
Let me point you in the direction of a few opportunities for serendipity coming up for us in Listowel.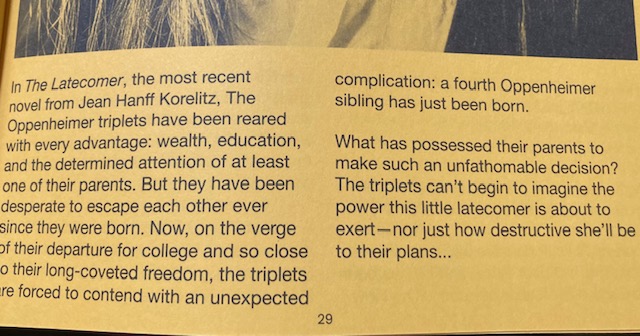 I have never read either of these authors but it looks like lots of people have and loved them.
Friday June2 in The Listowel Arms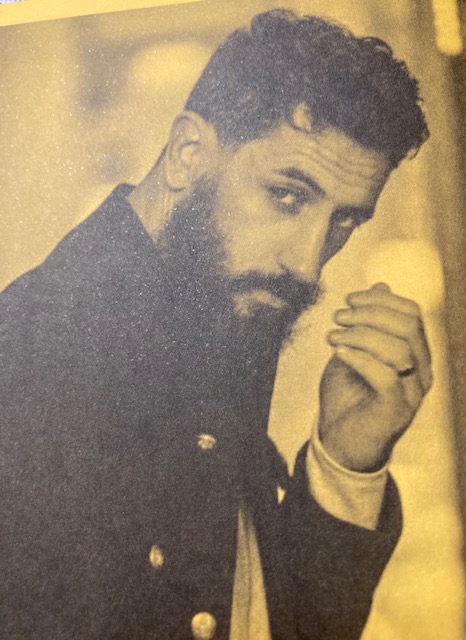 This handsome dude is well known to everyone in Kerry. As well as being one of Kerry's all time great footballers, he is also a clothes designer and now an author.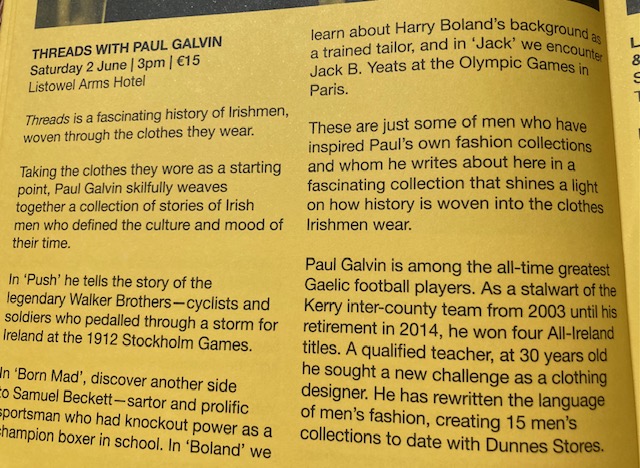 Confession here; I considered buying this book at Christmas and dismissed it without knowing what it was about. I presumed wrongly that it was the story of how a footballer turned into a fashion designer.
I should have looked more closely and, if only to honour my weaver ancestors, I should have bought it. It's not too late to make up for lost time.
Join me in Listowel Arms on Saturday at 3.00
<<<<<<<<<<
I Love this One
Published in The Irish Times on Saturday May 20 2023.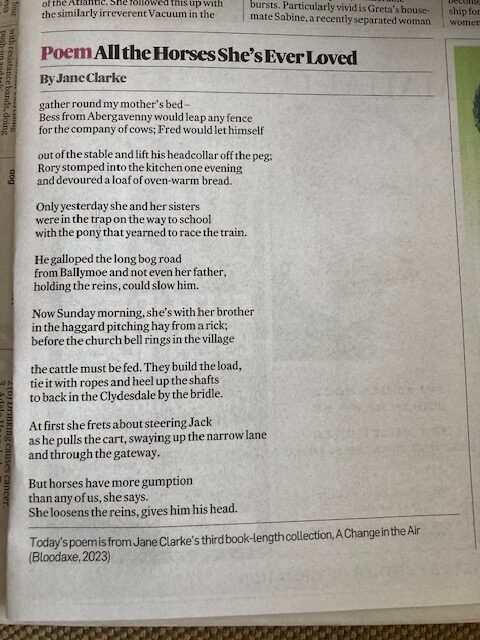 I have a god daughter who I can just imagine spending her old age (which is a long way off yet) reminiscing about horses.
<<<<<<<<<
A Fact
A typical lightening bolt is two miles long.
<<<<<<<<<<<<<