Listowel Town Park, November 2015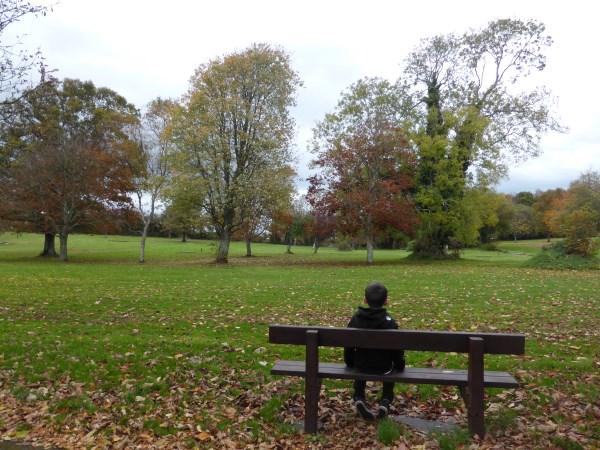 "Poems are made by fools like me
But only God can make a tree."
(Joyce Kilmer)
<<<<<<<<
Ireland's Rural Communities do Funerals Well
Last week I went back to the
land of my forefathers. I went back to my roots, to my father's parish of
Kilbrin in North Cork. I was there to attend the funeral of a local legend, Dan
Breen.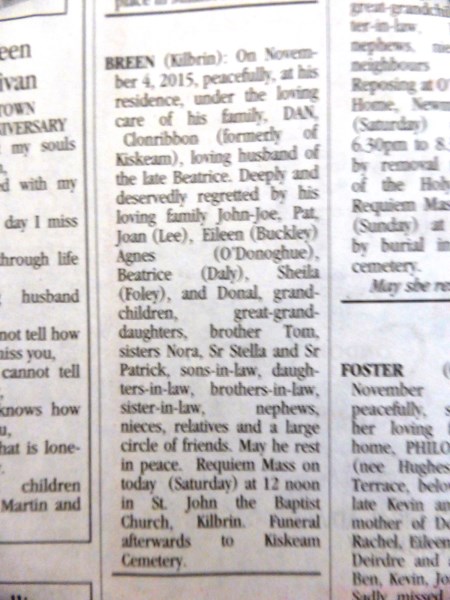 Dan was a lifetime vice president
of Kilbrin GAA and, boy, did they see him out in style.
The flags flew at half
mast and most of the club players and officials lined out on both days to
provide an impressive guard of honour. A lone piper piped his funeral cortege
from the church to the playing field where he attended so many matches, then on
past "The Club" i.e. the local community
centre which was a second home to him. There he loved to play cards and chat over a pint with friends young and old. Dan was one of "the old stock" and Kilbrin respects its elders.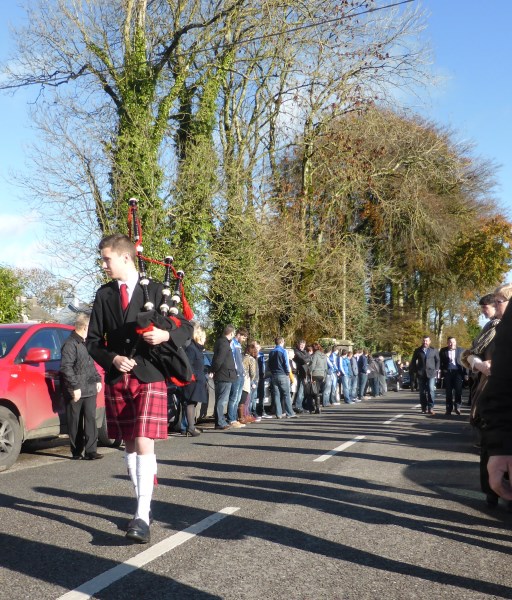 Dan's funeral involved 3
North Cork villages and he would be proud that he brought all three to a halt at various times over the three days. His
wake in Kanturk and his funeral mass in Kilbrin were the biggest seen in the
area for quite some time. His burial in Kiskeam in the lovely hillside
graveyard there was a fitting end to a long and productive life.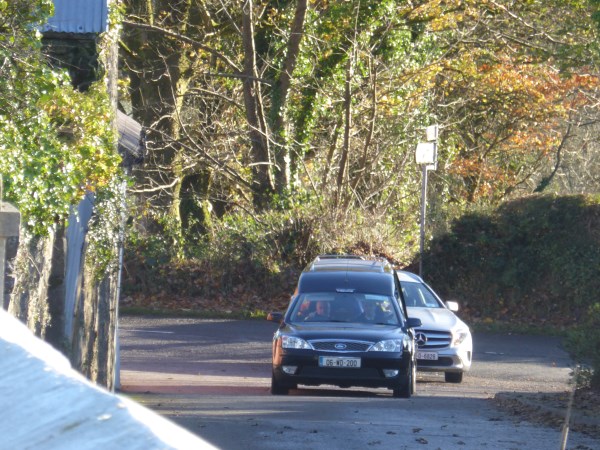 My photo shows the hearse bringing Dan home to his beloved Kiskeam for the last time.
Those who were there will
never forget the plaintive playing of Danny Boy by a family friend from Miltown Malbay as Dan was laid to rest in his
native soil beside his beloved wife, Beatrice.
It was a great funeral with a
huge party afterwards in the community centre in Kiskeam with sandwiches and
confectionary to feed the whole parish. The party continued afterwards in The Club in Kilbrin, finishing on November 8 which would have been Dan's 88th birthday.
The communities of the two
places Dan Breen loved best, Kilbrin and Kiskeam, did him proud. They saw one of
their favourite and most loyal citizens out in style.
Guímis leaba i measc na naomh is na naingeal i gcomhluadar a chairde dá anam uasal dílis.
<<<<<<<<
Kilbrin Revisited… A Sad Journey down Memory Lane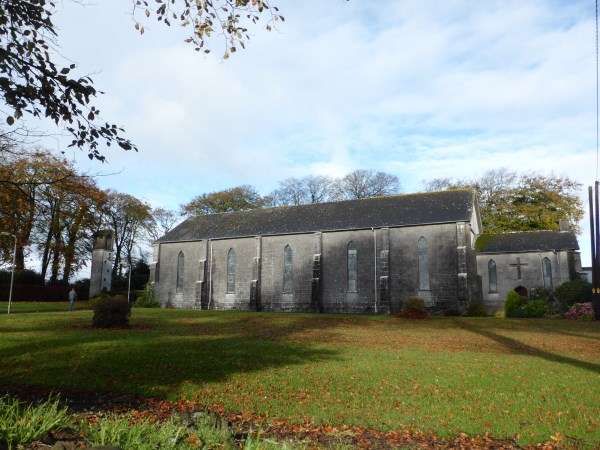 Church of St. John the Baptist, Kilbrin, Co Cork November 7 2015
My father died when I was
seven. As a child I visited Kilbrin often to tend his grave. I have not been
back now for a few years.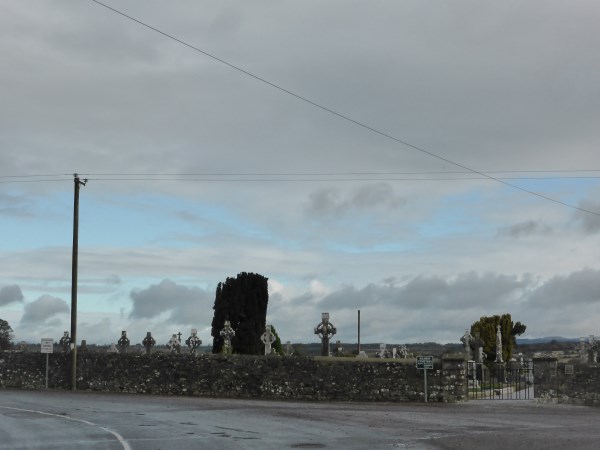 The churchyard where my paternal ancestors, my mother and my sister are buried.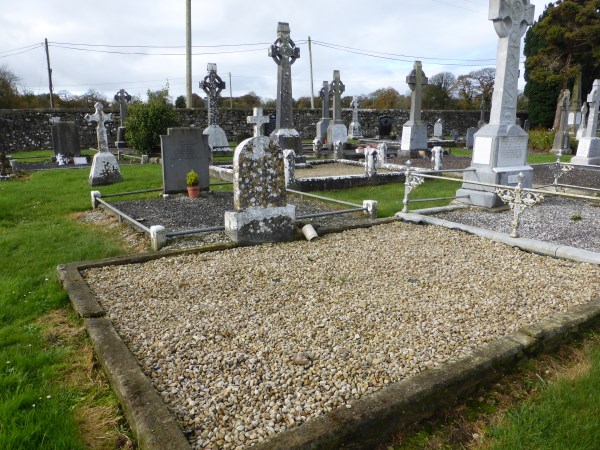 The Ahern family graves
I called to the graveyard to say a prayer for my parents, grandparents, my sister and all of my kinsfolk and neighbours who are buried there. The graveyard is beautifully kept by a local committee who have done tojan work in cleaning up the whole burial ground and putting a plan of the churchyard and the names of all who are buried there online; Kilbrin Graveyard Inscriptions
The church too is lovely. It is very small with 3 small aisles. It was built in the 1830s by Fr. Con Scully. I do intend returning to look at the place again….a trip down memory lane.
I saw huge changes in the village of Kilbrin. It now has no shop and no pub. It does have a licensed premises, the
community centre, but when that is closed you can't buy a newspaper, a bottle of
water or a pint of milk anywhere in the village. It still has a school, a
church and a thriving G.A.A. club but the village without any retail business
is a sad sight.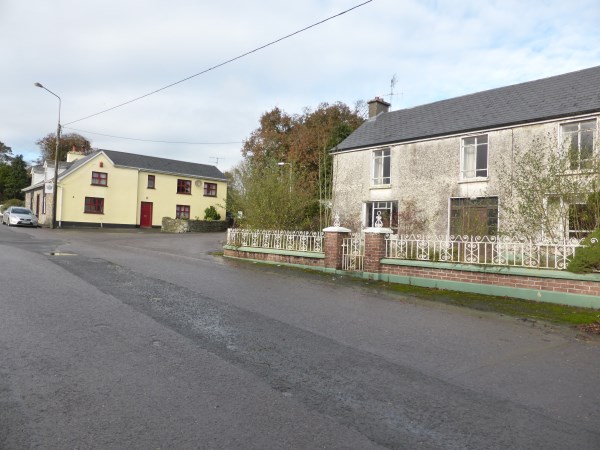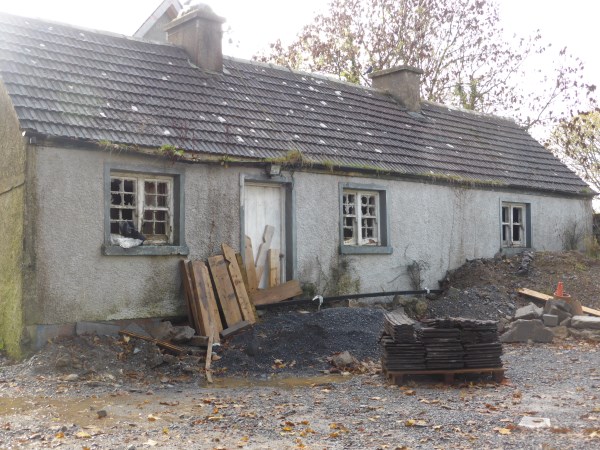 Read all about Kilbrin in their website here; Kilbrin
<<<<<<<


Local Men Fondly Remembered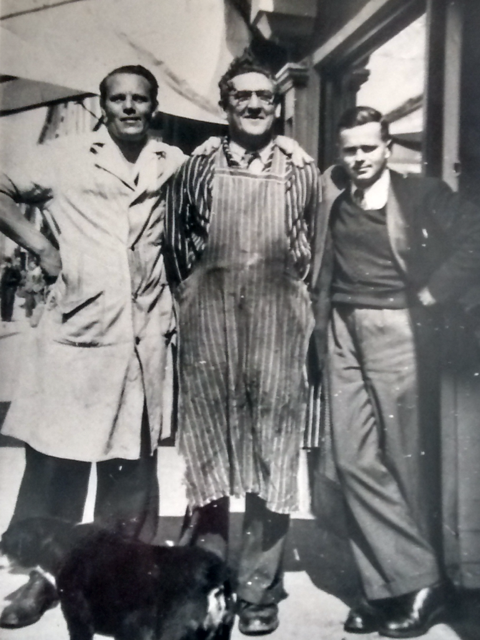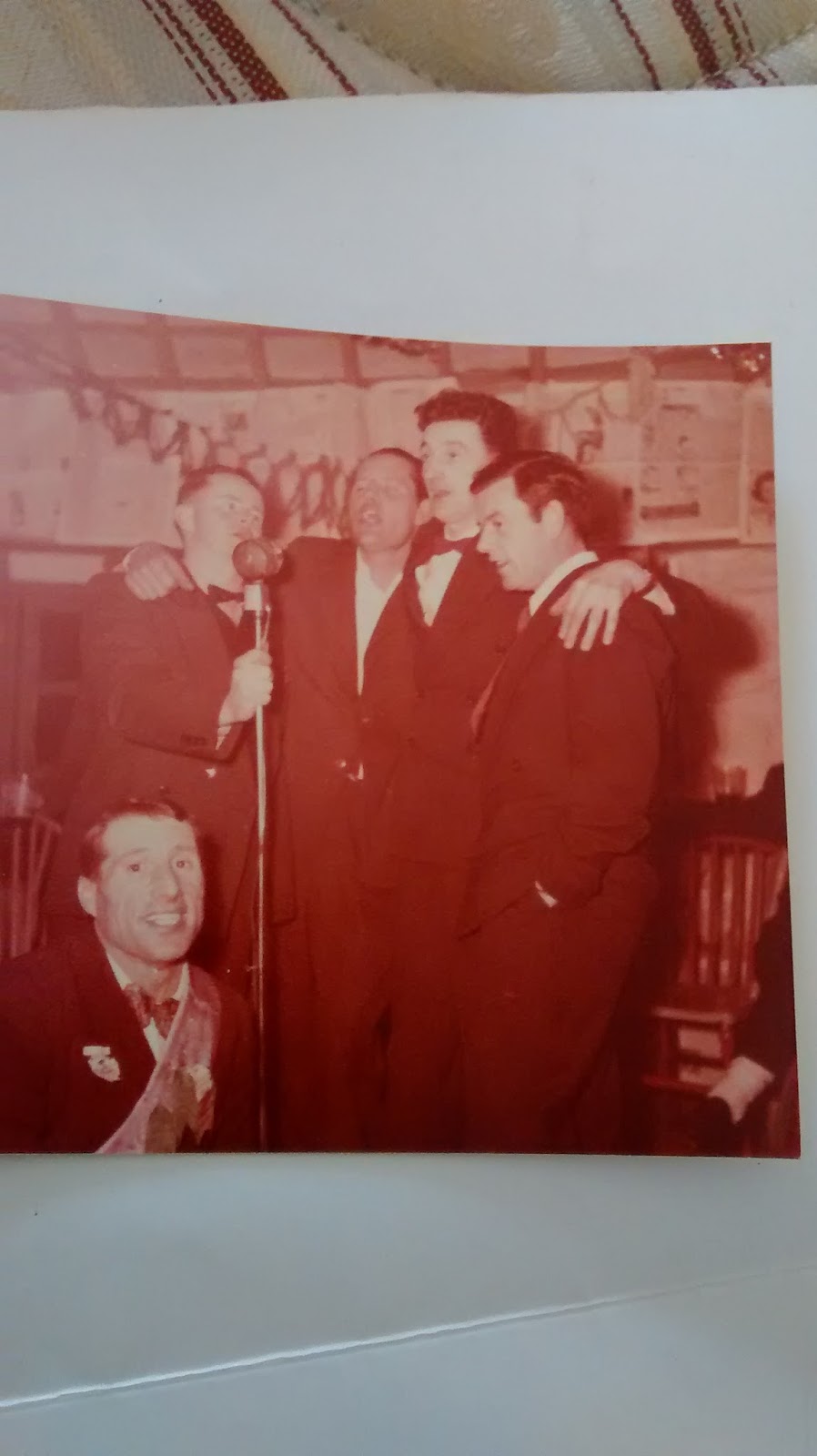 Last week I published these photos of a group of local friends who are all still remembered with great affection.


Owen MacMahon told me about Danny Kelliher (on the right in the first photo). On the left of the photo is Tommy Murphy of Murphy's Butchers' in William St. Murphy's Butchers' employed Danny to deliver the meat around town.
After he finished at Murphy's Danny got a job as a window cleaner.
One day Bryan MacMahon was walking in The Square when he met Danny. The Master stopped to enquire how Danny was getting on with his new job. Danny told him that he was always being asked by tourists alighting from buses in The Square if he knew anything about the history of the castle . He was always disappointed to have to tell them that he didn't. Bryan offered to write out a short history of the castle for him to learn off so that he could answer the tourists' questions. This he did.


Some time later Bryan MacMahon was again perambulating in The Square when he met Danny again as he was cleaning a window. He asked Danny if he had had any opportunity to use his new found knowledge of Listowel Castle.


Danny told him that an American tourist had indeed come up to him and asked about the castle. He gave him the full history as learned from The Master's account. the American man was astounded and he remarked that Danny had a great knowledge of history for a humble window cleaner.


Danny's reply, "You can't beat a well educated proletariat."


The Yank asked no more, only gathered himself back to his bus.


<<<<<<<<<


Listowel 10K: a Great Success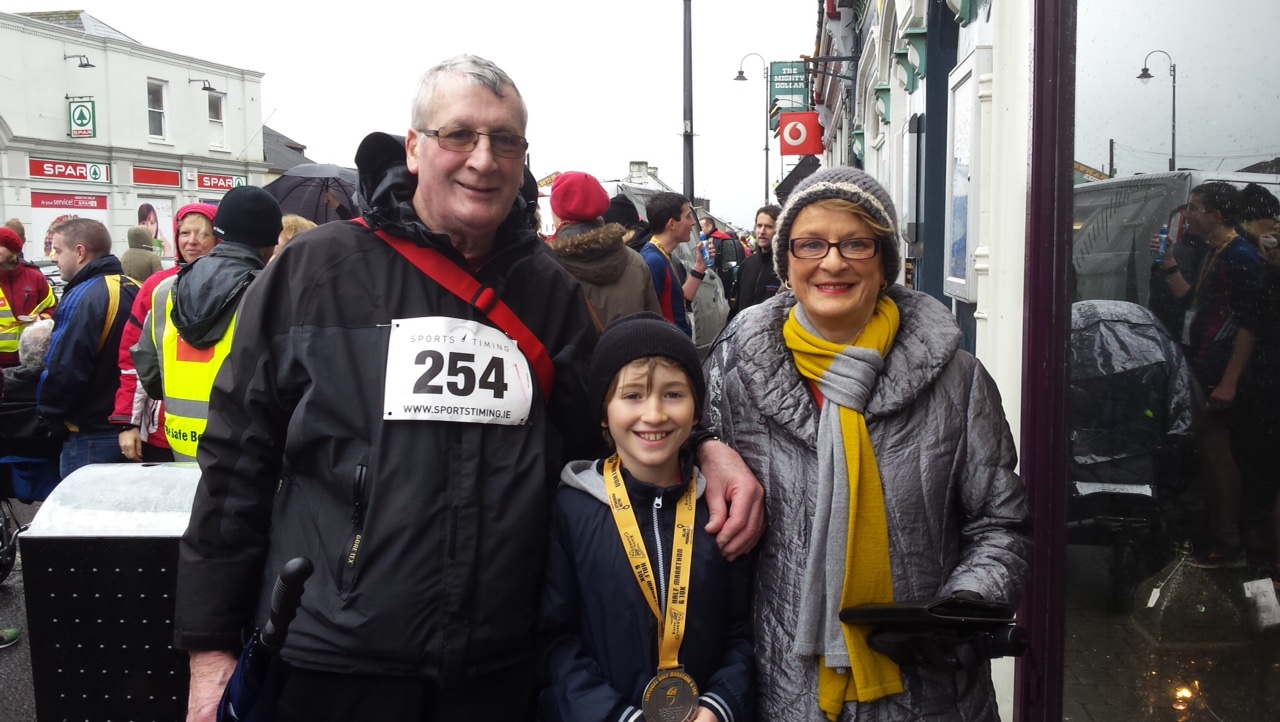 Vincent Carmody presented his medal to his grandson, Jack, at end of Kerry Crusaders 10K on Saturday November 14 2015.