These are positively the last of my Writers Week shots. Next week I'll get back on my bike and see what else is happening in town. I'll root out a few more old photos as well for those of you who prefer the nostalgic stuff.
I was at Baby Boogie on Sunday with my grandchildren and I met a former pupil, Esther Groarke, now the mother of 3 lively boys but still as bubbly and friendly as ever. I love to meet past pupils. Meeting Esther brought back many happy memories. We did not mention the 'make over' she gave me for a school concert!
Pieces of artwork could be viewed at many locations in town.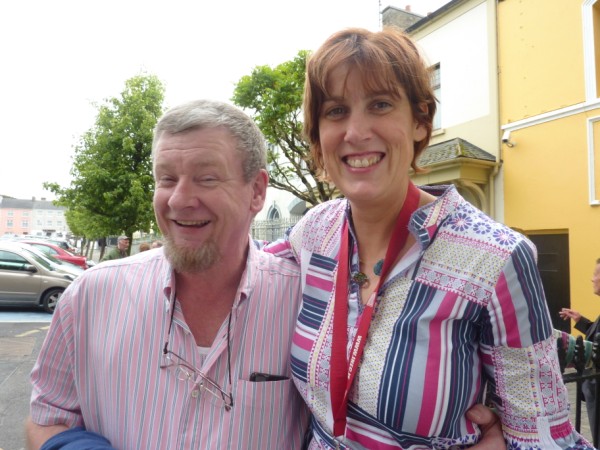 Artists could be spotted as well. Here is Máire with Liam O'Neill. Liam is the artist!
As I was passing the desk with my camera I snapped this gang
Michael Lynch, Norma Foley, Lisa Dennehy, Joanna O'Flynn, Rose Wall, Christine Dywer Hickey, Máire Logue and Seán Lyons.
Norma was at Writers' Week with her class from Pres. Tralee who came to listen to Óisín McGann.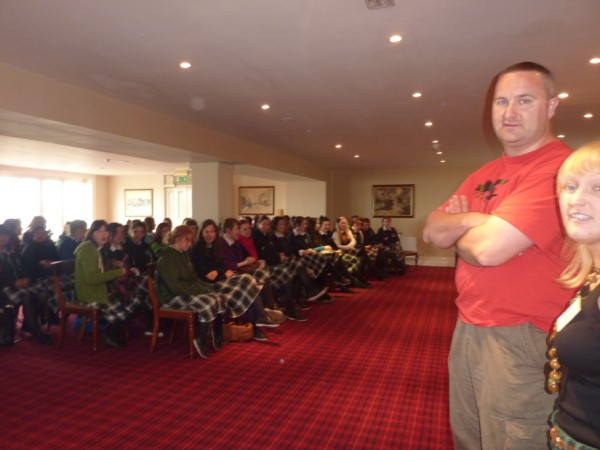 >>>>>>
Now to Saturday; I am a member of Listowel Library Book Club and the plan was to meet up with members of Killarney book club, go on the river bank walk, lunch together and then go on to Anne Enright's reading. We had all read The Forgotten Waltz.
The best laid plans of mice and men……
The weather put paid to thoughts of walking any distance so we decided instead to go to the lunchtime theatre and take a short walk around the town.
While we were deciding on our revised plan, Máire Logue offered to ask Anne Enright, who was breakfasting in the hotel, if she would meet us informally.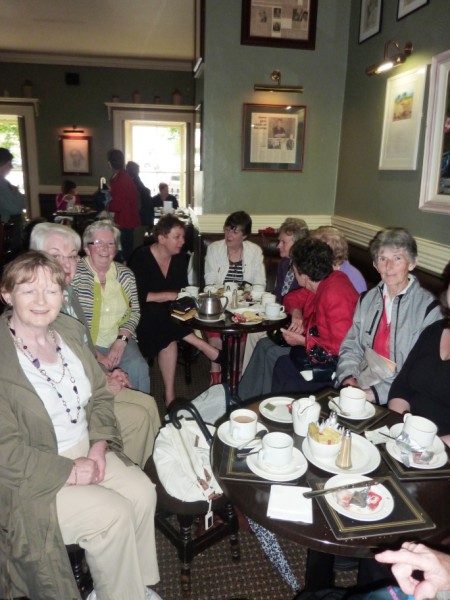 There I am sitting right next to Anne Enright, totally starstruck!
Anne was a very gracious, very ordinary, very down to earth lady. She chatted to us and even posed for a Listowel type photo on the hotel stairs. Thank you, Máire. You made a day that was about to go pear shaped extra special.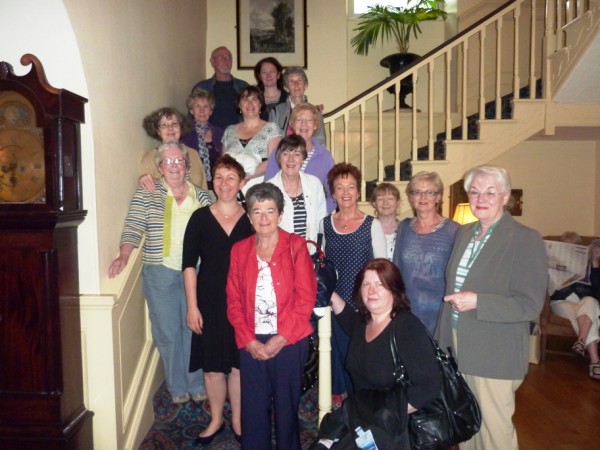 We then went for a walkabout in Listowel and the Killarney ladies soaked in the cultural vibe.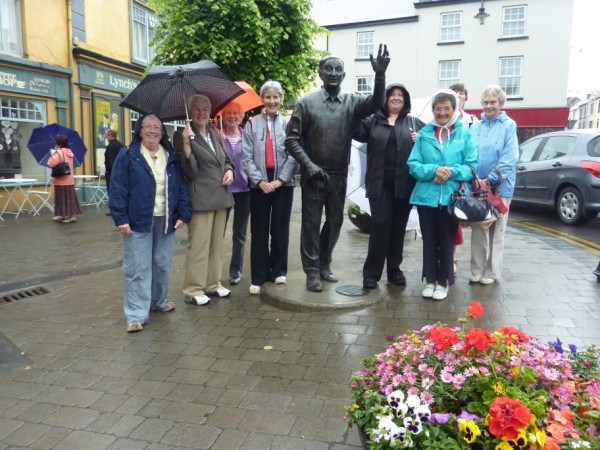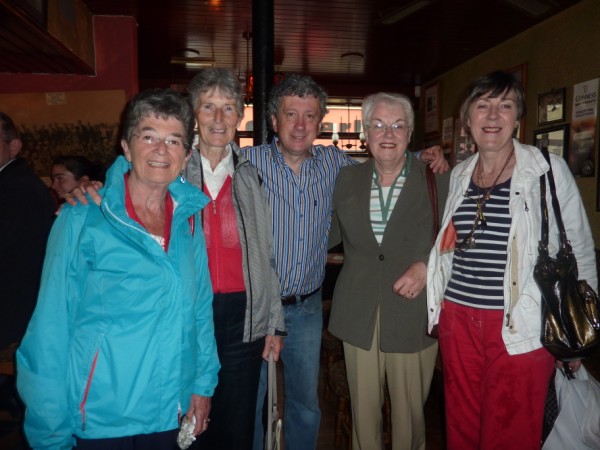 Billy Keane charmed the Killarney ladies and introduced them to Julian Gough who was having a quiet pint in the bar.
We went to Ronan Wilmot in St. John's. Brilliant! We lunched in The Listowel Arms, attended Anne Enright's reading and had a great day out.
I look forward to meeting my new found Killarney friends again next year.
>>>>>
From Jer Kennelly comes this old photo of John B. with Tom Sullivan and Michael Kennelly.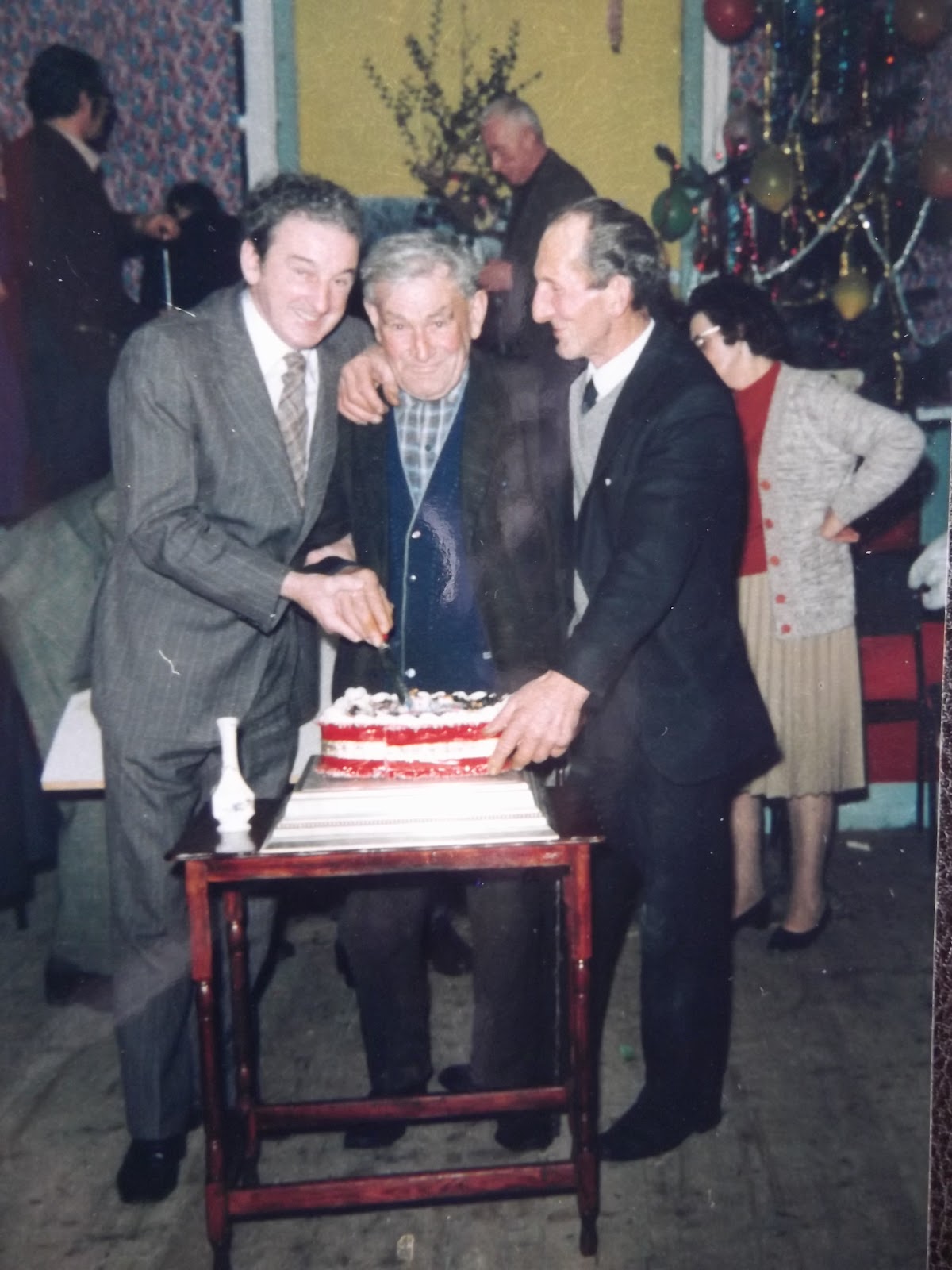 >>>>>>>
Finally
http://www.youtube.com/watch?v=uM1JfE5l_Hs
Aisling O'Sullivan reads John B. Keane's Two Eyes to Mary Keane on The John Murray Show.