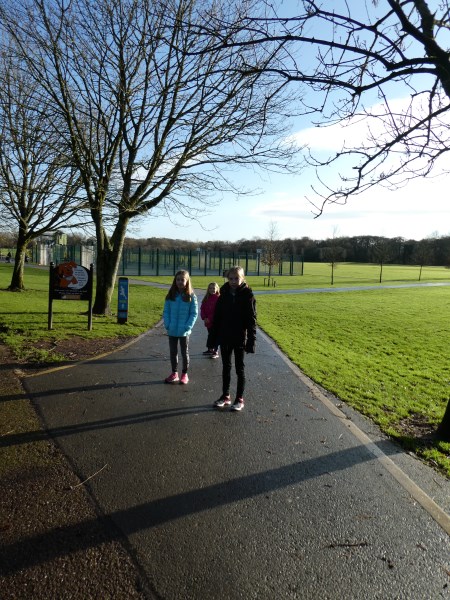 January with the ladies in Ballincollig Regional Park


<<<<<<<<<,

From the Archives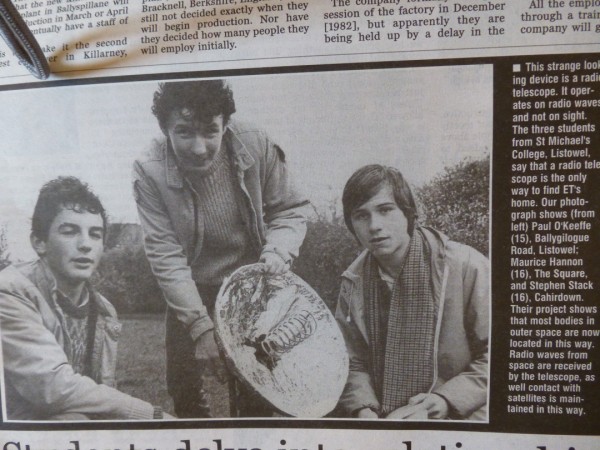 Young Scientists in Listowel in 1983 pictured in The Kerryman
<<<<<<<<<<
Some Facts Stranger than Fiction
The oldest bridge in Paris is Pont Neuf meaning new bridge.
The first woman to play golf was Mary Queen of Scots.
Agatha Christie was a keen surfer.
<<<<<<<<<<<


Landlord and Agent


Kay Caball is the acknowledged expert in the area of Kerry ancestors. Her book, Finding Your Kerry Ancestors and her website, My Kerry Ancestors and her blog
are required reading for anyone researching their Kerry roots.
Here is a small section of a series of blogs on Landords and Tenants;
"In Ireland we are very much aware of the importance of 'the land'. Who owned the land? Who rented the land? How did the system work ? These are just some of the questions that my colleague Jim Ryan of Flyleaf Press and Ancestor Network has answered in his definitive article on Irish land records or Rentals in his recent blog.
Jim has kindly given me permission to reproduce his blog in sections. I will publish these over the next few weeks, finishing with a list of surviving Kerry land records and where to access them as in my book Finding Your Ancestors in Kerry.
Agents. The practical day-to-day management of estates was usually the work of land agents, also known as estate agents. These could be hired by large estates as members of staff, or contracted as external estate managers. There were several large land or estate management companies that could be hired to perform this role. Some of these external companies managed hundreds of small estates on behalf of their owners. Agents provided the estate owners with regular rental reports detailing rental income due and received. These reports were particularly important for 'absentee landlords' who did not reside in Ireland. These were entirely reliant on their agent to manage their estate business and to keep them informed of issues that might affect their income. Land stewards, sometimes referred to in documents, were staff who worked under land agents.
Agents were generally reviled by tenants. A popular contemporary quote was that 'Landlords were sometimes decent men, but agents were devils one and all'. This is not entirely fair as there were many agents who were respected by their tenants, but a larger proportion performed their function through coercion and threat of eviction. In their defence, the historical evidence suggests that most were not provided with the funding or authority which might have allowed them to assist their tenants to improve their farming methods or land, or to facilitate access to markets etc. Further background to the complex roles and circumstances of the land agent can be found in 2 books: Landlords, tenants, famine: the business of an Irish land agency in the 1840s. Desmond Norton. UCD Press 2006. ISBN 978-1-904558-55-2; and The Irish Land Agent 1830-60: the case of Kings County. Ciaran Reilly, Four Courts Press 2014. ISBN 978-1-84682-510-1
Observations. Most rentals have an 'observations' column which is variable in its use. Some rentals contain no observations, others are used by the agent or landlord for their own accounting notes, while others are used by agents to provide information to their landlord on the circumstances of a particular tenant. These include brief comments such as 'good tenant', 'lazy tenant', 'promises to pay', 'pauper' etc, but may also contain more valuable family history information such as 'died in August', 'emigrated in December', 'a son of Luke Murphy of Ballinamore' etc. "
<<<<<<<
Good News for Pres. Secondary School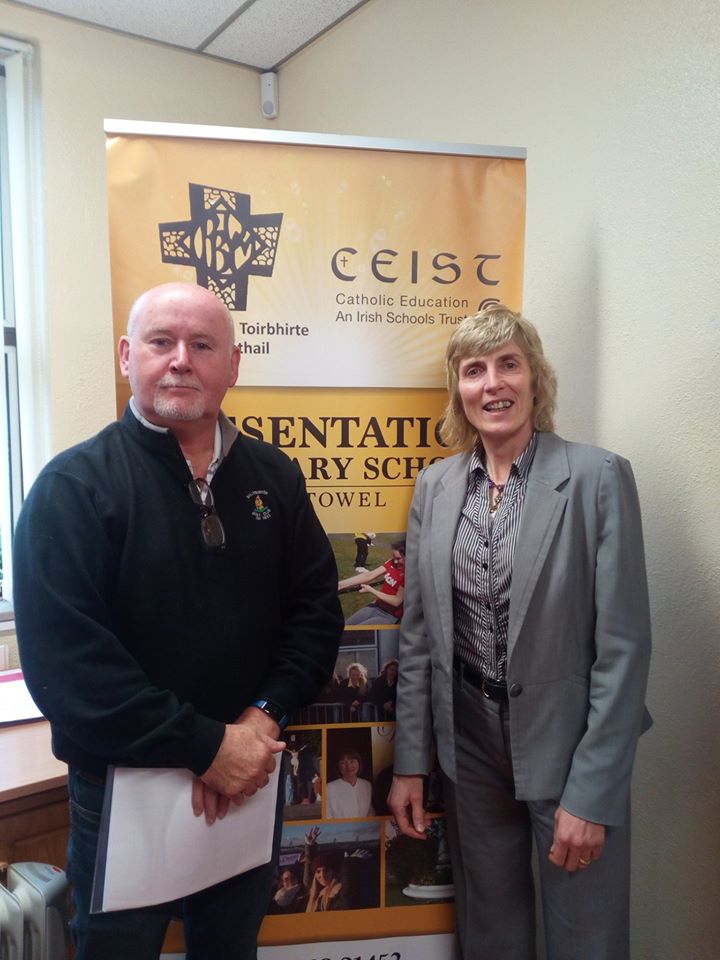 Chairperson of the Board of Management, Shay Downes with Principal, Eileen Kennelly following the announcement this week of Department approval for two state of the art science labs, specialist rooms and classrooms. Exciting times ahead!