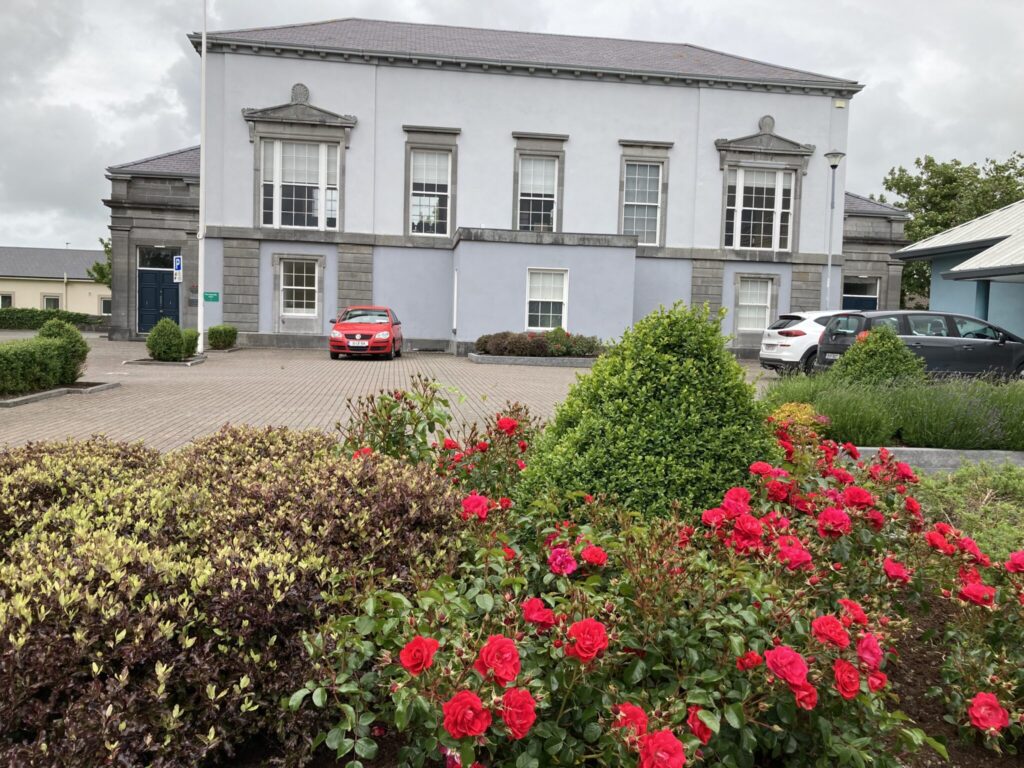 <<<<<<<<
St. John's Church, Ballybunion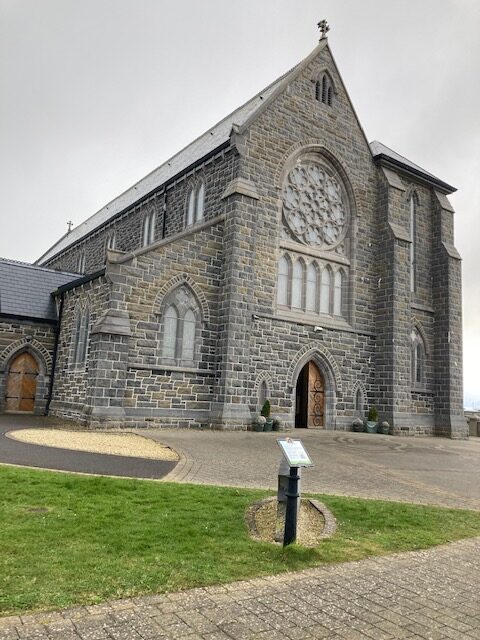 St. John's is an astonishingly beautiful church.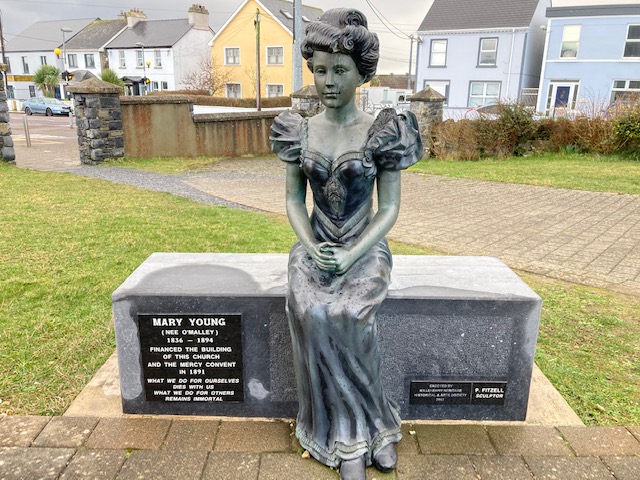 This lady, sitting frozen outside the door, is who we have to thank.
Mary O'Malley Young was a very pious lady. She settled in Ballybunion after her millionaire husband died. She befriended Fr. Mortimer O'Connor who was the parish priest. She built the church and the convent for the Sisters of Mercy. She built two houses in Ballybunion but ended her days in the convent she had built. Mary Young invested all of her inherited wealth in Ballybunion. She did not live to see St. John's completed. Fr. O'Connor was very ill but dragged himself from his sick bed to bless the church on opening day in August 1897.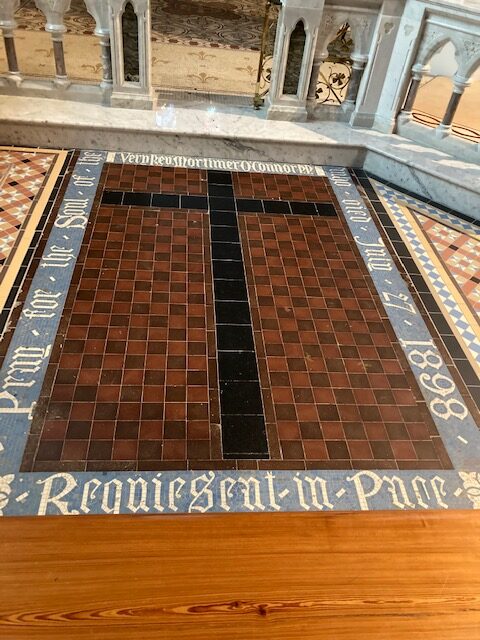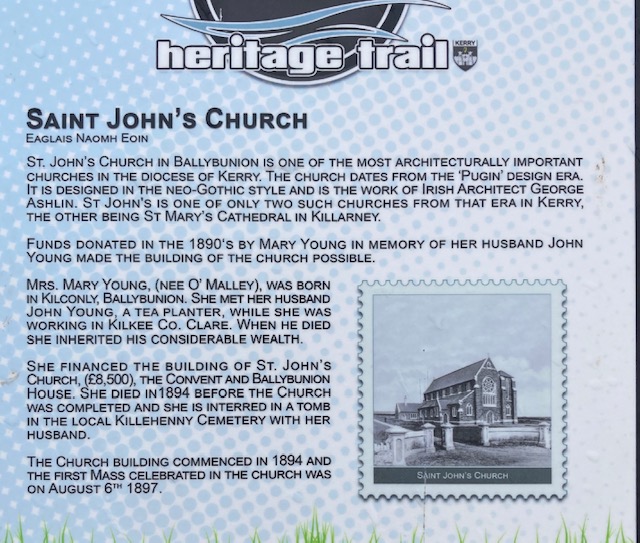 According to Danny Houlihan's great book, Ballybunion an illustrated history, the original Ballybunion Parish Church was in Doon. It was a much smaller, simpler church than St. John's.
Doon church fell into decline as the mass goers moved to the more convenient St. John's. Doon was located about a mile from the town . St. John's was completed in 1897 and gradually the congregation moved to the Church in town. St. John's was first intended as a second church as the Doon one was small but the arrival of the Lartigue railway in 1888 meant that there was demand for a church that could be easily accessed on foot.
St. John's today is a must see visitor attraction if you are in Ballybunion. It is, of course also a busy place of worship.
<<<<<<<<<<<<<
In Vincent's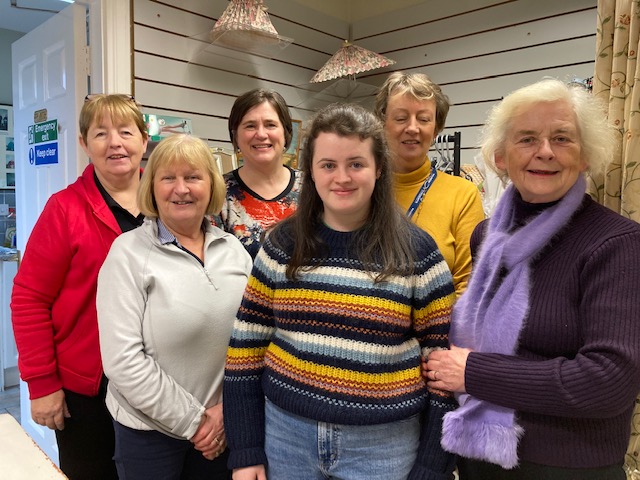 Listowel's Vincent's, the retail outlet of the Society of St. Vincent de Paul is located at Upper William Street. These are some of the lovely volunteer customer assistants that you may meet there any opening day.
Vincent's is open on Thursday and Fridays from 11.00 to 5.00 and on Saturdays from 2.00 to 5.00
<<<<<<<<<<
A Butter Box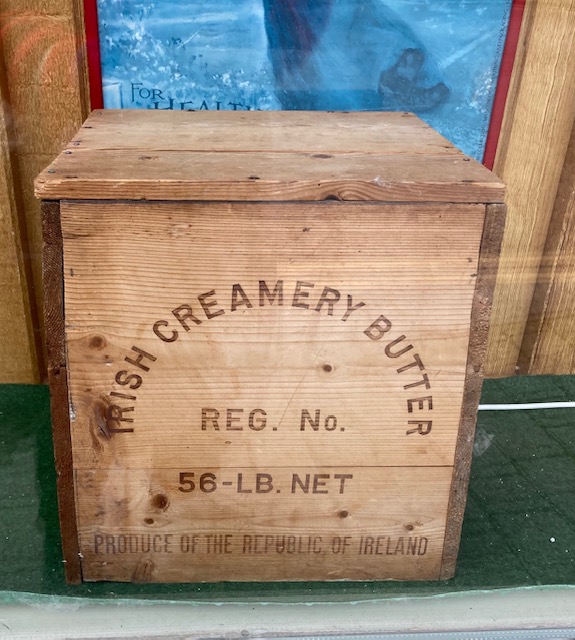 I grew up in Kanturk , a town famous for it's delicious butter.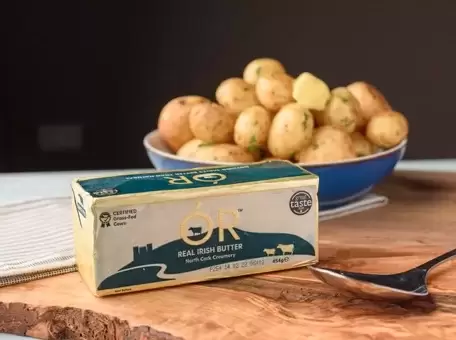 It is now called Ór but in my day local people just called it Kanturk butter.
I worked for a summer in the creamery offices. It was my first introduction to a telephone exchange…nightmare!
As well as answering the phone we had various callers to the office with various queries. I remember a consignment of butter destined for an African country and so made with some kind of preservative to keep it fresh on the long boat journey. The preservative coloured the butter dark brown. The ship broke down and couldn't sail. The butter was returned to Kanturk and a decision made to sell it in the local shops. One lady called to the office demanding to see the manager to complain that her husband wouldn't eat the butter. We told her the story of why it was that colour and we reassured her that the taste was exactly the same. Unmollified she demanded to see the manager. He was duly brought to her and his solution to her dilemma was "I suggest, ma'am, you blindfold your husband."
The sight of a butter box in the window of The Horseshoe brought me back to that time.
<<<<<<<<
Listowel Library
It's well worth keeping an eye out for great things happening in the library.
For instance a Creative Writing Group Write Lines, meets on Tuesdays from 10.30 to 12.00.
<<<<<<<<<<
A Fact
It is against the law to leave a restaurant in Italy without a receipt. Apparently this is not because they have so many diners doing a runner but because so many Italian restaurants were avoiding tax by doing cash- in -hand customer transactions.
So when in Rome, be sure to ask for a receipt and keep it on you.
<<<<<<<<<