Glenbeigh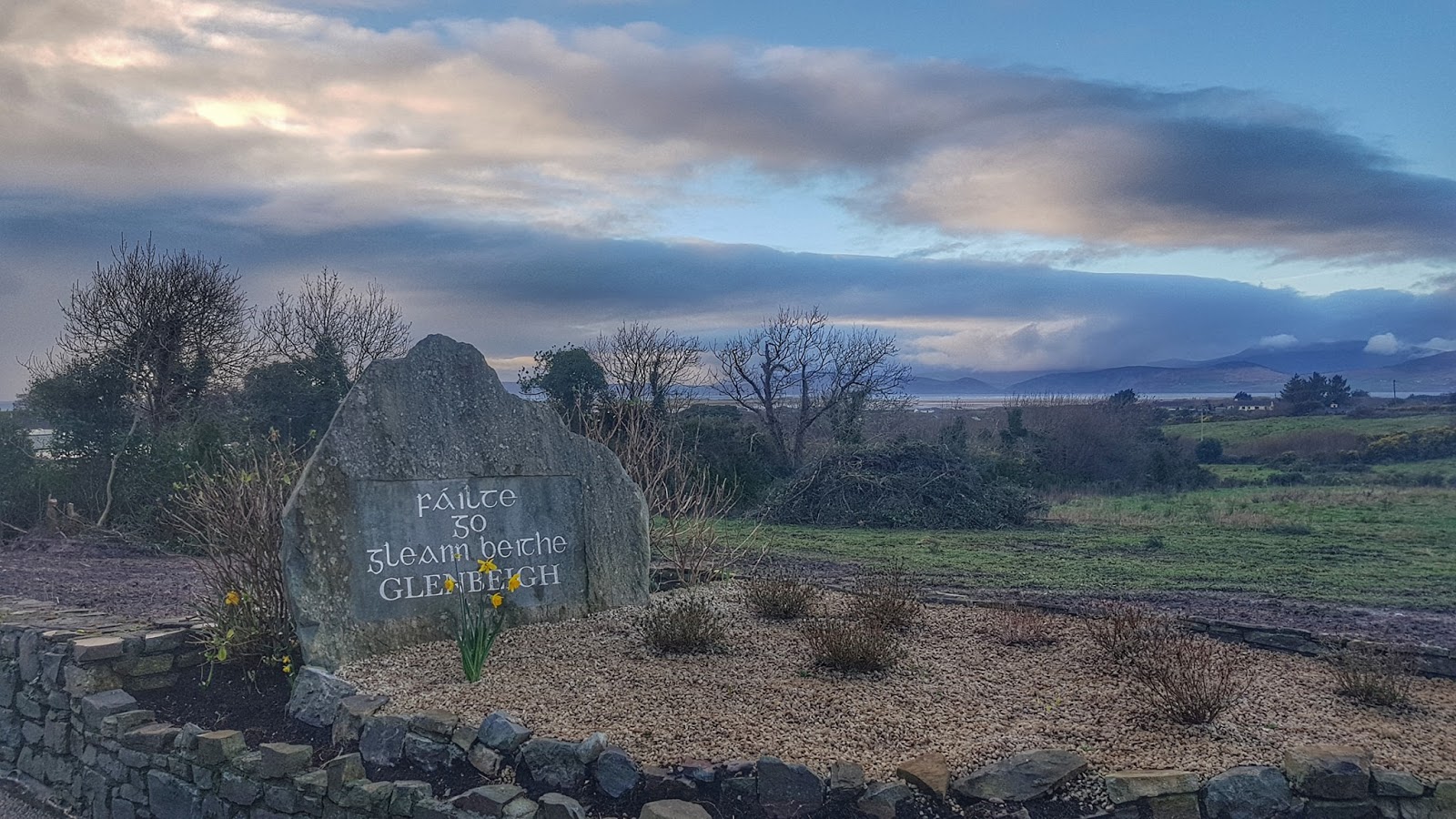 Photo: Chris Grayson
<<<<<<<<
Rain Didn't stop Play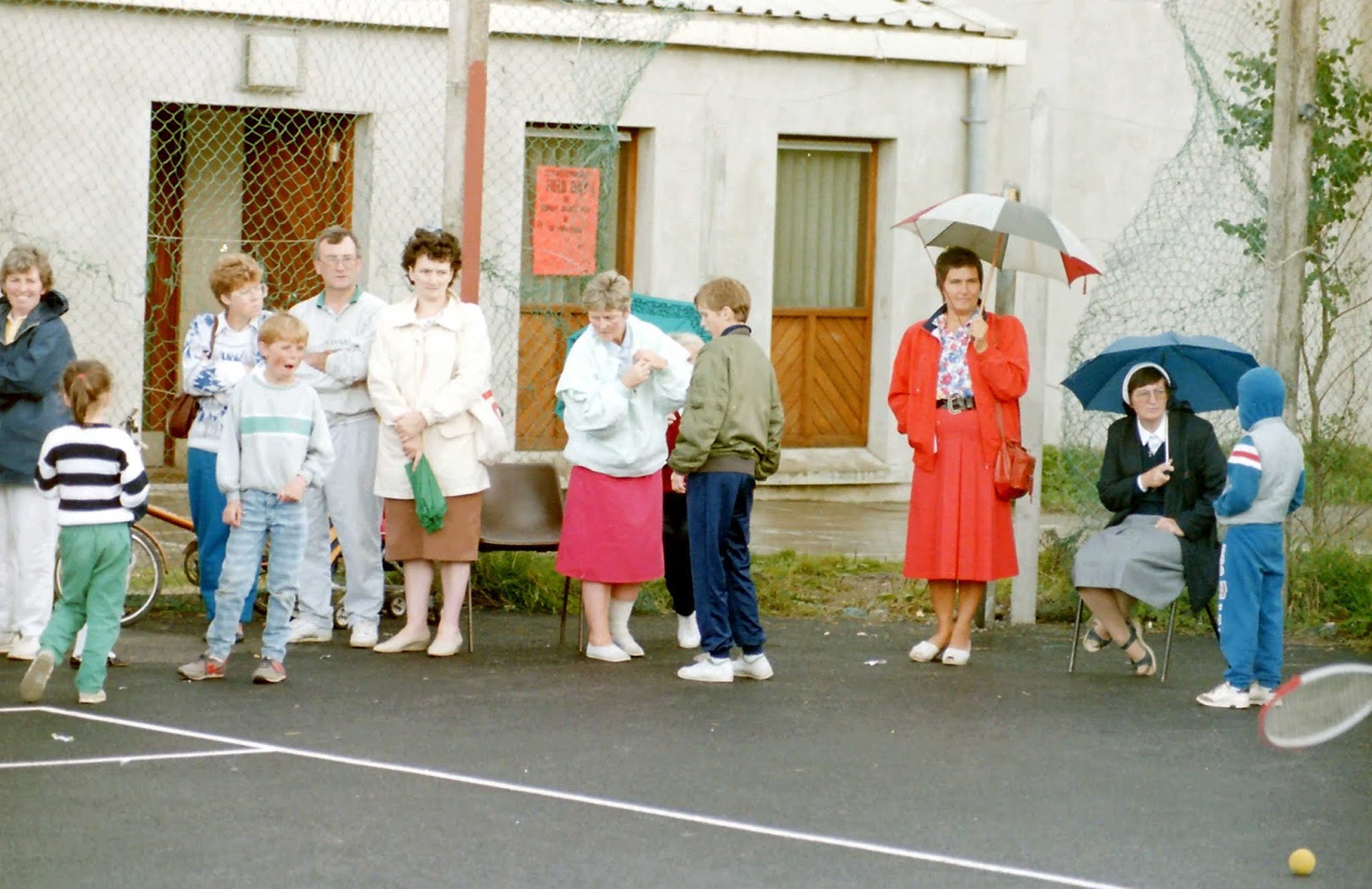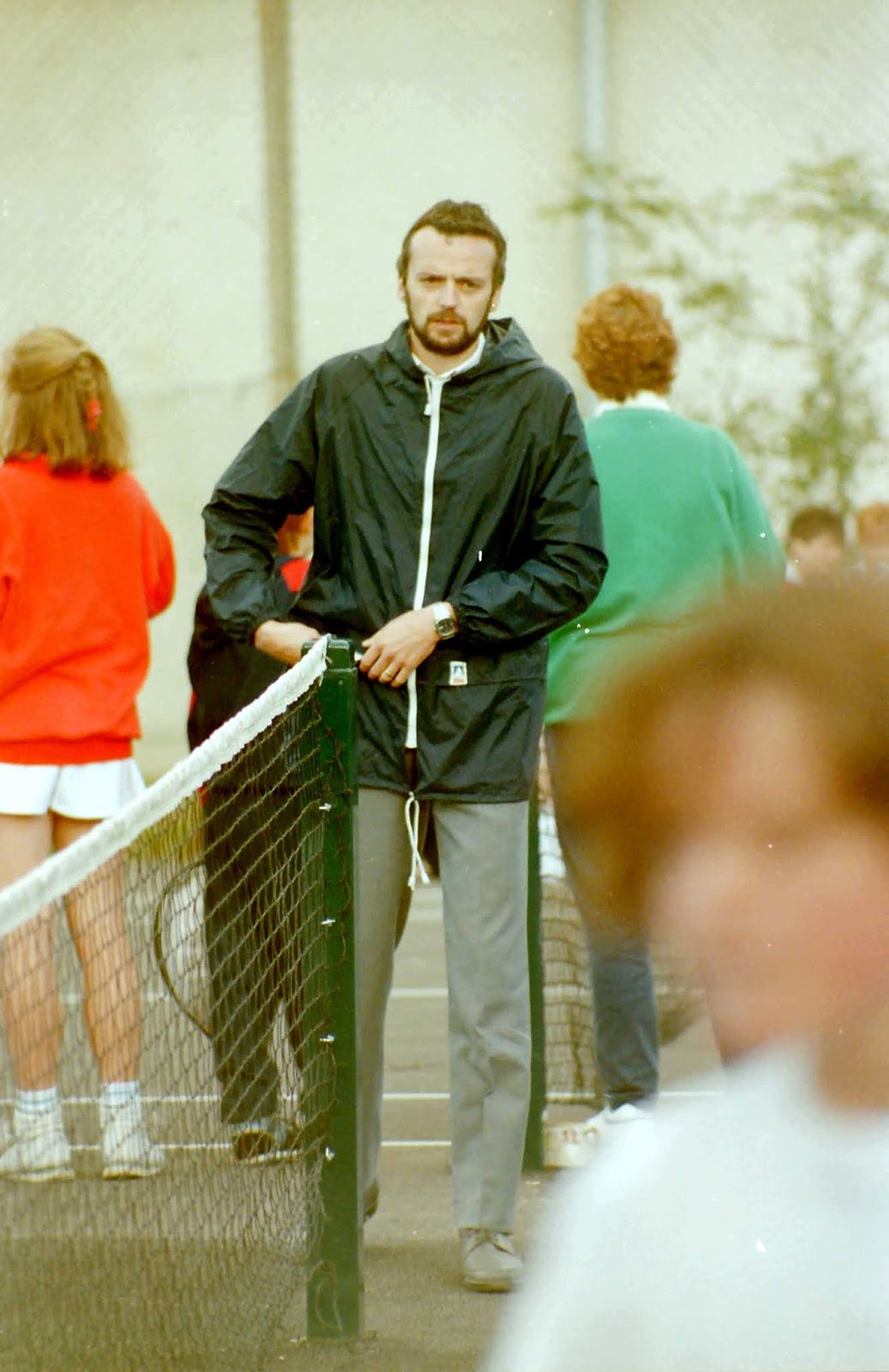 I have a kind of policy of not naming anyone if I can't name everyone. So you'll have to enjoy seeing yourself and your friends in Danny Gordon's photos from 1987.
<<<<<<<<
A National Treasure
This artefact is from the National Treasures collection. It reminds of a very different world in the 1950s and 50s
"A Catholic Handbook. This little booklet measuring 9cm x 11.5cm, which cost sixpence highlights a very different Ireland. Published in 1954, the handbook was drawn up because "economic difficulties especially the scarcity of work in counties like Mayo, Kerry and Galway have caused boys and girls to leave homes in Ireland and seek a living in the land across the water." When I took up my first teaching post in Roscommon in 1974, it was part of the library in the school. I was given the responsibility to sort out the school library and when I found this document, I decided to keep it because it speaks volumes about Ireland at a certain period in time. You wouldn't know whether to laugh or cry reading it but when I first read it, I recognised its historical value. In many ways, it was sad that it was a reference book in a school library where many students would have emigrated from. It gives insight into the loneliness, isolation, and fear of emigration in the 1950s. On arrival in England, the book advises that one of the first things you should do is look up the local parish priest."
Thanks to Eileen Fahey
<<<<<<<
Listowel's Discount Stores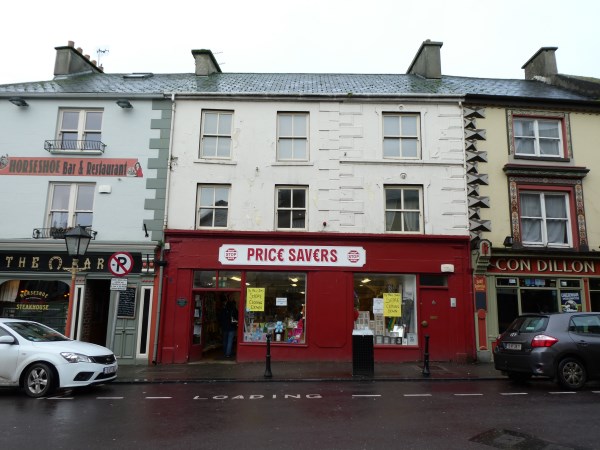 Price Savers closed on Saturday February 2 2019. It is another in a long list of discount stores to come and go.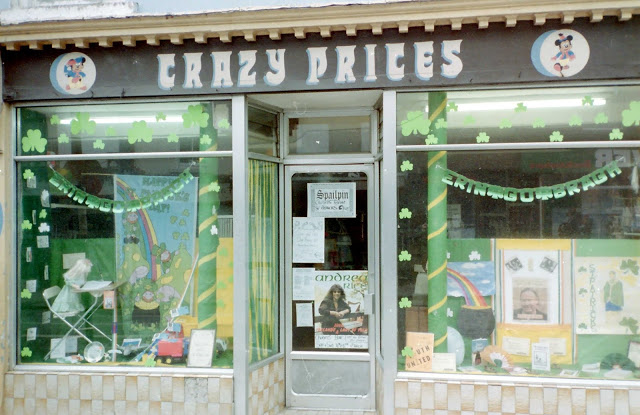 Meanwhile I had started a debate as to where this one was located. Let me tell you that my super sleuth a.k.a Cathy Healy, remembered the shop well because it was there she spent all her communion money on fancy paper, pencils and toys.
Others weren't so sure and thought it was on Church Street at Bunyan's, the location of the old NCBI shop.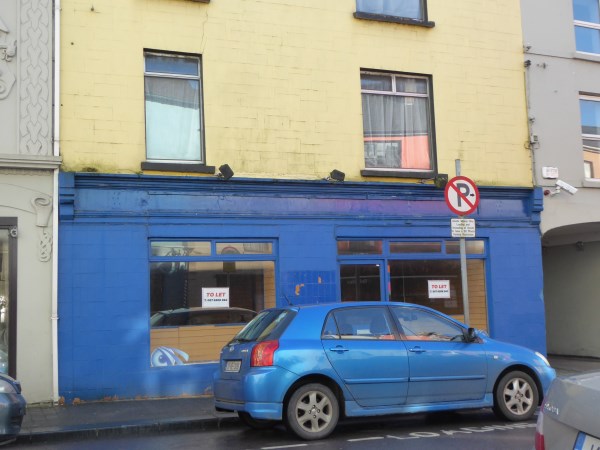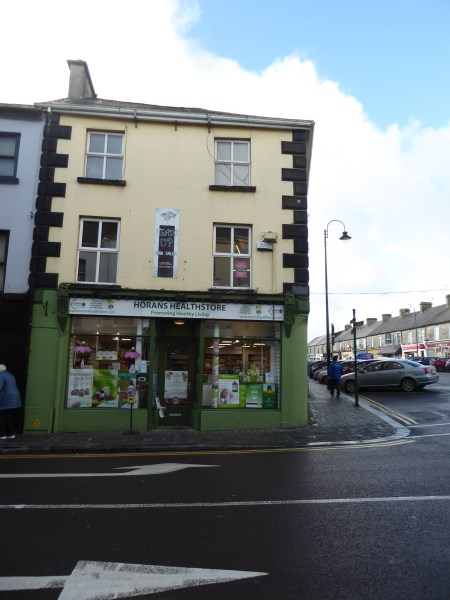 A look at both shops today confirms Cathy's conviction. I think people confused Crazy Prices with Wisebuys.
Emma McElligott spent a euro or two in Crazy Prices and she remembered it well at the corner of William Street and Market Street in the old Paul Shanahan's shoe shop. Years later she ran into the people who used to run it at a fair in Curraghchase
Just to be sure to be sure, Cathy contacted Mary Buckley who was a good friend of Sheila McCormack, daughter of the owners, Tess and Jerry McCormack and she confirmed what we knew by now…definitely it is the premises that is now Horan's Healthstore. It was run as a discount store by Nora Hannon after the McCormack family and then as Walsh Bros Electrical before Horan's Healthstore
By the way does anyone remember "Tis only a pound"?
<<<<<<<<


Lyreacrompane Memories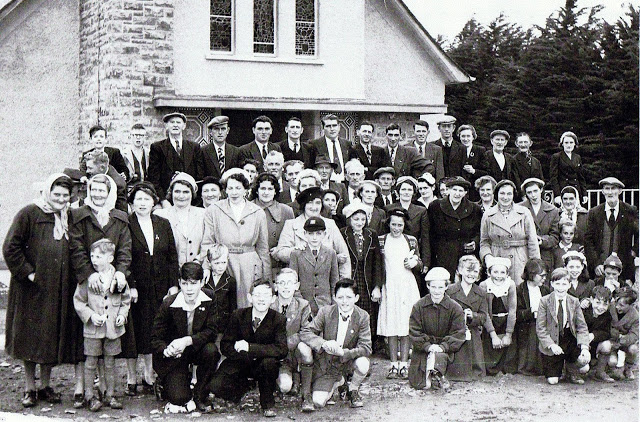 Lyre emigrant, Liam Murphy sent this poignant email
Hi Mary,


Thanks once again for your Listowel Connection Blog so great as usual, nice to read and see the different items from home. In the "Lyre 1956", photo of the opening of the new church. In the front row kneeling 3rd from left , that's me, notice on left sleeve the black diamond in memory of my mother who had passed away Sept 5th 1956. Back then and I don't know when the custom ended, the male family members wore it for twelve months as I recall after a family death.
Thanks again, have a great year. Liam (Bill).
That black diamond that Liam refers to seems to have fallen completely into disuse. So too the wearing of headscarfs by women and skull caps by young boys.
<<<<<<<<


All Good Things Come to an End


Wednesday Feb 6 2019 saw raw last of the Literary evenings hosted by Listowel Writers Week in The Rose Hotel Tralee. The super star guest on this occasion was the spoken word poet, Stephen James Smith. It was a lovely intimate session where this honest man revealed much of himself to as as well as delivering some of his poems in his own inimitable style. Great night! Another triumph for Listowel Writers' Week.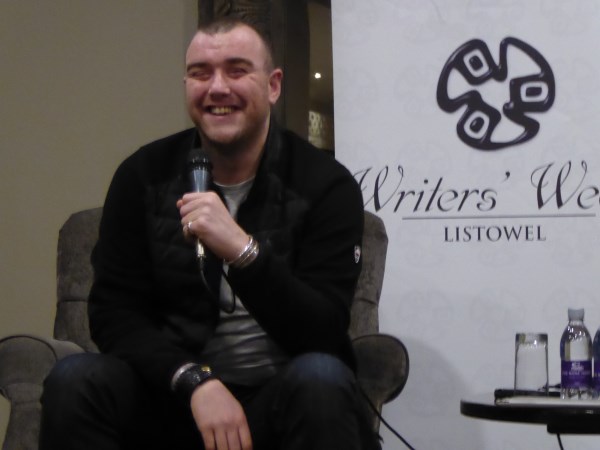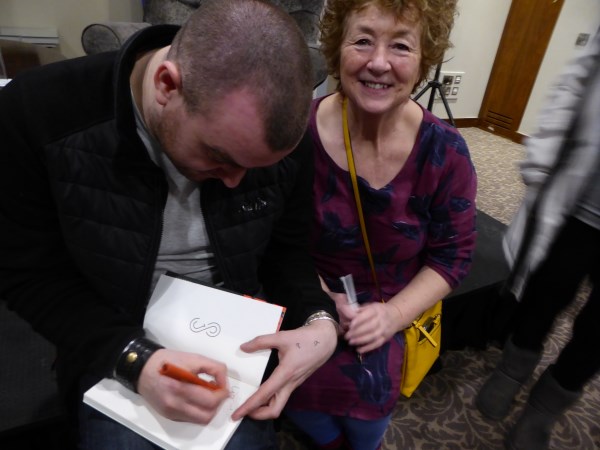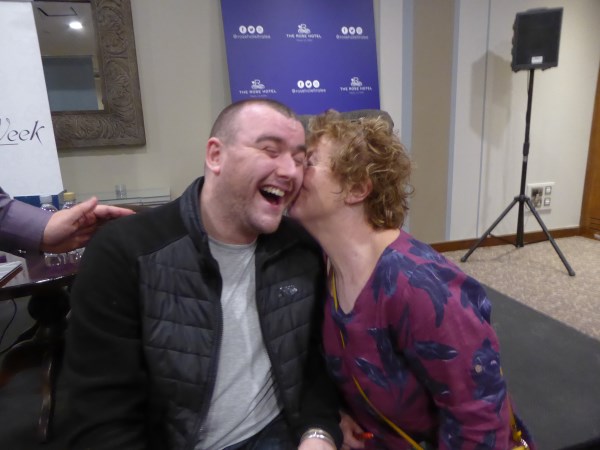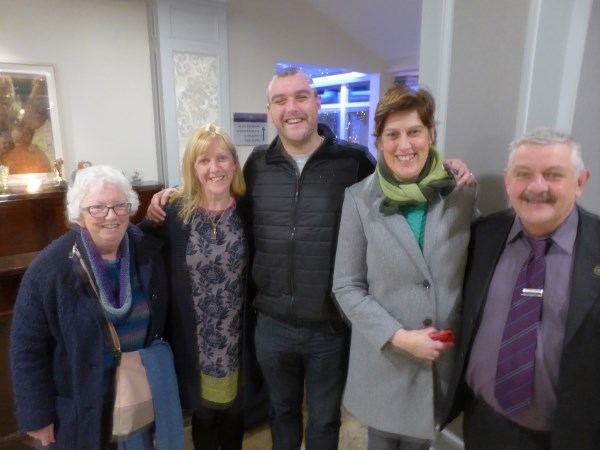 Stephen James with the writers Week gang, Mary Cogan, Catherine Moylan, Máire Logue and Seán Lyons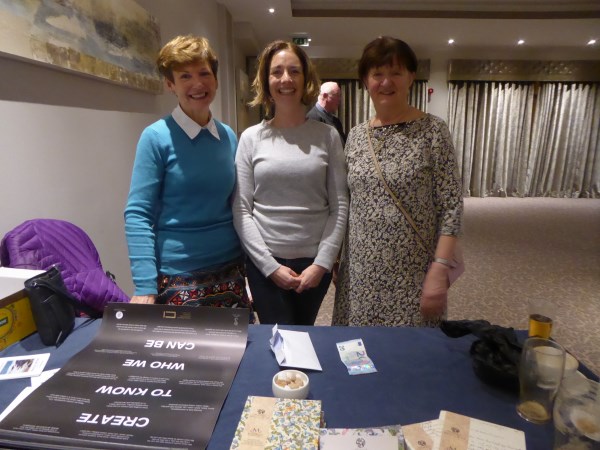 Eilish, Sinead and Bernie were working hard promoting Listowel Writers Week.