Mothers and Daughters at WIM Ballybunion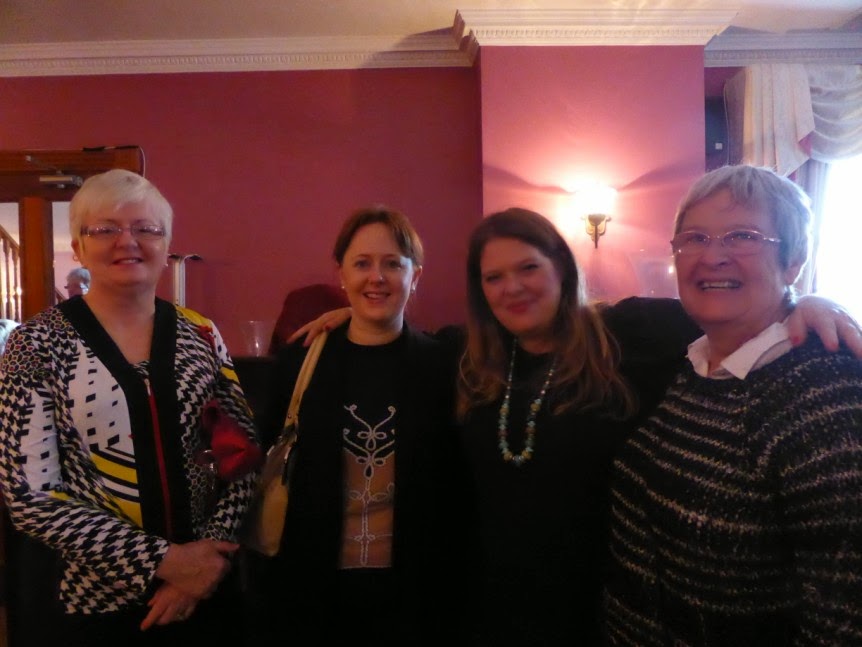 Vourneen and Keelin Kissane with Róisín and Anne Ingle
It was Saturday, April 12 2014 and instead of reading Róisín Ingle in the Irish Times, we were sitting in Kilcooley's Country House in Ballybunion, Co. Kerry listening to her talk about another favourite journalist and author, Maeve Binchy.
Róisín Ingle is now Daily Features Editor of The Irish Times, a mantle which sits lightly on her shoulders. She was in Ballybunion to take us back to another editor and to help us live again the enjoyment we got form Maeve Binchy, the journalist. Róisín has recently edited a collection of Maeve's pieces for the Irish Times and so she is a bit of an expert on Maeve's best bits. She described getting this job like getting a job in quality control in a crisp factory.
Róisín did not give us my favourite anecdote about Maeve on The Late Late doing battle with a formidable lady on the necessity of etiquette and decorum but she read for us Maeve's account of an incident when she encountered a business man sitting in the Ladies' Toilet in a posh hotel. He had mistaken it for the lobby.
Maeve's description of her first dress dance at age 16 is still hilarious today. Maeve's coverage of Princess Anne's wedding made us all regret that she had passed away before the recent state visit.
Róisín decided that Miriam Lord with her "irreverent but affectionate" approach to serious subjects is Maeve's best successor today. I think that Róisín Ingle with her ability to mine the minutiae of everyday life and produce entertaining and self deprecating pen pictures has a lot of Maeve Binchy in her too.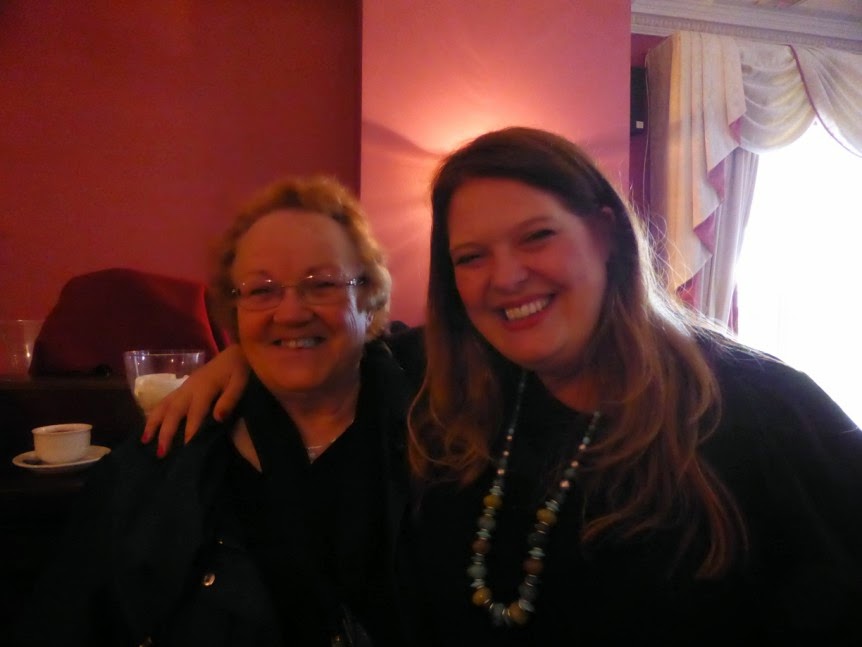 This is Róisín with a local lady called Christine. Christine came to Ballybunion to meet Róisín because Róisín once wrote about her. If anyone reading this knows Christine will you get that story for us please?
(more from WIM tomorrow)
<<<<<<<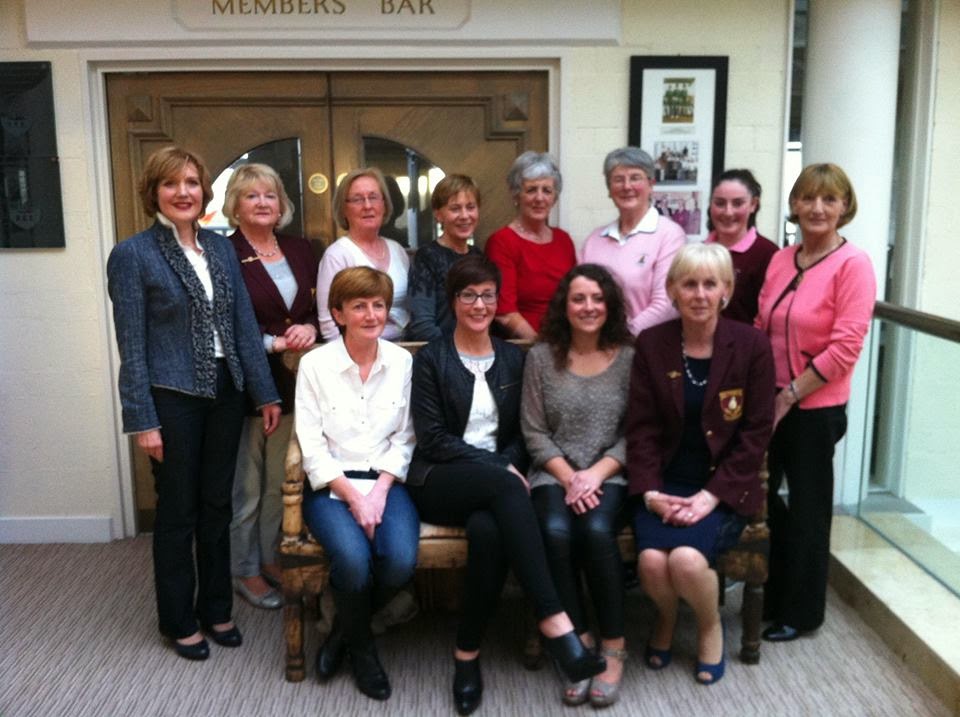 I spotted this picture of Ballybunion Lady golfers on Perfect Pairs page. Looking good, ladies.
<<<<<<<<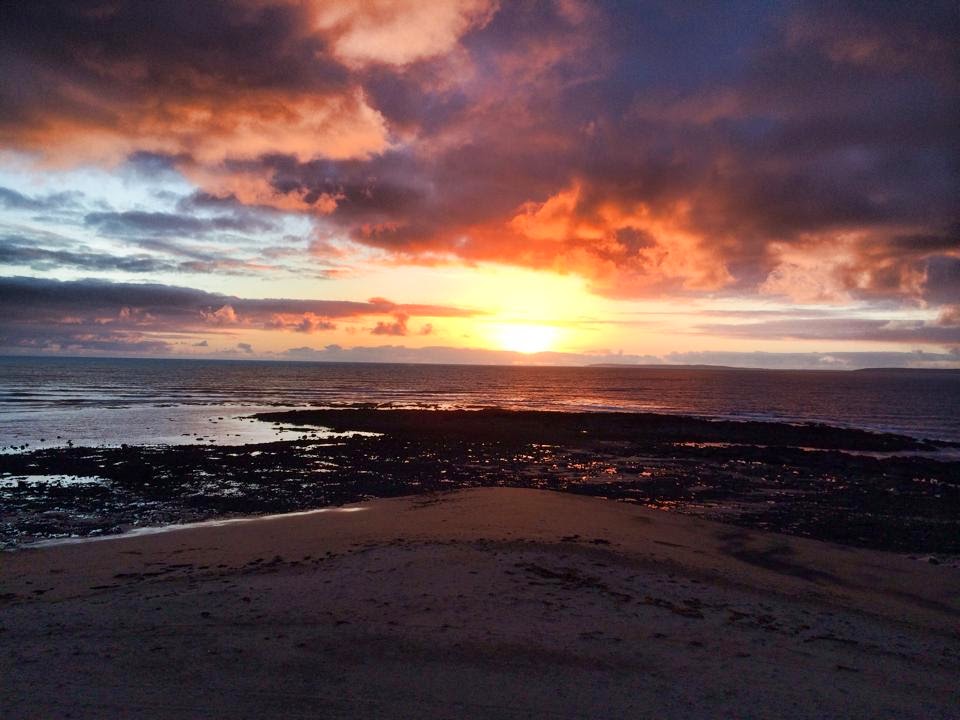 Mike Enright took this perfect picture of sunset in Ballybunion last week.
<<<<<
All will be revealed!
On Thursday next at 7.00 p.m. in The Seanchaí the Listowel Writers' Week programme 2014 will be launched. Come along to hear what great things are in store for us on the June bank holiday weekend.
<<<<<<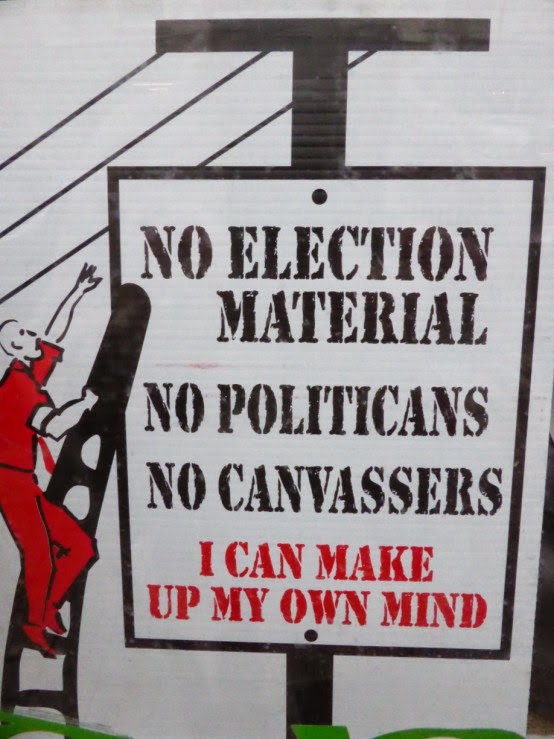 spotted in a shop window on Church Street