All That's Left?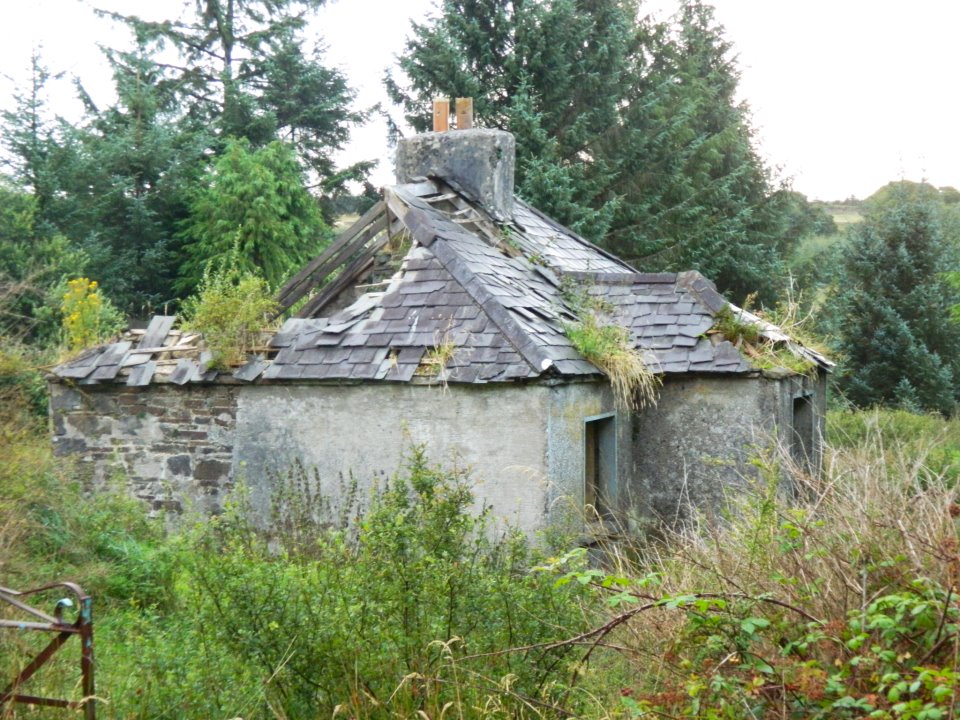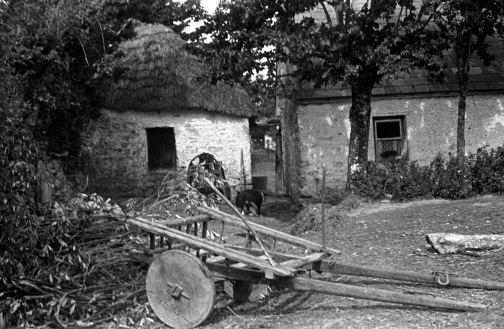 These two atmospheric old pictures tell a story of a way of life now merely a memory. Our ancestors lived on small holdings and slaved and toiled to eke a living from poor soil. They raised large families and often lived in dire poverty. They waved goodbye to child after child as they crossed the Atlantic to find a better life in the U.S. or closer to home in England.
Is today all that bad when you look back at those hard times? At least we have Skype, easy access to air travel and relative comfort at home.
Here is a extract from a letter from Mai Gleasure of The Square Listowel to her brother, Frank in the U.S. The letter is dated November 21 1916.
"We are witnessing some very bad weather, since the first October
we've had three great floods, the river Feale over-flowing its banks to an
awful extent and drowning cattle and destroying crops especially potatoes,
which has made them very scarce and dear, the present price of potatoes is 14
pence a stone thats about three times as dear they would be at this time of
year. Always, in fact every-thing is carrying an awful price and some things
very hard to be got at any price."
>>>>>>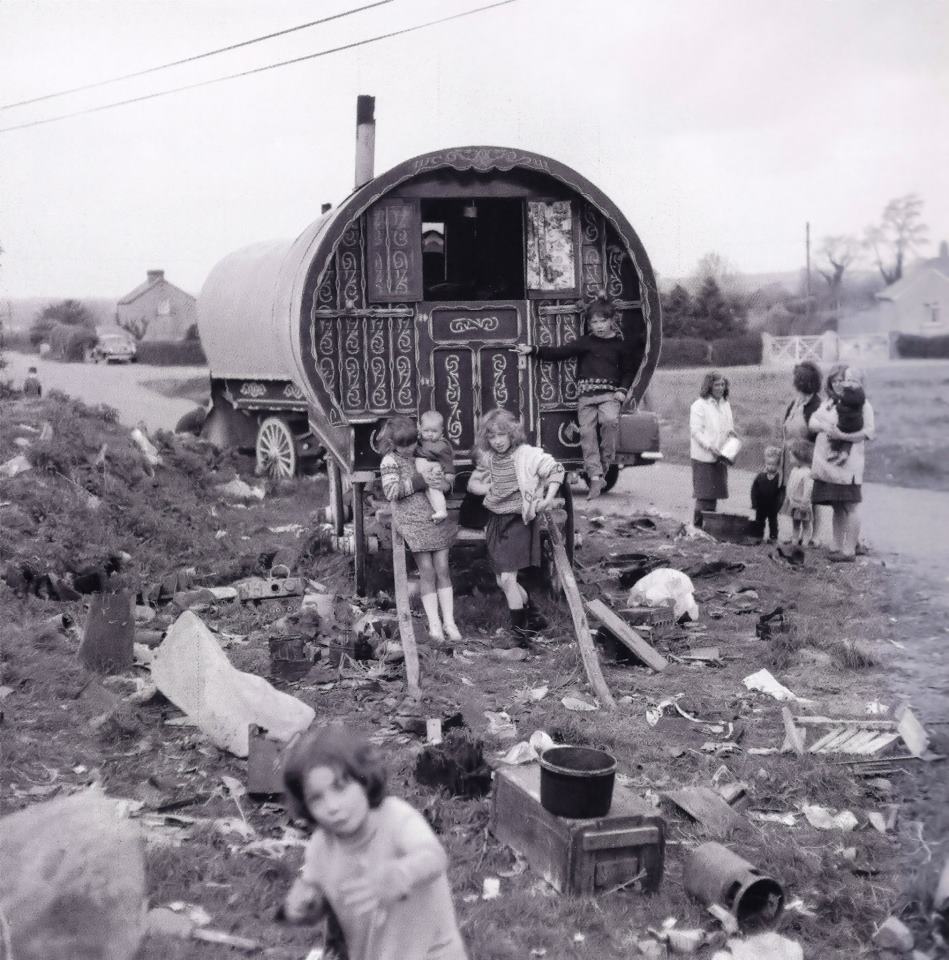 Pat O'Donnell took this photo in Limerick in the 1960's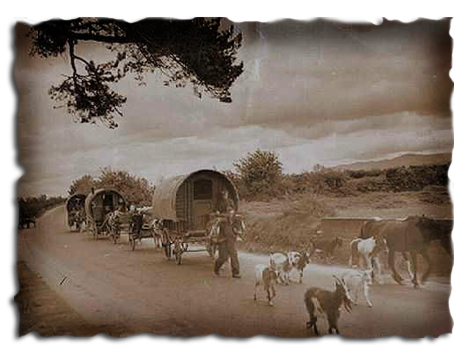 This postcard was called Travellers in Kerry. No one in today's Ireland is forced to live like this.
>>>>
A Kennelly travels back to his North Kerry roots
Senior Editor of The Huffington Post Craig Kanalley recently journeyed from the US to Ireland to explore his family heritage. Here, he shares the highlights of the experience, which include meeting relatives, touring the countryside and learning a few things about the land of his ancestors.
Since I was a kid, I've dreamed of going to Ireland.My last name is Irish and I've long been curious about my roots, particularly my Irish heritage, as I never knew my paternal grandfather. He was nearly 100 percent Irish.When my Dad found a great deal on LivingSocial for a trip for one to Ireland (through Great Value Vacations), and passed it along, I felt it was tailor-made for me. It allowed the flexibility of a rental car to drive the country and B&B vouchers to stay anywhere I chose.It would allow me to visit townlands my ancestors are from (and that's what I did, including Eyrecourt, Co. Galway; Killanena, Co. Clare; Tinahely, Co. Wicklow). When I booked the trip, I also tried something with hopes of finding more about my roots — a DNA test.To my surprise, the FamilyTreeDNA results came back in June 2012 — just five months before my trip — with stunning information.I came back with a close match — a living man in Ireland today with the surname Kennelly. (This is my surname — the spelling changed after our branch arrived in Canada and the United States.)DNA traces your male line only. So if you go back to my father's father's father, etc., and you do the same with this man, we go back to a single Kennelly who likely lived in the 1700s, according to the test.What luck this was. Not only did I need a living relative in Ireland to get a result like this, but he too would have taken a DNA test. What are the chances?I immediately shot an email to the email address listed for this Tom Kennelly (ironically, my immigrant ancestor, who came from Ireland to Canada in 1849, was also named Thomas Kennelly).It ends up the email went to a cousin of his, Helen Smith in Australia. She helped me connect with Tom though. In August, I spoke with him by phone. On Thursday, Nov. 15, 2012, I visited him at his home in County Limerick(!) and met his lovely wife Nora, daughter Margaret, and grandson Jayden.Our Family ReunionWe spoke about many things when we met. Of course, we talked about our families. We went through old pictures and were blown away by the resemblance between our families especially in some of the older photos. We talked about our family's medical histories, and we found similarities there too. We discussed cultural differences, what it's like growing up and living in the United States, what it's like in Ireland.
Some of the conversation was emotionally riveting.
"What do you remember about that day?" Margaret asked me about 9-11 while I was seated at the Kennelly's kitchen table.We also talked about the economy that is in so much trouble, particularly in Ireland. The need to create new jobs. How the Irish people are struggling, and how the United States hasn't been immune to the global economic crisis either.There are so many young people in Ireland without job opportunities ahead of them. What will come of them?"Emigration," Margaret said. There are few other choices.After Nora served me the most wonderful tea and homemade bread, Tom and Margaret walked me to the old Kennelly family home — from the 1800s! It still stands near their current home.Tom explained that he still works to keep it up. It's part of history. A lot of old homes like it, from that time period, have since fallen apart across Ireland, in ruins. He doesn't want that to happen to this place."What did you learn from that DNA test?" I asked Tom, his wife Nora and daughter Margaret.They learned the County Kerry Kennelly's are relatives of ours. Brendan Kennelly, a well-known Irish writer, is of that group, and he's related, they told me. I asked if there might also be relation with Tadgh Kennelly, a famous Gaelic/Australian football player; he's from County Kerry as well. Oh, yes, absolutely, they said. After Nora served me the most wonderful tea and homemade bread, Tom and Margaret walked me to the old Kennelly family home — from the 1800s! It still stands near their current home. That means I have roots that lie in County Kerry too."Kennelly — Kerry," it was a familiar refrain I heard all week in Ireland, whether in Dublin or Galway. "You're good," I would tell the locals as I met them across the country. But since my own immigrant ancestor was actually from Co. Limerick, I wondered if I truly had roots there.Thanks to my meeting with Tom, I confirmed I do. I am related to the Kerry Kennelly's. And there are so many of them.On to County KerryIt was getting dark, but how often am I in Ireland? I took a risk by driving out of my way to County Kerry after this exciting discovery (I was already an hour from my bed & breakfast; this would be further out). I knew I'd come back at nighttime.I'm glad I took that chance. Not only did I make it back safely, I added to my experiences in a really awesome way.After punching up Kennelly in the GPS, something popped up for Moyvane, Co. Kerry. It just said "Kennelly." It could be a pub, perhaps a townland even, it could be anything.It was a hardware store. I smiled as I pulled up. I waited patiently as a worker behind the counter helped other customers. When he was alone, I walked up and asked if he knew if the owner was around."I am the owner," he said."You're a Kennelly?" I asked. It was probably a bizarre question given the store's name, but he simply answered in the affirmative."I am too," I said. I then explained I was visiting Ireland from the United States, looking for my roots. How I met a cousin in Co. Limerick, and he told me I had links to Co. Kerry.He seemed interested, and we chatted for a bit.I then asked for a photo. He said sure.Before leaving, I explained to him how my cousin said we're related to Brendan Kennelly.He's from Ballylongford, the hardware store owner told me. Just 10 minutes up the road. I asked about the "Kennelly's" pub I've heard about. That's in Ballylongford too, he said.It was going to be dark soon, but I might never be just 10 minutes away again.I thanked him, he gave me his business card, and I headed on to Ballylongford.I pulled up in the small town and lit up with a smile when I saw a Kennelly's auto shop. But it wasn't the pub. Then I saw it across the street from the auto shop. "Kennelly's." The pub.I promptly parked the car and walked out. The pub was closed. No one around. I got my picture in front of it anyway.I then crossed over to the auto shop. No one around there either. Just before leaving, I thought I'd try circling the building. It was there that I saw a little office with a man inside.I gave him a wave at the window and smiled, to show I mean no harm. He came outside to meet me."Do you know the Kennelly's around here?" I asked. He nodded with a slight hint of a smile but I couldn't be sure."Are you a Kennelly?" I asked. It was an awkward line of questioning but I wasn't sure how else to start the conversation."Yes, I am," he said. I then explained the same way I explained with Mike Kennelly, the owner of the hardware shop.He opened up, introduced himself as Tim Kennelly, and we chatted for a bit. He was extremely knowledgeable about the Kennelly's so I was really fortunate to meet him.He then told me about his uncle — none other than Brendan Kennelly himself. And how his parents owned the pub across the street.Brendan Kennelly is in Dublin now, he said, but from Ballylongford. He showed me a quote from Brendan hanging up at his business. Ballylongford was the inspiration behind the quote, he told me, and he showed me the exact spot Brendan was inspired by.Besides his name being Tim, he said his grandfather was Tim too.Of course, I have an uncle named Tim Kanalley.It's a small world after all.This article originally appeared in The Huffington Post.
Craig Kanally's lineage
Lineage:


Thomas Kennelly b. abt. 1820 Ireland –> James Bernard Kanalley b. 1868 Canada Wallace James Kanalley b. 1902 Ohio –> Kenneth Wallace Kanalley b. 1932 N.Y. Patrick Kenneth Kanalley –> Craig Patrick Kanalley
Locations: Co. Limerick, Ireland; Cobourg, Ontario, Canada; Cleveland, Ohio; Buffalo, N.Y.; Rochester, N.Y.; New York, N.Y.; Toronto, Ontario, Canada; San Francisco, Calif.
Surname Variations: Kanaley, Kennelly, Kenneally, Kenealy, Kinneely, Kinaley
Immigration: Thomas Kennelly arrived in Canada from Ireland in 1849, first settling in Asphodel Township, not far from Peterborough. He eventually settled in Cobourg and married Rose Flynn on Nov. 26, 1852
.Immigrant Children: 9 – John, Michael, Ann, Mary, Isabella, Thomas, Ellen, James, Martin
Associated Families: Flynn, Cox, Pierce, Hutton, Horgan, Wallace, Cook, Raines, Young
>>>>
Another Gift Suggestion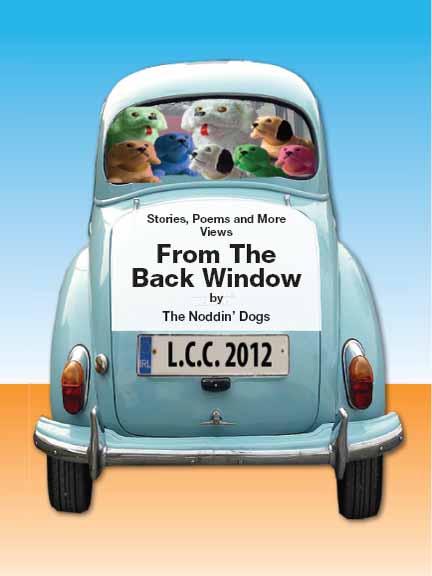 This book is a collection of original short stories and poems written by adult students at Listowel Community College last year. The course title was Heritage/Culture, Creative Writing, Fetac 5. The book title is
Views From The Back Window by The Noddin' Dogs.
" We got our name because of our willingness to agree to any suggestion, however outlandish, that was put to us during our year at the LCC. " Vincent O'Brien.
The launch is at 8 pm, this Thursday Nov 29th, at St. John's. All are welcome.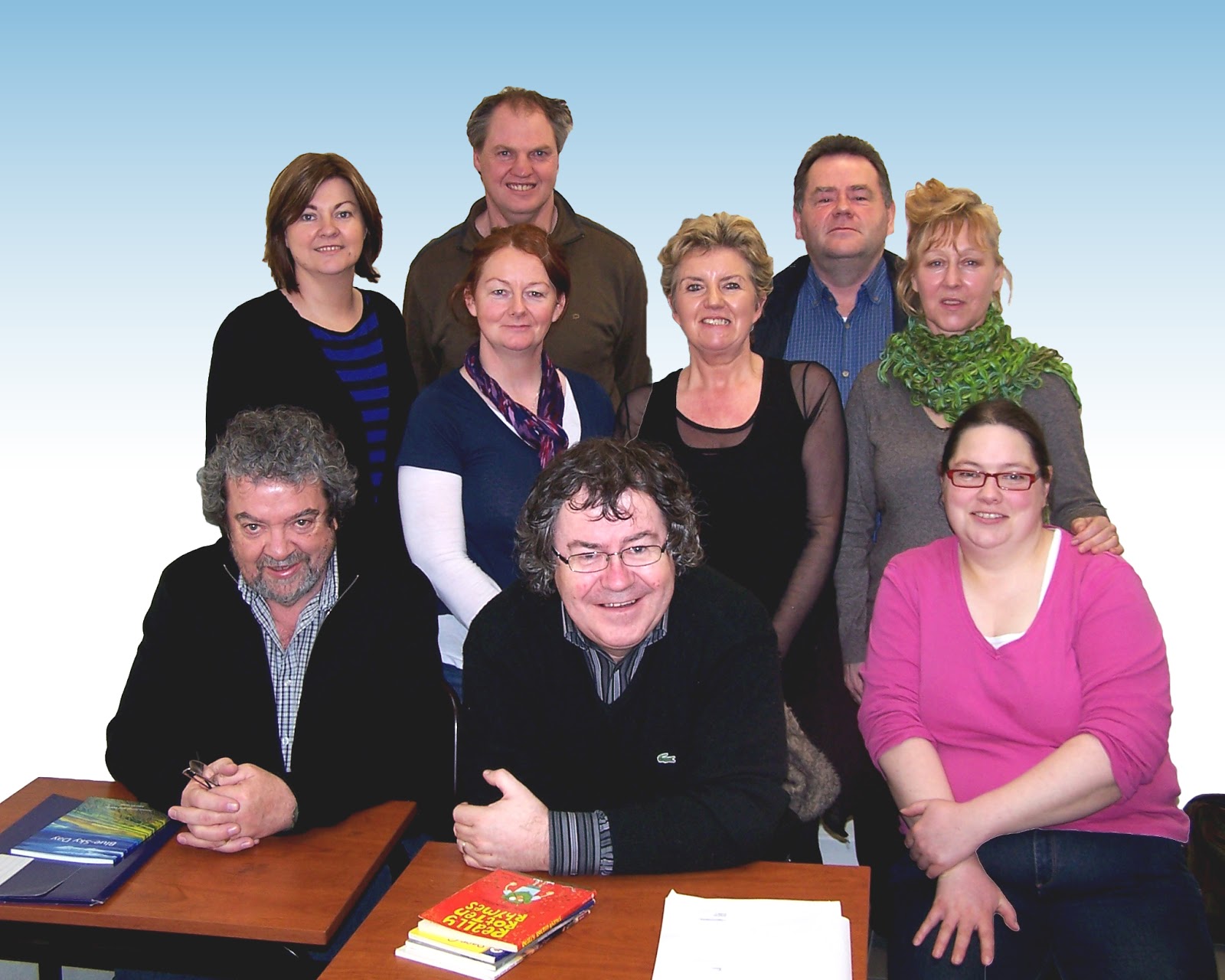 Sitting L-R; John McGrath, (Tutor), Gabriel Fitzmaurice (Author) and Jessica Hilliard
. Ladies standing L-R, Patricia Chute, Eileen.O'Connor, Noranne Enright and Susan Hitchings.
Back row, Billy Savage and Vincent.O'Brien.
<<<<<
What Listowel Traders have to offer us this Christmas
Christmas in Listowel Events Calender
23rd Friday Nov/Go to
the Movies
"Nativity 2" running daily till after Christmas at Classic Cinema Listowel.
30th Fri Nov
A lucky primary school
student from each of the three schools in Listowel will turn on the lights of the
Listowel Christmas Tree in the
Square at lunchtime on Friday which is the traditional beginning of the
Listowel Christmas Festival.
Spinathon/Fundraiser
To highlight the need for
people to look after their health at christmas and showcase their spinning
classes the Listowel Community Centre have taken on a challenge of spinning in
the square for 12 hours! Hope it stays dry. Free Massage for all spinning
volunteers from Kay McDonald.
Launch of www.listowel.ie
The official launch of www.listowel.ie,
the new online hub for business & community activity in Listowel, will take
place in a Glamping Pod. You can climb inside the pod and see the website on a
big screen.
Enjoy 2 Hour Free Parking all day Friday 30th
of November.
30th Fri & Sat
1st/Fair
Listowel Mission
Group's "Annual Bazaar" at the Boys
School
From 30th Friday Nov/Go
to the Movies
Classic
Cinema Listowel "Rise of the
Gaurdians", running daily till after christmas
1st Sat & 2nd Sun Dec/Super Saturday & Sunday!
Listowel Businesses are
enticing customers to start their Christmas Shopping in Listowel and avail of
some serious special offers for two days only. With over 120 independent
retailers in Lovely Listowel, the shopping experience is unique, personal and
enjoyable.
2 Hour Free Parking.
1st Sat Dec/Book Launch
Paddy Fitzgibbon will launch his book "The Road to Gortadrislig" at 5pm in
Woulfe's Bookshop
1st Sat Dec/Art Exhibition
"Light" An Art Exhibition by north kerry arts group "Colourful Spirits" will be launched by
preacher, playwright, poet and philospher Pat Moore in St John's Theatre.
2nd Sun Dec/Super
Sunday
Super Sunday, special
offers available in shops from 12 to 5pm!
The
Jingle Bell 5K Run will be
held at 12noon from the square.
2nd Sun Dec/Afternoon
Tea
At Lynch's Bakery &
Cafe, Main Street, Listowel between 2pm & 5pm. Booking Required.
4th Tues Dec/Music
"I'm
your bird" debut album of Jenny Liston with Michael O'Connor,
Guitar and Jody Cram, Drums and Bass
4th Tues Dec/Fashion
Special evening to
launch Miliner Aoife Hannon's Winter
Collection at her studio on Courthouse Road between 7 & 9pm
5th Wed Dec/Night Out!
"Girls' Night Out & Christmas Extravaganza"
Changes Hair Salon and
Listowel Garden Centre. 7pm till 9pm.
7th Friday Dec/Fair
Farmers Market in The square
7th Friday Dec/Theatre
"Santa's Sooty
Christmas" by Centre Stage Theatre, Belfast
A Panto for Primary
Schol Children in St John's Theatre
8th Sat Dec/Santa & Shopping
Visit
Santa's Grotto for FREE!!!
From 2 to 5pm at the
Seanchai with story telling while you wait.
2 Hour Free Parking
anytime Saturday 8th Dec.
8th Sat Dec/A Candlelight Procession
The 8th, a Holy Day of
Obligation, The Feast of the Immaculate Conception, which was traditionally the
beginning of the Christmas Season, which also saw hoards heading to Dublin.
In 2012 things have
changed, Christmas starts in November for one!
But we have not forgotten its meaning and that it can be a difficult
time too, with this in mind we would like to take the opportunity to mark the
day by remembering absent friends this
Christmas with a special candlelight
procession through the Streets of Listowel. The procession will begin on
Market St and silently move towards St Mary's Church where the Listowel Folk
Group will lead a seasonal singsong in advance of the Saturday Evening Vigil
Mass.
8th Saturday Night Dec/Night Out!
ABBA
Forever, The Ultimate Chistmas Party Night in St John's Theatre
9th Sun Dec – Sunday
Shopping
Listowel Shops open for
Your Christmas Shopping from 12 to 5pm.
Bring the kids to see Santa's Grotto in the Seanchai for Free,
from 2-5pm, Sponsored by Listowel Traders.
11th Tues Dec/Go to the
Movies
Even
The Rain, Filmclub, Film by Iciar Bollain, St John's Theatre
12th Wed Dec/Music
"The Spirit of Christmas" with Audrey O'Carroll & Friends
Festive Music &
Poetry in St John's Theatre
13th Thurs Dec/Music
Best of Traditional,
John Carty & Brian Rooney (TG4 Gradam Cheoil Musician of the Year 2012) in
St John's Theatre
14th Fri Dec/Fair
Farmers
Market
14th Fri Dec/Music
The Royal Irish Academy of Music Chamber Ensemble, St
John's Theatre
14th Fri Dec/Go to the Movies
The Hobbit starts its run
at The Classic Cinema Listowel
15th Sat Dec/Book Signing/Santas Grotto
Weeshie Fogarty signing
his new book "My Beautiful Obsession"
Visit
Santa's Grotto (2-5pm) at the Seanchai for FREE!!
Sponsored
by Listowel Traders
2 Hour Free Parking
anytime Saturday
16th Sun Dec/Fair/Santas Grotto
Free Santa's Grotto
(2-5pm) at the Seanchai.
Christmas Craft Fair at
the Seanchai.
Christmas Parade at
1pm.
17th to 22nd – 2 Hour
Free Parking all week!!
18th Tuesday Dec/Theatre
A
Christmas Humbug,
St John's Children's Theatre
end of year performance
director Sharon
Costello
19th Wed & 20th Thurs Dec/Panto
Scrooge – A Christmas
Carol,
Directed by Jo Jordan
Theatrix Theatre School in St John's Theatre
22nd Sat/Family Street Entertainment
Fireworks
at Five at the Square,
Wrap
up and Enjoy!
23rd
Sunday/ Enjoy strees free last minute shopping in Lovely Listowel
24th to 2nd Jan /Free Parking
26th Wed/Wren Boys Night in Listowel!!
27th Thursday Dec/Go to the Movies
Jack Reacher starts its run
at the Classic Cinema Listowel
Happy
Christmas from Listowel!


>>>>


Update from Liz O'Carroll in Canada
Just behind and to the right of the boy in the black suit is the best brother and friend anyone could ever hope to have , Tommy Chute . He was loyal to his friends, always there for the underdog, funny , loved to sing , what a dancer . ! He was treasured by his family. His anniversary is Friday and rarely a day goes by when he's not thought of or spoken about by his sisters and brothers, son Frederick and wife Joan.
For always Tom .
Liz the sailor xxxxx
In the front row towards the right is another Church Street boy, Jerry Keane . Keanes pub now Scanlons pub .