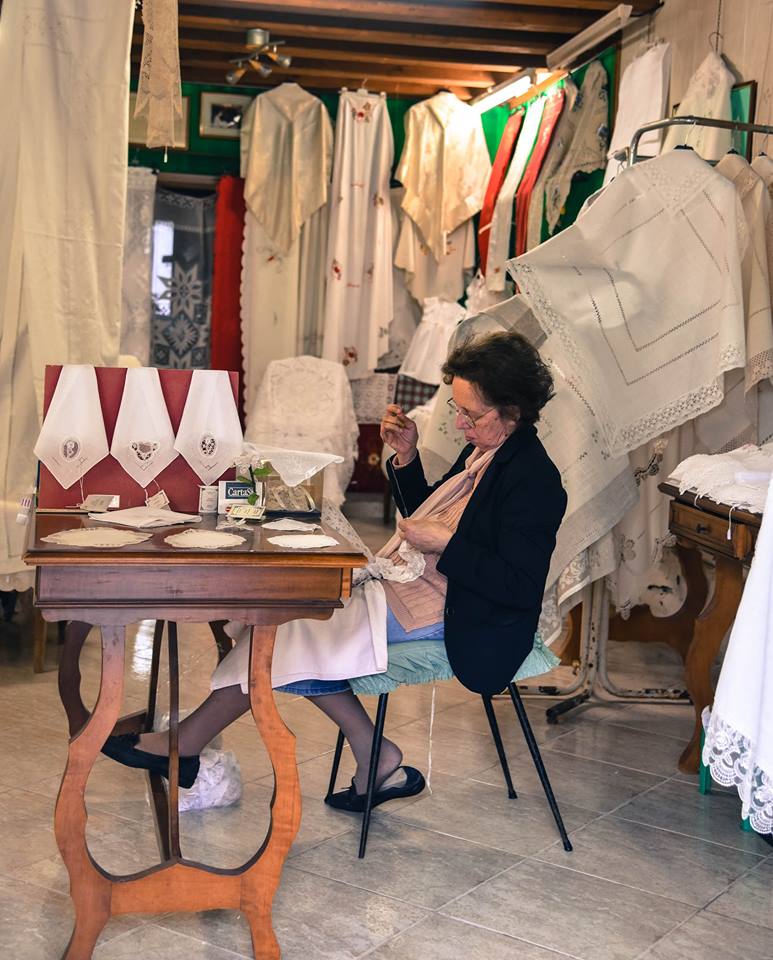 Photo: Elizabeth O'Connell of Mallow Camera Club for their People at Work project
<<<<<<
Public Seating invites us to Linger
We are very lucky in Listowel to have an abundance of public seats in beautiful corners of our town. They just invite the walker or sight seer to rest a while. Here are a few I photographed lately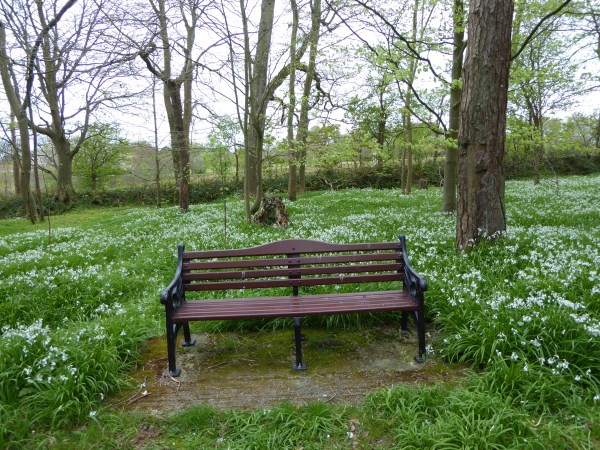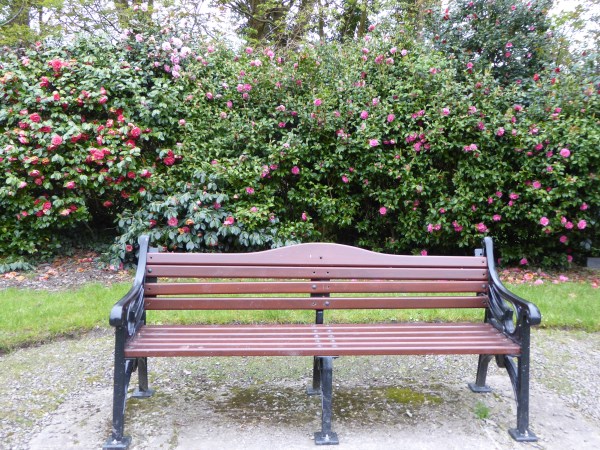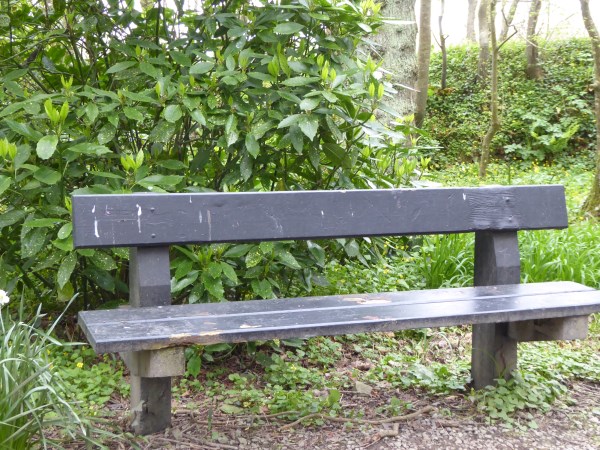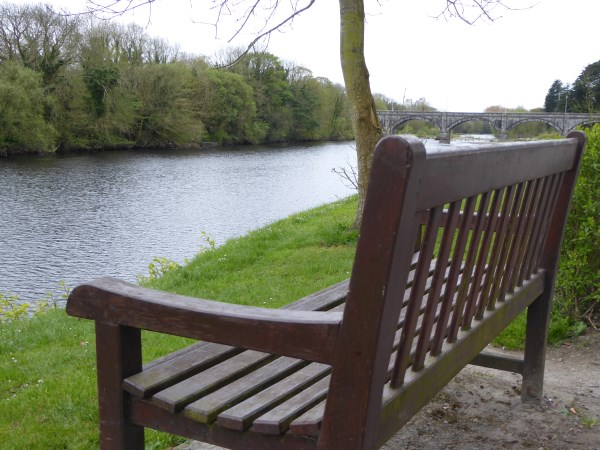 <<<<<<
The Way we Were From Jim Costello's Asdee Miscellany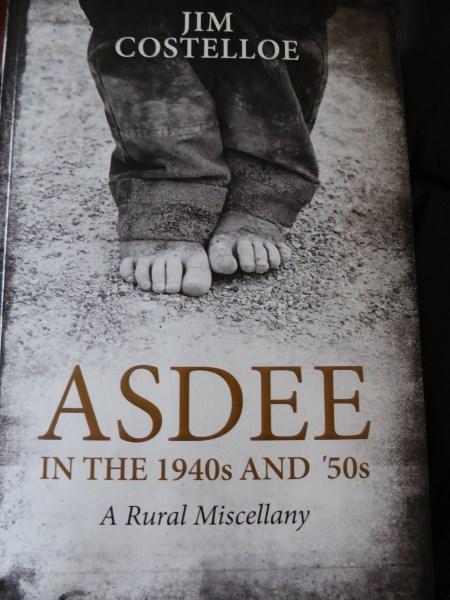 "In days gone by we had a six
day week where Saturday was an ordinary
working day and Saturday night was spent preparing for Sunday. Sundays and
church holidays were days of rest and no servile work was done. If the weather
was very bad of a year, the priests gave permission to farmers from the altar
during Sunday mass to save their crops. Even with the approval of the clergy,
some farmers still would not work on the land on Sundays."
………….
As I remember it Sunday was a day for visiting. My father would tackle up the horse and we would pile into the trap and go to visit our relatives who lived a few miles away. We would still be dressed in our "Sunday best" so we had to be on our best behaviour and keep our good clothes clean. As soon as we got home they would be put away until next Sunday. If there was no visiting on the agenda we changed out of our best attire immediately after mass.
If the visitors were coming to us, it would be for a few hours in the afternoon between dinner and tea. They always brought sweet cake and there would be chatting and tea drinking for the adults all afternoon.
If we were not either visiting or being visited we used to listen to the radio or read. Maureen Potter's "C'mon Christy," was always part of Sundays as was The Clitheroe Kid's "Ow, me leg!"
We always did the crossword in The Sunday Press. This was no trial of skill really, just guesswork. I always hoped we'd win. We never did. My mother loved to take a shot at Spot the Ball. Again we never had any luck there either.
<<<<<<<
Work at St. John's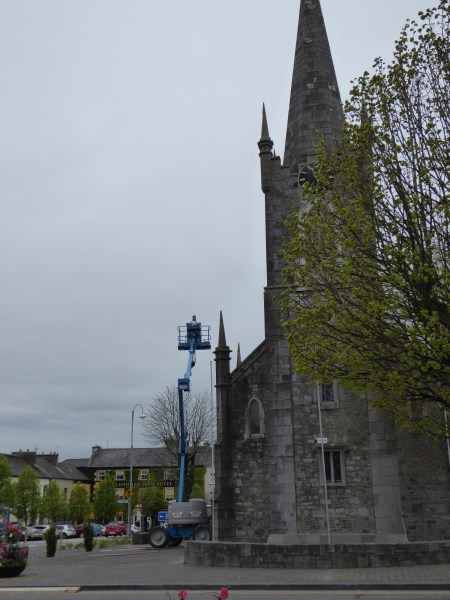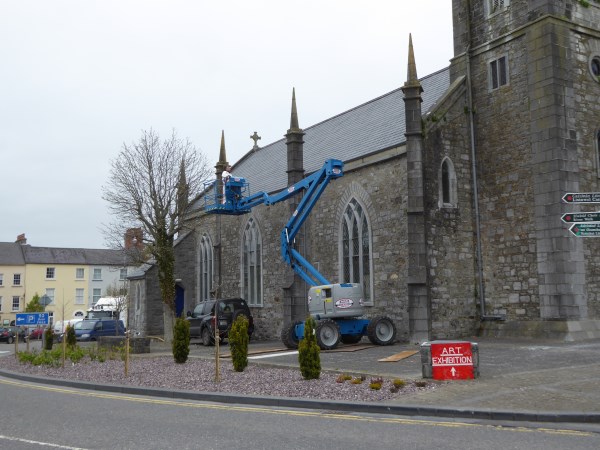 As I was walking in the Square I spotted a cherry picker accessing the roof of St. John's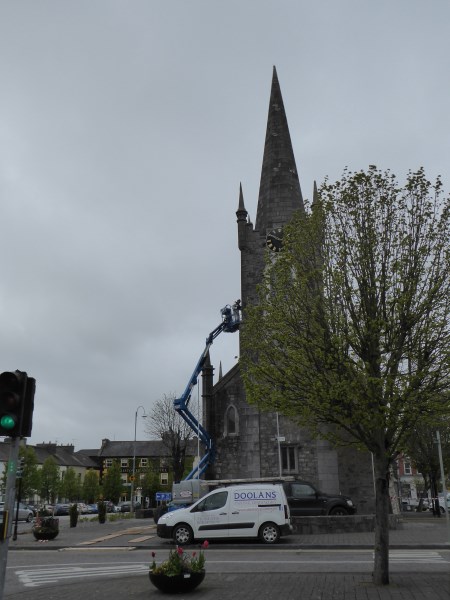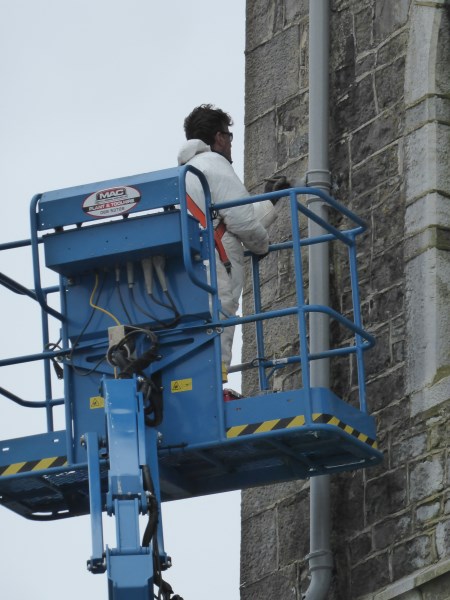 Our Arts Centre is getting a lick of paint
<<<<<
Cherry Blossom Time