Early Evening in Ballybunion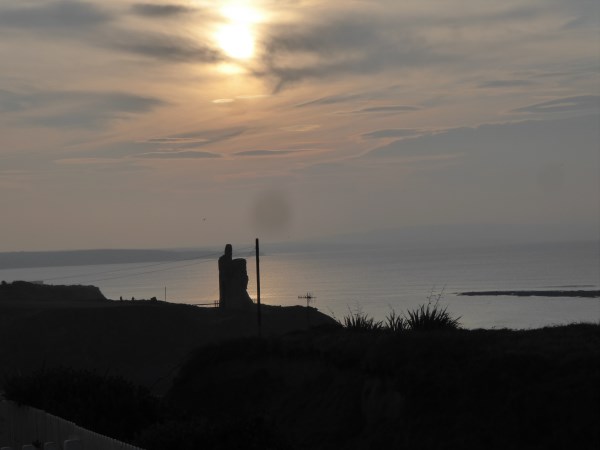 <<<<<<<<<
Manchester Martyrs Memorial in St. Michael's Graveyard, Listowel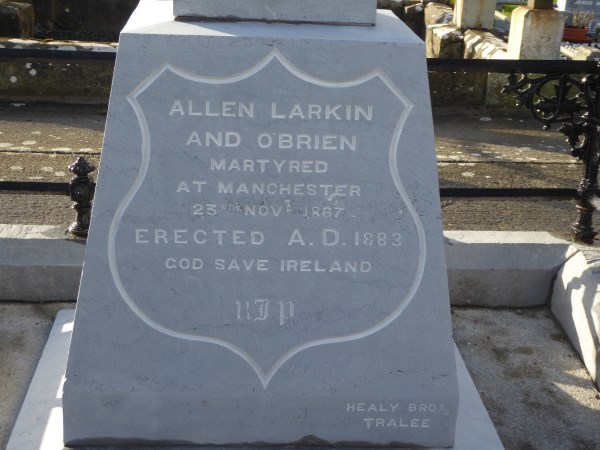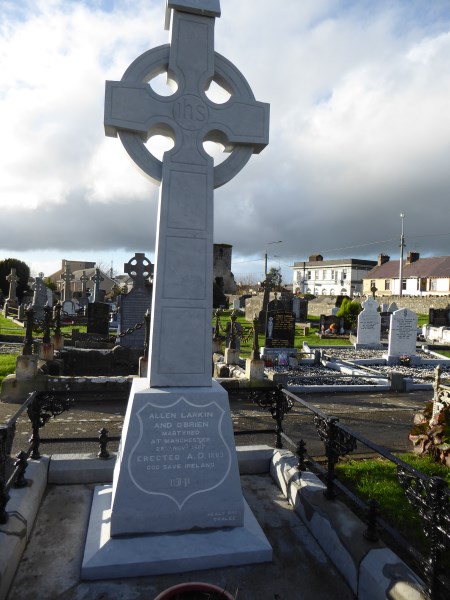 I posted these photographs a while ago and wondered why these men were being commemorated in Listowel.
Dave O'Sullivan found the answer in the papers. Apparently these men were widely commemorated in Ireland on the anniversary of their deaths. The unveiling of the monument in Listowel was banned.
Here are a few accounts from the papers of the time.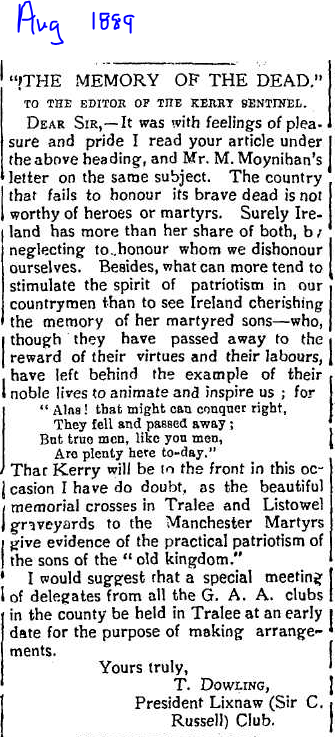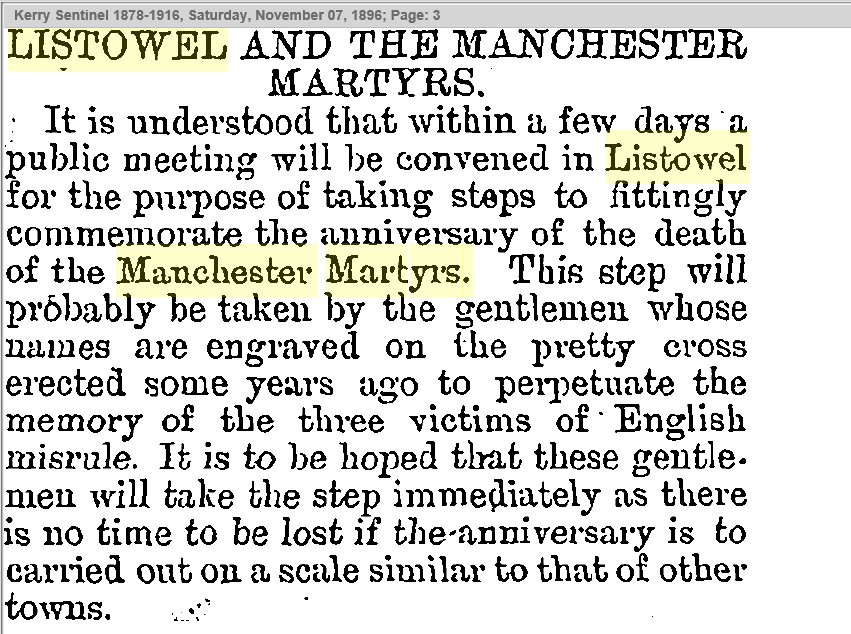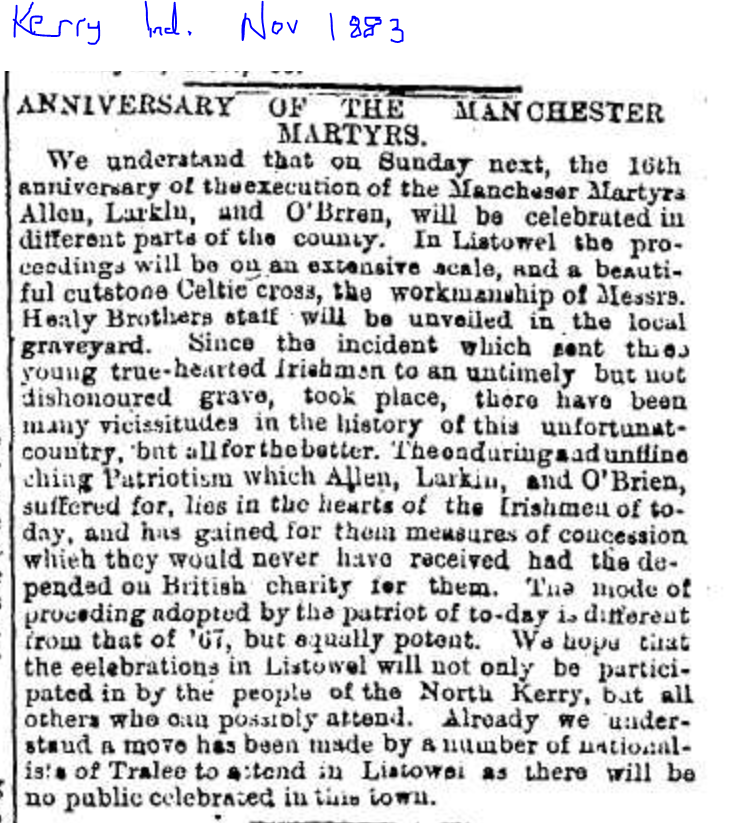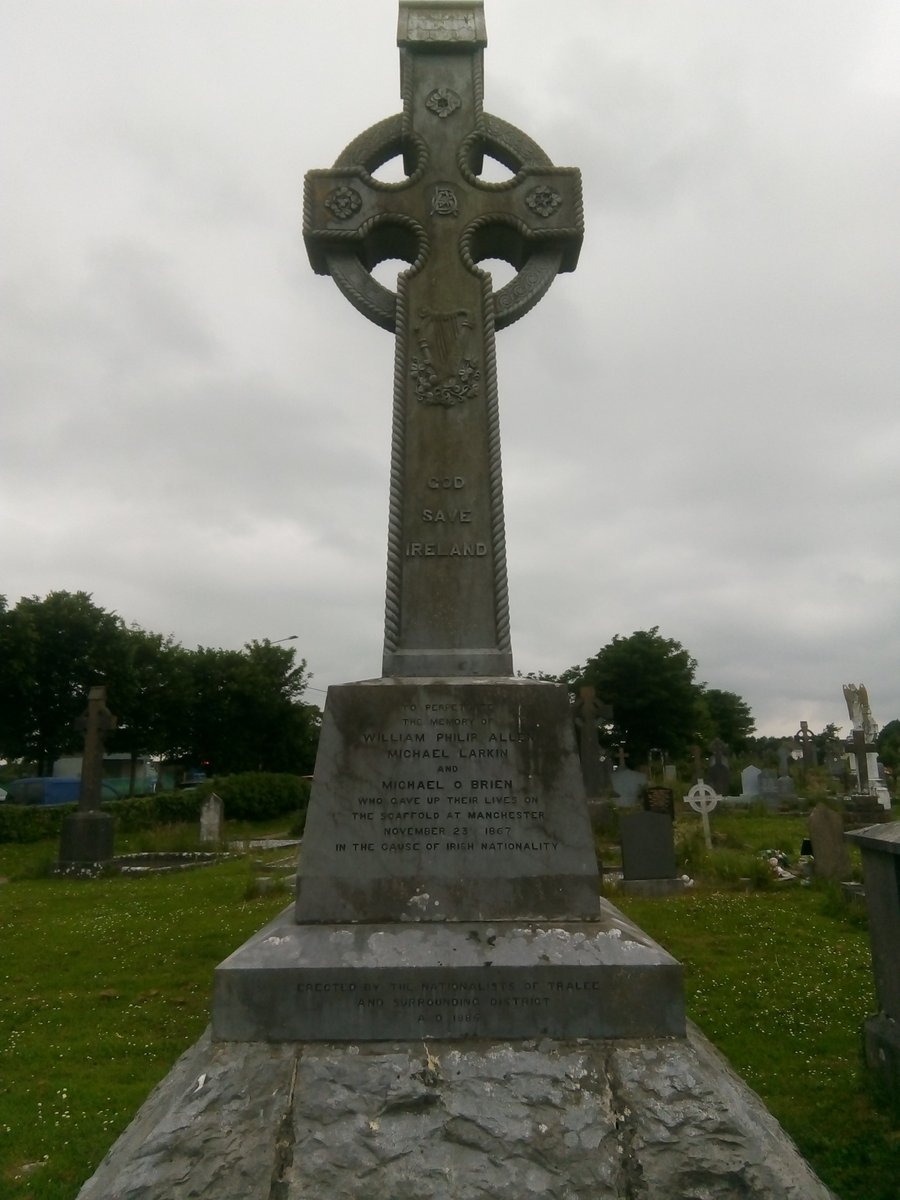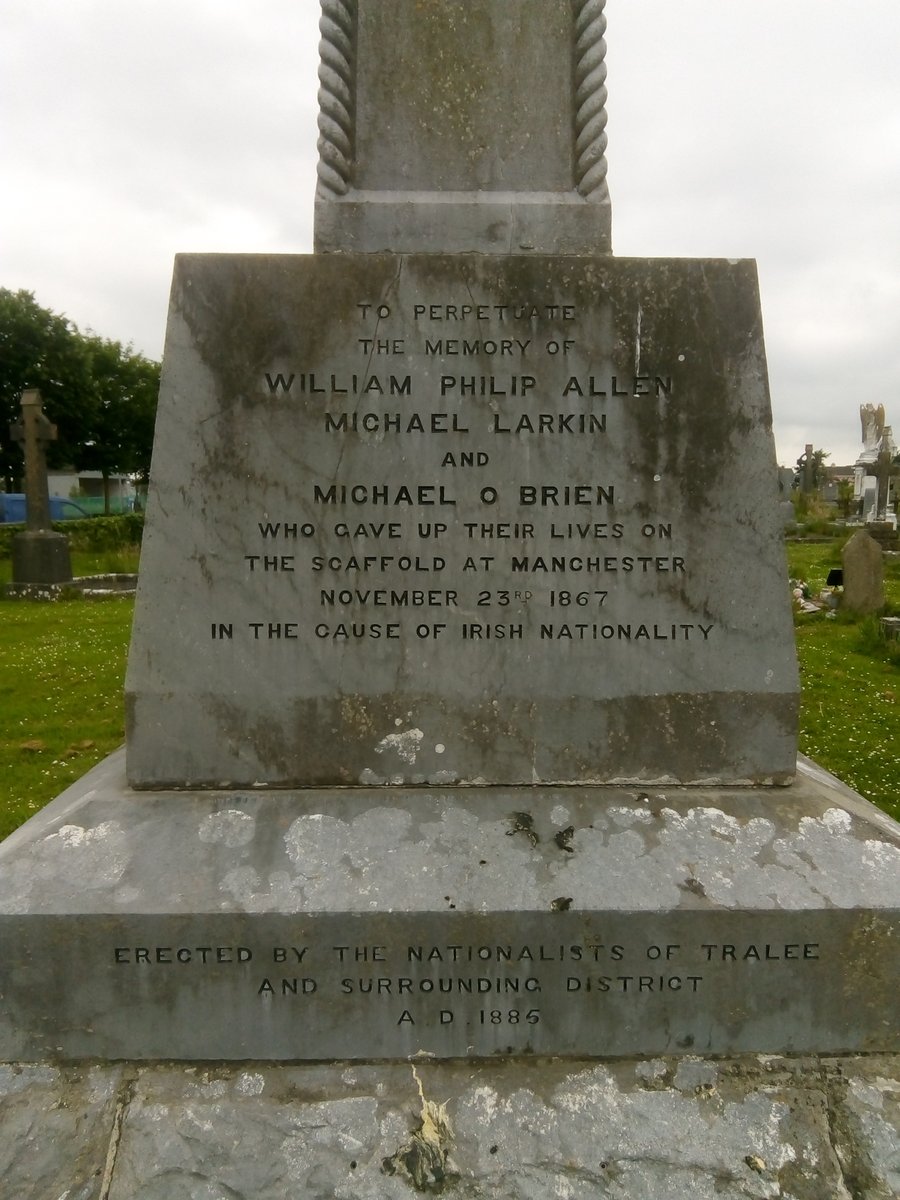 This memorial in Rath cemetery, Tralee, came later


<<<<<<<<<<<


Reunion Planned
Conor Keane has been in touch . Here is what he has to say;
A reunion of the victorious St Michael's senior football teams of 1978 will take place jointly with the St Michael's Class of 1978 Reunion.
In 1978 St Michael's College Listowel won the Kerry College's Senior Football Championship, securing the coveted O'Sullivan Cup for only the second time in the school's history. The team also won Munster College's Senior Football Championship Corn an Rúnaí for smaller schools.
We have arranged the reunion night on Thursday 27th Dec 2018commencing at 7 pm in St Michaels College, Listowel where we will be welcomed by the current principal John Mulvihill and his deputy principal Liam Hassett. This will be an opportunity to revisit our old classrooms, browse through some old photographs and bring us through the new extension.
After this, we will adjourn to the Listowel Arms Hotel at approximately 8 pm for a friendly get together, a catch-up, a buffet and a few beverages. The charge for the event in the Listowel Arms will be €25 a head. There are some rooms available in the hotel for those who
wish to stay over.
Front row from left: John O'Flaherty, Gerard Buckley, Gerard Enright, Mike McGuire, Conor Keane, Chris Larkin, John Bambury, Fr Patrick Horgan.
Middle : John Kennelly, Thomas Mulvihill, Johnny Horgan, Kevin O'Donovan, Eddie Relihan, Johnny Stack, Martin Stack, Denis Kennelly.
Back : Pat Shanahan, Kevin Lucey, John Lyons, Edward Kissane, John Favier, Thomas McElligott, John Keane.
St Michael's College Listowel: Kerry College's Senior Football Champions 1978 and Munster College's Senior Football Champions Corn an Rúnaí 1978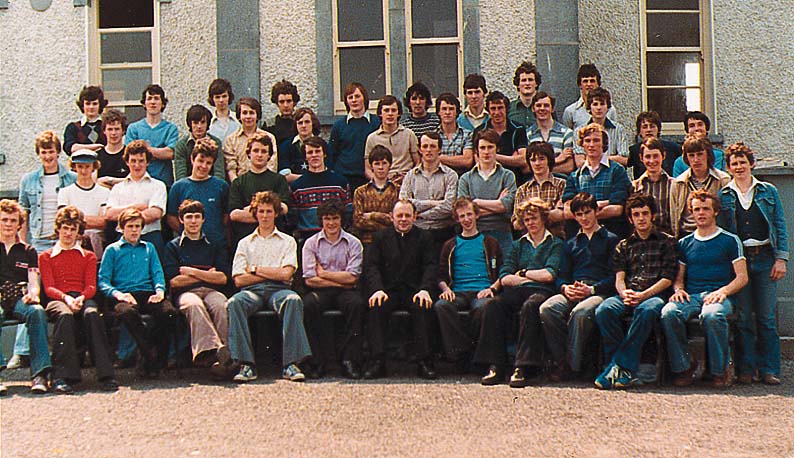 Class of 78
Front row: Gerard Somers, Joseph Tarrant, Gerard Daughton, Patsy Ryan, Johnny Stack, Dan Sheehan, Fr Horgan ( RIP), Pat Flavin, Thomas Horgan ( RIP), John O'Sullivan, Conor Keane, Mike McGuire.
2nd row: Mike Callanan, George O'Connell, Thomas Stack, Seamus Given, Bernard O'Connell, Thomas McElligott, Declan O'Connor, John Kennelly, Jim Furlong, Barry McAuliffe, Jimmy Ryan, Tony Carroll, Bernard O Keeffe, Denis Carroll
3rd row: Michael Byrne, Tom Molyneaux, Richard O'Shea,Pat O'Brien, David Dillon, Denis Brosnan, Michael Curtin, Seán Healy, Mick Lynch, John Beary
At back: Joseph Carmody, PJ Larkin, Richard Cantillon, Thomas Mulvihill, Pius Horgan, John Lyons, John Horgan, Eoin Rochford, Kevin O'Donovan.
<<<<<<<<<
The Tea Chest
I remember the tea chest well. In fact I still have one in which I store logs. The following account of varied and popular uses of tea chests I found in Patrick O'Sullivan's great book, A Year in Kerry
There was a time when the tea came not in bags but in foil lined tea-chests- the delicious aroma from those large chests is one of the most enduring memories of childhood Christmasses. An added bonus was the tea chests versatility as a storage unit when empty. It could be used to store turf, logs, clothes, or china and, in not a few instances it served the function of a playpen, restraining an adventurous infant and keeping it out of danger's way when not in the cradle. There's many a grand lady and gentleman walking the roads this day and but for their memories being so short, they'd remember that they were reared in a tay-chest," observed an old relative on the matter.
<<<<<<<<
Pandora
(The pre Christian Eve)
The following photo and account are from Raymond O'Sullivan on Facebook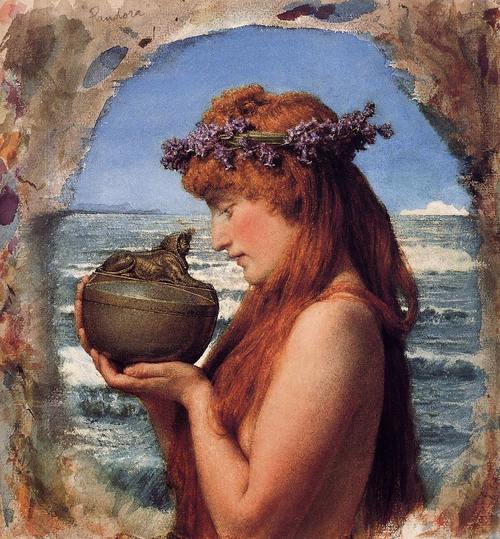 Pandora was the first human woman in the world, according to Greek mythology. She was created by the god Zeus as a 'punishment' for men who had stolen fire from Hephaestos, the blacksmith of the gods. Zeus gave her a sealed jar as a wedding present with strict instructions that it was not to be opened, knowing well that she would not be able to resist the temptation.. To his delight her curiosity eventually got the better of her and she opened the jar, releasing on the world all the evils imaginable: sickness, death, poverty, pain, misery, sadness, …….
The comparison with Eve in the Judeo-Christian tradition is compelling. She takes the blame for leading Adam astray, the expulsion from paradise in the Garden of Eden and all the trouble and strife in the world ever since.
So misogyny is nothing new, it goes back a long, long way. Very much in focus these days with the #me too movement, the need for gender quotas in universities (of all places), and the waving of a young girl's underwear around the courtroom in a rape trial. How to counteract something so deeply ingrained in the human psyche is a vexed question. It is an uphill battle, but, when all the evils had escaped, the last thing out of Pandora's jar was Hope.