The Battle for Listowel
A fierce battle WW2 style raged in the town square on Saturday afternoon May 2 2015. I hope my photos give you an idea of the mayhem.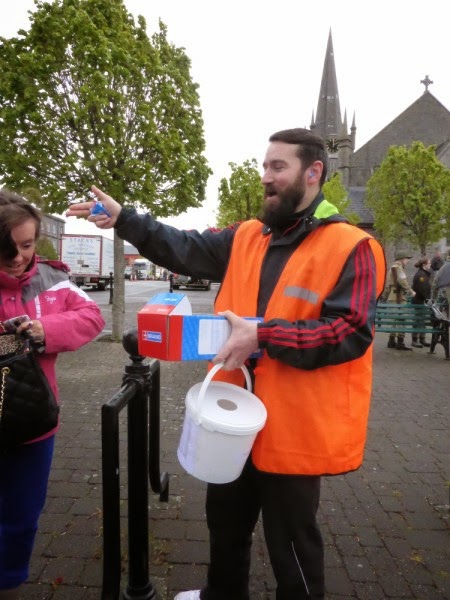 We were all given ear plugs in preparation for noise of battle.
The French citizenry were milling around.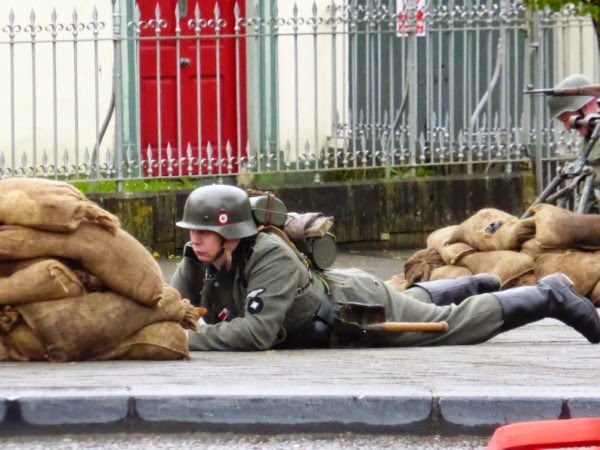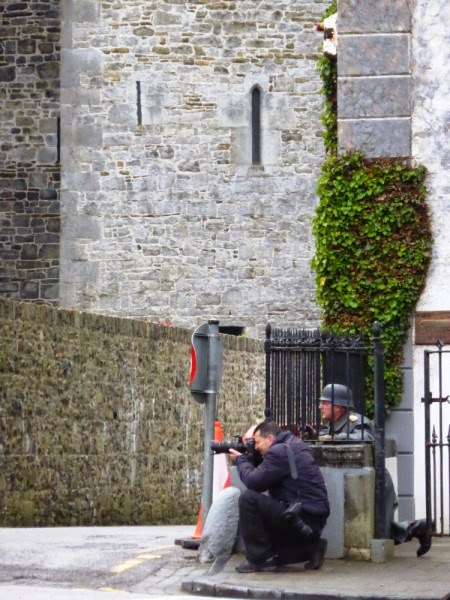 Some of the snipers had guns, some cameras.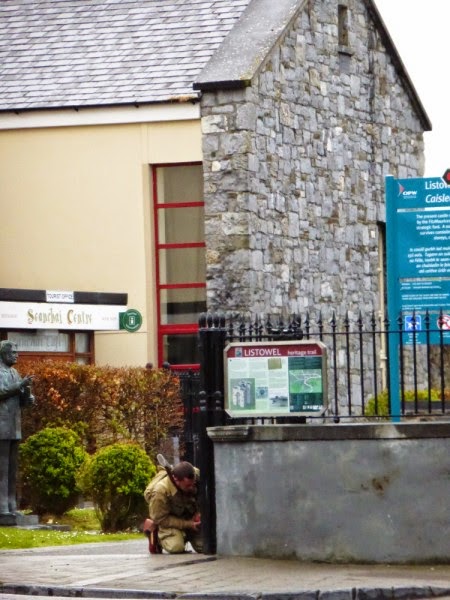 An early casualty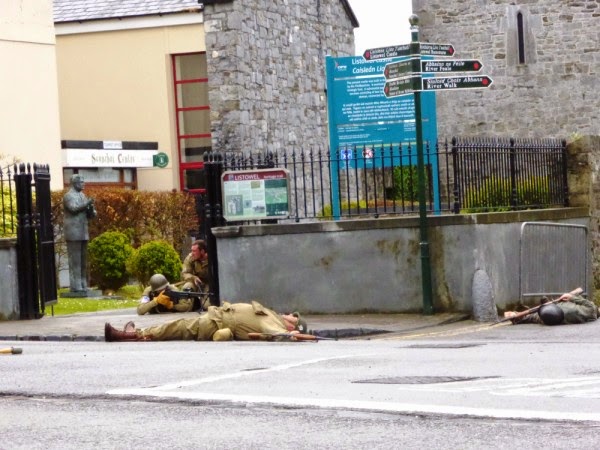 Dead bodies lay everywhere as the battle gets closer.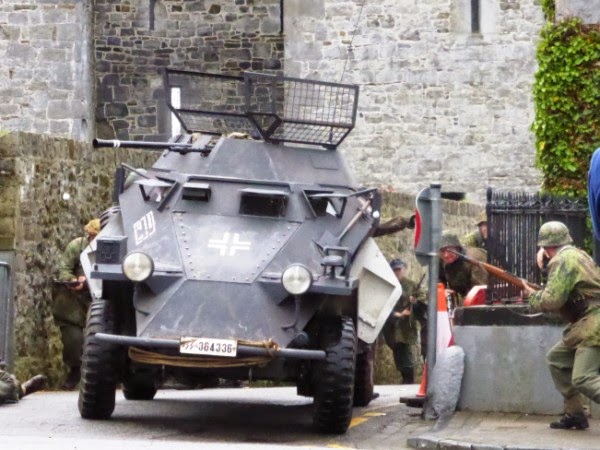 We knew we were sunk now or ever when we saw the German tank arriving.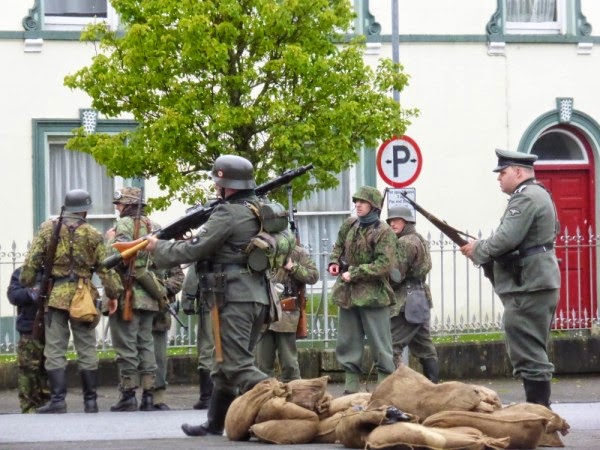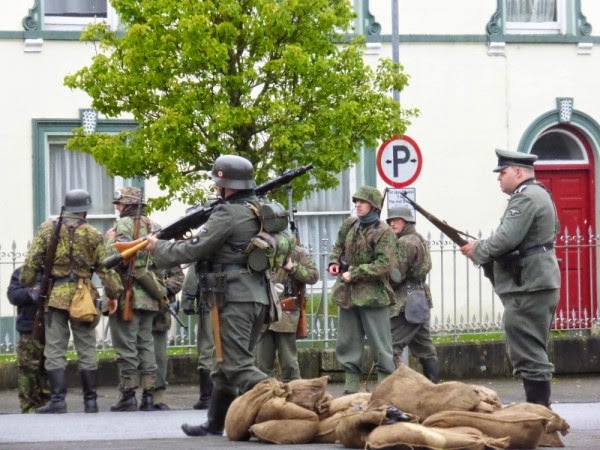 Our boys surrendered and were taken prisoner.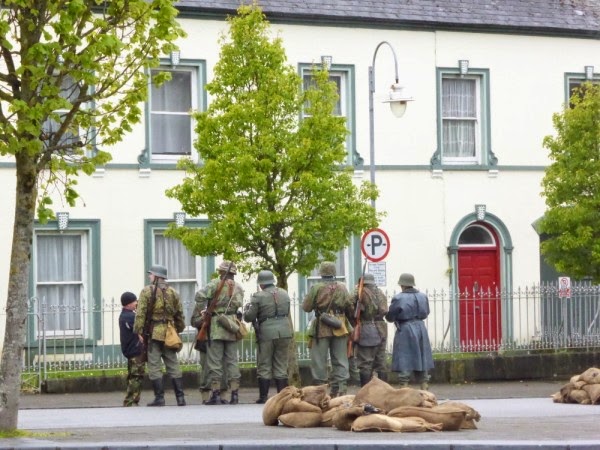 Here they are lined up to be led away.
<<<<<<<<<<<<
Tracing her ancestors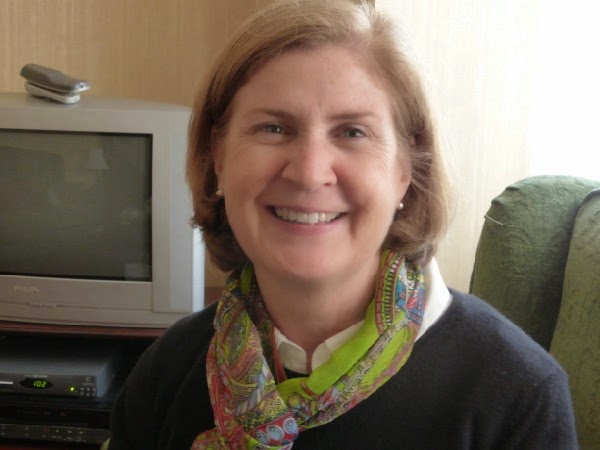 This is Marian Ahlering who came to Listowel recently to research her Moynihan/ Quirke ancestors. They used to live in Convent Street. Her mother was 90 in December and Marian was anxious to bring back to her news of her Irish roots in Listowel.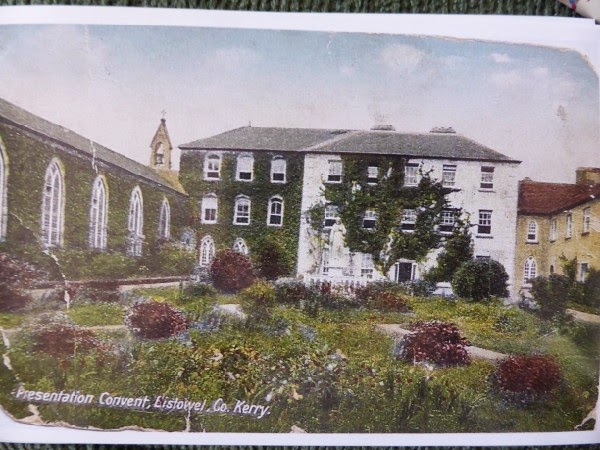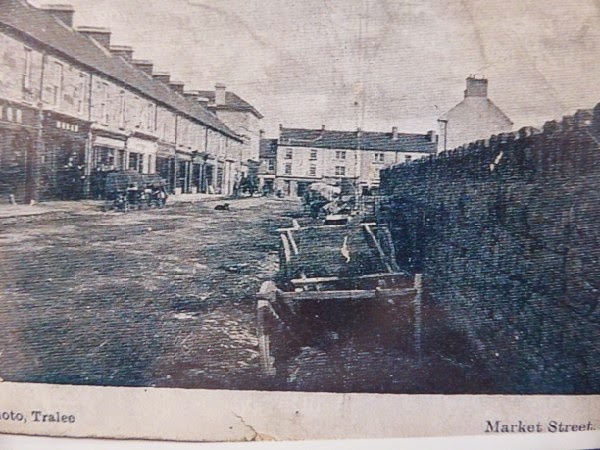 Among the mementoes that the Moynihan family kept with them in the U.S. was a set of old postcards depicted familiar views of their hometown. Among these was one of the convent and a very old view of Market Street. The family emigrated in 1906 so we can presume that that is how town looked then.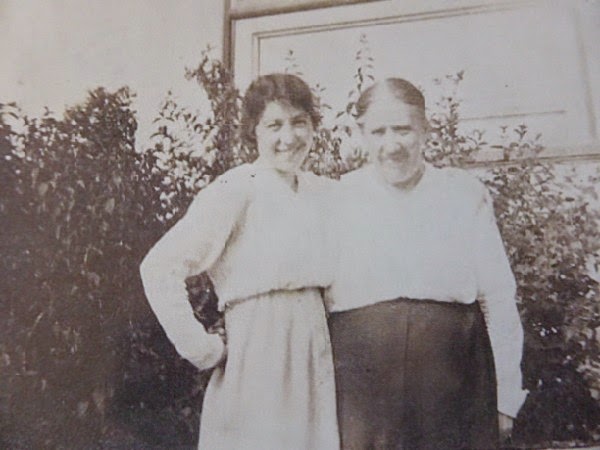 Mary Anne Quirke of Convent St. Listowel (Marian's great grandmother) and her daughter, Florence. They had emigrated to Chicago when Florence was a baby in 1920.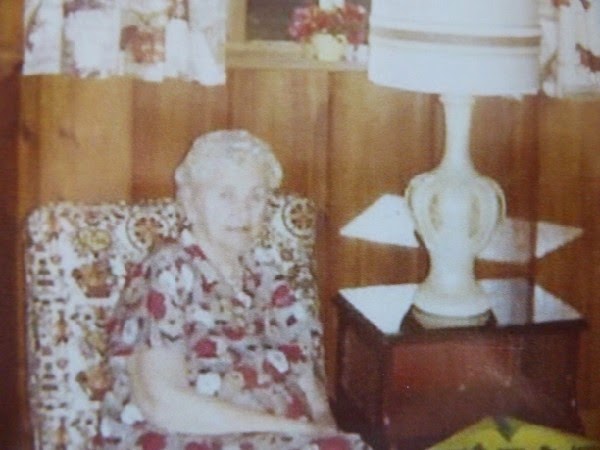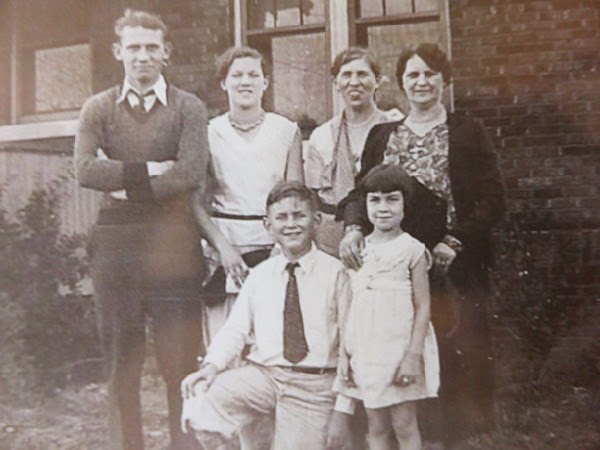 This is the Vickers family in Chicago.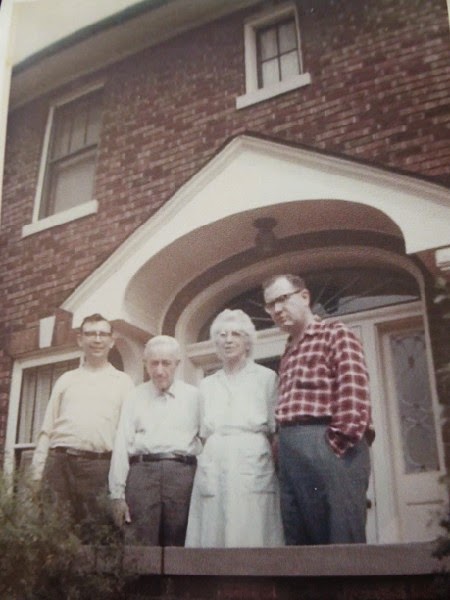 The men on either side of their mother were both priests, Marian's uncles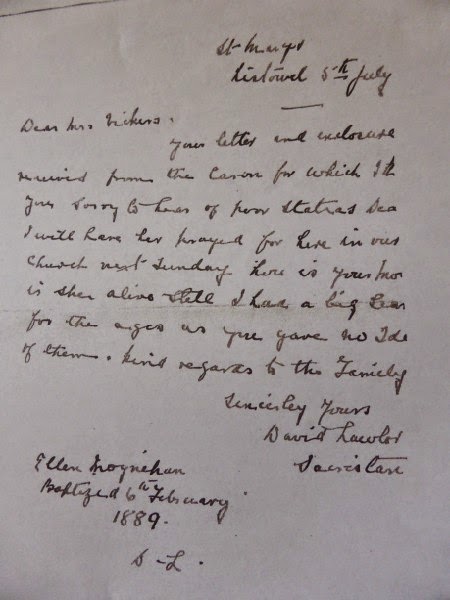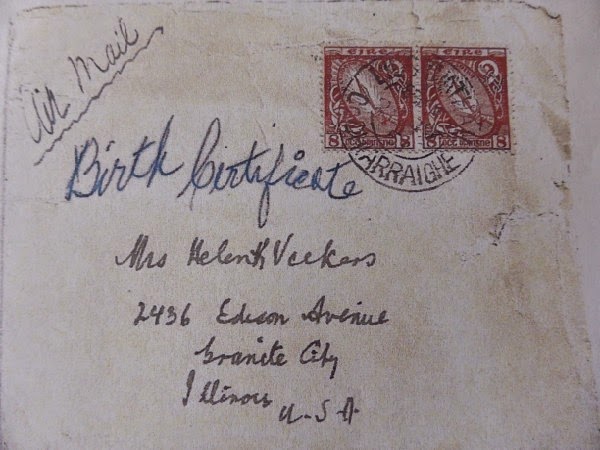 This is a letter from David Lawlor, Listowel parish clerk to Mrs. Vickers enclosing her mother's baptismal certificate.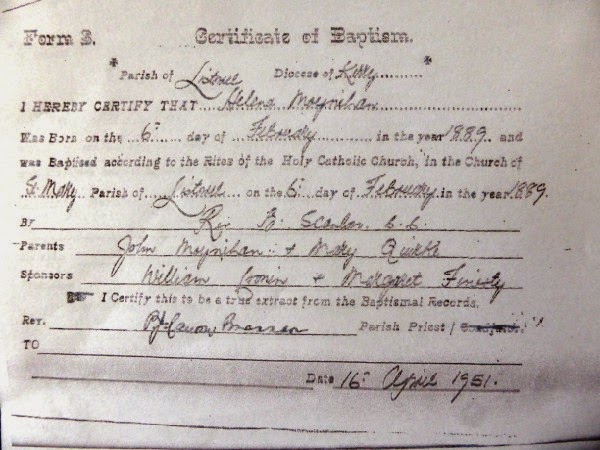 <<<<<<<
A trip Down Memory Lane with these old advertisements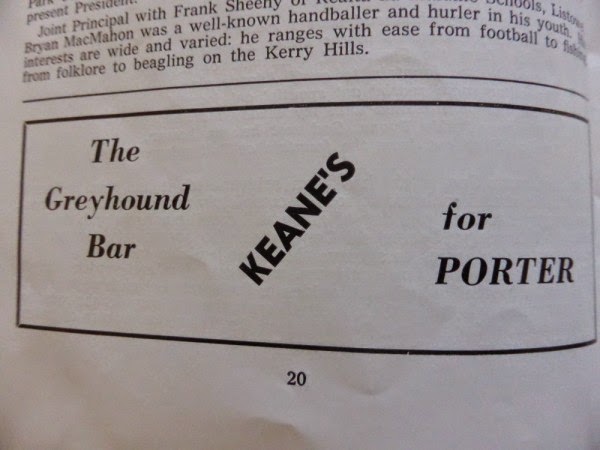 I think this is now John B. Keane's.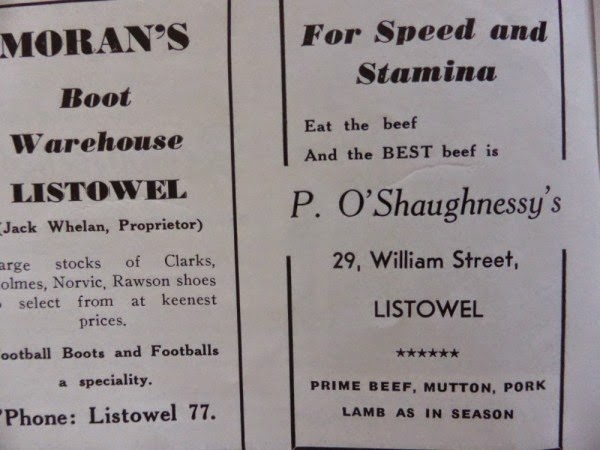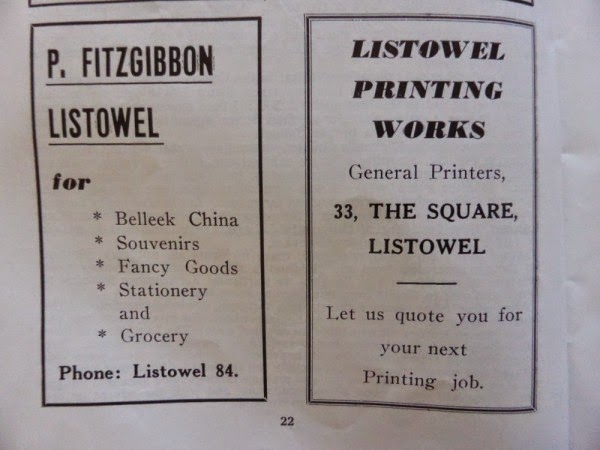 These two are still in business.
<<<<<<<
Snapped on the street on Saturday May 2 2015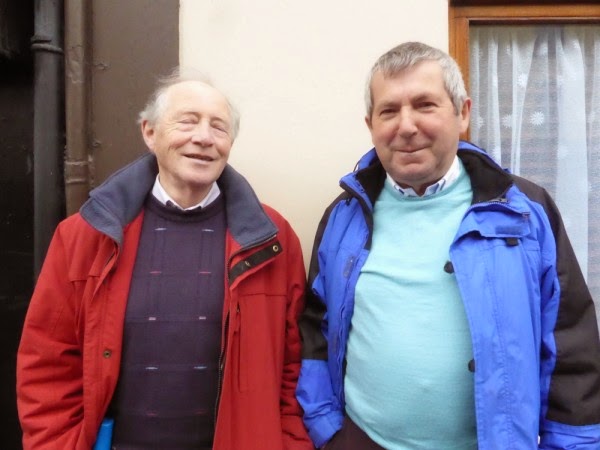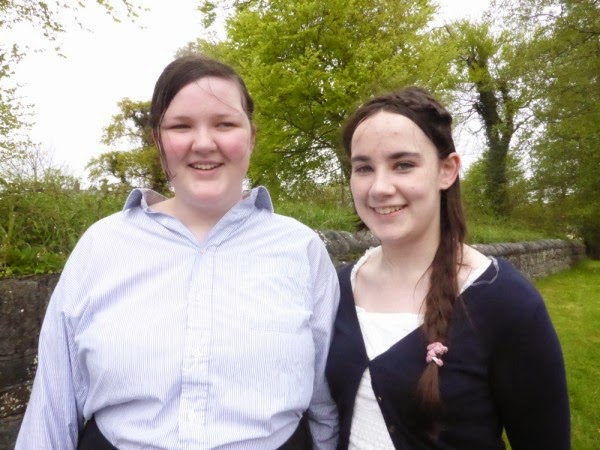 <<<<<<<<

Update from Fr. Pat


Fr Pat Moore has been sharing his cancer journey on the internet. He has honestly and openly and with great good humour written about his experience so far with his treatment.
But Fr. Pat is a preacher and he knows the truth of these lines from Edgar A. Guest:


I'd rather see a sermon
than hear one any day;
I'd rather one should walk with me
than merely tell the way.
The eye's a better pupil
and more willing than the ear,
Fine counsel is confusing,
but example's always clear;
And the best of all preachers
are the men who live their creeds,
For to see good put in action
is what everybody needs.


Fr. Pat's illness has brought out the best in everyone around him. His parishioners and friends have buoyed him and cheered him during a hard time in his life. He is sincerely and touchingly grateful.
Like the true priest he is, he takes time out to share the lesson he has learned; i.e. It means so much to someone in trouble to hear, see and feel expressions of love and support. Little things, like a card, a message or even a smile, even the tiniest expression of support can mean so much. These kind deeds are not done in the hope or expectation of gratitude but it is always nice to say thanks.


Click on the link below for Fr. Pat's message