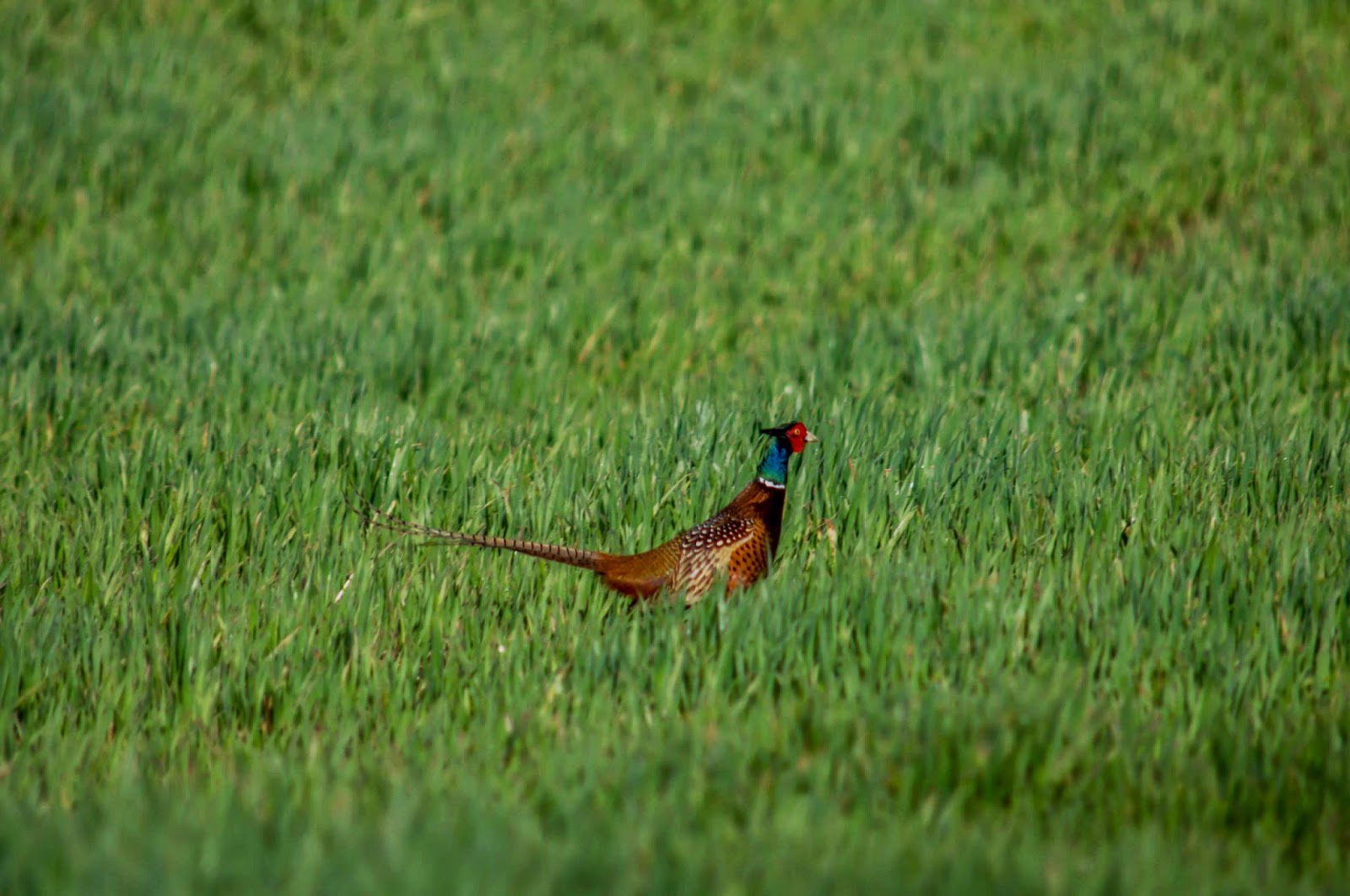 (Timothy John MacSweeney)
<<<<<<
Listowel Emmetts, North Kerry Champions 1957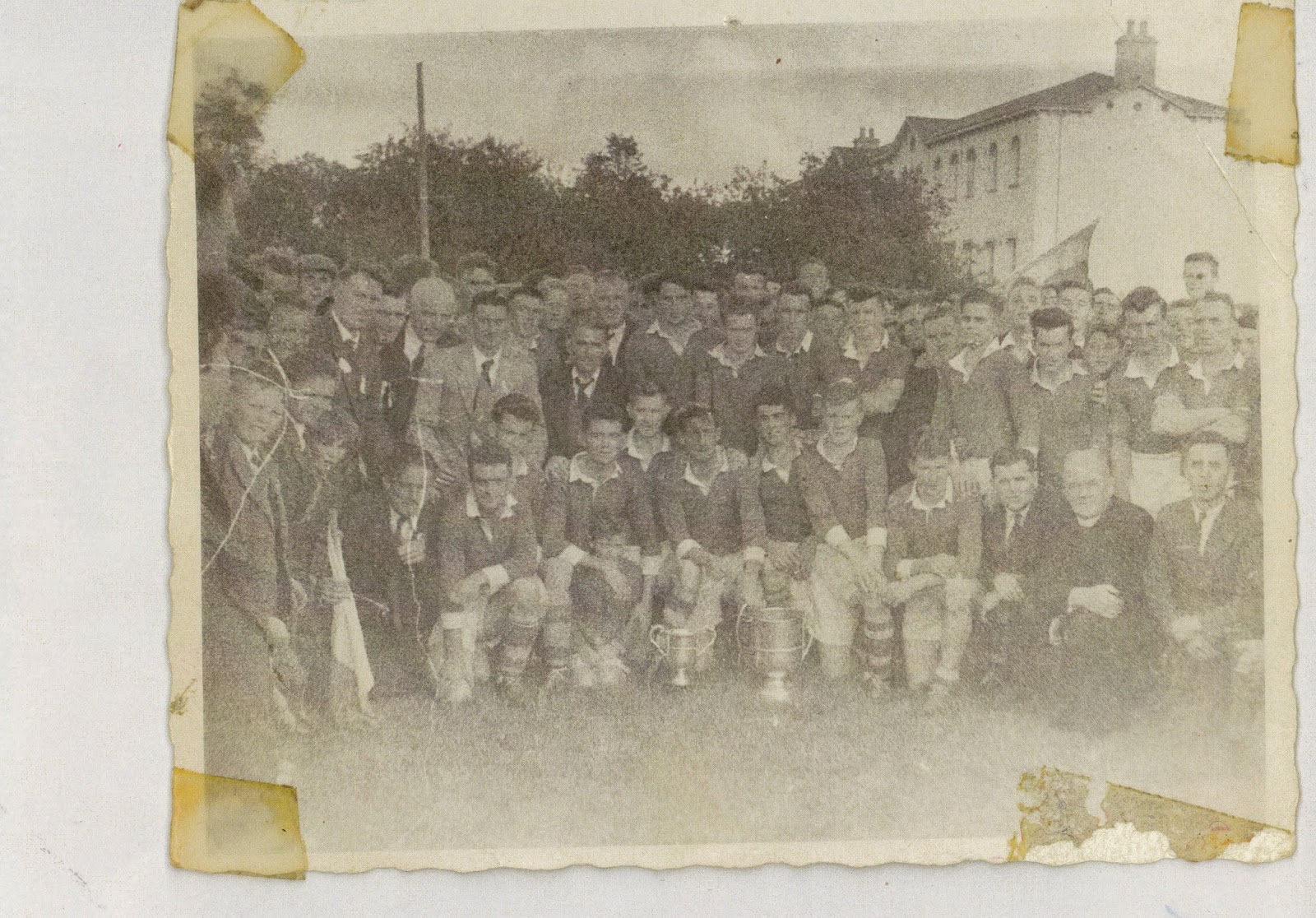 This picture, taken in the sports field is fairly poor quality but Vincent Carmody tells me that these are the men in it:
Players in the photo,
Front L to R
John (Nobby) Canty-Connell, Pat Whelan, John Murphy, Thomas Grogan, Timmy Walsh (capt) Michael Dowling, Bert Griffin, John Healy.
Back,
Tom Fitzgerald ( between supporters), Phil Healy, Celestine Stack, Andy Molyneaux (behind Cel. Stack), Bob Murphy ,Jim Guerin, Paddy O'Connor, Jim Harmon, Fr. Teddy Molyneaux, Billy Kelly.
Supporters included and identified,
Front,
Denny Carroll, Mossy Walsh, Canon Peter O'Sullivan, Patsy Leahy, (Trainer)
Back,
Sean O'Sullivan, Jack and Jim Galvin,Chuck Roche, Michael Carey, Toddy O'Connor (Chairman).
<<<<<<<<
These players were the heroes of a young Michael Sheehy of Main Street. Years later he recalled and posted on the internet his experience of playing in the street league in Listowel in 1957.
I remember the town league as if it
was yesterday. What great games between the different streets. I remember playing
with the Ashes around 1960 and the Ashes winning and still have the medal but
it says 1957 which would have made me 12. We had guys like the MacMahons, Toddy Enright, Junior & Bert Griffin, Frank Murray etc. What great times they were
just to have the bragging rights for a year. Now as I think of the places that
made up the "Ashes" I doubt if you could field a team. How sad it
is. Now as I think in The Small Sguare the only person to live there over the last
many years was Mrs. Scully. R.I.P. Everyone else closes their business and lives
somewhere else.
Happy memories for Mike. May he rest in peace.
<<<<<<
Summer Days are on the way again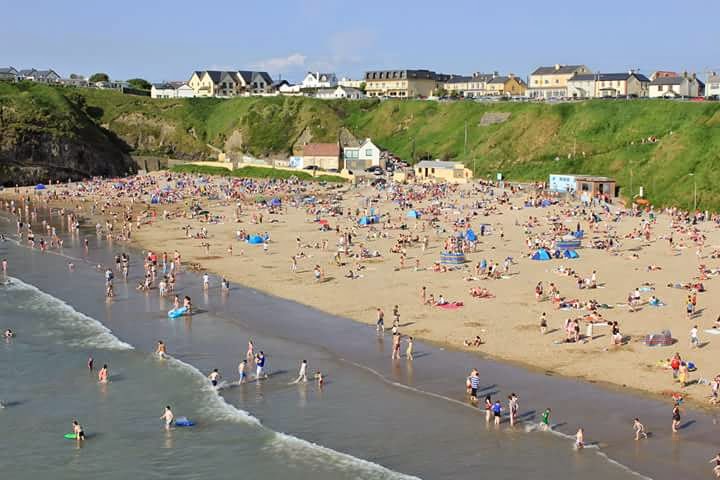 A photo reminder of things to come on Ballybunion beach from Ballybunion Prints Beach
<<<<<<
Mass in Pres. Listowel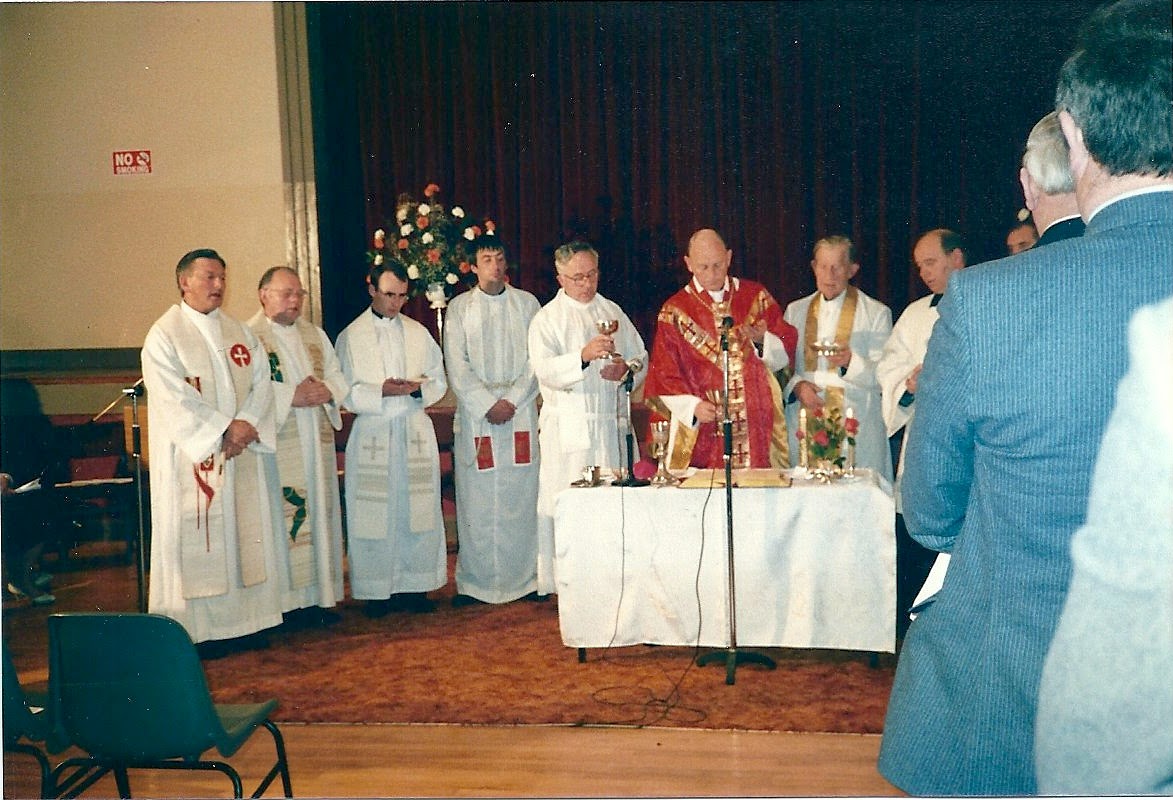 The late Bishop Diarmuid O'Suilleabháin concelebrated mass to mark a refurbishment at Presentation Secondary School
<<<<<<<<
How many of you have heard of this famous scholar?
Michael
MacAuliffe, also known as Max Arthur Macauliffe, was a senior British
administrator in India, a scholar and author, renowned for his translation of
Sikh scripture and history into English.
Born
Michael MacAuliffe at Newcastle West, County Limerick on 10 September 1841, he
was educated at Newcastle School, Limerick, and Springfield College. He
attended Queen's College Galway between 1857 and 1863, being awarded junior
scholarships in the Literary Division of the Arts Faculty for 1857-8, 1858-9,
and 1859-60. He was awarded a B.A. degree with first class honours in Modern
Languages in 1860. He obtained a senior scholarship in Ancient Classics for
1860-1, and a senior scholarship in Modern Languages and History for 1861-2. He
also served as Secretary of the college's Literary and Debating Society for the
1860-1861 session.
Max
Arthur Macauliffe entered the Indian Civil Service in 1862, and arrived in the
Punjab in February 1864. He was appointed Deputy Commissioner of the Punjab in
1882,and a Divisional Judge in 1884. He retired from the Indian Civil Service
in 1893.
Max
Arthur Macauliffe wrote the definitive English translation of the Sacred Book
of the Sikh religion, the Guru Granth Sahib. He also wrote The Sikh Religion:
its Gurus, Sacred Writings and Authors (six volumes, Oxford University Press,
1909). He was assisted in his works by Pratap Singh Giani, a Sikh scholar.
It is widely believed that Max Arthur
converted to Sikhism before his death. He is held in high esteem among the Sikh
communion, in particular the intelligentsia, for his monumental translation
into English of the Sikh Scriptures, the Guru Granth Sahib. He was awarded the
degree of M.A. (honoris causa) by his alma mater in 1882. Max Arthur Macauliffe
died at his home in London on 15 March 1913