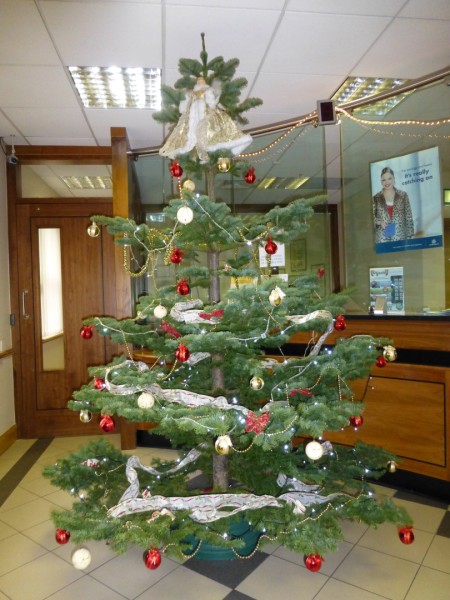 I wish all my readers a very happy and a peaceful Christmas and a hope that 2013 will be good to us all. I wish to thank most sincerely everyone who helped and encouraged me during the year. Listowel connection is now a community and its success is due to all the people who send me stuff. I hope that our community will grow and prosper in the New Year and that even more people will share their photos, poems and stories with us all.
<<<<<<
O Christmas Lights
O Christmas Lights from Ireland's
dells
How gently gleams thy glow
Like stars above Judean hills,
In Bethlehem long ago,
Where angels sang and shepherds
prayed,
O'erpowered by wondering awe,
As Mary in a manger laid
Her Babe on stable straw
This verse is from a poem by the late Michael Holland of Ballybunion. I came across Michael's poetry by chance. Many people in Listowel will remember him from his work with Kerry County Council and later in Listowel Community College. Michael was a man of deep faith. If you remember him this Christmas, please say a little prayer for his soul.
<<<<<<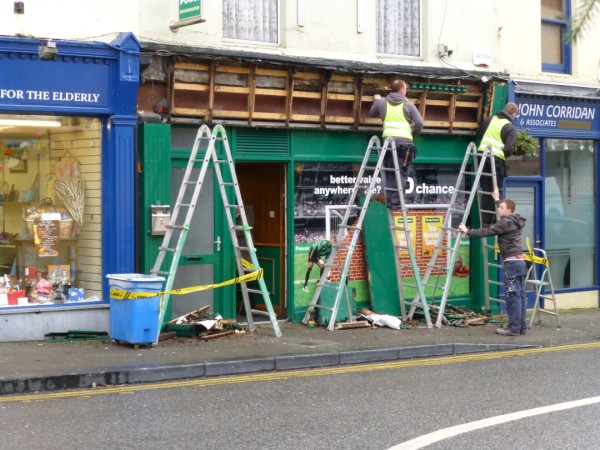 Paddypower is getting a new sign.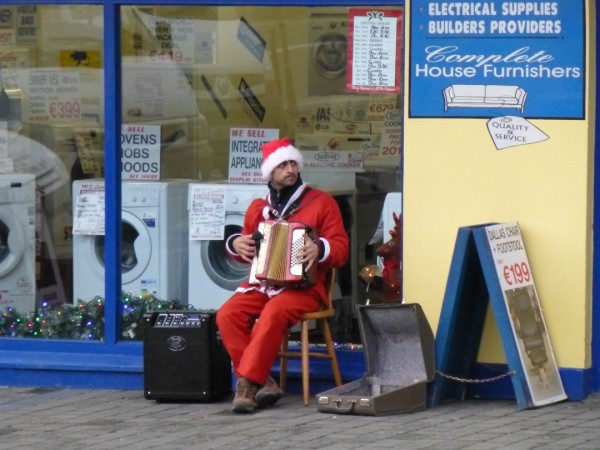 This busker is getting into the spirit of the season.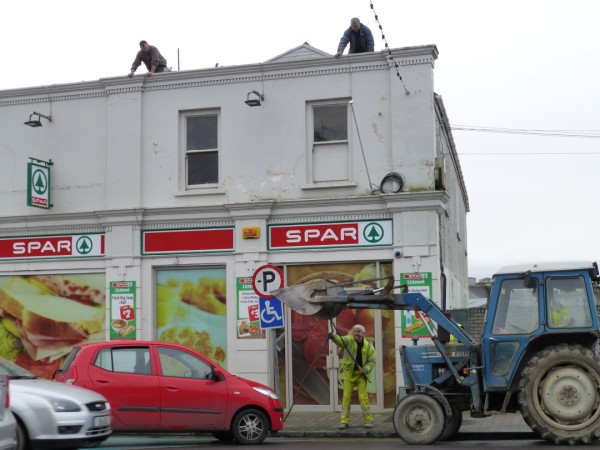 Weds. Dec 19: I don't know what the two on the roof were doing. The men with the tractor were straightening the sign.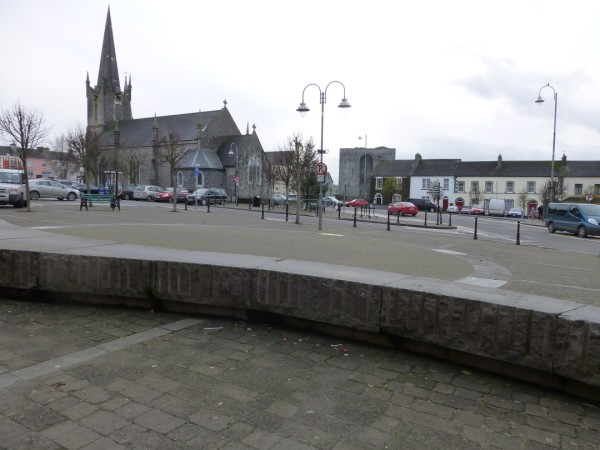 The Square
<<<<<<
In Tralee one day recently Jer recorded this really good singer busking on the street.
http://www.youtube.com/watch?v=p_kfyfQVrP0&feature=youtu.be
He is well worth a listen.
<<<<<<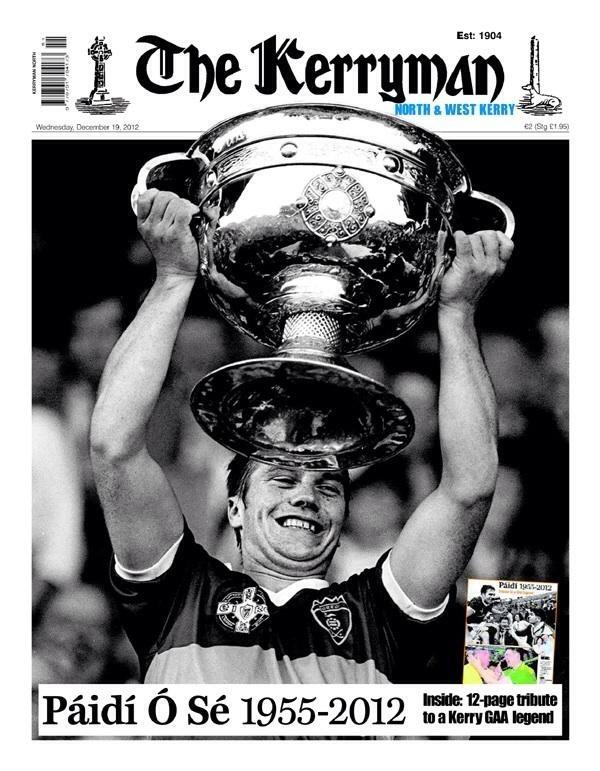 Well done to whoever is responsible for the front cover of last week's Kerryman.
Some lovely tributes in both English and Gaeilge too inside.
<<<<<<
This is Paul Galvin's tribute to Páidí ÓSé from Paul's website
December
17, 2012
Three
short months ago I went west towards Gaeltacht Chorca Dhuibhne. Weeks spent in
Ceann Trá and Baile 'n Fheirtéaraigh as a youngster left me with a fluency of
our native tongue and an affinity for the parishes that preserve and promote it
that hasn't left me since. There's a wildness about the place and its people
that I love.

I
was lucky to spend a few hours in Paidi's company talking football and music
and photography and then more football. He was a cultured man and he
appreciated his own culture more than any other. Whilst I never knew Paidi as
well as someone like Eamon Fitz I always admired and respected him. I loved his
company and his stories often had me rolling with laughter. The more I laughed
the more Paidi enjoyed it. The O Se's are like that.
We spoke about writers
too. Con Houlihan and Aengus Fanning came and went. We sat and listened to some
of John Spillane's music. I remember Paidi being surprised that I knew some of
John's songs. He spoke of his pride in Eamon Fitz in his new position. The two
share a special bond. Paidi trusted Eamon, Eamon delivered as Eamon does. He
spoke of his pride in Páidí Óg.
It
struck me how sharp he was regarding the game. He said two things to me about
my own game that only a really sharp football man would notice. He put me
thinking I must admit but then Páidí had a wit that could put anyone thinking.
He could provoke, but then leaders must.
 Those things will remain private of
course because some things mean more when you keep them to yourself. Whilst I
never soldiered much under him as a player I remember PO's team talks vividly.
They were more than team talks really, they were a call to arms that you had to
answer and everyone answered the call for Paidi. His teams played football like
he did. With passion and purpose and all the skills. Anyway there are men better
placed than me to talk about his qualities as a manager.
As a
man I was drawn to him. He had courage and charisma and I'm glad of those few
hours we spent now. If Kerry football has a foundation then the four O Sé's are
the cornerstones upon which it is built. Páidí passing won't change that only
re-inforce it. Great men are an even greater loss I guess. We'll shoulder this
one together. Páidí, I'll take your words with me as I go. The wild west won't
be the same without you.
>>>>>>
I got an email from Barry O'Halloran with his own Páidí memory: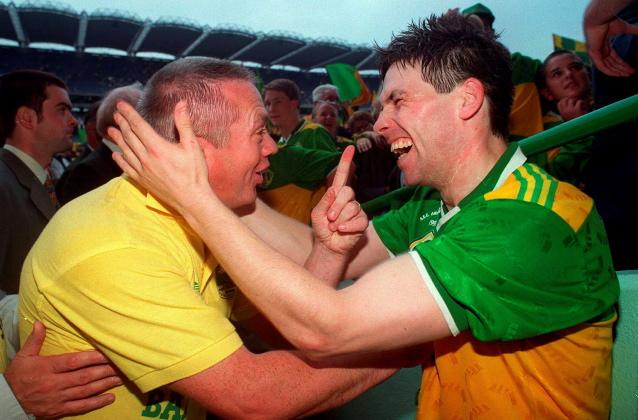 "For Listowel people this must be one of the most liked photos of Paidi –taken immediately after the 1997 All Ireland Final with Stephen Stack.
Stephen gave an exhibition of corner back play that day to win his second All Ireland medal after a gap of eleven years.
Kerry won 0-13 to 1-7. Paidi was manager of course.
I grabbed the photo from the irishindependent.ie website – 1 of 67 Paidi photos.
http://www.independent.ie/sport/gaelic-football/pictures-paidi-ose-19552012-3331294.html?ino=1(
As a footnote, A few minutes later Stephen gave a brilliant sideline interview to Marty Morrissey, which he opened by sending his best wishes to his god-mother (Eileen O Halloran – my mother) who was in her last few weeks of fighting cancer. Stephen brought Sam McGuire to her bedside 2 days later)."
(R.I.P. Eileen and Páidí)
>>>>>>>
http://www.youtube.com/watch?v=6z-P1hZf4lM
Listowel's second annual Christmas parade video
I should have the fireworks display video for you after the holidays

>>>>>
I am going to take a holiday from blogging until after the New Year. See you all in 2013.
P.S. I had intended stopping today but I have so many photos that I will schedule a few of them to post on December 26th. Then I will definitely take a break.