People who read this blog regularly will know that I often include a photo from the great Listowel photographic firm, Healyracing. I have huge admiration for the Healy family. Liam Healy Sr. is a modest gentlemen, who has used his immense talent as a lensman to build up a successful business. He is also a proud family man who has passed on his passion for horses and his talent as a photographer to the next generation. All of the Healys have built up friendships with the racing fraternity. There is a mutual respect and admiration. These are hardworking people who see, at first hand, the passion and hard graft that each puts into his chosen profession. So I was not surprised when I read the following article in yesterday's Independent.
John O'Brien's article in full can be read here;
http://www.independent.ie/sport/horse-racing/everybody-hurts-for-true-friend-29135214.html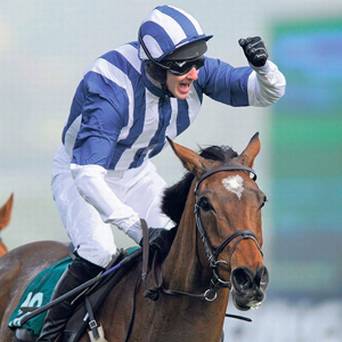 JT McNamara
17 MARCH 2013
AN hour after the last race on Thursday,
as the last few racegoers filtered towards the exits, Liam Healy sat on the cold
concrete steps in the stand overlooking Cheltenham racecourse, took a long pull
from his cigarette and did something he couldn't recall doing for 30 years. He
wept. Shed tears for a jockey who wasn't just a trusted colleague and a fine
horseman, but his most cherished friend in life too.
A few hours earlier, Healy had taken his
customary position by the last fence as the field streamed down to the start
for the Kim Muir Handicap Chase. His brother, Pat, stood a few yards away,
snapping the runners as they cantered past. When he saw John Thomas McNamara
approaching on Galaxy Rock, Pat knew what to expect. McNamara would wave his
whip and shout, "Good man Pat Cash," calling Healy by his nickname.
Typical John Thomas, he thought.
Their friendship isn't difficult to
understand. The Healys have been taking racing pictures since 1975. Not a
dynasty like the Moores or the Mullinses, perhaps, but a hugely respected
racing family all the same. Most days they drive to the races, the road will
take them no more than a few miles from the McNamara's place in Croom from
where Andrew, John Thomas' uncle, sent Yer Man to finish third in the 1983
Grand National. Andrew bred two sons, Andrew Jr and Robbie, to be fine horsemen
too. A racing family to their core.
What they knew about John Thomas told them
that when Galaxy Rock came to grief at the first fence and the jockey lay prone
on the ground, the situation was grim. "He's the type of fella," says
Liam, "that if he doesn't get up immediately after a fall, you know he's
hurt." A couple of hours later, Richie Harding, who had ridden in the
race, called and confirmed his worst fears. "Healy," he said sadly.
"I'm not going to lie to you. He's down."
In the cruel logic that prevails in
racing, it is often the most innocuous falls that reap the grimmest consequences.
Not this time, though. The moment McNamara struck the ground, it was apparent
to those close by that he was in serious trouble. Riding Vesper Bell for his
father, Patrick Mullins steered his horse around Galaxy Rock, wide enough to be
out of danger, close enough to sense something bad had happened.
"When I went by him I heard this loud
crack and I presumed it was the horse," says Mullins. "But next thing
I see the horse is fine and then we missed out the fence on the following
circuit so you're just hoping he's okay. He's one of the oldest amateurs
around, a gentleman and a character. Everyone likes John Thomas."
The crack Mullins heard was almost
certainly the stray hoof of an oncoming horse landing flush on McNamara's
helmet, inflicting the blow that left him with potentially catastrophic spinal
injuries. "One of the doctors said afterwards that the helmet was
absolutely shredded to bits," says Liam Healy. "The horse just stood
on it. There's just nothing anyone can do about that."
A few miles away, Davy Russell watched the
racing unfold in his room in Cheltenham General Hospital. That morning a doctor
had drained blood from his lung, damaged from a fall the previous day, so he
could ride that afternoon. After riding Stonemaster in the Pertemps Final, the
second race on the card, the pain had become too severe. Russell would watch
the rest of the Festival from a hospital bed, sore but largely in one piece.
Russell and McNamara are cut from the same
cloth. Stalwarts of the point-to-point circuit, the true grassroots of the
game, great rivals and friends for many years. One day Healy remembers driving
with Russell to the races and asking who he regarded as the best jockey he'd
ridden against, expecting the answer to be Ruby Walsh or AP McCoy. But Russell
was adamant the best horseman he'd seen and ridden against was John Thomas
McNamara.
For a time Healy felt a smidgen of
sympathy for Russell, but it passed quickly. And not just because of McNamara's
bad luck. "Did you hear about Jonjo?" he asks. Last month, he
explains, far away from the attention of the wider world, Jonjo Bright, a
19-year-old jockey from Co Antrim, suffered horrific injuries after a fall at a
point-to-point meeting in Tyrella and remains in hospital in Belfast.
"First Jonjo and now John Thomas," Healy sighs. "You just pray
these things don't come in threes."
<<<<<<
I had visitors for the long weekend.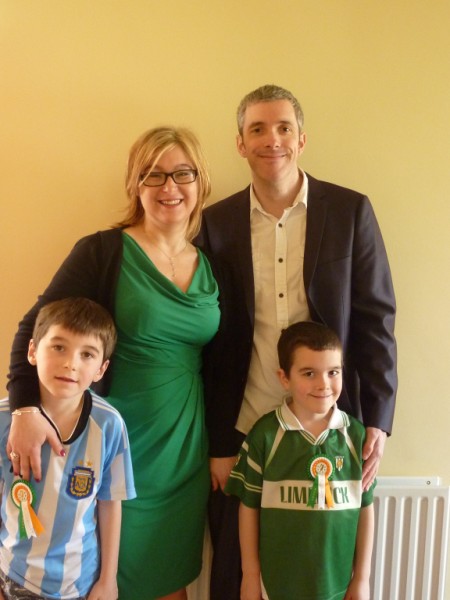 Bob and Carine were on their way to Fergus O'Connor's wedding and my darling grandsons were spending the weekend in Listowel.
On this trip to The Kingdom, the boys were accompanied by Ted.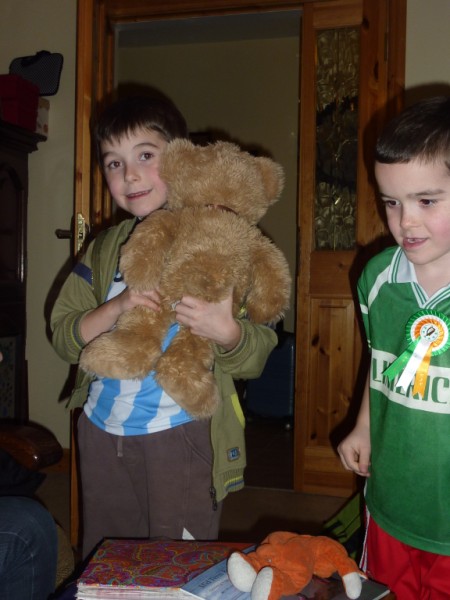 Sean is in Miss O'Connor's class in Scoil Barra in Ballincollig. Miss O'Connor has a teddy named Ted and for 6 years now Ted has gone with Miss O'Connor to whatever class she was teaching. One pupil at a time takes Ted home and writes a diary entry detailing what Ted has done while he was their guest. Ted arrived in Listowel on Friday night.
On Saturday the sun shone and Ted started his Kerry adventure. In the morning he went to Knitwits.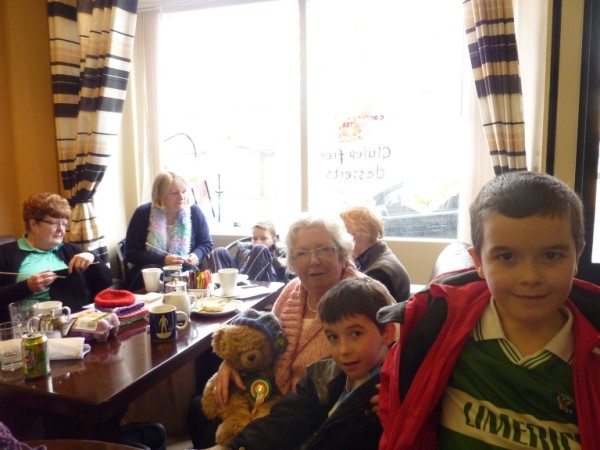 He modelled a hat and tried his paw at a bit of knitting.
In the afternoon we took Ted to Ballybunion.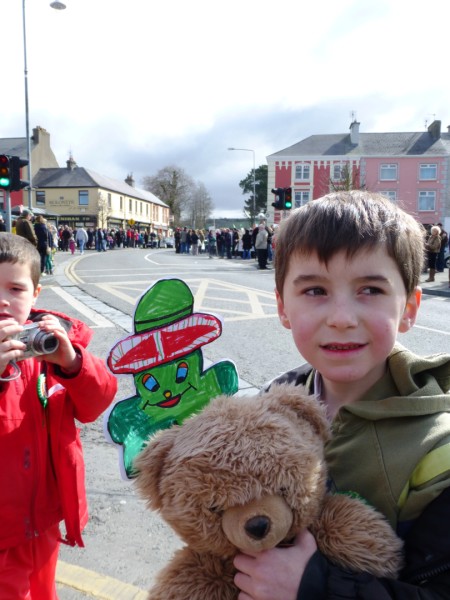 On Sunday Ted and the boys went to the parade. Here are a few of the groups they saw.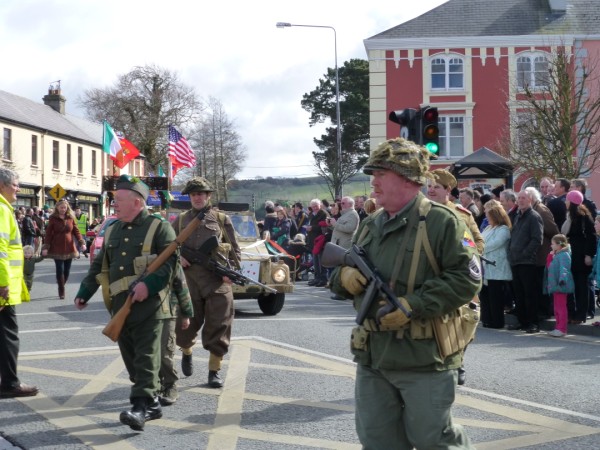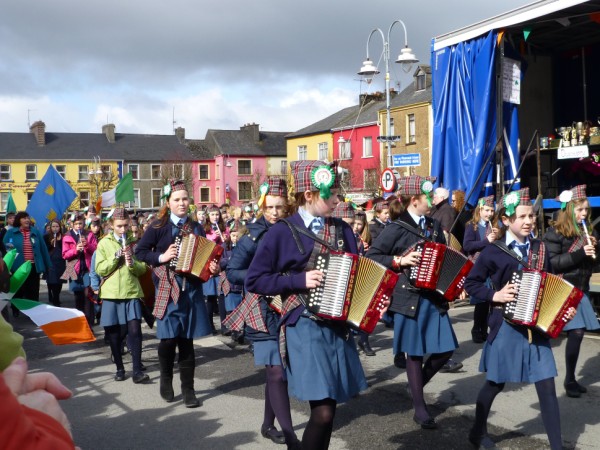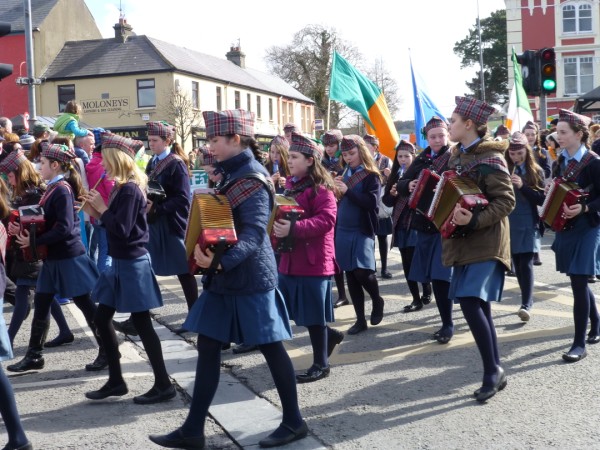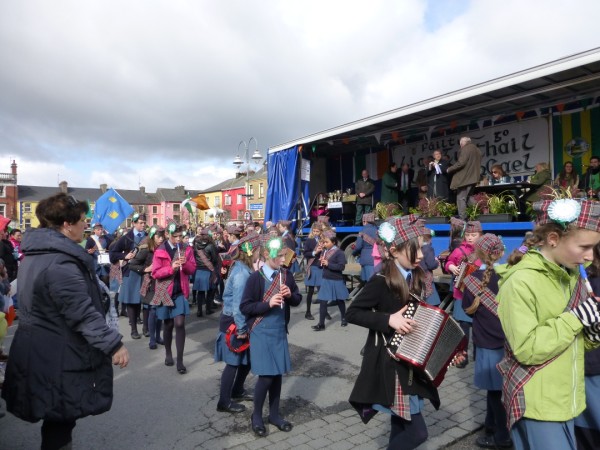 I took about 400 photos of the parade so I'm slowly sorting them out. I'll post more tomorrow and I will hopefully get around to replying to my emails.
<<<<<
Jimmy Deenihan was in Canada for St. Patrick's Day. While in Brampton, Ontario he met up with Bernard O'Connell and his wife, Dolores. Bernard sent us these photos.
Jimmy Deenihan and Bernard O'Connell
Jimmy presenting a Kerry jersey to the club.
Jimmy presenting a Con Houlihan DVD to Dolores O'Connell.