I found the following on Jer. Kennelly's page on the internet.
Dan Keane on Paddy Drury
…From Glin Road I will go right across the parish
to Carrueragh- the Bog Lane and the Drurys. They were known far and wide.
Locally they were always known as the Drurys of the Bog Lane. They were always
The Drurys of the Bog Lane – they were one of thirty five families evicted from
the Kilmeaney area when 'The Defender of Small Nations' was confiscating the
lands for the Domain, the Estate or the Great House, whichever you choose to
call it.
Paud was probably the best known of the Drurys – he had wit – no doubt
he was better known as a rhymer or poet. Sorry to say most of his songs are
lost. He wrote a lot of patriotic songs, and in all revealed he had no love for
the Crown. I remember one line of a song he wrote:
"If John Bull had the five and the Knave he
wouldn't knock a trick out of Sinn Fein".
Easy to see he played 'forty one' – though he
claimed he couldn't count that far.
I remember one night, Paud was at our
house. Someone said: "Would you be a great scholar if you got
schooling?" Paud said: "I went to school for a day and a half. I'd be
a wonderful scholar if I finished the second day!" Asked how the day and a
half came in, he said: "I stole away at play-hour, down to Flavin's
cock-of-hay where their sheep dog had five pups. That's how I learned to count
as far as five".
There is a story told about Paud being in Listowel and
rubbing shoulders with a man – Mr. Hill, who lived there at the time. Mr. Hill
became indignant at the idea of one he regarded as lowly touching his person in
any way and told so to Paud. Paud gave a quick glance at him and said:
"Between Hill and Hell there is only one letter,
and if Hill was in Hell
wouldn't Ireland be better!"
On another occasion Paud was working for a
farmer. On going to bed, an enamel jug was left on the table with milk for
Paud's supper, – but they over-looked putting out the cat. Like all cats he was
very obliging to himself. He jumped onto the table pushing his head down the
jug as he drank. Having completed his mission he jumped off the table but being
unable to extract himself from the jug, he had no choice but to bring it with
him. His manoeuvers on the floor frightened the farmer who was nervous. On
hearing Paud coming in he called on him to investigate and later when quietness
was restored, he called on Paud for an explanation, Paud's answer was:"
"He wasn't in prison,

He wasn't in jail.

There was nothing out

But his arse and tail,

You were an awful man,

To
stay lying on your flat,

And wouldn't come down,

To release the cat.
…………………..
Jer. found this prison record online:
Name
Patrick Drury
Also Known As Name
John Drury
Role of Individual
Prisoner
Event Type
Prison
Event Date
1901
Event Place
Tralee, Kerry, Ireland
Residence Place
Knockanure
Age
34
Birthplace
Knockanure
Birth Year (Estimated)
1867
Prison
Tralee
Offense
Drunk On The Public Street
Victim's Name
Victim's Address
Where Convicted
Item Number
4
Book Number
1/36/5
County
Kerry
GS Film number
2356920
Digital Folder Number
004492697
<<<<<<<<
A few dates for the diary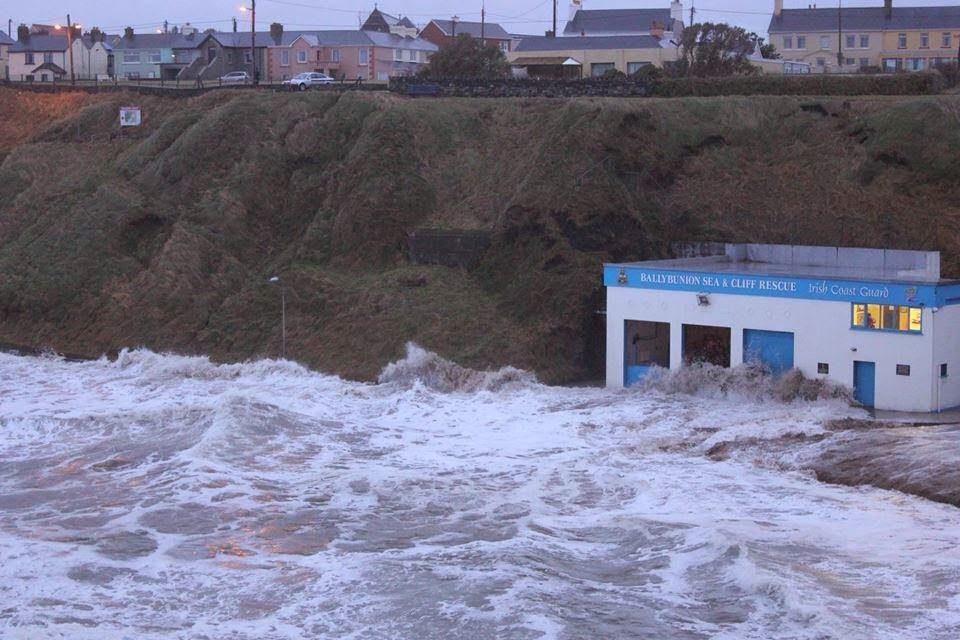 The good people at The Mixing Bowl posted this photo of the Sea Rescue garage being battered in the recent storm. Together with Ballybunion Sea Angling, they have organized local fund raisers to help pay for the repair. Here are the details from Mike Enright:


"A monster fundraising weekend for Ballybunion Rescue beginning on Friday 7th Feb. PLEASE come and support them and check out their facebook page for more details.
Ballybunion Sea Angling are holding a pub quiz, fundraiser in aid of Ballybunion Sea and Cliff Rescue , on the 7th Feb , the night before Aine O' Farrell of The Mixing Bowl holds her fund raising day. This should kick start a great weekend fund raising for the unit."
<<<<


Thade Gouran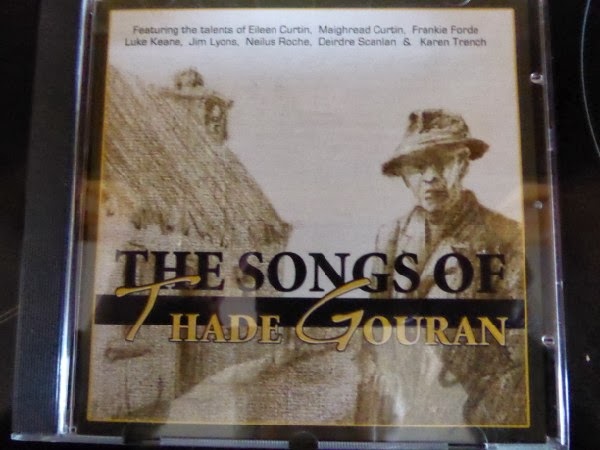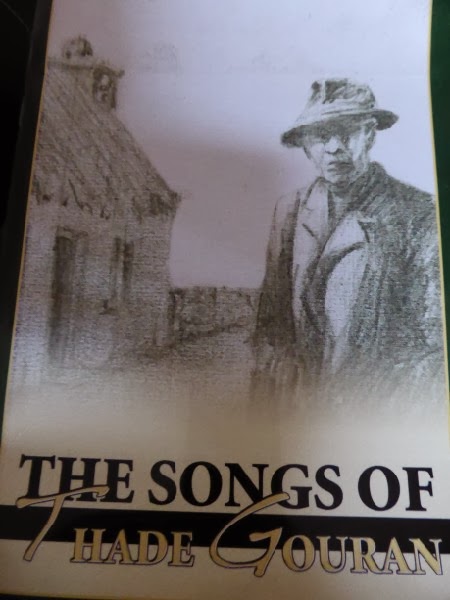 I've tracked down our man. Fr. Pat Moore P.P. Duagh gave me a copy of Thade's songbook and a cd of local voices singing his ballads. Both are on their way to Thade's great granddaughter in England. She is first generation English . I think she will be shocked by the sentiments expressed in some of the songs.
Thade 1868 -1927 was from a family of nine. Thade was the youngest.. He was born in Meenscovane in the parish of Duagh. He married Hannah Dillane in 1895 and they lived in Knocknacrohy. They had seven daughters.
Thade was in poor health for most of his life. He died on January 28 1927 and is buried in Abbeyfeale.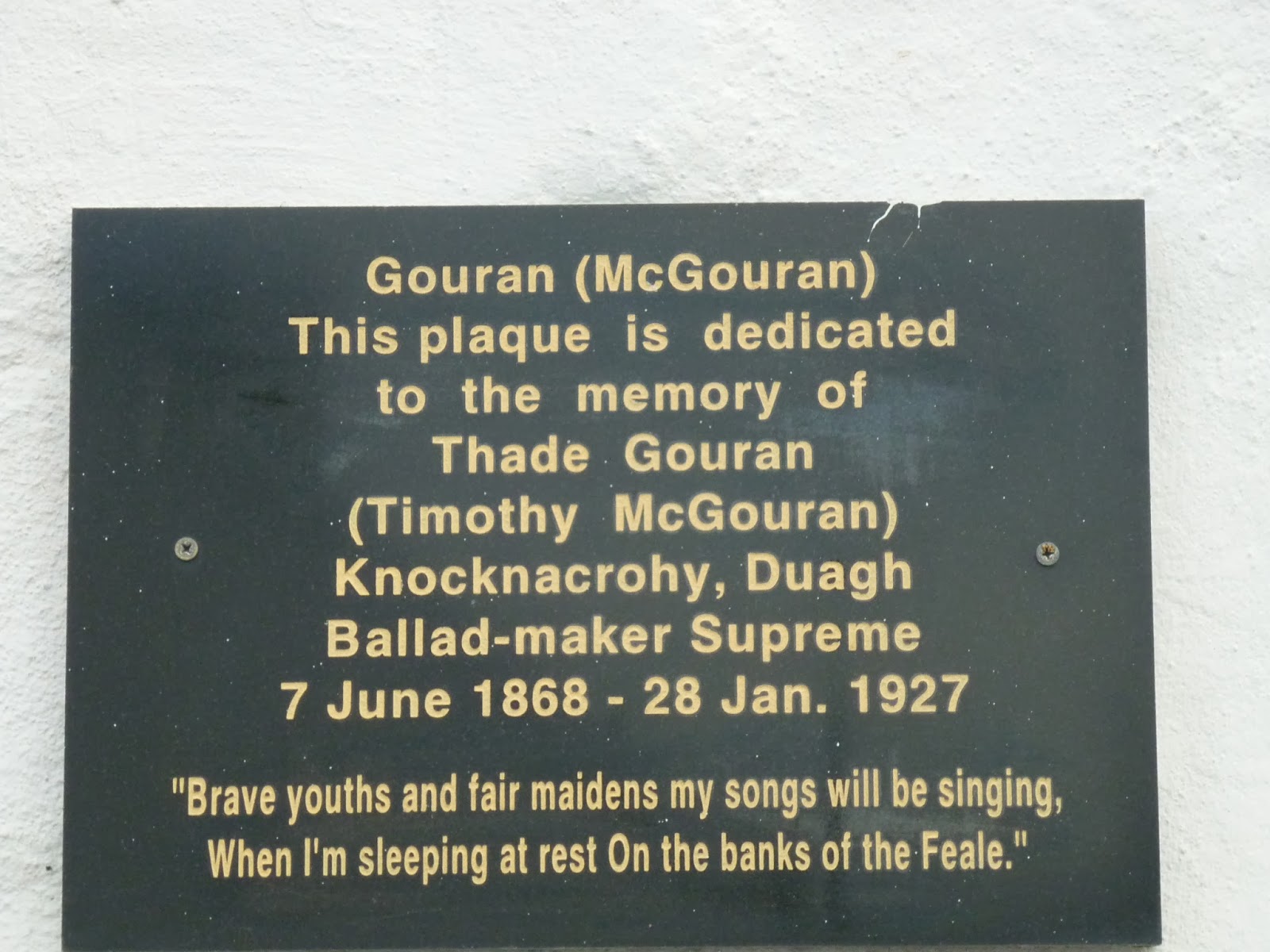 Joe Lynch of The Duagh Family Centre sent me this photo of the plaque to Thade on the wall of the centre.
<<<<<<,
I have made a few further enquiries about the late Pat Abruzzo, formerly of Duagh who died in an accident in the US.
Fr. Pat Moore P.P. Duagh writes this;
We actually prayed for the couple at Mass here. She was from the townland of Knocknacroghy which is near Abbeyfeale and not too far from Tadie Gouran. The family, her nephew, come to Mass here.
<<<<<<<<
Congratulations to Kieran O'Connor, formerly of Listowel Emmetts , who has been named on New York GAA's team of the year 2013.
Our loss….
<<<<<<<
Hard to take these athletes seriously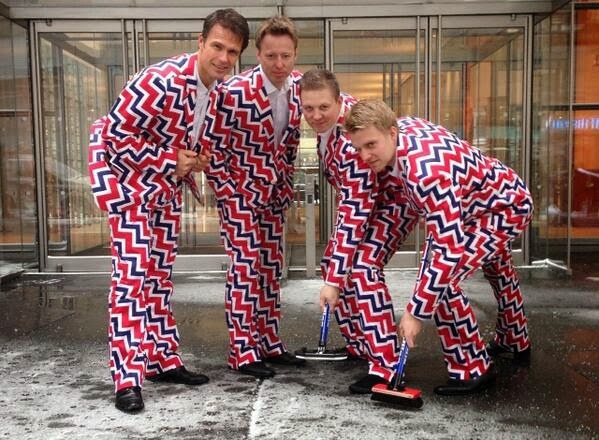 It's the Norwegian Curling team at the winter olympics. No Listowel connection that I know of!