In 1991 President Mary Robinson opened Writers' Week. On the evening of her arrival in town Writers' Week, as part of their festival programme held a fancy dress parade for the local children. Because of the buzz surrounding the visit of such a prestigious visitor the parade was bigger then usual. Many of the participants took a Mná na hEireann slant to their costumes since this was a theme of the Robinson presidency.
This group of local girls chose a theme closer to home and came prepared for racing.
Would you back a horse ridden by any of these "jockeys"?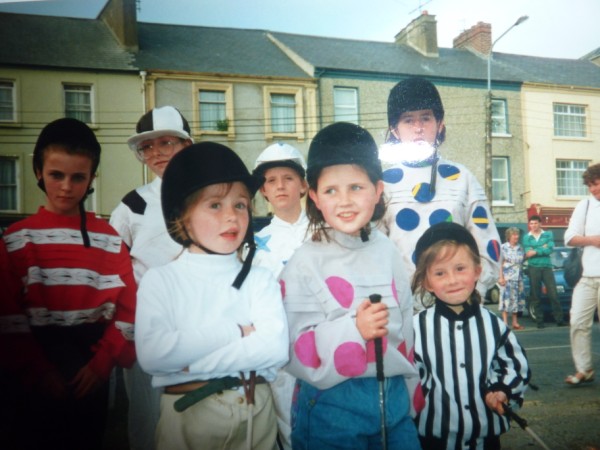 Aren't they sweet?
On the morning following the official opening, Mary Robinson agreed to meet with representatives of local charities in the Castle Room in the hotel. I was there with this group representing the local branch of MS Ireland.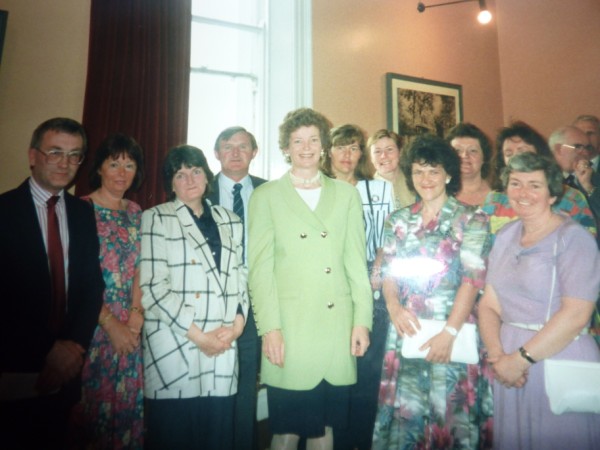 In the picture are James Kenny, Bridie O'Rourke, Helen Moylan, Tom Kelly, Mary Robinson,Nuala Finnegan,Ursula O'Conor, Anne O'Connor, Mary Doyle, Marie Kennelly(hidden) and Mary Cogan.
I'm sure that there are lots more photos out there from that day, because the president was very gracious and posed with each group in turn. I'd love to post them here and I know others would love to see them.