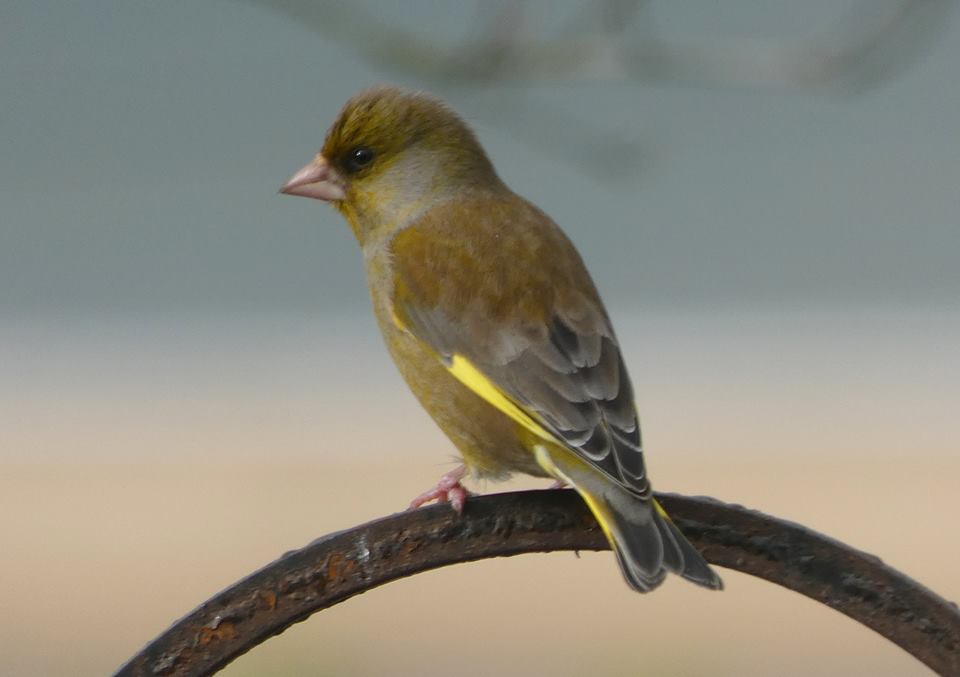 Photo: Ita Hannon
<<<<<<<
A washboard
This was once the latest in laundry technology. Who needs a gym when one has one of these to work out on.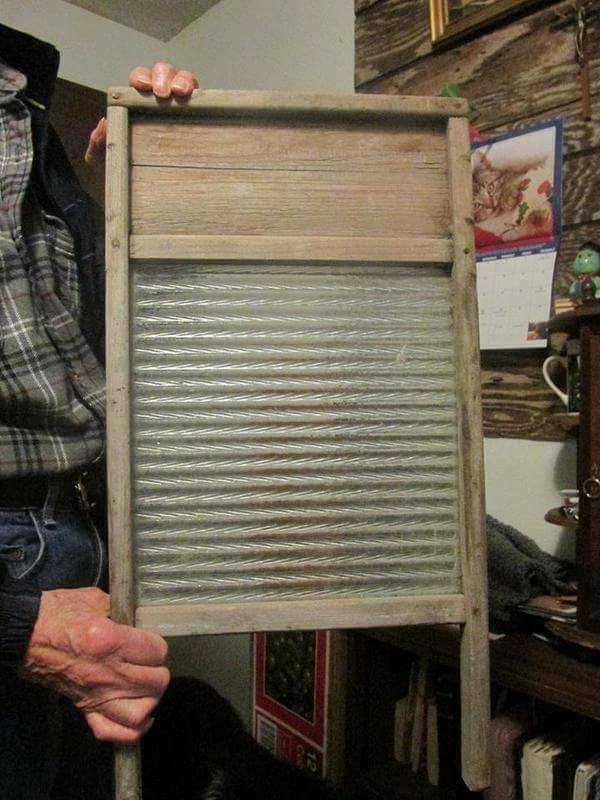 <<<<<<<
Beautiful Ballybunion
On April 1 2017 I took a walk in the sunshine along Ballybunion beach and along the cliff walk. Very often when material for the blog is drying up and I feel that its all getting a bit repetitive, something happens to restore my faith and give me the impetus to carry on. Such an encounter happened to me as I left my car. A lady I didn't know approached me and introduced herself as a blog follower. She told me that her uncle had written a memoir of his childhood and growing up in Asdee in the 1940s. She promised me a copy of the book.
She was as good as her word.
I grew up in the 1950s so many aspects of our upbringing were the same. I look forward to bringing you more reminiscences from Asdee…A Rural Miscellany.
Thank you, Anne Marie Collins
As I made my way to the beach I saw that Mario Perez, Ballybunion's beach artist, was at work.
Mario cut a solitary figure as he painstakingly created yet another work of art.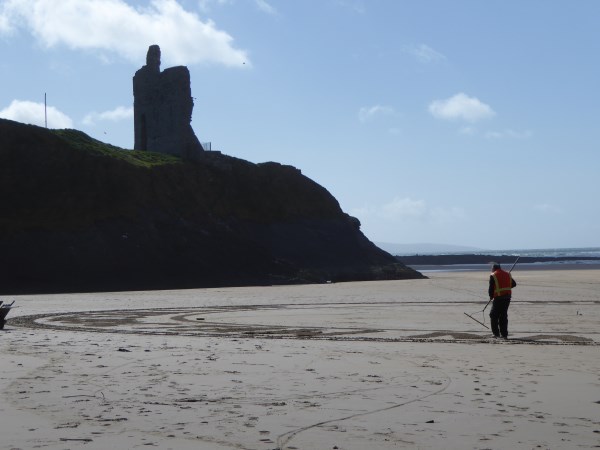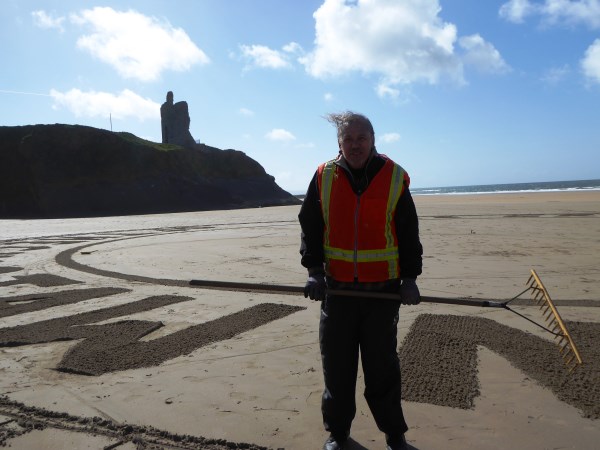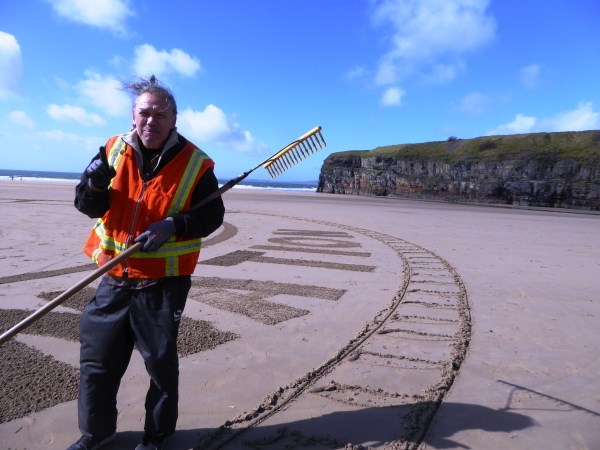 I approached him and Mario kindly took time out to let me photograph him and to explain what his latest artistic creation was celebrating.
The event he was commemorating was the generous act of the Choctaw Nation to help alleviate the suffering of the Irish people during the Famine.
Here is an account from Irish Central;
On March 23, 1847, the Indians of
the Choctaw nation took up an amazing collection. They raised $170 for Irish
Famine relief, an incredible sum at the time worth in the tens of thousands of
dollars today.
They had an incredible history of
deprivation themselves, forced off their lands in 1831 and made embark on a 500
mile trek to Oklahoma called "The Trail of Tears." Ironically the man who
forced them off their lands was Andrew Jackson, the son of Irish immigrants.
On September 27, 1830, the Treaty of
Dancing Rabbit Creek was signed. It represented one of the largest transfers of
land that was signed between the U.S. Government and Native Americans without
being instigated by warfare. By the treaty, the Choctaws signed away their
remaining traditional homelands, opening them up for European-American
settlement. The tribes were then sent on a forced march
As historian Edward O'Donnell wrote
"Of the 21,000 Choctaws who started the journey, more than half perished from
exposure, malnutrition, and disease. This despite the fact that during the War
of 1812 the Choctaws had been allies of then-General Jackson in his campaign
against the British in New Orleans.'
Now sixteen years later they met in
their new tribal land and sent the money to a U.S. famine relief organization
for Ireland. It was the most extraordinary gift of all to famine relief in
Ireland. The Choctaws sent the money at the height of the Famine, "Black 47,"
when close to a million Irish were starving to death.
Thanks to the work of Irish
activists such as Don Mullan and Choctaw leader Gary White Deer the Choctaw
gift has been recognized in Ireland.
In 1990, a number of Choctaw leaders
took part in the first annual Famine walk at Doolough in Mayo recreating a
desperate walk by locals to a local landlord in 1848.
In 1992 Irish commemoration leaders
took part in the 500 mile trek from Oklahoma to Mississippi. The Choctaw made
Ireland's president Mary Robinson an honorary chief. They did the same for Don
Mullan.
Even better, both groups became
determined to help famine sufferers, mostly in Africa and the Third World, and
have done so ever since.
The gift is remembered in Ireland. The plaque on Dublin's
Mansion House that honors the Choctaw contribution reads: "Their humanity
calls us to remember the millions of human beings throughout our world today
who die of hunger and hunger-related illness in a world of plenty."
When I came home I checked in with Mario's Facebook page and here is his finished sand picture. It represents the seal of the Choctaw Nation. It took Mario six hours to craft this perfect piece.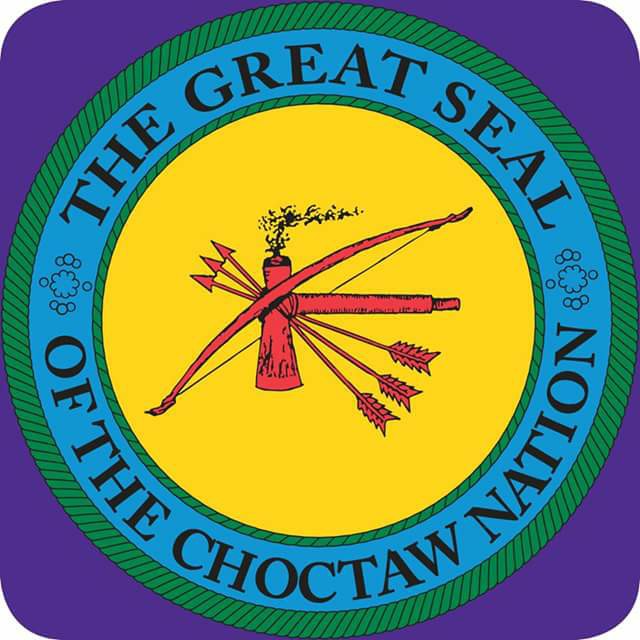 <<<<<<<<<<<
When the Pope Came
Photo from a Facebook page devoted to photos of old Dublin
<<<<<<
John B. Keane Memorial in the Garden of Europe
<<<<<<


Easter 2017 at Scoil Realta na Maidine
They had a big weekend of fundraising at the boys school. I took a good few photos of the marathon and half marathon runners and walkers. I'll post them next week.
Meanwhile Ned O'Sullivan spotted his young self in some photos on display in the school.