Bromore Cliff Walk is THE place to be on beautiful Autumn Sunday.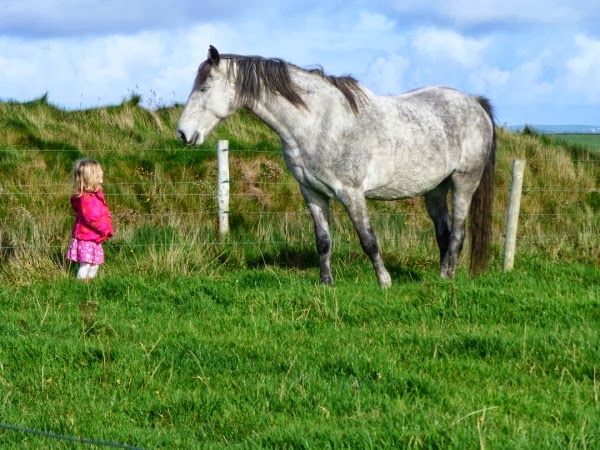 There is a friendly horse to greet visitors. He delighted this little animal lover on Sunday last. It is not obvious in my photo but he is on the other side of the fence.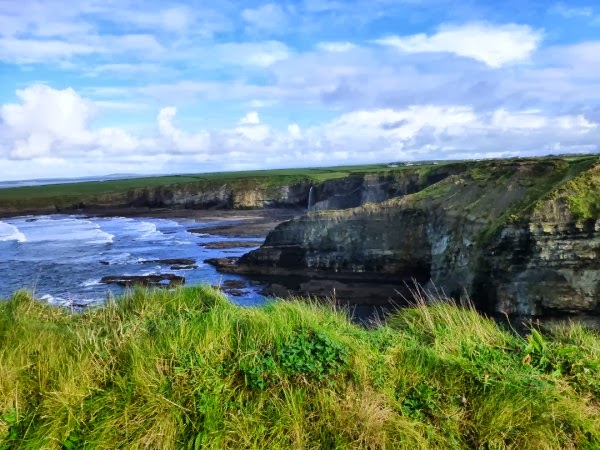 the cliffs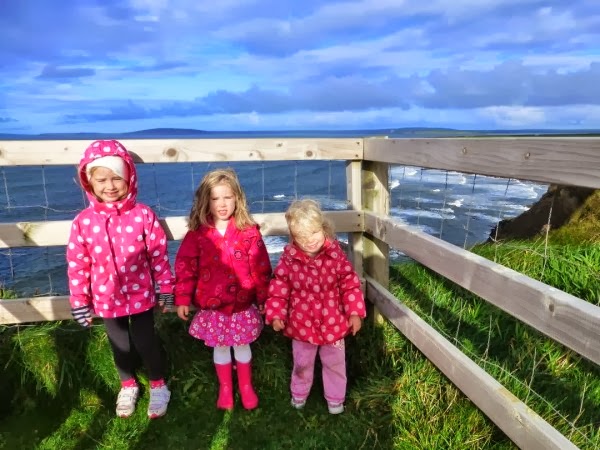 My little visitors looking a little wind blown.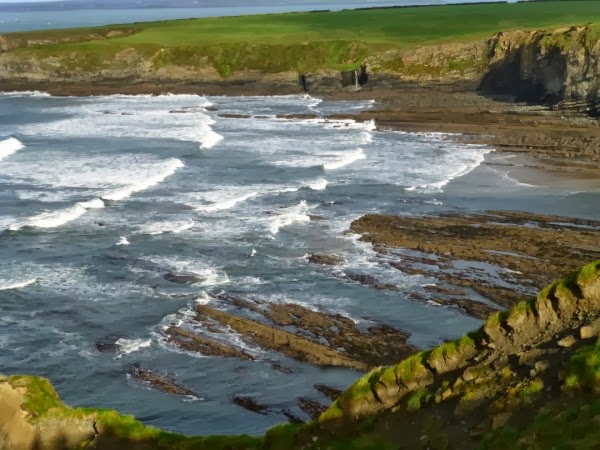 The sea below

<<<<<<<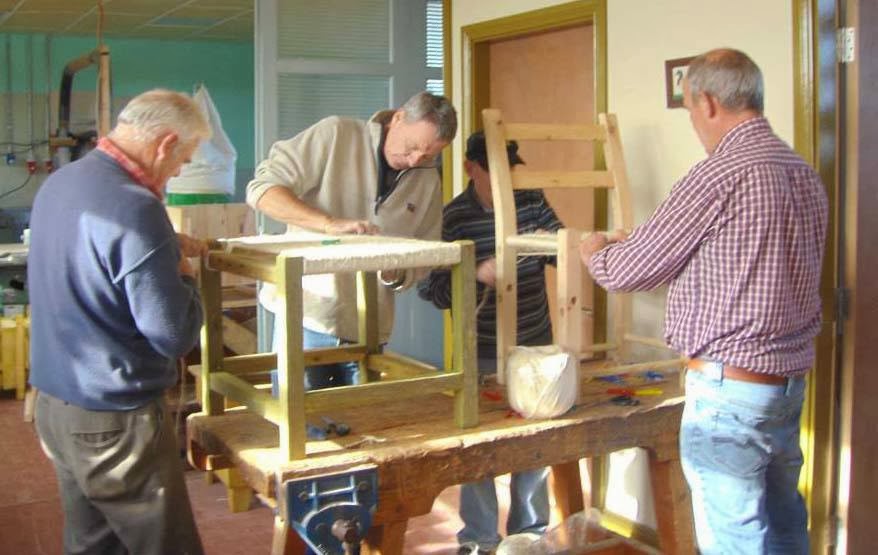 These men are learning the art of Súgáning in Causeway Men's Shed. Causeway Men's Shed have lovely wooden products for sale in Atlantic Creations, Ballybunion.
<<<<<<
http://johnpridmore.yolasite.com/about-me.php
They are having a mission in Tarbert this week and this man is one of their missioners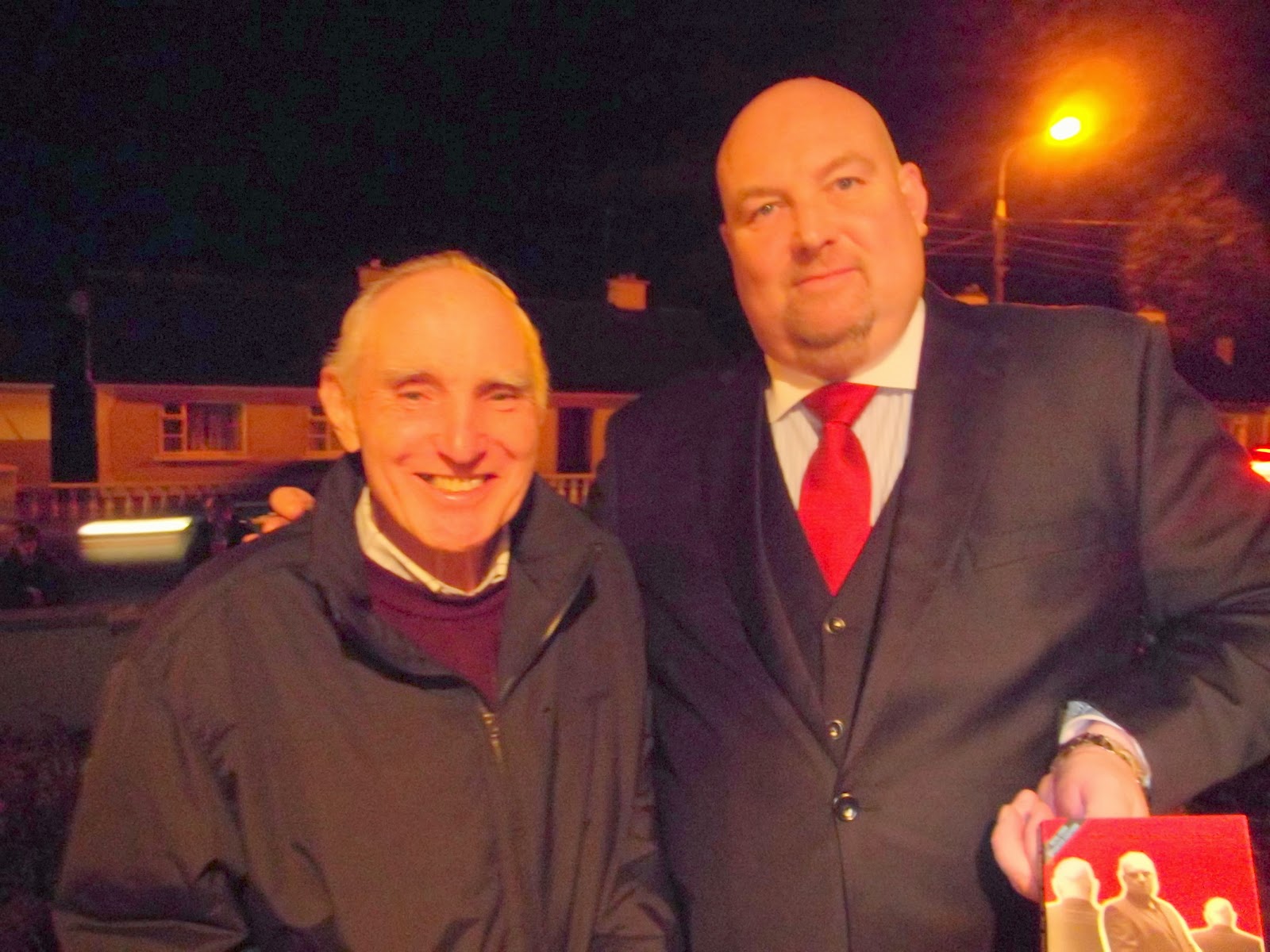 John Pridmore is the man on the right.
<<<<<<<<<
You have read recently of the dreadful bushfires raging in New South Wales. My friend Julie sent this account
"I thought that perhaps you might have heard about the terrible fires devastating NSW at the moment. As I look out my window I see that the sunlight is a golden orange colour and the sun, if one dares look at it, it an orange ball through a smoky sky. We have been enduring very dry and hot conditions since Thursday when very high winds caused bushfires to surge through the bush of the Blue Mountains and the Southern Highlands of NSW. It is a very early start to 'the fire season' and NSW has had an appalling few days. Already more than 200 homes have been destroyed though, thank God, only one man has died, from a heart condition, as he tried to defend his home. Yesterday we found two burnt leaves in our backyard yet we are more than 100kms from an actual fire. The wind carries embers and this is the danger for many homes in the regions around the fires. In one fire alone more than 24000 hectares have been burnt out and at one point there were 95 separate fires of varying intensity burning in the state.
If only it would rain. We have had none for months. Most of our garden does not need watering but we have had to do a bit lately. Australia is certainly a country of beauty and terror as our famous poet Dorothea Mackellar wrote to an English friend:
My Countryby
Dorothea Mackellar
(1885 – 1968)
The love of field
and coppice,

Of green and shaded lanes.

Of ordered woods and gardens

Is running in your veins,

Strong love of grey-blue distance

Brown streams and soft dim skies

I know but cannot share it,

My love is otherwise.

I love a sunburnt country,

A land of sweeping plains,

Of ragged mountain ranges,

Of droughts and flooding rains.

I love her far horizons,

I love her jewel-sea,

Her beauty and her terror –

The wide brown land for me!

A stark white ring-barked forest

All tragic to the moon,

The sapphire-misted mountains,

The hot gold hush of noon.

Green tangle of the brushes,

Where lithe lianas coil,

And orchids deck the tree-tops

And ferns the warm dark soil.

Core of my heart, my
country!

Her pitiless blue sky,

When sick at heart, around us,

We see the cattle die-

But then the grey clouds gather,

And we can bless again

The drumming of an army,

The steady, soaking rain.

Core of my heart, my country!

Land of the Rainbow Gold,

For flood and fire and famine,

She pays us back threefold-

Over the thirsty paddocks,

Watch, after many days,

The filmy veil of greenness

That thickens as we gaze.

An opal-hearted country,

A wilful, lavish land –

All you who have not loved her,

You will not understand-

Though earth holds many splendours,

Wherever I may die,

I know to what brown country

My homing thoughts will fly
<<<<<<<<