Around these parts the massacre at Gortagleanna is still remembered vividly. Folk memory has kept the event alive long after its first awfulness sent shock waves through North Kerry in 1921.
I
have taken the following account of what happened at Gortagleanna from Gabriel Fitzmaurice via the Moyvane website where there is a comprehensive section devoted to this event.
For
history buffs it is well worth a read because it reproduces Con Dee's sworn
testimony as well as the history of the ballad and who sang it.
http://www.moyvane.com/knockanurestory.shtml
Here I will give you the bones of the story:
The months
of April and May, 1921 saw a lot of bloodshed in the parish of what is now
Moyvane-Knockanure near Listowel in North Kerry. This was, of course, during
the Irish War of Independence. On Thursday, April 7, Mick Galvin, an IRA
volunteer, was killed by British forces during an ambush at Kilmorna in
Knockanure. The IRA had been lying in wait to ambush a group of British
soldiers who were cycling to Listowel after a visit to Sir Arthur Vicars at
Kilmorna House, his residence.
Vicars had
been Ulster King of Arms and custodian of the Irish Crown Jewels which were
kept in Dublin Castle, the burglary of which in 1907, although Vicars was never
seriously suspected of being involved in their theft, led to his ruin and,
ultimately, to his death.
Found
guilty of negligence and dismissed from his post, ruined socially and
financially with neither position nor pension, Vicars, at the invitation of his
half-brother, George Mahony, came to live in Kilmorna House. When George died
in 1912, he left the estate to Sir Arthur's sister, Edith, who lived in London.
She decided that Sir Arthur could live out his life in Kilmorna.
He
remained there during the War of Independence when British Forces and Sinn Fein
activists were matching atrocities. His decision was foolhardy rather than
courageous, and typical of the man who was generally regarded by the local
people as a decent, if eccentric, gentleman. But he was also passing
information on IRA activity to the British army.
On
Thursday, April 14, 1921, Kilmorna House was raided by the local IRA. One of
the party, Lar Broder, told the steward, Michael Murphy, that they had come to
burn the house. This they proceeded to do. However three members of the Flying
Column led Vicars to the end of the garden and shot him. (One of his
executioners, Jack Sheehan, was himself shot dead by the British army near
Knockanure on May 26). Then on May 12 Crown forces shot dead three members of
the Flying Column at Gortaglanna, Knockanure, a short distance from Kilmorna.
The most famous ballad of the events is Bryan Mac Mahon's "The
Valley of Knockanure", written in 1946 – though, in the true spirit of
tradition, its authorship is disputed. Let's clear this up immediately. On
August 16, 1969, Pádraig Ó Ceallacháin, Republican and retired Principal
Teacher of Knockanure National School, wrote the following testimony:
I, Pádraig Ó Ceallacháin, formerly Príomh-Oide
Scoile of Knockanure NS Co. Kerry hereby affirm that about 20 years ago I
brought to Mr. Bryan McMahon (sic) NT Ashe St. Listowel a few verses of a
traditional ballad on the murdering at Gortagleanna (sic) Co. Kerry in May 1921
of three soldiers of the Irish Republican Army – Jermiah (sic) Lyons, Patrick
Dalton and Patrick Walsh. I also supplied Bryan McMahon with a copy of the
sworn statement of Con Dee the survivor and requested him to rewrite the ballad
and to add whatever verses were necessary so that it would be historically
accurate. This Bryan McMahon did and later supplied me with printed copies of
the ballad in question "The Valley of Knockanure" a copy of which is
affixed herewith.
Signed: Pádraig Ó Ceallacháin
 Date: 16/8/69 
Witness:
Aibhistín Ua Ceallacháin
THE VALLEY OF
KNOCKANURE


In memory of Jeremiah Lyons, Patrick Dalton and Patrick Walsh,
murdered by Crown Forces 
at Gortagleanna, Co. Kerry on 12th May, 1921.
You may sing and speak about Easter Week or the heroes of Ninety-Eight,
Of the Fenian men who roamed the glen in victory or defeat,
Their names are placed on history's page, their memory will endure,
Not a song is sung for our darling sons in the Valley of Knockanure.
Our hero boys they were bold and true, no counsel would they take,
They rambled to a lonely spot where the Black and Tans did wait,
The Republic bold they did uphold though outlawed on the moor,
And side by side they bravely died in the Valley of Knockanure.
There was Walsh and Lyons and Dalton, boys, they were young and in their pride,
In every house in every town they were always side by side,
The Republic bold they did uphold though outlawed on the moor,
And side by side they bravely died in the Valley of Knockanure.
In Gortagleanna's lovely glen, three gallant men took shade,
While in young wheat, full, soft and sweet the summer breezes played,
But 'twas not long till Lyons came on, saying "Time's not mine nor your",
But alas 'twas late and they met their fate in the Valley of Knockanure.
They took them then beside a fence to where the furze did bloom,
Like brothers so they faced the foe for to meet their dreadful doom,
When Dalton spoke his voice it broke with a passion proud and pure,
"For our land we die as we face the sky in the Valley of Knockanure."
'Twas on a neighbouring hillside we listened in calm dismay,
In every house in every town a maiden knelt to pray,
They're closing in around them now with rifle fire so sure,
And Dalton's dead and Lyons is down in the Valley of Knockanure.
But ere the guns could seal his fate Con Dee had broken through,
With a prayer to God he spurned the sod and against the hill he flew,
The bullets tore his flesh in two, yet he cried with passion pure,
"For my comrades' death, revenge I'll get, in the Valley of Knockanure."
There they lay on the hillside clay for the love of Ireland's cause,
Where the cowardly clan of the Black and Tan had showed them England's laws,
No more they'll feel the soft winds steal o'er uplands fair and sure,
For side by side our heroes died in the Valley of Knockanure.
I met with Dalton's mother and she to me did say,
"May God have mercy on his soul who fell in the glen today,
Could I but kiss his cold, cold lips, my aching heart 'twould cure,
And I'd gladly lay him down to rest in the Valley of Knockanure."
The golden sun is setting now behind the Feale and Lee,
The pale, pale moon is rising far out beyond Tralee,
The dismal stars and clouds afar are darkened o'er the moor,
And the banshee cried where our heroes died in the Valley of Knockanure.
Oh, Walsh and Lyons and Dalton brave, although your hearts are clay,
Yet in your stead we have true men yet to guard the gap today,
While grass is found on Ireland's ground your memory will endure,
So God guard and keep the place you sleep and the Valley of Knockanure.



>>>>>>>
In 1960, Con Dee, the only surviver of Gortagleanna came home from the U.S. on a visit. He called to his old friend, Michael O'Connor of Springmount, Duagh. Fr. Pat O'Connor of South Dakota was also home on holidays at that time. Canon Declan O'Connor is the little boy in the crossed braces on the right of the picture.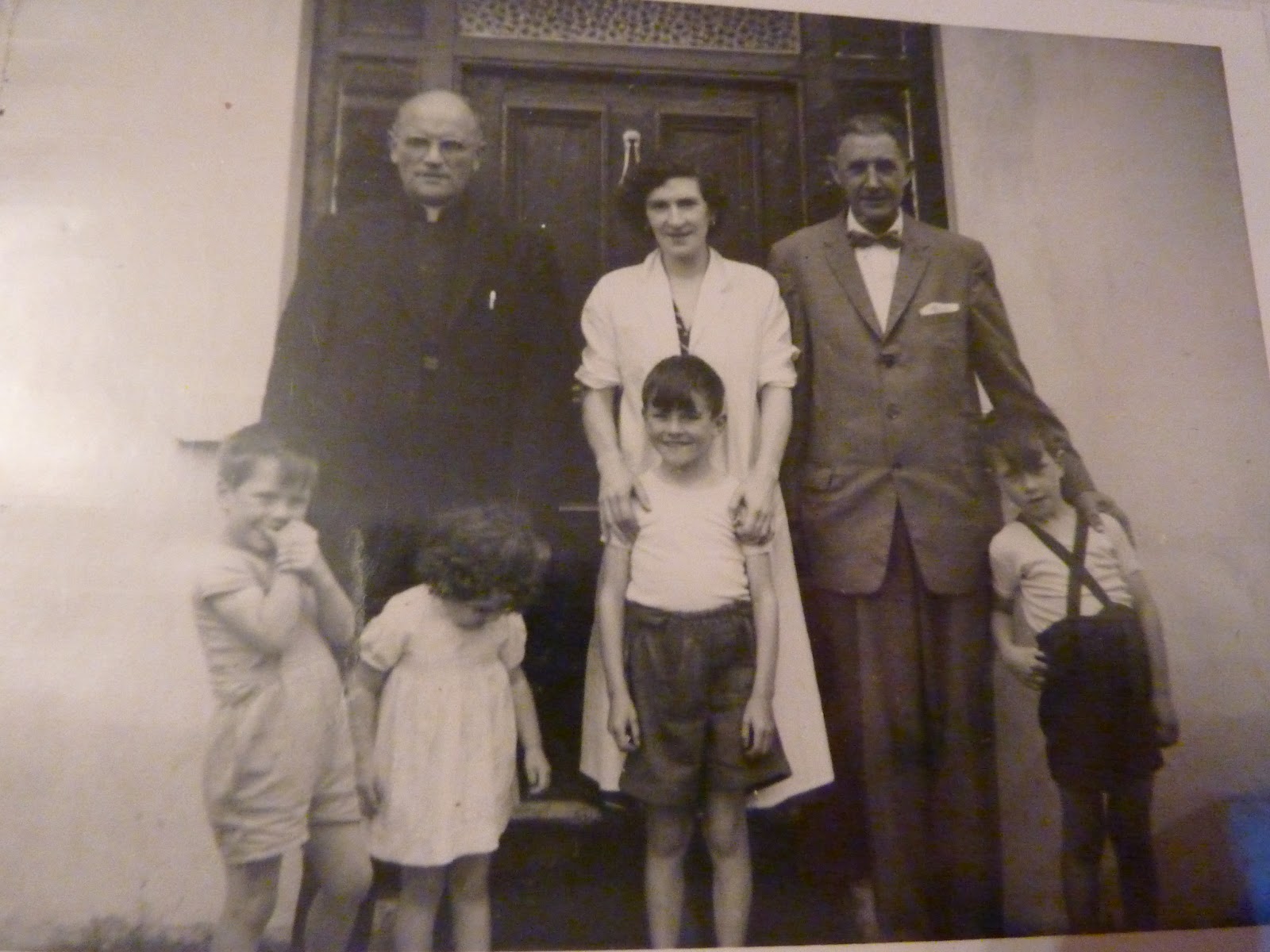 Fr. Pat O'Connor of South Dakota, Bridie Kirby O'Connor and Con Dee
Children Brendan, Valerie, Kevin and Declan O'Connor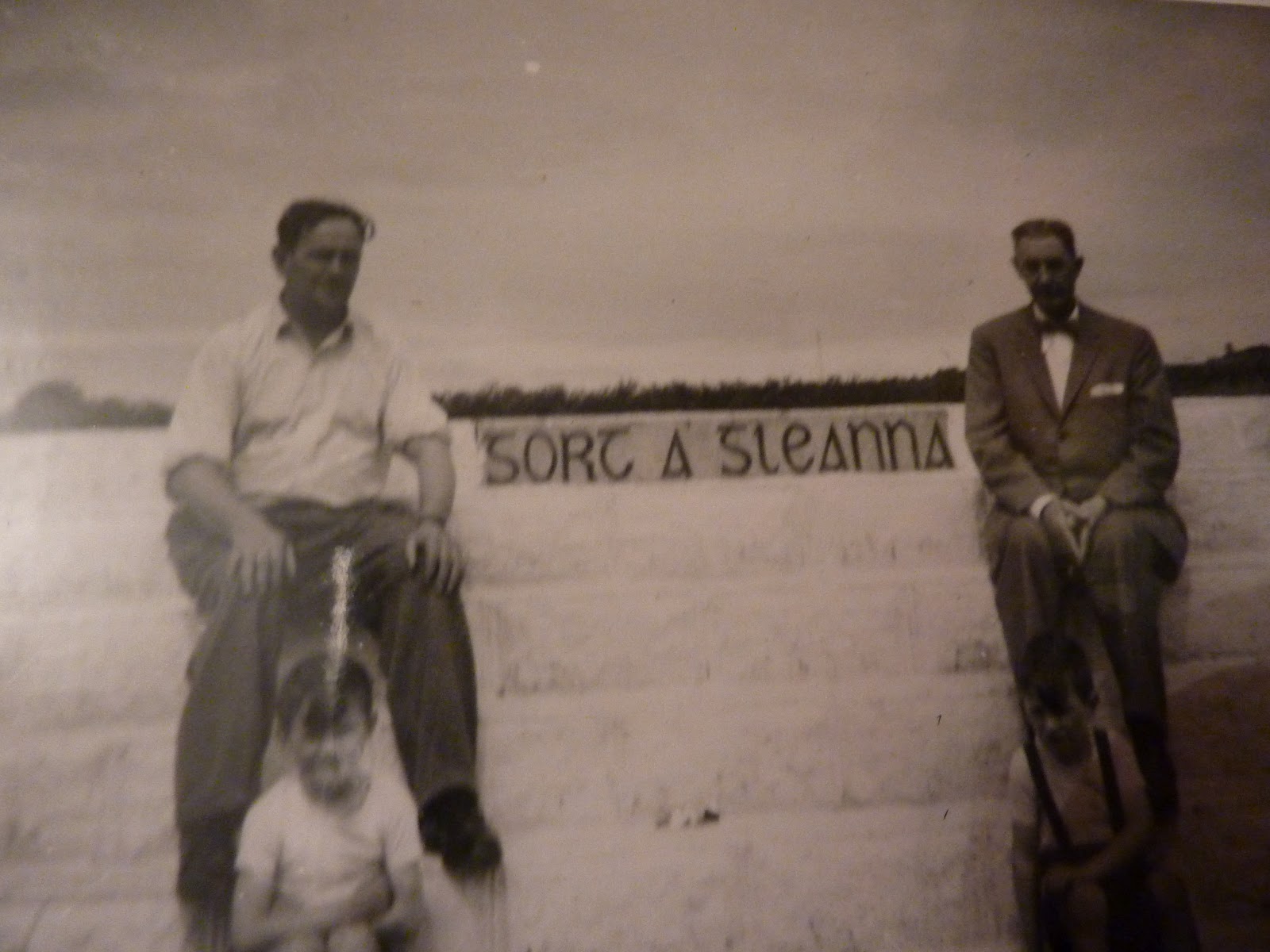 Pictured at Gortagleanna, Michael O'Connor, Springmount, Duagh with Con Dee and Kevin and Declan O'Connor in 1960.
>>>>>>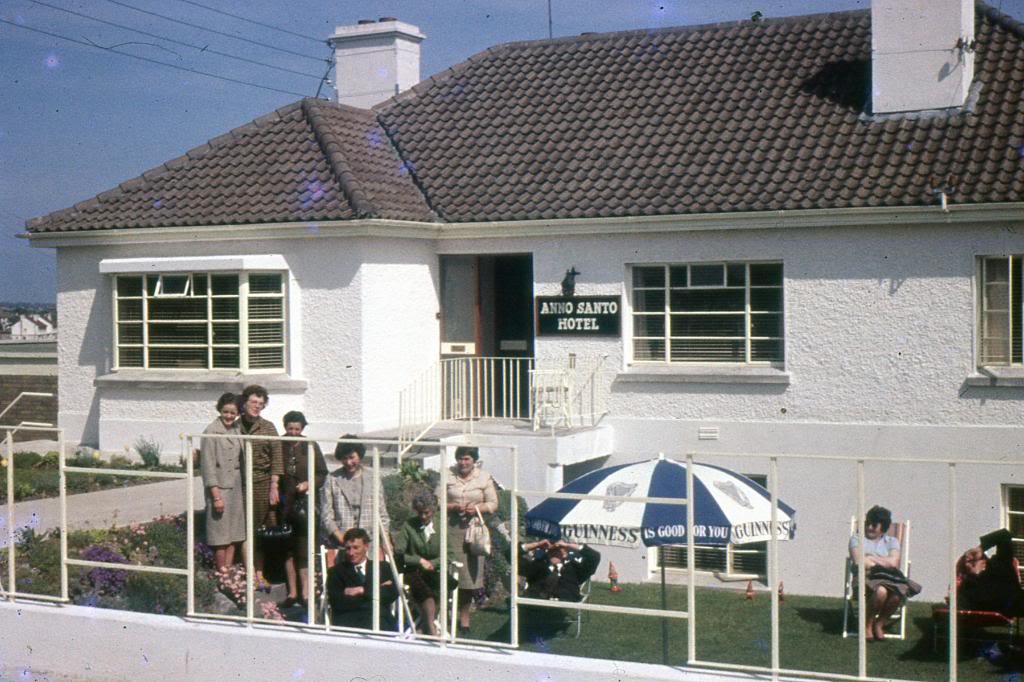 Vincent can shed some light on our Babe Jo picture. The hotel is in Galway it would appear, and the young farmers + Babe Jo who liked to accompany them on outings were on their way to view a kind of model farm in Gort.