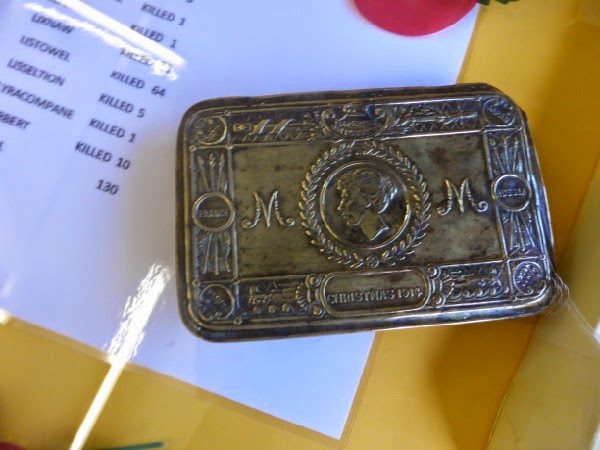 Jim Halpin, curator of a great collection of war and other military memorabilia at his museum in Church St. invited me to photograph his Princess Mary tin and he told two very interesting stories apropos the tin.
The idea of sending a tin to the soldiers was not an original one. Princess Mary's aunt, Queen Victoria had sent such a present to soldiers during the Boer War. Jim has one of these in his collection and it contains the original straw packaging used to protect the enclosed gifts.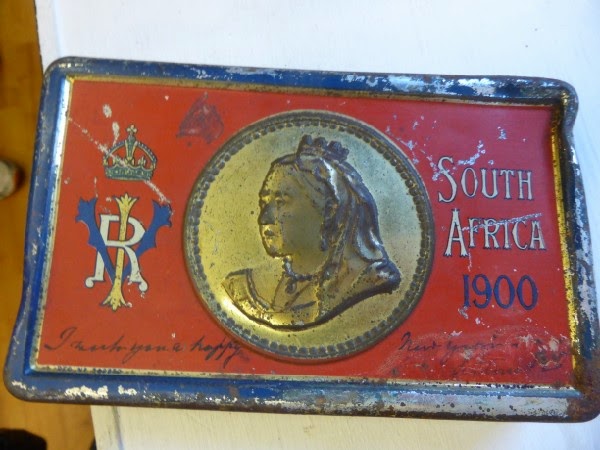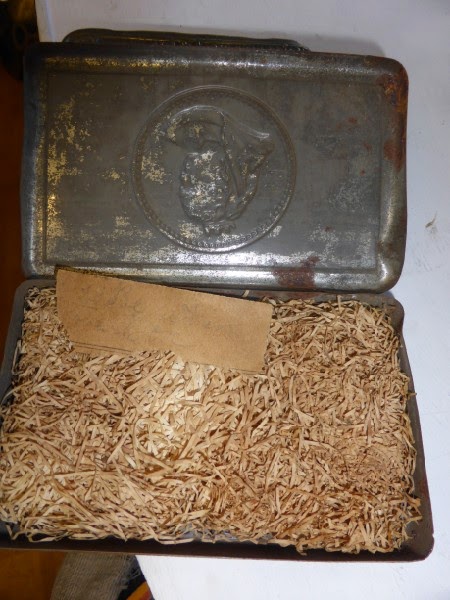 The Princess Mary story is fascinating. Apparently, the young princess went to the warehouse where these tins were being packed and she brought a hand written note to enclose in one tin. The note asked the finder to contact her. The story goes that the note was found by a Munster Fusilier from Limerick.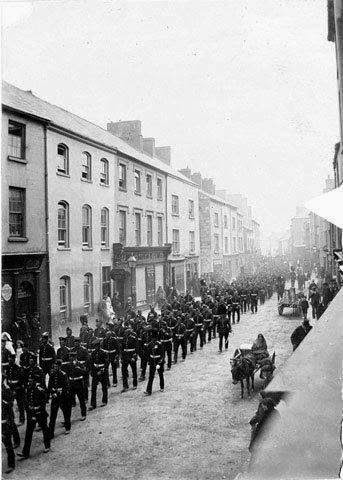 This old photo of 4th battalion of The Munsters comes from Historical Tralee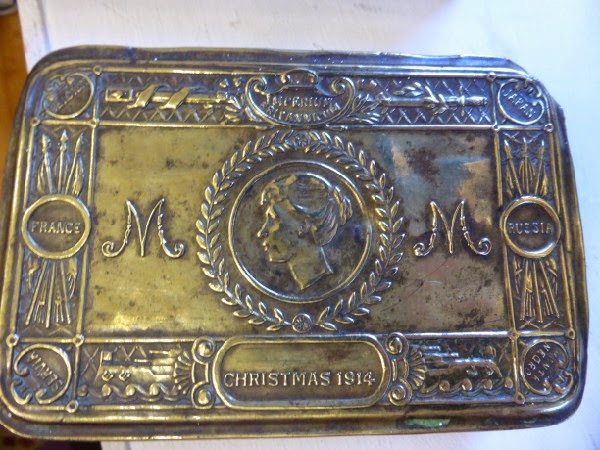 The tin is inscribed Christmas 1914. It has a cameo of Princess Mary surrounded by a laurel wreath. In the corners are the names of Britain's allies in the Great War. Other symbols of the British Empire at war adorn the box as well.
<<<<<<
Last Rites 1915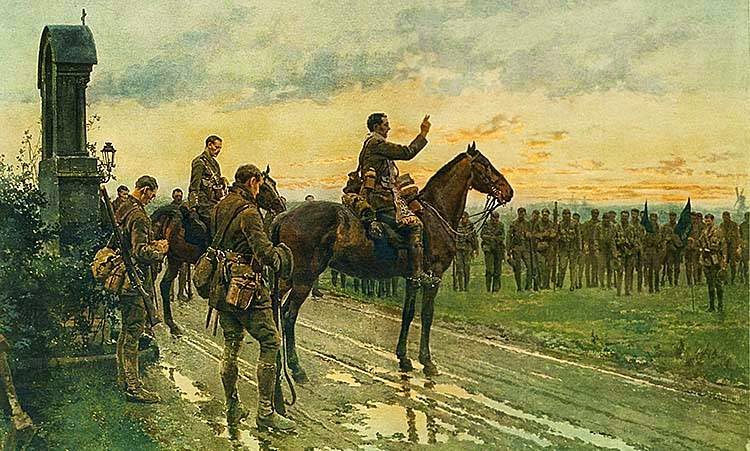 Chaplain to the Munsters was a Fr. F. Gleeson from Tipperary. In this famous painting he is depicted giving last absolution to the troops as they paused on their way to the front.
Whilst moving forwards to the trenches on 8 May 1915, in preparation for the Battle of Aubers Ridge, Lieutenant-Colonel Victor Rickard ordered the battalion to halt at a roadside shrine in Rue du Bois, near Fleurbaix. Gleeson, who had ridden at the front of the column, addressed the assembled 800 men and gave them the general absolution whilst still mounted on his horse. The men then sang the hymns Hail, Queen of Heaven, the Te Deum and Hail Glorious Saint Patrick before Gleeson moved along the ranks bidding farewell to the officers and encouraging the men to maintain the honour of the regiment.The battalion then moved off to the trenches from which they launched their attack at 5.30 the next morning. The Munsters were largely cut down by machine gun fire before they had advanced more than a few yards although enough men survived to capture the German trenches, the only unit to do so that day, before being forced to withdraw. (Wikipaedia)


<<<<<<<<


Football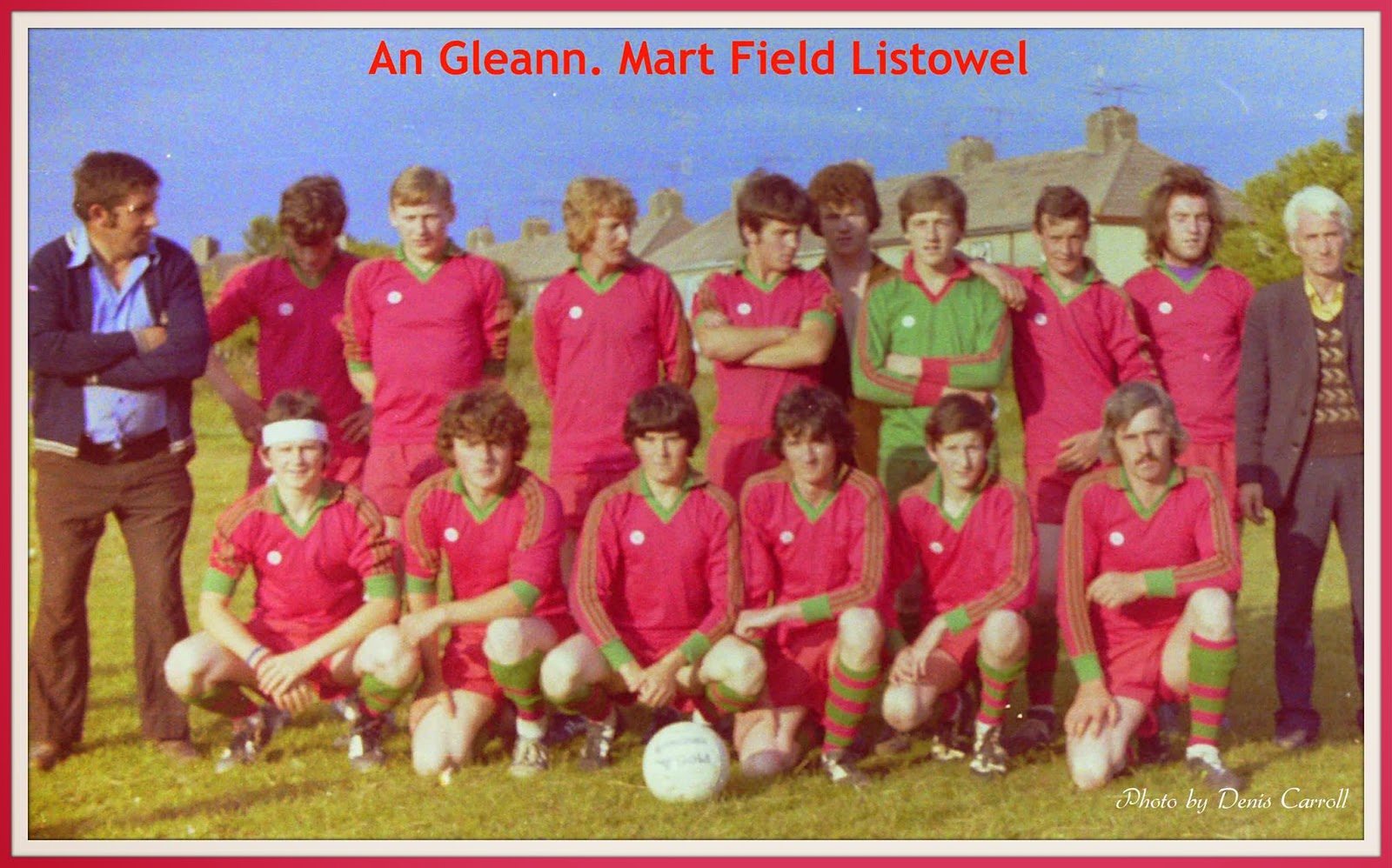 Denis Carroll posted this old one on Facebook. The Mart Field is now Feale Drive.
Back row L-R: Gigs Nolan,?, Pa Kennedy, Miley Fitz, Jerry Kelliher, Bob O Brien, Buster Lynch, PJ Kelliher, Jimmy Griffin, Manager Roche.
Front L-R, Denny Carroll, Peter Sugrue, Kempes Kelliher, Kevin Sheehy, Liam Kelliher & Noel Roche
<<<<<<



The Kerry Football team is one of Six Nominees for Rte Sport Team of the Year 2014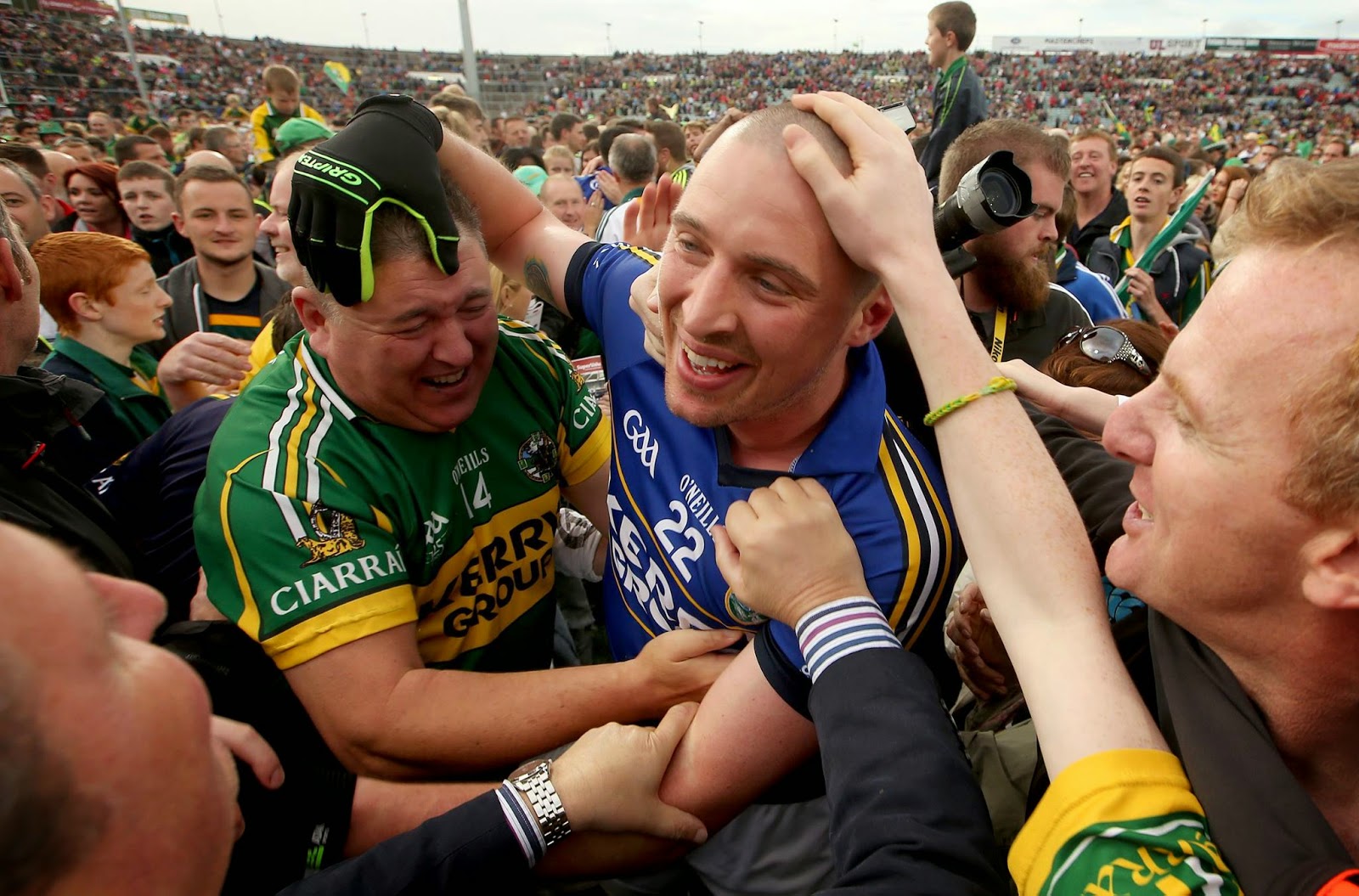 (photo; The Sunday Game )
<<<<<<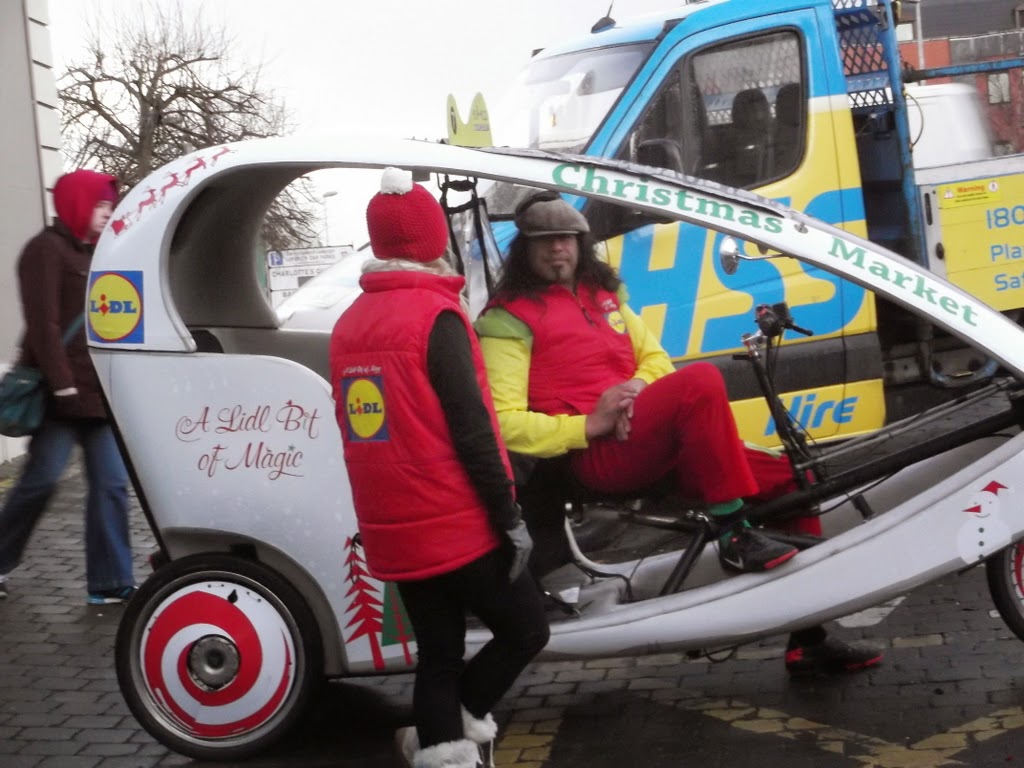 This cool vehicles was spotted in Limerick this week


<<<<




Christmas 2014 Scenes from Listowel