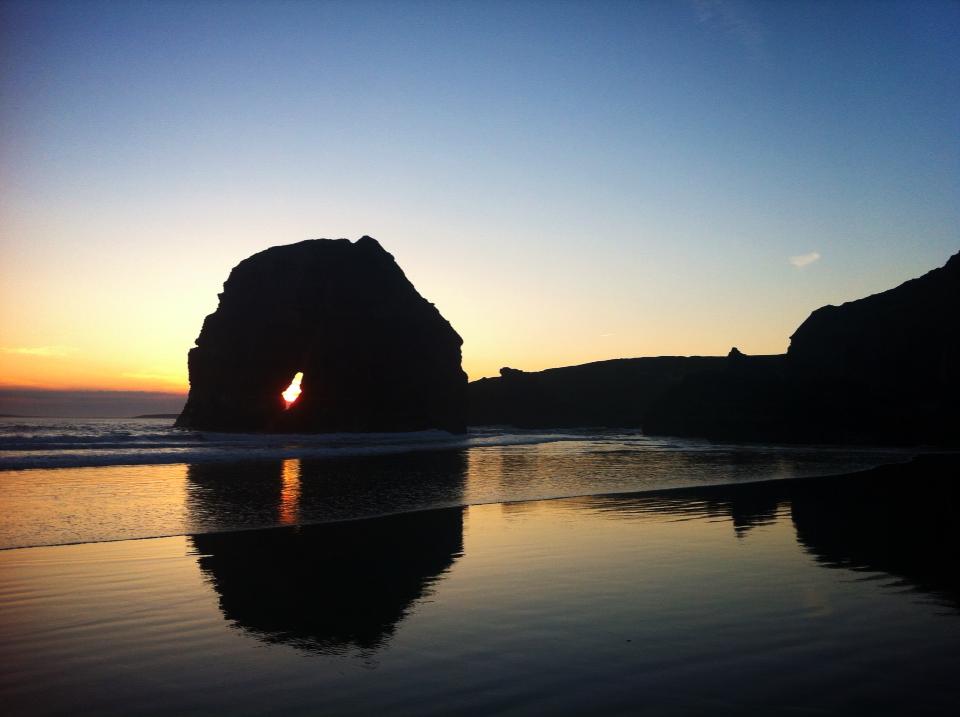 Nuns' Beach, Ballybunion, Co. Kerry June 4 2013
<<<<<<
Now back to Writers' Week 2013
On my way to assist Vincent Carmody on the Thursday walk around places associated with Listowel's literary figures, I encountered none other than the Kerry Group winner from the night before. Gavin Corbett was on his way to the winners' readings. I think he might have been still walking on air. He was accompanied by his wife.
Mike Lynch was in the company of Tom O'Loughlin.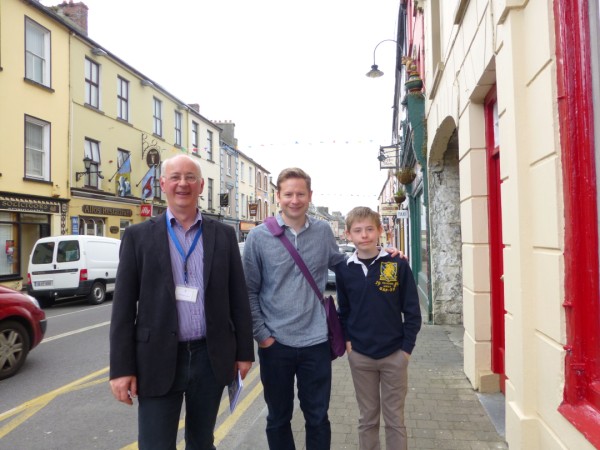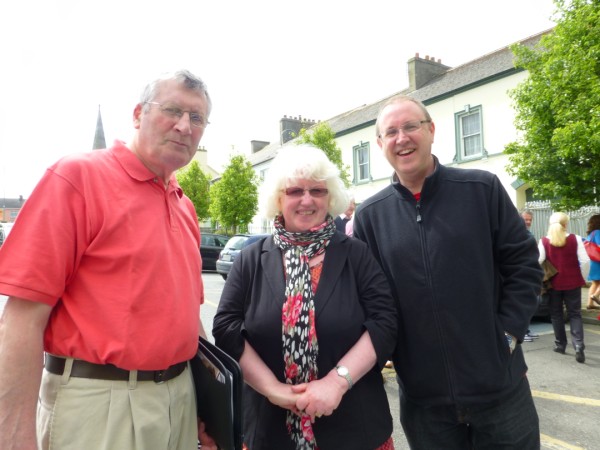 Vincent was ready to lead his literary walking tour of Listowel. Before we set off he posed for me with visitors from the UK, Siobhán and Mark Hewitt. Siobhán is a grandaughter of Mary Hannon of this parish.
He also stood in with Kieran Donaghy and Joanna Keane OFlynn.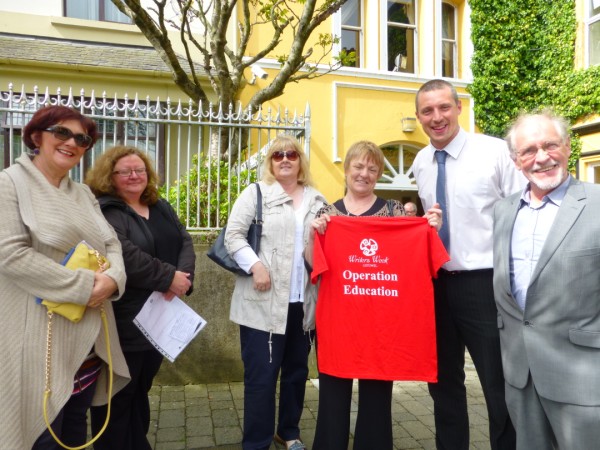 "Star" was in Listowel as part of Writers Week's Operation Education. Here he is with teachers and former teachers, Mary Frances, Muireann, Eileen, Breeda and Tony.
Below are members of Listowel Folk Group whose musical interludes added greatly to this year's walking tour.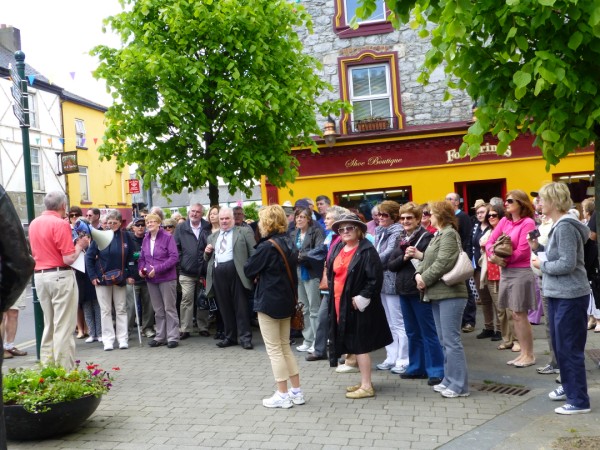 Here is Vincent addressing the large crowd of walkers at the John B. Keane statue.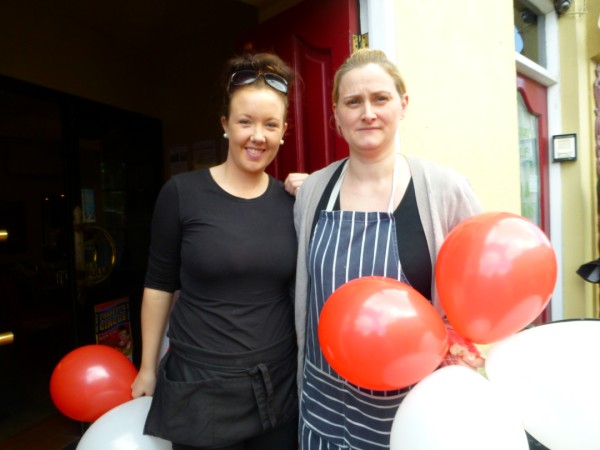 At the Maid of Erin these two ladies came out to tell us that they were celebrating one year in business.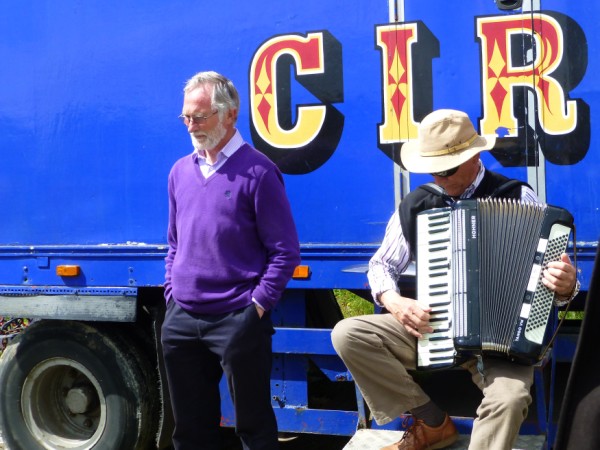 In the old mart yard Mike Moriarty sang My Silver River Feale accompanied by John Kinsella.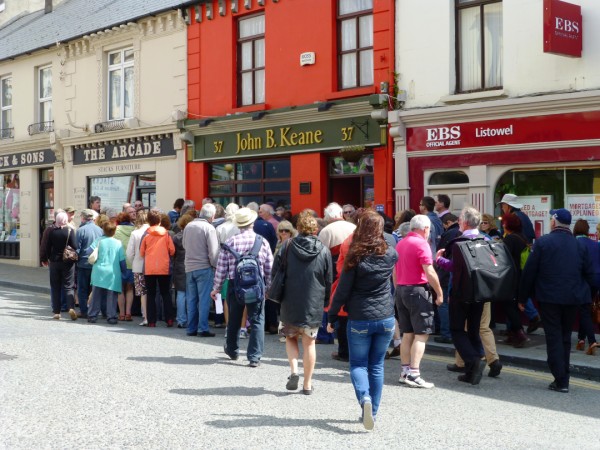 The crowd outside John B.'s listen to songs by John B. Keane.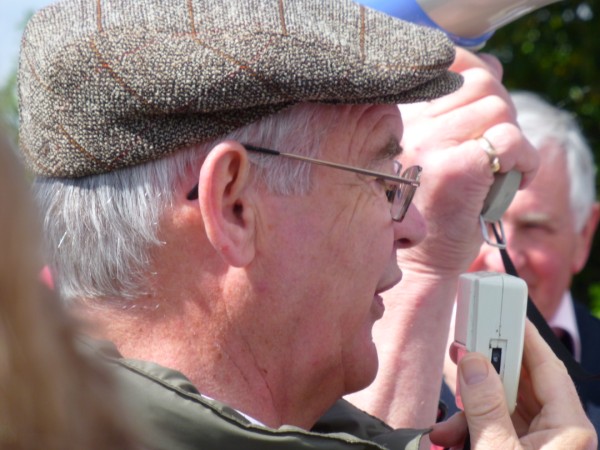 Paddy Keane doing his bit.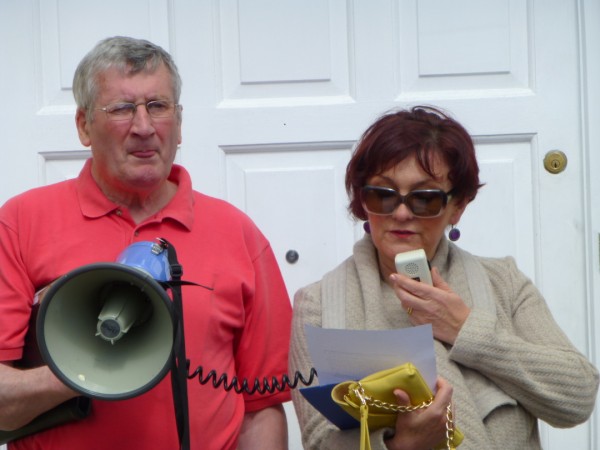 Mary Frances Behan telling us about the very erudite O'Rahilly family of The Square.
Tony Behan read "The Printer's on the Tack", a ballad written by Bryan MacMahon about his friend, Bob Thackaberry. When we got to Church Street, Tony gave us a masterly reading of John B Keane's The Street.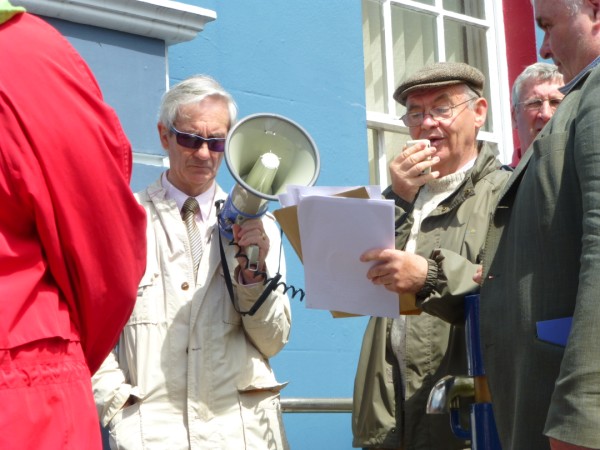 On the steps of the Garda Station, Paddy Keane read an account of the mutiny during the War of Independence. You can read an account of it here;
http://www.policehistory.com/listowel.html
This year Vincent gave me a powerfully emotive piece to read. It is taken from the book "Hostage to Fortune" and describes an eviction during Famine Times. This is it;
"We lived on Knock Maol.
That's a wild old hill six miles out from Listowel. There were three families of us on the hill,
Colberts, Corridans and Connors, and Lord Listowel was our landlord. We had to pay him twenty pounds for our share
of the hill; the others had to pay the same.
It was too much for them. We
never knew anything but hunger and starvation in our house, eatin' spuds three
times a day and easin' them down with sour milk, when we had it. Everything else, oats, calves and pigs went
to pay the rent."
"Would you believe it? I had
never tasted a mouthful of bacon mutton or beef until I joined the Lincolns
although I spent all my time feeding pigs, sheep and cattle. The nearest we went to it was the odd time we
boiled a sheep's head for soup or filled its puddings with blood and mashed
potatoes for a Sunday dinner.
" To make a long story short,
we failed to keep up with the rent and Lord Listowel gave orders to clear us
all out, Colberts, Corridans and Connors alike. They came on Small Christmas
Day in January 1863, bailiffs, peelers and soldiers and had us out on the cold
bog before dawn. They burned down the
houses for fear we'd go back into them when their backs were turned. They took
my father and the other grown-up men into the workhouse in Listowel with them.
They did that "out of charity" they
said, because Lady Listowel wouldn't sleep the night if the poor creatures were
left homeless on the mountain."
"They left me and my brother,
Patsy to look after ourselves. We slept
out with the hares a couple o' nights, eatin' swedes that had the ice in the heart o' them
an' then we parted. He went east and I went west towards Tralee. I must ha' been
a sight, after walking twenty miles on my bare feet and an empty belly. I wasn't hungry for long. A nice fellow in a red jacket and ribbons
flyin' from his cap took me into a baker's shop, gave me two penny buns to eat
and a cup of tea to wash them down. The first tea I ever tasted. He gave me a
shilling all for myself and invited me to go with him to where he lived.
Ha! Ha!
I have been a soldier of the Queen ever since.
<<<<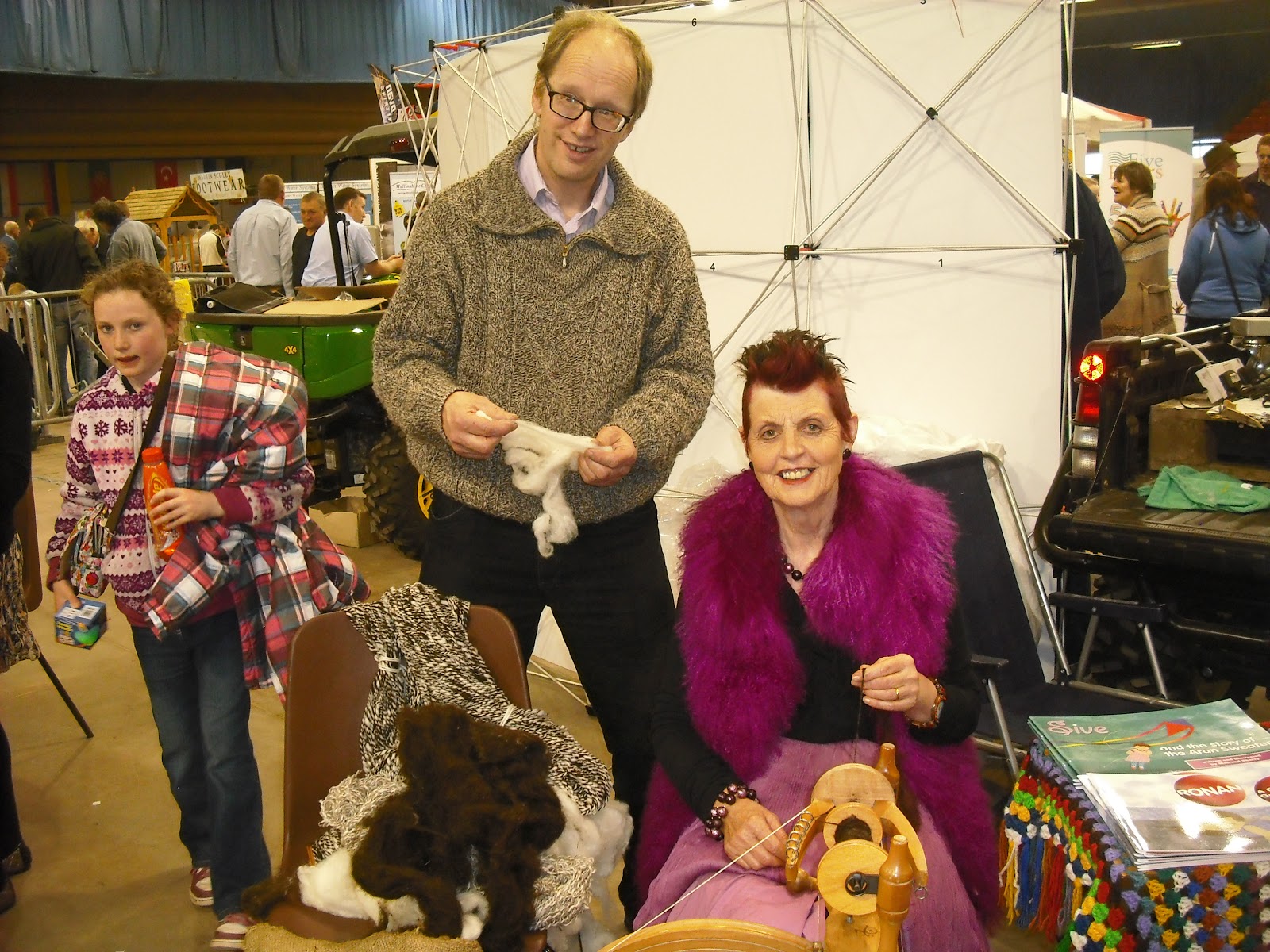 Mairead Sharry is seen here spinning wool from Killarney Woolen Mills at the sheep shearing competitions in Millstreet. She was in Killorglin this weekend demonstrating spinning.
<<<<<
John Kelliher has some great photos of local people at the races on his Facebook page
https://www.facebook.com/photo.php?fbid=667243756625928&set=a.667239529959684.1073741877.100000209302263&type=1&theater