Blossoms in Howth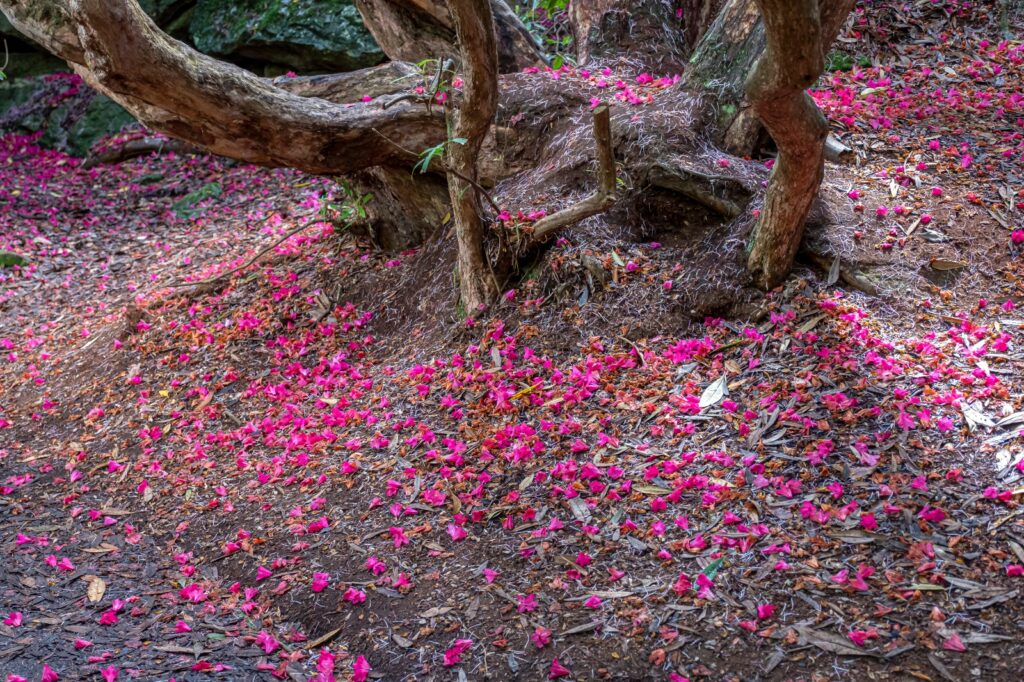 <<<<<<<<<<<<<<<<<
Tralee had finished their pedestrianisation just in time for outdoor dining regulations. Quinlan's looks particularly attractive.
<<<<<<<<<
Our New Public Toilet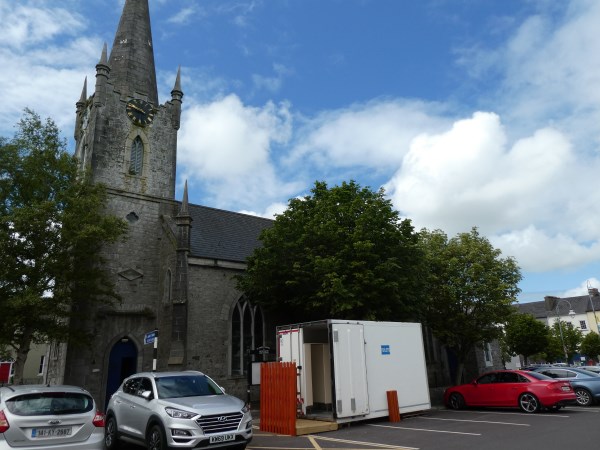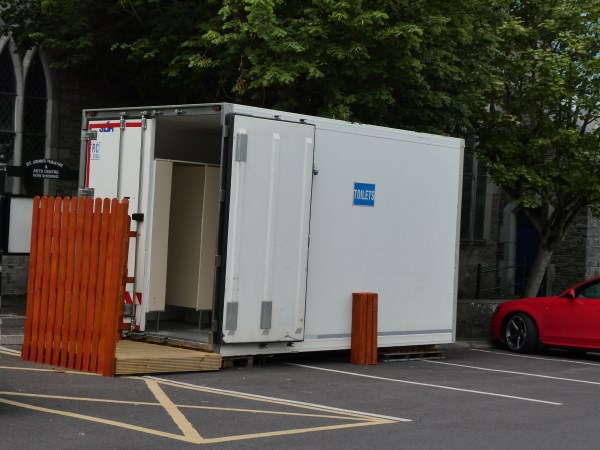 Necessary but ugly
<<<<<<<<<<<<
The Big Bridge at Night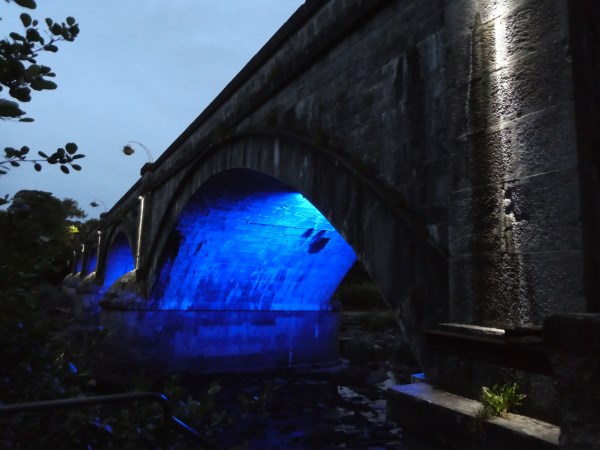 I was by the big bridge at night for the first time recently. It is beautiful. My photo doesn't do it justice.
<<<<<<<<<<<<<<
Famous lady with a Listowel Connection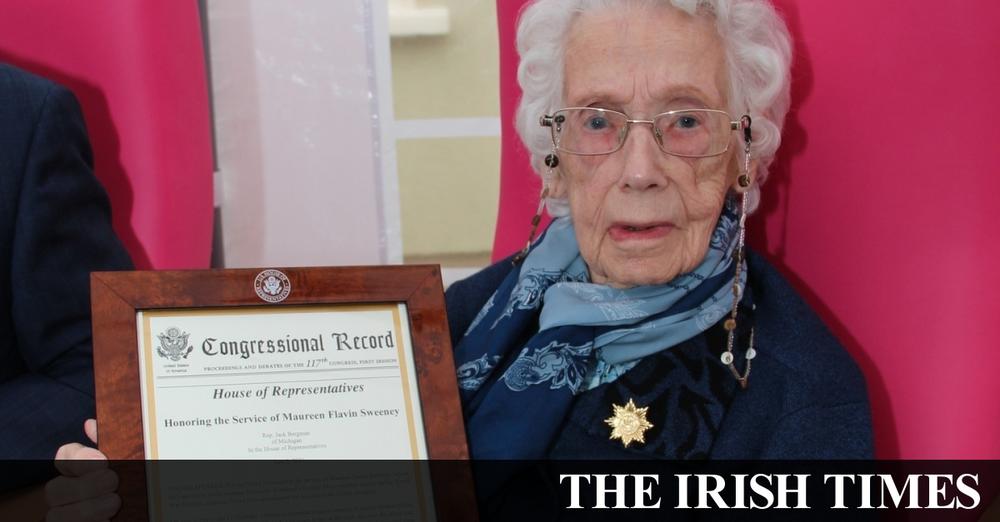 The World War II Museum in the United States and a US Congressman will deliver a special honour to a Mayo woman whose actions altered the course of World War II.This is the Western People story about Maureen Sweeney who was in all the papers recently because she was awarded huge honour by the U.S. Congress
Maureen Sweeney was 21 years old when she took weather readings at Blacksod weather station in June 1944. Her actions influenced the D-Day landings and changed the path of the war. Her data threw General Dwight D Eisenhower's meticulously planned invasion strategy into chaos. It forced him to mediate between opposing US and UK weather advisors and generals, and ultimately left him alone to make one of the most difficult decisions in the entire war. Maureen's readings were the first to point out an impending storm which led to the postponement of the invasion.  Her readings were used to pinpoint a short window of opportunity that Eisenhower needed to launch, thereby altering the course of the war.
When John J Kelly, who led the design and production of the modern landing craft, which has been used in military and humanitarian roles worldwide, heard the story of Maureen Sweeney, he was fascinated.
John approached the World War II Museum in New Orleans, Louisiana, of which he was a director, and requested official recognition of Maureen and the Sweeney Family by the museum. The World War II museum has sent a letter to Maureen that John J Kelly will read during the tribute on June 19. John will also read a personal note to Maureen from US Congressman Jack Bergman (Michigan First District) who is the highest-ranking veteran to ever serve in Congress. A distinguished award, rarely given, and obtained by Congressman Bergman will be read and presented to Maureen and the Sweeney family by John.
Now aged 98, Maureen beat Covid-19 last year.
Now the Listowel Connection
Billy MacSweeney told us this story and it appeared in Listowel Connection in 2018
In my Grandparents time, Kerry people understood that they were cut off from the rest of Ireland by a series of mountains; they realized that they were isolated and had to look after themselves. Life was harder in Kerry than in the Golden Vale or on the central plains of Ireland. The mothers of Kerry especially, knew that they had to look to every advantage to help their children and prized education highly to that end. In the mid-19thcentury the people of Listowel welcomed enthusiastically the establishment of St Michael's College for Boys and the Presentation Convent Secondary schools for Girls, not forgetting the Technical School. The people who read this blog are most likely familiar with the Census' 1901 and 1911 and will have noticed that many homes in Listowel housed not only Boarders but also welcomed Scholars who came from the villages and isolated farms scattered around North Kerry. These boys and girls spent 5-6 years in the Listowel schools to be educated for 'life'.
The upshot of this was that from Listowel we sent out many young adults who were a credit to their teachers to take their places in many organizations and many whose names became nationally known for their talents and abilities, especially in the Arts.
Let me tell you about one such young girl, Maureen Flavin, who was born in Knocknagoshel, Co Kerry. When the time came for Maureen to go on from National school she was welcomed into the Mulvihill home in Upper Church Street who themselves had a young girl, Ginny, of the same age. Maureen and Ginny became fast friends and stayed so for life.
When Maureen finished school in 1930 she wanted a job; couldn't get one in Kerry because of the times that were in it, so she answered an ad in the National Papers for an Assnt. Postmistress in Black Sod, in North Mayo. Her references and qualifications were suitable and in due course, as she says to her own surprise she was offered the job. This was to set Maureen on a course where she would be an integral part of one of the most momentous actions of the age. Mrs Sweeney, the Black Sod Postmistress, was married to Ted who was the Lighthouse Keeper, both operating from the Lighthouse building in Black Sod. They had a son, also Ted, who Maureen fell in love with and married in due course. They in turn had three boys and a girl and life took up a normal rhythm for the family; that is until 3rd June 1944.
The WW2 was in full swing at this stage with Gen. Eisenhower as the Allied Supreme Commander and Gen. Rommel the German Commander in Normandy. Rommel knew that an Allied invasion was prepared and imminent. Conventional Meteorological sources at the time for the US and German military said that the coming days would bring very inclement weather so that the invasion would have to be postponed. Eisenhower postponed the action and Rommel left Normandy for a weekend in Berlin based on the same information. The British Chief Meteorologist had however visited Black Sod some years previously and knew the value of Black Sod as the most westerly station in Europe and when a break in the weather was reported by Black Sod on 3rdJune he persuaded Eisenhower that 6thand 7thJune would be clear and to ignore the same conventional Met advice used by both the US and the Germans. Ted compiled the reports for the Irish Met Office and Maureen transmitted them. Maureen remembers receiving a telephone call a short time later from a lady with a 'very posh English accent' asking for confirmation of her report. Ted was called to the phone and he confirmed the readings, The rest, as they say, is history.
Ted Sweeney died in 2001. Maureen is still alive.
<<<<<<<<<<<<<
Who is the New Mayor of Kerry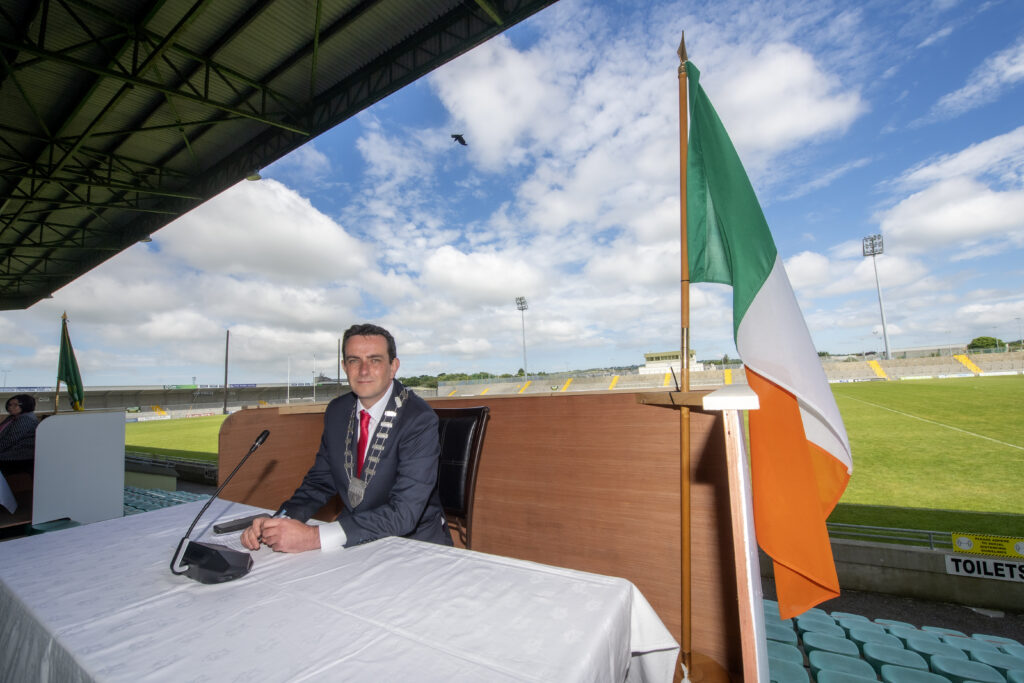 Jimmy Moloney is the grandson of the late Dan Moloney T.D. and Senator. He comes from a family steeped in politics. The Kerryman of July 6 1963, in a full page obituary to Dan Moloney described him as an outstanding public figure.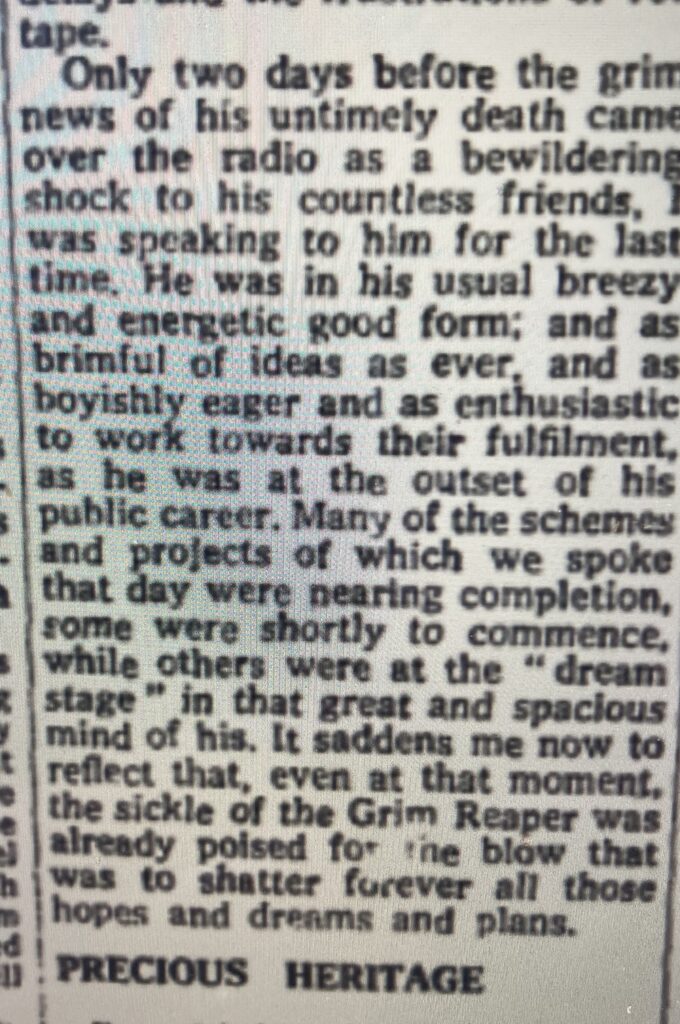 This is an extract from one of the many tributes paid to Dan Moloney.
So young Jimmy has big boots to fill. At his installation in Austin Stack Park on Monday, Jimmy undertook to do his best for Kerry and for the country. We wish him the very best in his big year.
<<<<<<<<<<