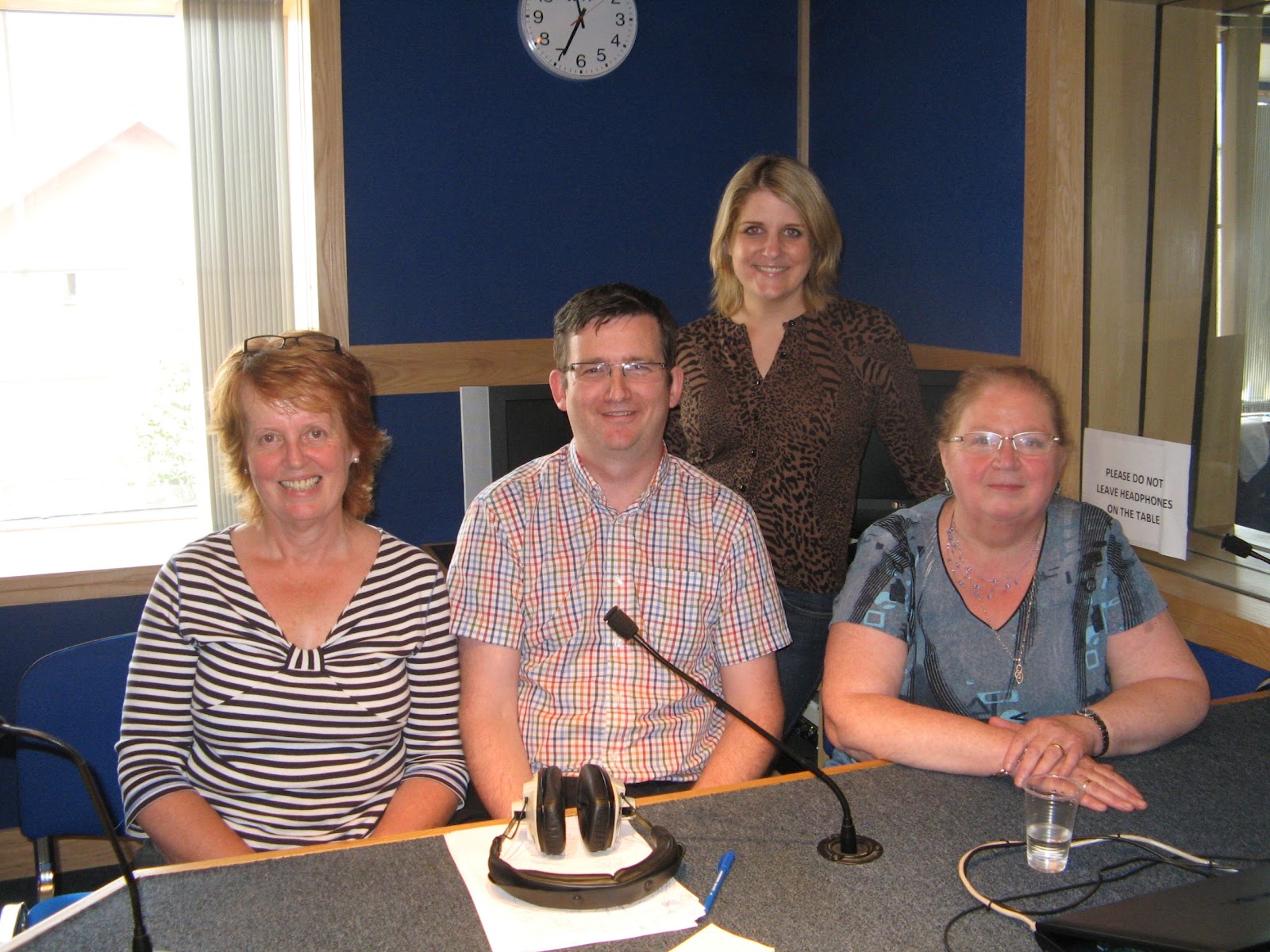 Due to family illness, I did not make it to Radio Kerry but the three musketeers did a great job. Kay's picture shows Kay O'Leary, Ger Greaney and Noreen O'Connell with Alison Nulty who was filling in for Weeshie on Wednesday night.
It was a lovely programme. well done all!
>>>>>>>>
Check this out
http://www.irishlivesremembered.ie/magazine.html
Great coverage of North Kerry folks with beautiful photos by Tom Fitzgerald
More about Tom here : http://www.pencilstubs.com/Magazine/MagPage.asp?NID=2713
>>>>>>>>>>
John B. Keane bats the breeze with some local folk in Whelans and on the street. 1980s Listowel.
http://www.youtube.com/watch?v=jSXYip4K-rs
>>>>>>>>>
Congrats to Daithí and Rita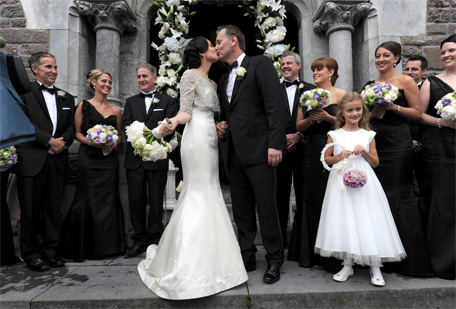 Dingle hosted a celebrity wedding yesterday when Daithí OSé married Rita Talty. There is a Listowel connection. Daithí is a frequent visitor to Listowel Races in his role as commentator with Raidio na Gaeltachta and his father, the well known writer and musician, Maidhc Dainín OSé drove a lorry for Kerry Group until his retirement a few years ago.
>>>>>>
Handball History continued
With the war over there was mass emigration which included many of the Listowel handball fraternity but the coming fifties saw another upsurge in the fortunes of the Listowel handball club.
Along with the experienced John Joe Kenny, Dick O'Connor, Kevin Sheehy, Jackie Fitzgibbons, Tim Shanahan and Mick Glynn, new enthusiasts such as Dermot Buckley, Tom Enright, Kieron O'Shea, Gene and J.J. O'Connell, Junior and Bert Griffin, Thomas Hassett, Johnny O'Halloran, John Maher, Aidan Keane, Richard (Dick) Galvin, Joe Moriarty, Danny Enright, Darby Broderick, Tony O'Connor, Frankie White, and John Keane began taking the game seriously
Tournaments were again commenced and an approach was made to Mr. Frank Sheehy who was chairman of the Gaelic Weekly newspaper at the time with the view to sponsoring the singles tournament.
Mr Sheehy kindly condescended and a shield was presented which was named the "Gaelic Weekly Shield"
The first final in 1959 was an all family affair with Junior Griffin overcoming his brother Bert in a close final.
One of the main features in those years of the late fifties and early sixties was the immense interest in handball by the students of St. Michaels College such as Brendan O'Shea, Michael Enright, the four Murphy brothers, Eamon Brendan, Kieron and Kevin, Batty Hannon, Eamon O'Brien, Tony Dillon, John Fitzgerald, Cyril Kelly, Seamus Browne, Bernie Murphy, Chas Chute, Brendan and Denis Quille, Buddy Scanlan, Jimmy and Michael O'Sullivan, and Kieron Hayes and many of these brought a wonderful freshness to the club.
The current Boys National School was opened
in 1959 and its hall was opened in 1961, built on the site of the old school.
The Handball Club were one of the first
customers to use the hall and ran a series of Whist (a card game) Drives on
Sunday nights and also secured a Sunday night to run a "monster" Whist Drive in
Walshes Super Ballroom during the season of lent. Indeed the committee of those
years were very active in fund raising with the burning aim being to have
sufficient funds to build a four wall handball court in the town.
The only Handball Club minute book that is
currently available began with the Annual General Meeting of 1961 and closes
with the Annual General Meeting of 1965. This minute book records the minutes
of 27 meetings which includes 5 A.G.M.'s and one Extraordinary General Meeting.
The 1961 A.G.M. was held in St. Patrick's
Hall on Saturday May 4th and was presided over by the outgoing
chairman, Mr. Kevin Sheehy.
The officers and committee elected on that
night were
President; Mr. Joe James
Chairman; Mr. Jack Fitzgibbon
Vice Chairman; Mr. Kevin Sheehy.
Hon. Secretary; Mr. John (Junior) Griffin;
Hon. Treasurers; M/s Dermot Buckley and Mr.
Tom Enright
Committee; M/s. John Joe Kenny, Batty Hannon, Brendan Murphy, Brendan
O'Shea,
Eamon O'Brien, Tony Dillon, Seamus Browne, John Keane and Bernie
Murphy.
To read the minutes of those 27 meetings there was one recurring
topic that arose in
most of these minutes and
that was the hope and the wish to build
a four wall proper
Championship handball alley in the town of Listowel.
These minutes give many details of fund raising; of deputations to
the government
Deputy for North Kerry of that time; of a meeting with the Listowel
Urban Town
Council; of letters to both the National Handball Organisation and
to the Gaelic
Athletic Association and whilst promises were made and encouragement
given,
the heart felt dream of a new alley for the members of that time was
never realised.
It is worth noting the sale of membership cards around that period
of the early and
mid sixties.
In 1961 the members sold 124 to both playing and social members at
2/6 each.
77 in 1962; 103 in 1963 and down to 63 in 1964.
At a committee meeting held on Jan. 12th 1962 a letter
from a local man was
considered in relation to he purchasing the goodwill of portion of
the alley ground.
On the proposition of Mr. Andy Molyneaux it was decided to hold this
over to the
forthcoming A.G.M.
The A.G.M on
Jan 31 presided over by Mr. Jack Fitzgibbon, amongst other matters, considered
a petition signed by M/s Bryan McMahon, Michael Keane, M.E.
O'Hanlon and C.J.Keane against selling any portion of
the ball alley ground. After a
lengthy discussion it was decided to appoint a
special sub- committee to consider
this matter.
More to follow