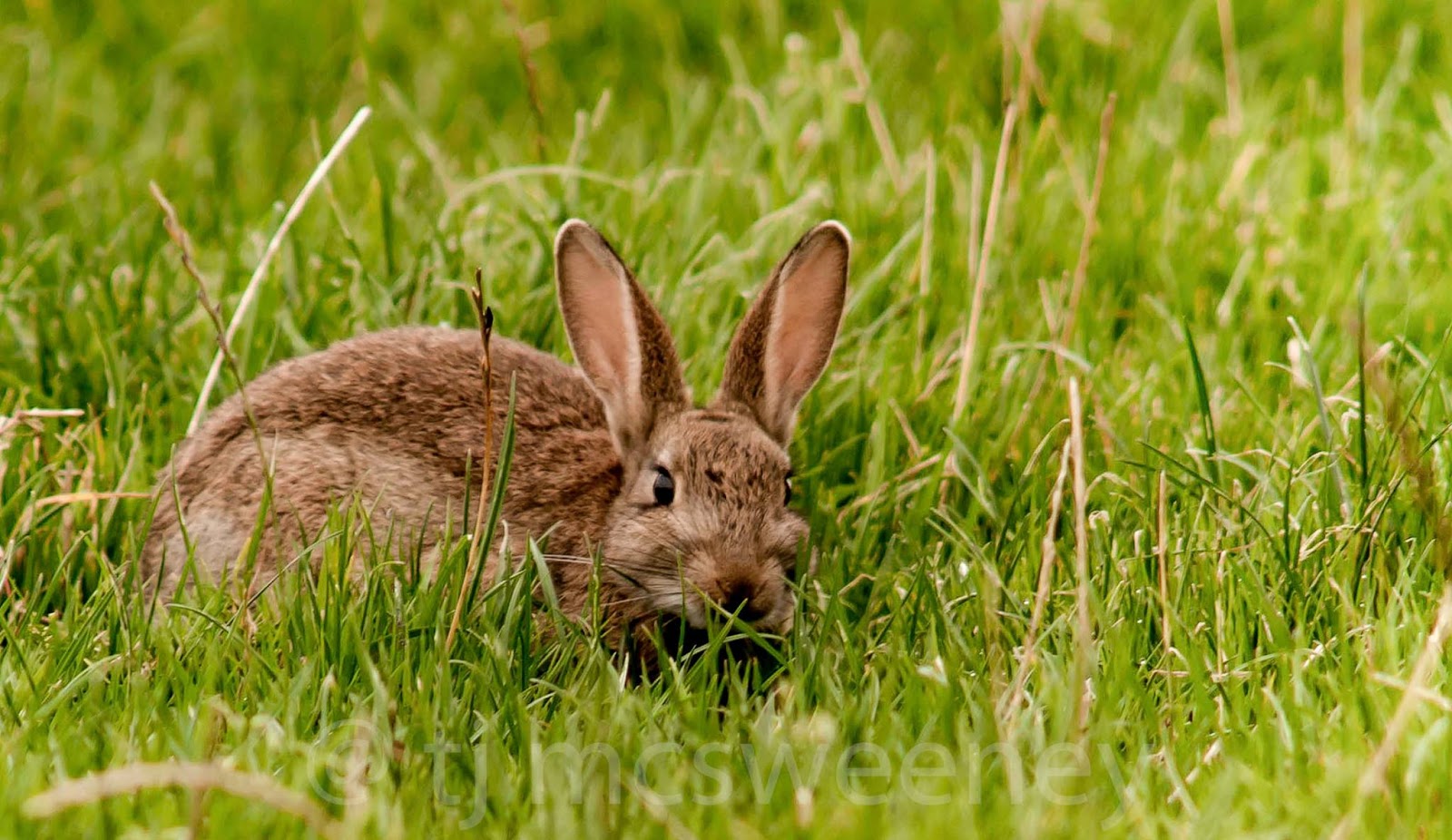 Kanturk's T.J. MacSweeney is out early in 2016 continuing taking his great wildlife photos. Here he is up close and personal with a rabbit.
<<<<<<<<<
O'Connell's Ave Neighbours Remembered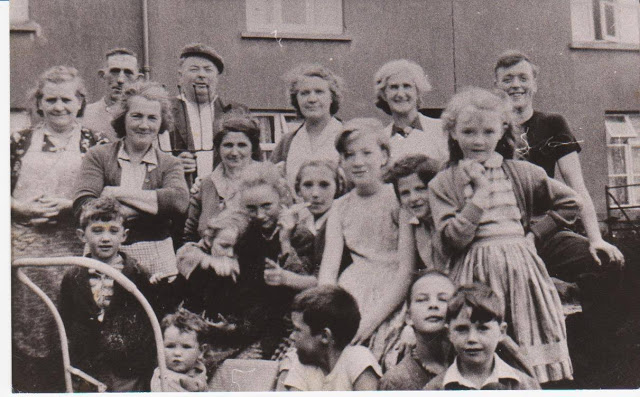 Maria Sham has been having a think since she sent this photo and here are her memories of some of these lovely people and where they went after this photo was taken.
"A little added history to the O'Connell's Ave photos.
Tadhg and Mary Murphy came from Brosna. They lived in the house next door to my home in Clieveragh when I was a teenager.(where the Grimes family lived after that). They had four girls: Bridie, Kitty, Mary (known as Babe) and Eileen. They moved to O'Connell's Ave in the late 50″s. Somewhere in the sixties, they moved to England. Mary spent some time in Alberta, Canada but I believe moved back to England. Bridie married a Mulvihill man from Tarbert and passed away a few years ago. Don't have an update on the others.
Molly Coppinger was married and living in England. After her husband died she moved to NY and was a housekeeper for a very prominent English movie producer/director called John Hayman (not sure of the spelling) for many years. I remember visiting there for dinner on 5th Ave in that luxurious apartment. She met all of Hollywood in that capacity. Elizabeth Taylor, Ingrid Bergman,
Richard Harris etc.

Jackie Hurley was in some way related to my father. I believe it was through the Reidy family since my grandmother was a Mary Reidy.
Just a little additional background on those whom I remember."
Thank you Maria. Your old photos have brought back happy memories to so many people.
Again can I make my appeal. If anyone else has old photos or stories, will you please share them. They mean very much to a very scattered Listowel diaspora.
<<<<<<
And now for something completely different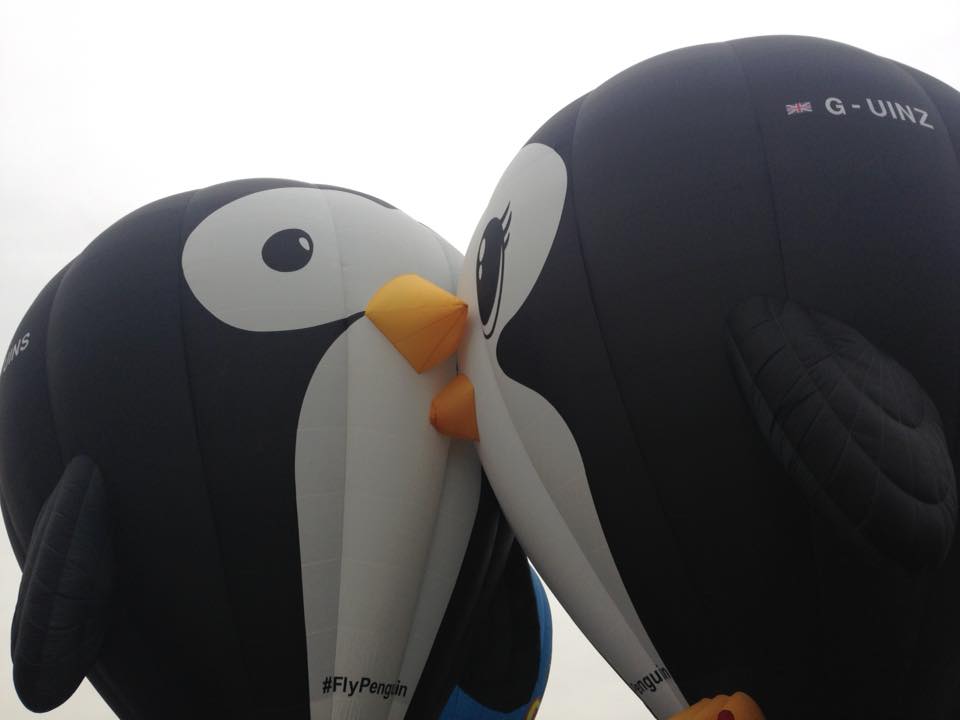 These "penguins' are, in fact, hot air balloons based in Trim. Co. Meath. You can read about their amorous flying adventures Here
<<<<<<<<<
Another Prize Wireless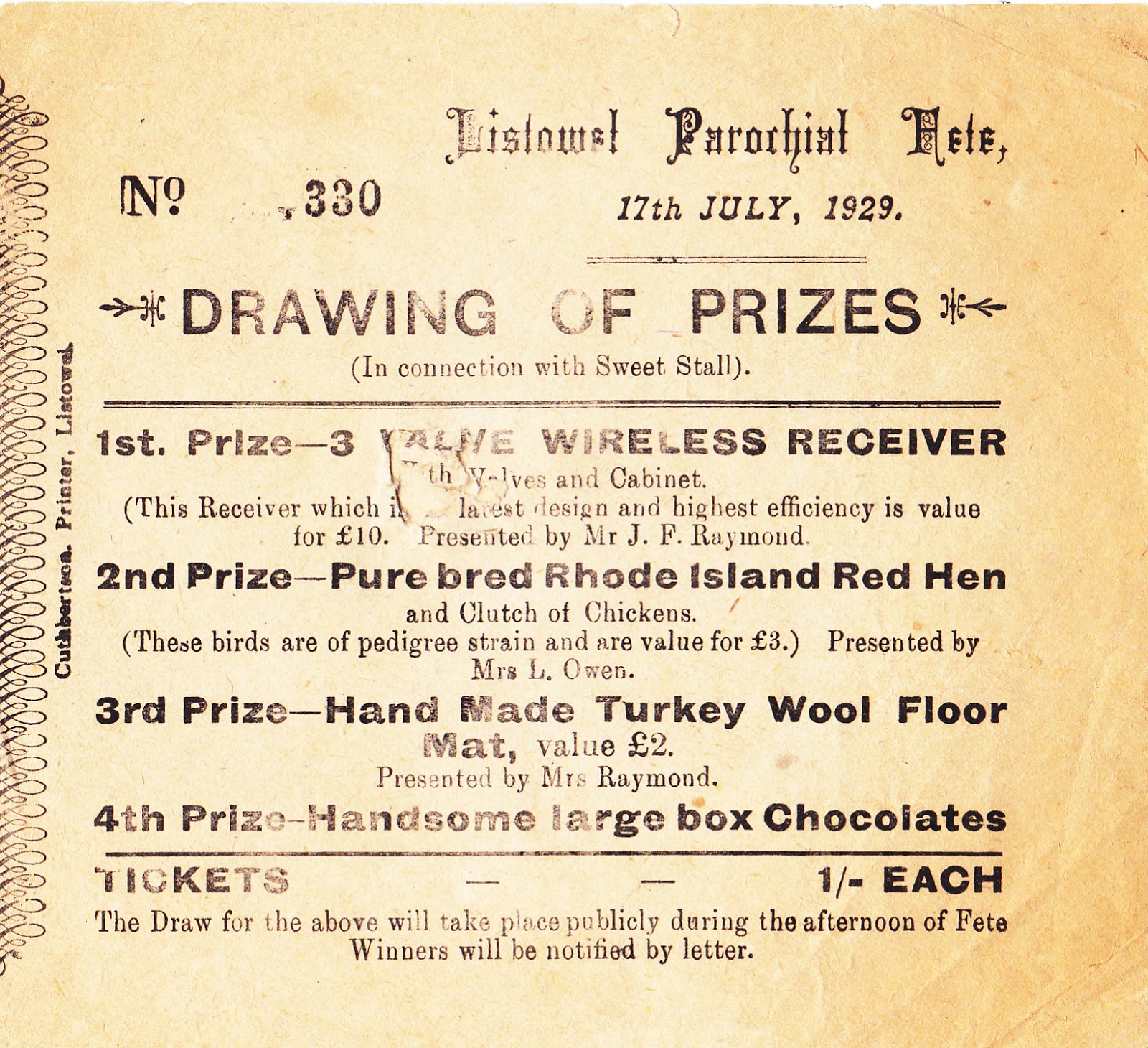 Liam OHainnín's story of the radio his father won in a fundraising raffle reminded Vincent Carmody that he had this old raffle ticket.
The raffle in question was held as part of the annual garden fete that used to be held in the grounds of Gurtenard House. Canon Adderley would have been the vicar in 1929 and the fete was held in the garden of his residence.
First prize was a radio. These would have been common in well off houses at the time.
The second prize is most intriguing. I was reminded of the people we often encounter at The Races raffling a goat or a calf for some cause. You'd be afraid to buy a ticket in case you won. Vincent assures me that lots of people had poultry in their backyards in those days and would have been delighted with a hen and chickens.
I suppose the box of chocolates were "handsome" in so far as they had a nice picture on the top. At home we often kept chocolate boxes for years. They were sturdy and pretty and were used for sewing notions etc.
"Winners will be notified by letter" Evidence of a much slower age.
<<<<<<<
Calling Tarbert People
A very exciting an important job is being undertaken by Tarbert Development association. They are compiling a cultural directory. Take a minute to read the following bulletin and help if you can.
Tarbert Development Association would like to thank everyone who came to the public meeting about the Digital Marketing platform last Saturday evening and are pleased to announce that the initiative has taken great steps forward with the addition of volunteers in key areas of the project.
The project has many sections but the first to get underway is our local "Cultural Directory". We are an area steeped in culture, with local families having over the years produced an abundance of performers and indeed champions in traditional and contemporary music, dance, song, poetry and storytelling. We would very much like to gather any recordings that exist of these performances into an online directory of our cultural history that allows us to preserve it for future generations.
Already in the last few days we have had audio and video recordings submitted from poets and traditional musicians and we would like to build on this collection greatly.
We are asking families in the area to submit any recordings they have (as either audio or video) to this project so we can preserve them in this collection. We can accept any cassette tapes, cd's, Reel-to-reel tapes, VCR video tapes or dvd's. (Indeed, if anybody is interested in making a recording – playing an instrument, singing or spoken word – we have the capability to do so also.) We know that tucked away in the drawers and presses, sheds and attics of the community there is a treasure trove of valuable recordings from days gone by.
All items will be signed in, bagged, converted into a useable format by our team, and signed back to you again when returning them. The items will not leave the community as all the conversion of the material into digital formats is being done by our local volunteers, and we will endeavour to return these materials to you in a timely manner once we receive and process them. We will also accept any collections of old photographs pertaining to past events in the area to be included in the historical galleries of our site.
If you know of anyone that might be interested in contributing and would likely not see this facebook post then please do tell them of what is happening and ask them to be involved.
There are four methods by which you can contribute materials.
There is a meeting at 3pm (not 6pm as previously indicated) this Sunday 31st January in the Bridewell where we can accept materials or schedule a recording session for sometime in the next couple of weeks.

If you can't make it to the meeting then Michelle Woods has established a drop-off point for the collection and return of materials at Tarbert Post Office, where they will also be bagged and signed in.

If you are competent with computers and have files in a digital format we will send you a dropbox link to upload them to. Please email project@tarbert.ie for details.

Alternatively ring Niall Fitzgerald 087 7847181 and he will be glad to arrange a pickup of the materials or answer any questions as to the process.
This will end up being a significant resource for both ourselves and future generations of people in the area.
We would like to thank you for your help in advance.
Tarbert Development Association.
<<<<<<<<<
Awesome talent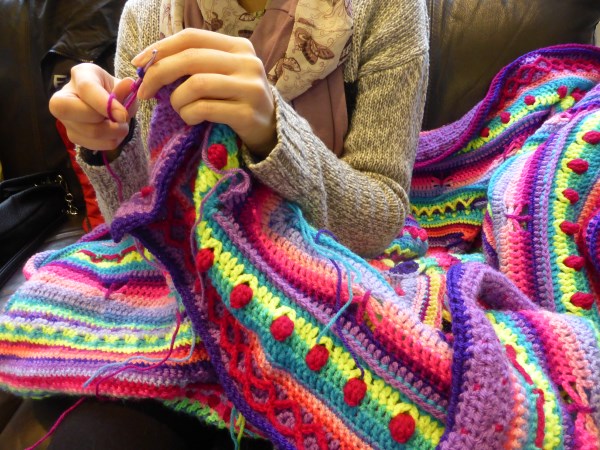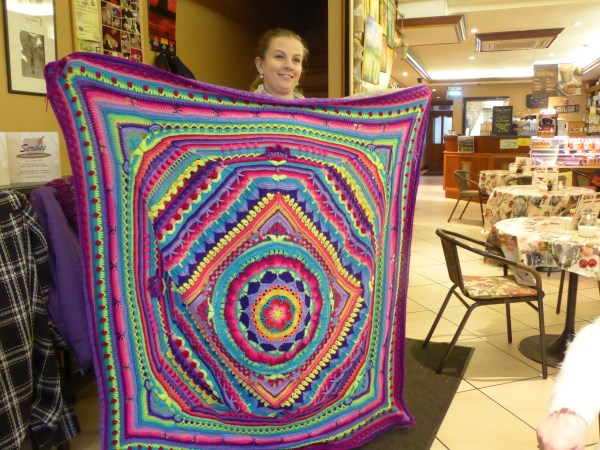 Kelly St. John has just finished her latest crochet project, a really amazing throw.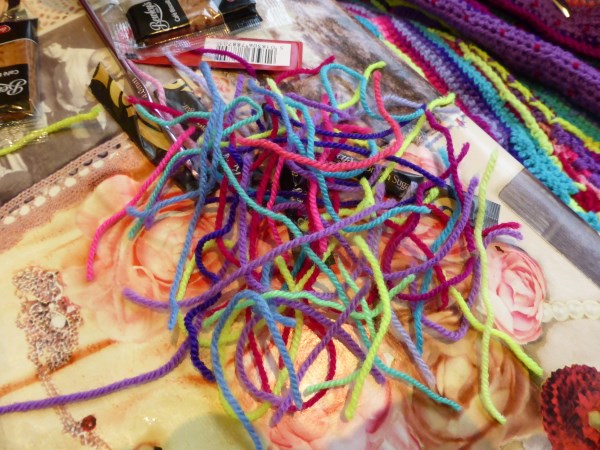 After she had sewn in all the ends, Kelly had lots of colorful little scraps of yarn left. She will put them outdoors in a container for the birds to pick up for their nests.