Evening in the Small Square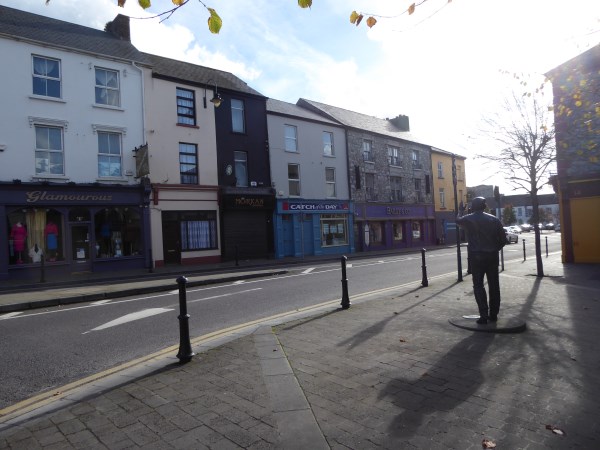 <<<<<
Out of the Blue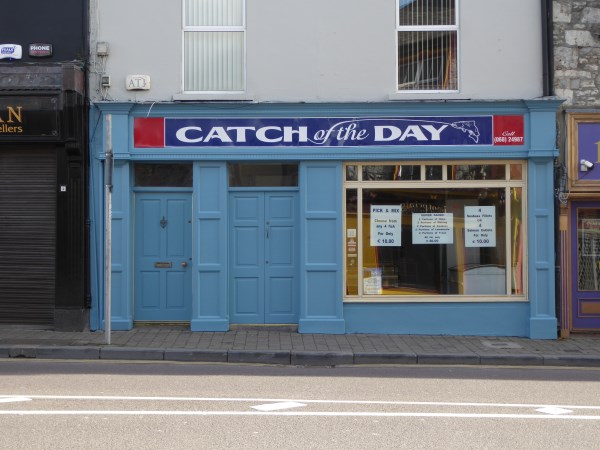 This is the beautifully repainted Catch of the Day. Blue seems to be the favourite colour of shop owners for 2018.
<<<<<<<
Tough Tasks on the Farm
The following extract is taken from Jim Costelloe's great rural memoir of Asdee in the 1940's and '50s
Anyone who has spread fertilizer by hand from a bucket will surely agree it was a horrible task. One's face, eyes and clothes were covered with the basic slag when finished. The worst part was the taste in the mouth as a lot of it went down our throats. Face masks were never used and our lungs must have been congested judging by the amount that went up our nostrils and into our mouths.
Another unpleasant and tough task in my youth was trying to light the kitchen fire with bad turf and wet sticks on a cold frosty morning. Without the fire there was no heat whatsoever in the house and no way of boiling the kettle for a sup of tea.
<<<<<<<
The Grotto
I love it when this happens. I take a picture and I post it on here. It evokes a memory for someone or someone goes and looks up the history and they share it with us here in Listowel Connection. It's a bit like how Facebook used to work.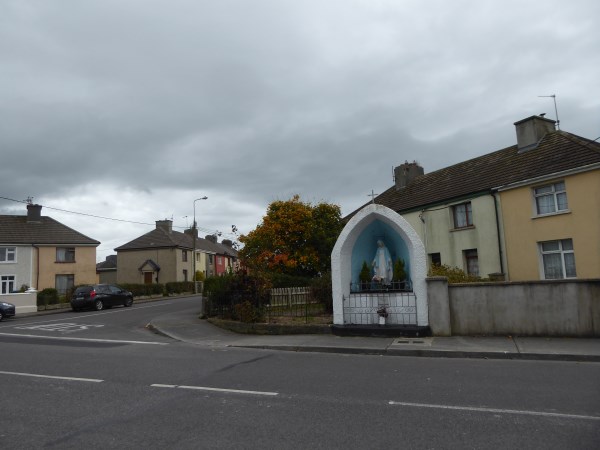 Marie Nelligan Shaw wrote; "Remember well when the grotto at the junction of O'Connells Avenue was blessed and dedicated. The yellow house on the right of the photo was occupied by a lovely lady named Mrs Collins. She took very good care of it while she lived."
And Jer Kennelly found this;
Kerry Champion 14 August 1954
Consecration of Listowel Shrine erected at O'Connell's Avenue, Listowel. Erected by voluntary labour. Statue and railings were donated. Subscriptions were mainly from the residents, all the organising committee are from the Avenue. (See paper for full report, blessing on Sunday next)
Kerry Champion 21 August 1954
Beautiful Grotto at O'Connell's Avenue was blessed by P J Canon Brennan, P.P. V.F accompanied by two curates Frs Dillon and Moore. Windows in the avenue were also decorated.
Kerry Champion 1928-1958, Saturday, September 04, 1954; Section: Front page, Page: 1
Bishop's Visit to Listowel
Most Rev. Doctor Moynihan, Bishop of Kerry visited Listowel on Friday evening last and went to O'Connell's Avenue to see the Marian Year shrine which has been erected there. His Lordship was accompanied by Canon Brennan who blessed the shrine on August 16th last.
<<<<<<<<


Storied Kerry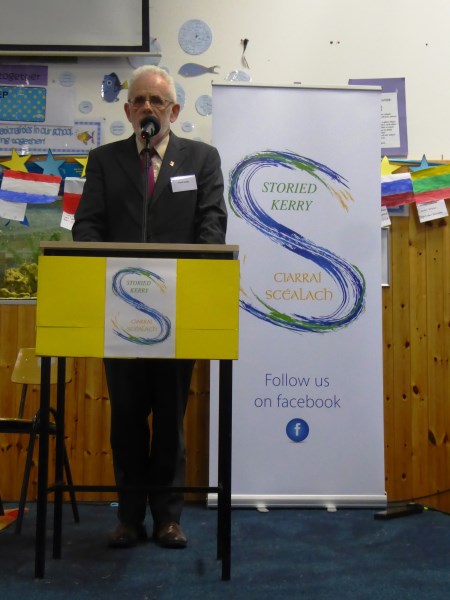 Storied Kerry is the brainchild of Frank Lewis. He gathered together a meitheal of Kerry people to start this new story in the life of Kerry on Saturday, October 27 2018.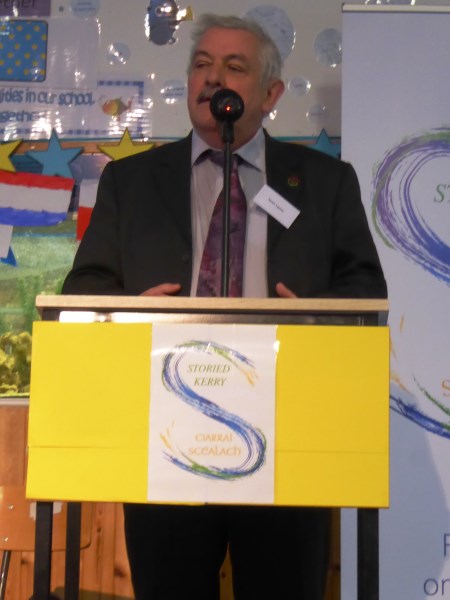 The stories told on Saturday were all excellent. They were told in the old style with a one person storyteller and an attentive audience. Above is master story teller, Seán Lyons, who regaled us with a Halloween appropriate tale, set in a graveyard. It was a story about motivation. If you fall into a newly dug grave at Halloween there is no better motivator to get you out again than meeting up with the previous occupant.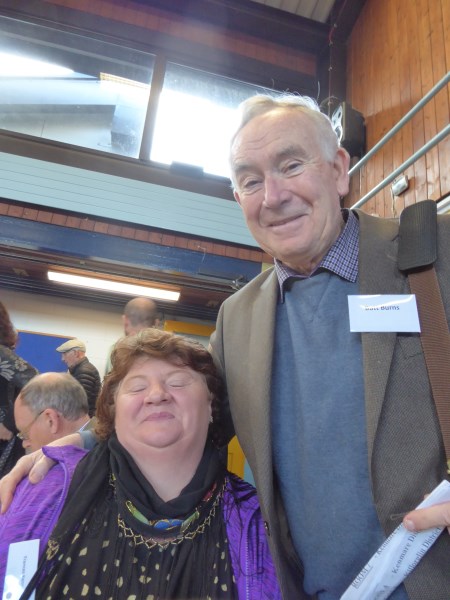 Storytellers, Batt Burns and Frances Kennedy were there.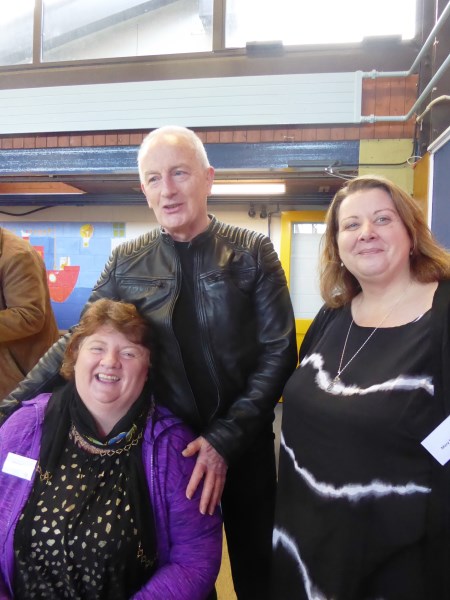 Part of the North Kerry contingent, Frances, Joe Murphy and Mary Kennelly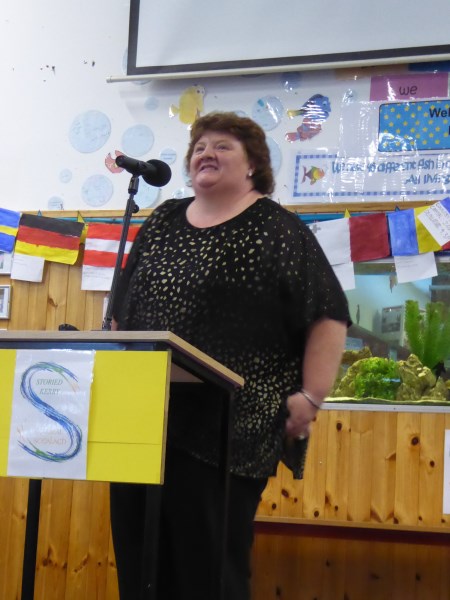 Frances told us a tale of smelly feet and smelly breath in her unique and always entertaining style.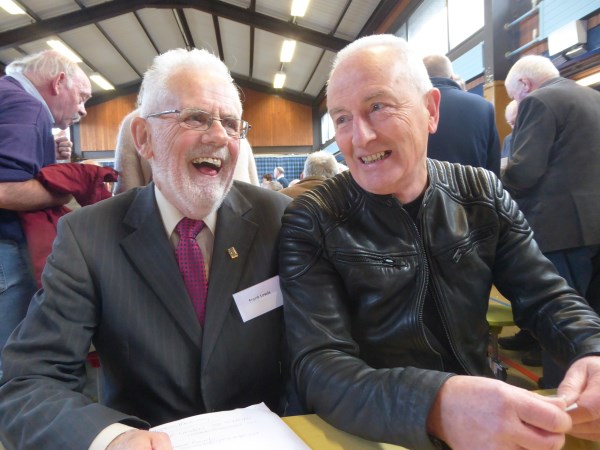 Frank and Joe share a funny moment.
<<<<<<<<<


Ireland's Fittest Families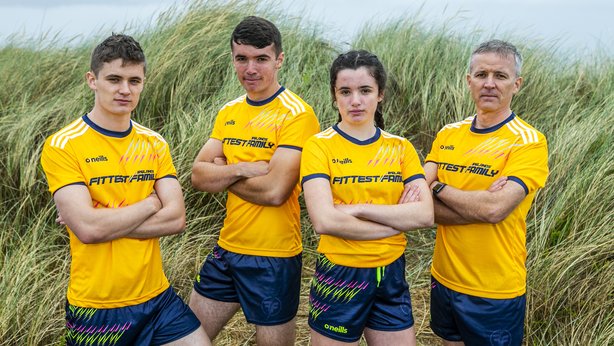 For people reading this who don't live in Ireland, Ireland's Fittest Family is a reality tv show on RTE, in which families of four adults compete against each other in gruelling army boot camp like tasks. Each week one family is eliminated until we are left with Ireland's fittest family. The families are mentored by well known retired sports personalities.
The Listowel connection is the involvement of Roibeard Pierse and his three children in this year's contest.
The programme started airing on TV on Sunday October 28 2018 and the Pierse family which the programme calls The Pierses did very well.
The photo above is from the programme's Facebook page and below is what they say about The Pierses;
From Kerry, the Pierses are making a bid for a win for the Kingdom. Father Riobard (50) works as a solicitor and is a keen runner, focusing on 5ks. He also co-founded the Listowel park run and is the manager of Cliona's Listowel Emmets u16 ladies team.
His son Oran (20) became the U18 Munster Cycling Champion in 2016. Has also won the Senior Kerry Road Race League and raced internationally for the Munster Team.
His brother Ciarán (18) Plays Gaelic football with UL freshers team and Listowel Emmets seniors. A good leader himself, he captained Listowel to victory in the minor county league in 2017 and has played in two All-Ireland finals in the community games. Cliona (15) does one better, having taken part in the All-Ireland community games finals five years in a row in athletics, Gaelic football, soccer and futsal twice. She also plays soccer with the Listowel Celtic team.
<<<<<<<<
A Tender Moment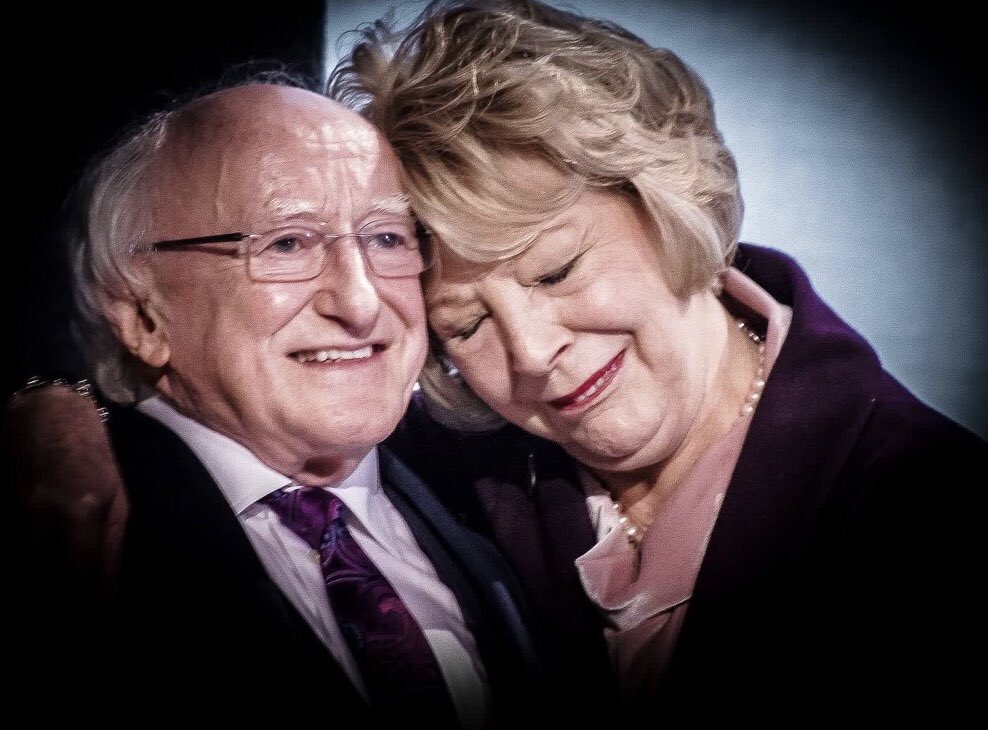 This has to be one of the nicest photographs from the recent presidential election. I dont know who took it.
In the horrible bruising campaign for the Presidency of Ireland in 2018, when even the candidate's dogs were dragged into the carnage, Sabina Higgins was the loyal, dignified and loving presence by her husband's side. She is everything I would want in a first lady.