The country has gone rugby mad
Billy Keane's Independent article A Day we'll remember for the rest of our lives and even longer
puts it best.
Together, standing tall
<<<<<<<
Folklore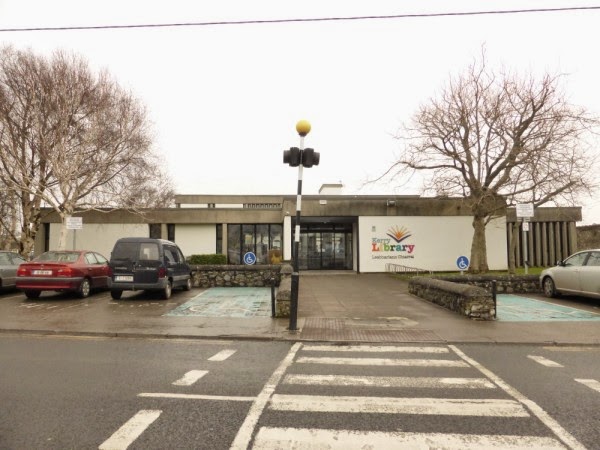 This is the Kerry County Library in Tralee. I was here last week on a mission.
I'll begin at the beginning.
In the school year 1937/38
the Irish Folklore Commission undertook a great project. They got teachers
around the country to encourage their pupils to collect lore from their elders.
The boys and girls undertook the task with varying degrees of enthusiasm and
success. The results of their efforts
are now stored in archives around the country.
It is no surprise to see that one of the biggest files is the one
collected by pupils in Scoil Realt na Maidine, Listowel. Their teacher, Bryan
MacMahon had a deep appreciation of the value of this project .
A past pupil of my own, Emma
MacElligott, now herself a teacher, alerted me to this rich store of stories,
sayings, placenames etc. I visited the archive in the Kerry County Library,
Tralee and there the archivist, Michael Lynch introduced me to this treasure
trove. I will share with you some of the stories I read there.
One boy wrote about a woman
called Madge Shine who lived in The Red Cottages, Cahirdown. Madge used to make
baskets from hazel. She used to place the hazel twigs over the fire to soften
before weaving them into baskets.
Another local man, Martin
Sheehy, made 'sgiaths" from "scallops". I'm guessing that sciaths are the kind
of flat basket used for gathering flowers or vegetables, which, in English, we
call a trug. According to Michael O'Brien of Ashe Street who recorded the
story, "he bended the sticks in and through one another until he had his
sgiaths made."
Other basketmakers used
rushes.
Before candles were
commercially made people used to make their own from "fat." They used the fat
of goats and other animals according to Mary Hickey of O'Connell's Avenue who
was 85 when she told her stories to B. Holyoake of Railway House. According to
Mary, they got a mould, put a stick across the top. Attached to the stick were
6 or 7 "cotton threads" These were
obviously the wicks. Then they "rendered the fat".
(I remember well my own mother
rendering suet in the days before cooking oil.
There was always a bowl of fat at the ready for frying.)
Back to 1937…the hot fat was
poured into the mould and left to set overnight. In the morning they had 6
candles. Half penny candles were called "padogues".
More stories to come….
<<<<<<




County Colours
Do you remember the days before scarves and county jerseys, people showed their support by wearing crepe paper badges and caps? These things inevitably ran all over your face and clothes…happy days!
<<<<<<<
Progress Report on Listowel Revival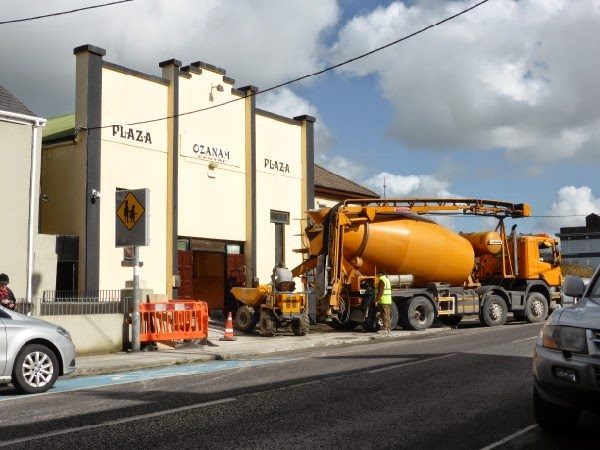 The rebuilding of The Plaza is moving along nicely.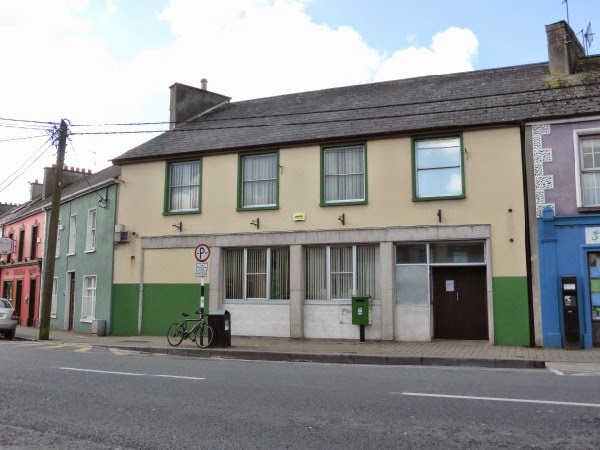 The rumour mill says that this premises is to be a medical centre.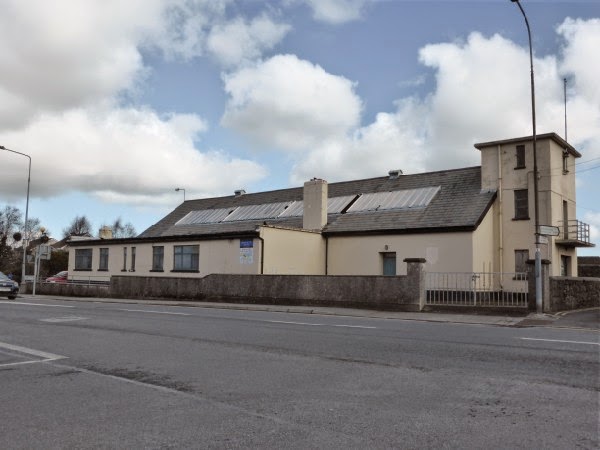 Rumour has it that this will be a veterinary clinic.
If true, all of this is great news.
<<<<<<
Hall of Fame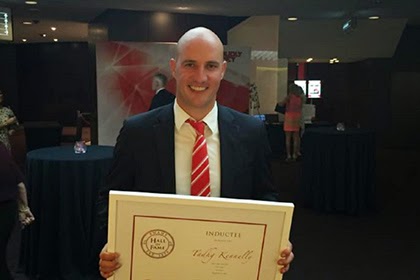 Tadhg Kennelly of Listowel has been inducted into the Sydney Swans Hall of Fame. What an honour!
<<<<<<<
Tidy Town Awareness Day in Super Valu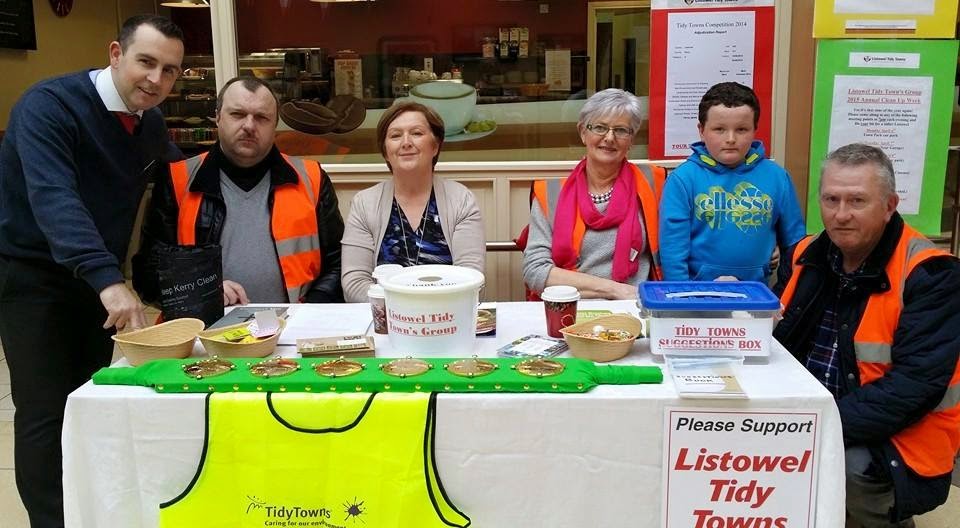 Photo; Listowel Tidy Towns
<<<<<
+ R.I.P. Ann Cox +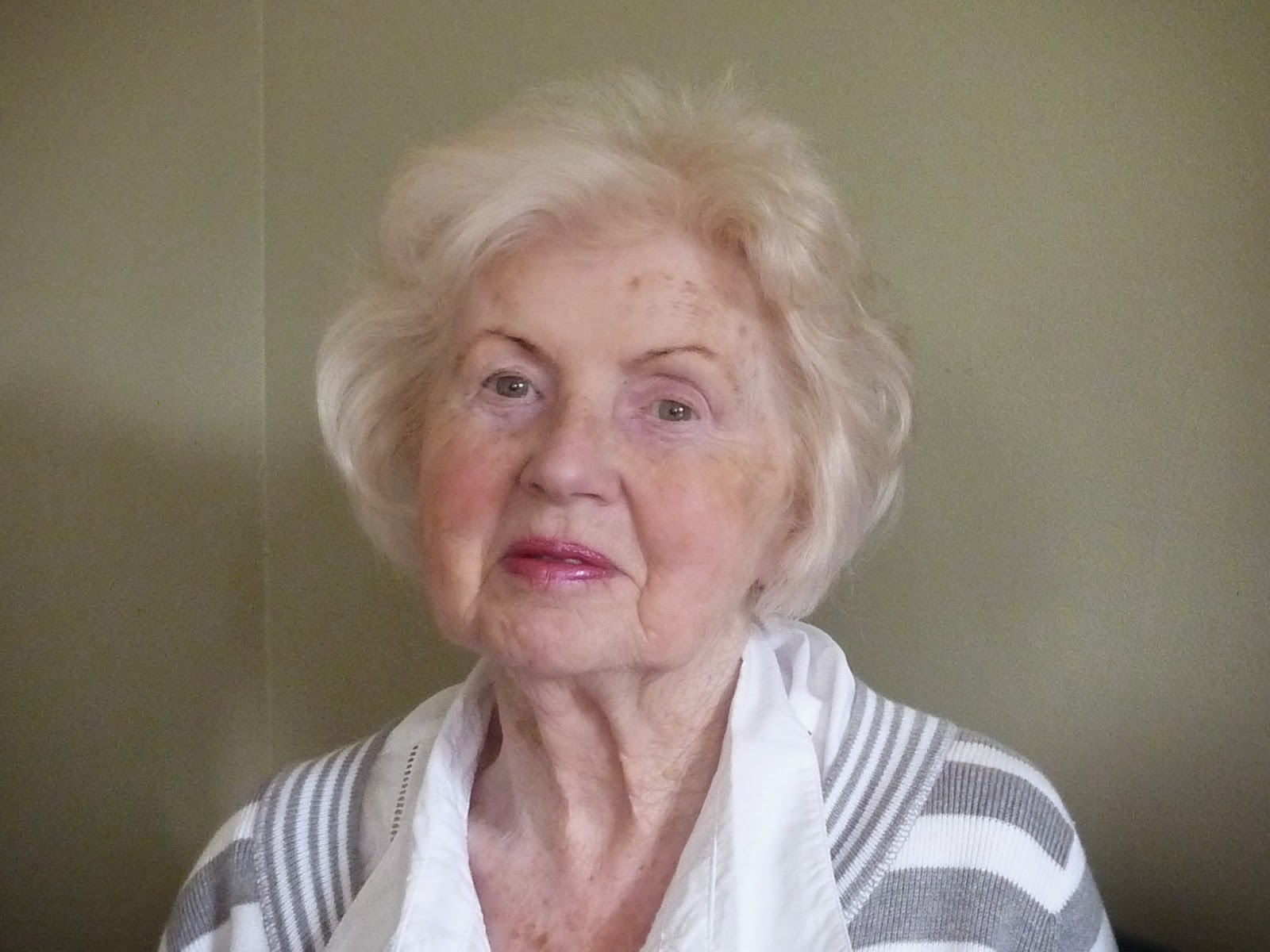 My very stylish, feisty, animal loving former colleagues in Pres. Listowel has gone to her eternal reward.
Ann was a fashionista before the term was invented. She was always beautifully groomed, softly spoken and ladylike.
Ann loved her dogs. When she brought them from the rescue home they were the luckiest dogs in Kerry for Ann lavished love and care on them to their final days.
She loved the Irish language and promoted Irish culture and traditions in everything she did.
She took up golf late in life but she enjoyed immensely the whole new circle of friends it brought her.
Ann contracted Parkinsons Disease in her late sixties but due to her fighting spirit and the great care of her neighbours and friends she continued to live in her own home until two years ago.
She passed away on March 21 2015.
Ar dheis Dé go raibh a hanam uasal.
<<<<<<<
Sunday Morning in Brosna, March 2015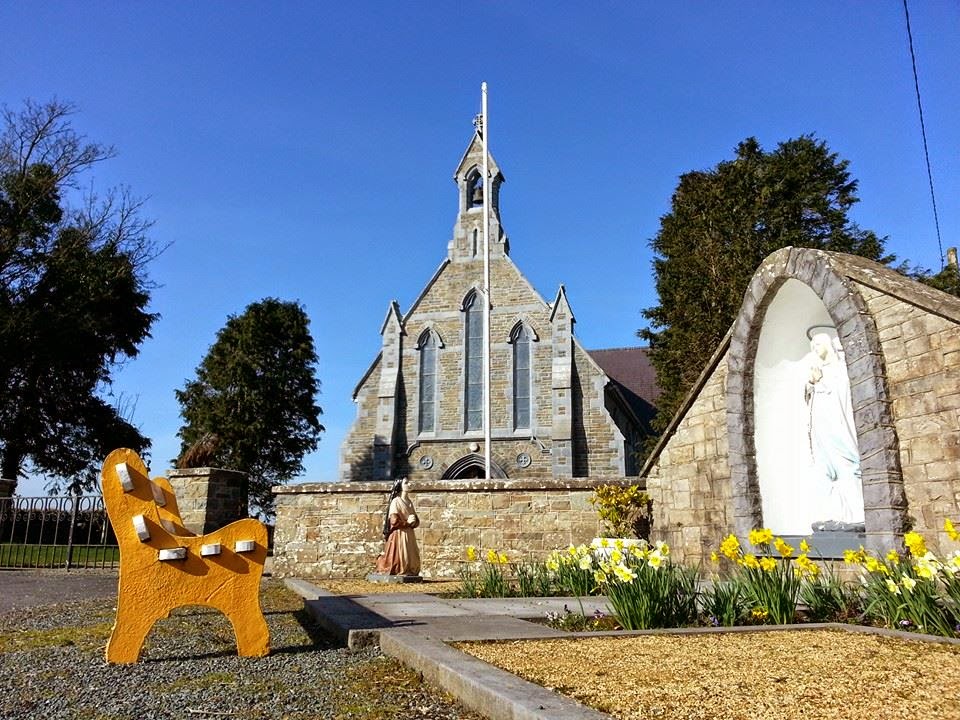 photo; Ballybunion Prints Beach