This achingly sad short film is well worth 5 minutes of your time.
<<,<<<<<
22 of America's 44 presidents claim Irish ancestry. Read all about them here
https://www.facebook.com/photo.php?fbid=502993933076235&set=a.186594394716192.42310.174664185909213&type=1
<<<<<<<<<
Especially for Karen; Fr. Michael and Jim Kiely
>>>>>
This week I heard an interesting little anecdote from Kay Caball. Kay grew up in Gurtinard House. She read on the blog the story of Kilmorna House and the disappearance of the crown jewels and she was transported back to her childhood and a piece of mischief linked to that story.
"A number of famous (and infamous) people have visited Gurtinard over the years – but one was Arthur Vickers' wife who was brought in to Gurtinard from Kilmorna when her husband was killed. When we were young we had always heard this and being very imaginative, we decided that she had brought the Irish Crown Jewels with her and we would search and find them. (We were obviously reading too many adventure stories). So with time on our hands once, when my mother was out, we got a kitchen knive and attacked some of the beautiful pannelled wainscotting in the hall in the hopes of coming accross them, but no luck. . As you can imagine, my mother was NOT impressed on her return and that was the end of us searching anywhere in the house for the Crown Jewels."
Kay is currently researching the stories of the orphan girls sent from Kerry workhouses to Australia under the Earl Grey Scheme. She intends publishing a book on the girls and their descendants.
<<<<<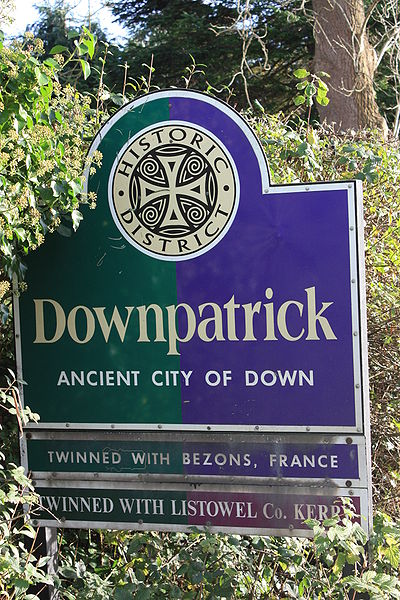 Our twin town.
<<<<<<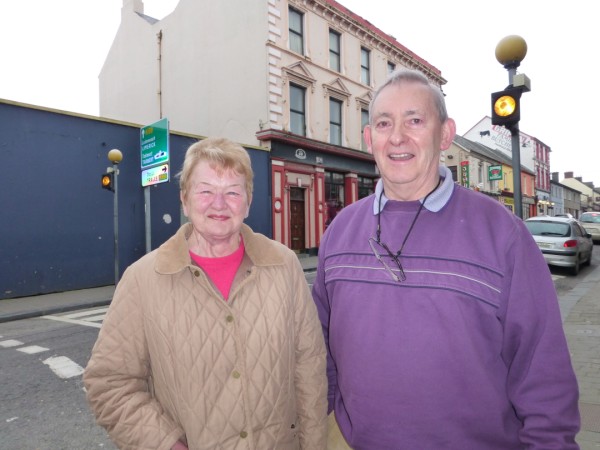 I met Bríd and Bill Quigley out and about early on Wednesday morning.
<<<<<<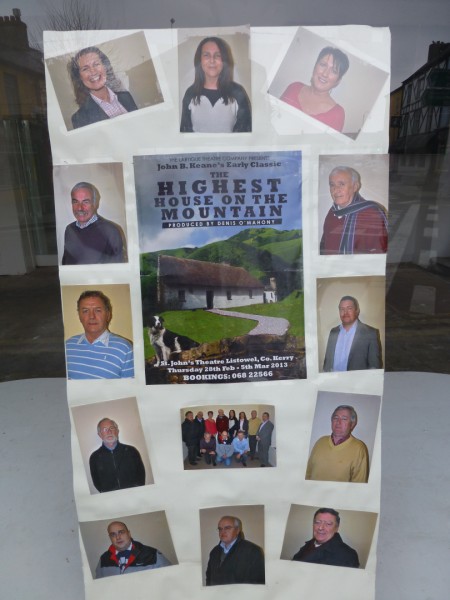 Coming soon to St. John's The Highest House on the Mountain.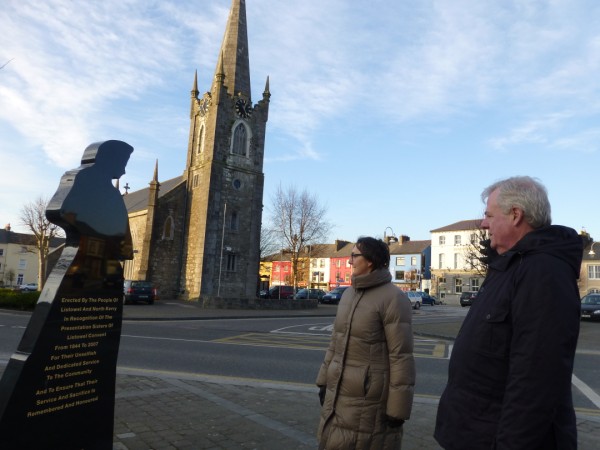 I took my friends, Margo and Eamon Kelly on a tour of the town. Here they are admiring the Nano Nagle statue.
>>>>>
+R.I.P. Sr. Austin +
DEATH took place on February 11th 2013 of Sr. Austin Brosnan late of Presentation Convent Listowel and Inchabee, Farranfore and Fatima Home, Tralee. She was daughter of Pat Brosnan and Ellen Collins and was born on 22 April 1916 and called Margaret Mary. Sr Austin was professed at Oakpark, Tralee in 1939 and then went teaching at the Presentation Convent in Listowel. In the 1970s she went to help with religious teaching and charitable work in California, returning to Listowel in 1991. Straight away she became involved in numerous charitable and religious activities, then he brother Monsignor John became ill and she cared for him for some time. Sr Austin Brosnan was pre-deceased by her brothers, Monsignor John, Brother Carthage, Jerry and his wife Mary, Patsy and Dick and nephew Tom; deeply regretted by her loving Presentation Community, her niece Eileen, nephews Paddy, Ned, John, and Jeremiah, grandnieces, grandnephews. Requiem Mass for Sr. Austin Brosnan was celebrated on Wednesday 13th February '13, Burial afterwards in the Presentation Convent Plot, St. Michael's Cemetery Listowel.