Darkness Into Light 2015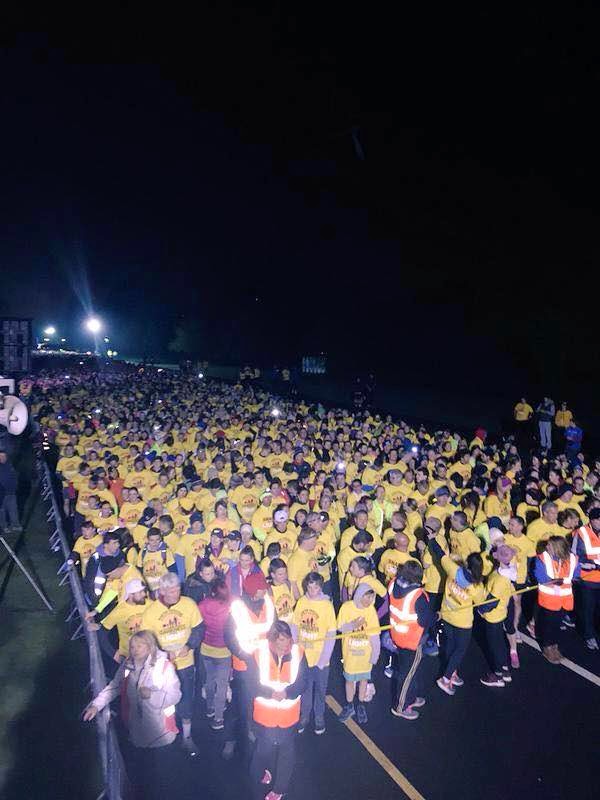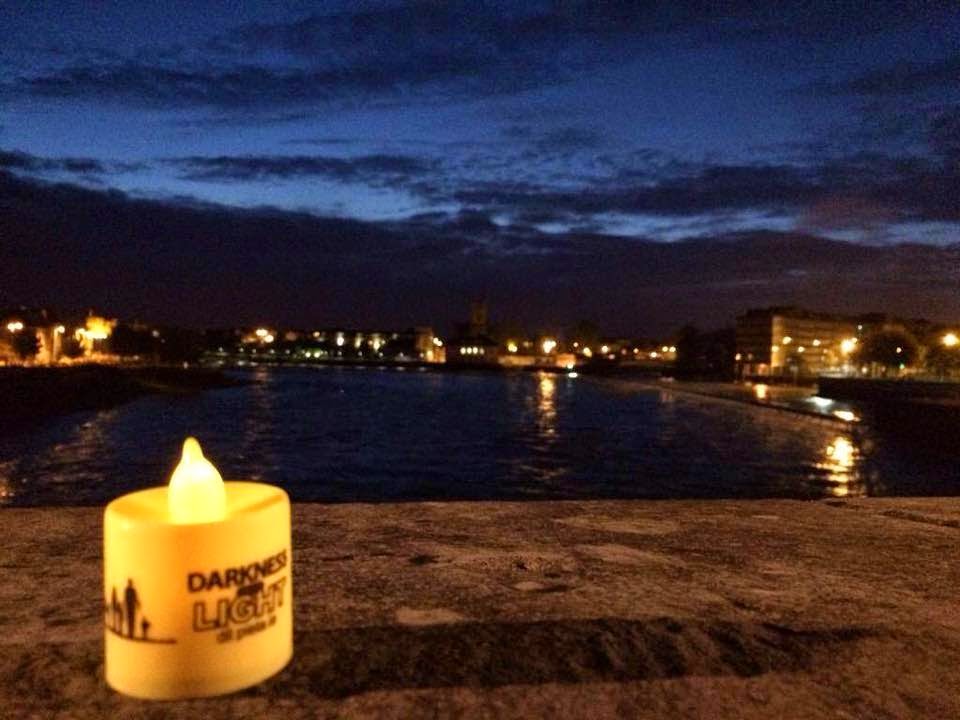 ( photos Eilish Stack)


Well done all !
Lots of photos here: Darkness into Light Listowel
>>>>>>>


Liza Mulvihill R.I.P.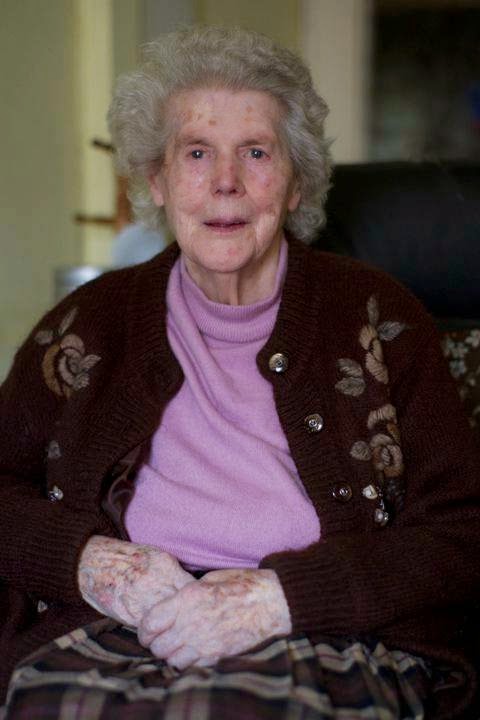 Liza was a force of nature. She lived a long life, to within three months of her 100th birthday and she packed a lot into those years. I knew her through her involvement with the MS Society and her care of and devotion to her young niece who suffered from a particularly aggressive form of the disease.
I'm reproducing here the photo and the text of an article that appeared in one of the editions of Turtle Bunburry's Vanishing Ireland.
But first a little video clip that Jer Kennelly recorded in the Nursing Home of Eliza singing the song from John B. Keane's Sive. She was aged 98 at the time but with her memory intact and she was in fine voice. The performance and its recording were totally spontaneous.
LIZA MULVIHILL (1915-2015)
Moyvane, County Kerry – Dairymaid
& Cook
'I didn't like to break the
hearts of them all, for the sake of one.' Liza Mulvahill blinks her playful
eyes twice as she offers this explanation as to why she never married. And then
she breaks into a laugh that knocks about ninety years off her age.
That is the thing about Liza. It
is completely possible to forget she was born nearly a hundred years ago.
Listening to her tales, you would reasonably conclude that she is still a
rather beautiful young woman gearing up for a bit of craic and the next dance
night.
Such as the Sunday night when her
friend Kitty Walshe persuaded a young fellow called Dick Mahony to drive them
both to the Tarbert Regatta on his donkey and cart. 'We sat down in it very
proud, riding down the road to Tarbert with our donkey.' While the girls had
just enough money to get in, they did not have enough for Dick. So they tied
the donkey up in a nearby farmhouse and the two pretty girls strolled up to the
man on the door. They explained that they would love to attend the dance, but
that 'our driver does not like dancing' and would not enter unless his
admission was free. Hearing the word 'driver', the ticket man assumed this pair
of damsels came by motor car and were thus persons of wealth. 'So he said all
right and we went and got Dick in as quick as we could. We enjoyed ourselves to
perfection, but we had two dates, with two boys, and we didn't want them to see
us going home in our ass and cart. So we stole out before the dance was over.
At two o'clock in the morning, we came on up the road in the donkey cart as
happy as if we were inside of a plane.'
Nearly seven decades have passed
since but, close your eyes when Liza tells these tales, and you can quickly
envision her twirling around and coyly stomping her feet at likely lads. As
well as the Tarbert Regatta, there were the open-air platform dances in her
home village of Moyvane which took place on Wednesday and Sunday evenings. 'It
was three pence to get in but my sister and myself never had the full amount,'
chuckles Liza. 'The man that owned it knew us and we'd throw the money into the
box quick. But one night his wife was at the door and we hadn't the full
amount. We threw in the money but she said, "Have you another penny?" Well, if
another penny would have put us up into Heaven, we hadn't it. So we ran away
through the crowd and she didn't follow us!'
By and large, they danced to
accordions – 'You couldn't have anything else out in the open in case it
rained.' But she recalls one St Stephen's Day when fifteen flute players
arrived on a tractor and trailer and performed blissfully in the rain.
'I was born on 19 August 1915,'
says she. 'I remember it well. And I'm better able to walk now than I was then.
I wasn't able to walk at all then!' She was the fifth of ten children born to
Paddy Mulvihill, a thatcher, who lived 'in the heart of a mountain' near
Moyvane, 'with a lot of turf all around us'.
'There was an awful lot of
Mulvihills in that townland and they're all Paddys and Mikes, so we used to
have quite a job with the post. We had to put 'Thatcher' on my fathers'
letters.' As it happens, Paddy was 'a very good thatcher' who 'got more work
than he could cope with'. 'I'd see houses looking so bad and a day after my
father was there, you wouldn't know it was the same house at all, it'd all be
looking so straight.'
Handiwork was evidently a genetic
thing as Paddy's parents were both weavers, 'making sheets and coats and things
like that.' One of Liza's aunts recalled how Michael Mulvihill, Paddy's father,
would walk the 60km from Moyvane to Killarney to gather the flax. Michael's
wife died young, leaving him with six children, the youngest of whom was Paddy,
then a child of two years. In time, Paddy married Mary Anne Kiely with whom he
had five sons and five daughters. Liza remembers her grandfather Michael and
how he told her about the dead bodies he saw strewn along the roadside during
the Great Famine. It is an amazing thing that many of the people we have met
during the Vanishing Ireland project are the grandchildren of people who were
teenagers during the Famine.
One of Liza's earliest memories
is of standing with her mother at the cottage door when a troop of Black and
Tans began coming down the mountain. 'I got afraid seeing all the men and I
ran. One of them put up the gun to shoot me. They thought I was running to tell
the IRA they were coming. My mother was in a panic until another one said,
"Stop, don't shoot the child."'
She was more fortunate than the
three unarmed local men who were gunned down by some drunken Tans in the nearby
valley of Knockanure.
At the age of six, Liza went to
the national school in Ballyguiltenane, across the border in County Limerick.
'It was a long walk through the mountain, no road, and we'd be barefoot from
the first of April until November. We had sore feet from hitting off the stones
and my father would have to pick the thorns out of my legs after. We'd wear
strong boots at other times, with nails and tips. On frosty mornings, we'd have
a couple of sods of turf under our arms and that would be our heating, although
we wouldn't get near the fire … for fear that we would fall into it!'
'I liked my first teacher, Miss
Fahey. She was from Tipperary, very nice and I was able to learn from her. But
then I went to a new teacher who was all slaps and she scattered the brains
altogether on me. She had a stick and, I tell you, your hand would be sore.'
Liza left school aged fourteen
and went to work 'out with the farmers'. It was 1929, the year of the Wall
Street Crash. Her brother Mike was already in New York but another brother Ger
arrived just as the economic downturn was becoming serious. 'We were expecting
money of course,' she recalls, 'but he didn't get work until November. He sold
his own coat to buy food. It was terrible. But when he got a job, he did mind
it. He didn't go from job to job. He kept on there until he retired. He had a
lot of people to pay back for his digs.'
Back in Ireland, Liza's day
sometimes began as early as five in the morning, 'You'd have to go through the
fields and stir the cows up and bring them in for milking. And maybe you'd have
to feed the little suckler cows before you'd have breakfast.' A boy would then
take the milk to the creamery although, in summertime, the boys would be 'doing
the harder work', so Liza brought the milk in on a cart driven by 'a big old
horse that'd bite you'. She worked every day, including Sundays, when she also
walked four miles to mass. Once a month, she went to Holy Communion. 'I'd be
fasting from midnight, after milking the cows and all, but you couldn't have
Communion if you weren't fasting.'
At other times, she stayed up all
night while sows produced their litters. 'And sometimes you'd work all the next
day, without a minute's rest, having been up all the night,' she says. 'But it
was the same with everyone that time. We all worked hard.'
Liza worked on a number of different
farms and houses. 'Some of them were very nice, like your own home, where you
ate at the table with them and were treated the very same.' Others were less
welcoming, and her mind wanders back to a rather snooty lady whom she worked
for in Foynes for a number of years. One day, Liza opened the door to find
another fellow who worked there looking for his bicycle which one of the
houseboys had borrowed. The man had 'drink on board' and made his way to the
dining room where the lady of the house was seated with guests. As he stood in
the door, the lady admonished him for his impudence, to which he spookily
replied, 'God blast your dirty rotten stinking pride, the crows of this parish
will be flying through your dining room yet.' Liza shivers deliciously when she
recalls passing the same house many years later. It was a ruin and crows were
flying in and out of its windows.
Liza rather enjoys the ghostly
side of life. She and a farm boy once dressed up as ghosts and went out on the
road to terrify two friends who were walking home in the dark. But she had
payback in full whilst staying in the long thatched house at Foynes, when she
heard a bang on the wall that shook the entire house. There was nobody else
around and a terrified Liza cried for the rest of the night. 'It was certainly
from the other side,' she concludes.
The reason Liza did not marry is
because her younger sister died during a botched gallstone operation, leaving a
two-year-old boy and a baby girl. Liza recognised her destiny as she and her
mother basically took on the two children and raised them until they were old
enough to go out in the world and marry. The house in Glin, where Liza now
lives, belongs to one of these children. Before she moved there, she was
helping with another niece who had multiple sclerosis.
Liza has always had a sense of
adventure. In 1975, that came to the fore when the sixty-year-old flew to New
York to watch the St Patrick's Day parade. While in the Bronx, she made the
acquaintance of Mayo-man Jim Gavin and his wife, Nellie, who employed two of
her nephews at their Golden Hill House resort up in the Catskill Mountains
northwest of the city. They offered her a job as a cook at the resort. Liza
declined as she had not come to America to work, 'but I was tormented and
finally I gave in and I stayed'. She headed up shortly after St Patrick's Day
and remained there until September. 'It was so mountainy that when I would be
going up from the city, I'd think I was going back into Kerry.' Irish dancing
was the highlight, with musicians like Paddy Noonan and her own cousin Martin
Mulvihill. 'I danced more there than I did here in Ireland,' she marvels.
Although she returned to Ireland after six months, Liza enjoyed her time in the
Catskills so much that she did it all again the following year.
Still perfectly switched on about
current affairs, Liza has her theories as to why Ireland has changed. 'Much
wants more,' she says. 'They got too well off, and now they're feeling it hard
because the work isn't there. People ask me now if I'd go back to the olden
times or do I like the present day? I'd go back to the olden times. And nearly
everyone that's my age would go back. You had no cares. You didn't mind what
the next one had. You didn't try to keep up with the Joneses. You were quite
pleased with what you had and that was it! People today don't know what want
is. But we had happiness too, because you'd be so glad to get any money and to
be let go to the dance. Now, they have everything and they don't know what
happiness means.'
With thanks to Peg Prenderville.
*********
Liza Mulvihill passed away on Sunday 3 May 2015, just three months short of her 100th birthday. It was an honour to have known her.
Ní fheicfimid a leitheid arís.
" When God had made Liza, he broke the mould."
<<<<<<




The Sunday Battle of Listowel Military Weekend 2015


Sunday's reenacted battle took place in the area from the castle, round past the hotel and up to An Chearnóg dentists'.
I was with the other spectators at the other side of the road by St. John's. It seemed to me that everytime I lifted my camera to take a photo, a car, a lorry or a bus came between me and the scene.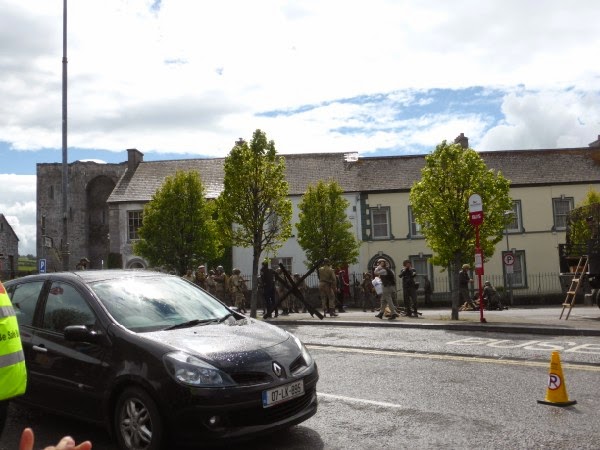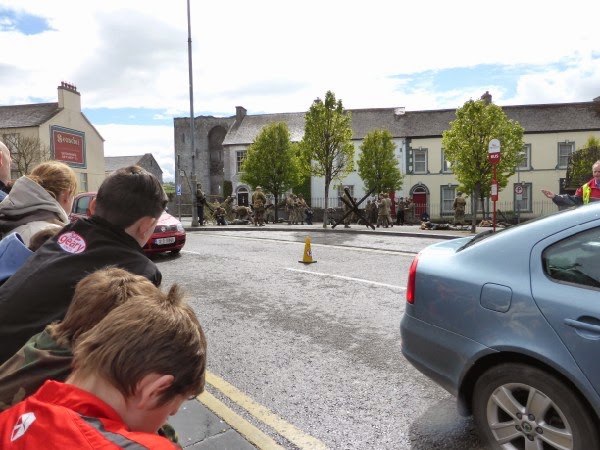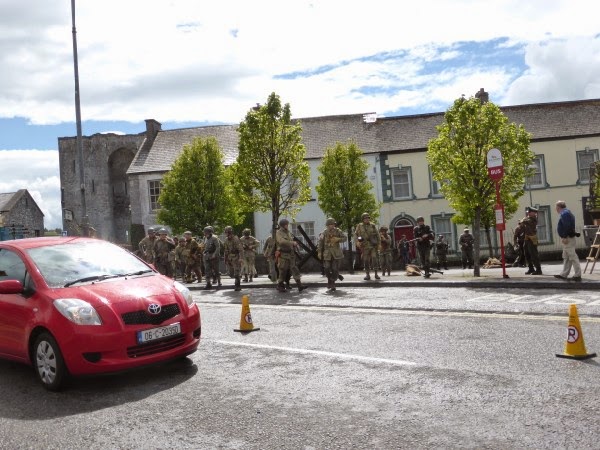 You get the picture!
Anyway, not to be disheartened, I did my best and here are some of the photos I took on Sunday May 3 2015 . It was also hard to get a shot that did not include a professional photographer as these were swarming all over the battlefield, embedded among the troops.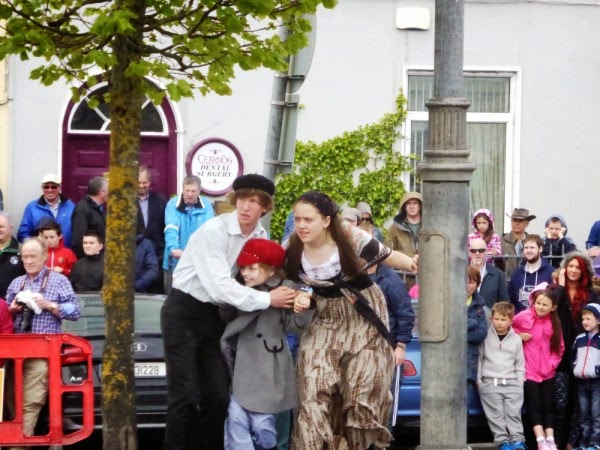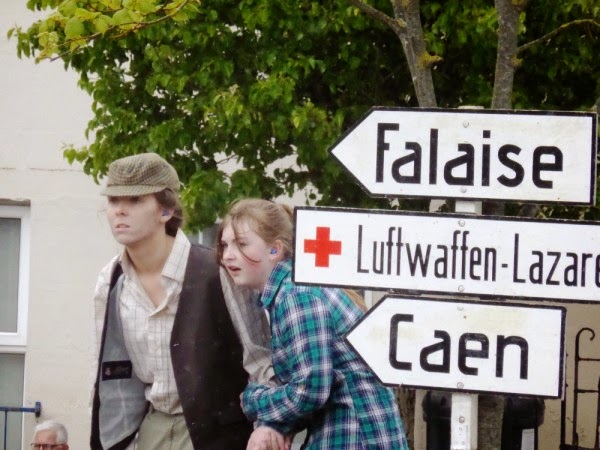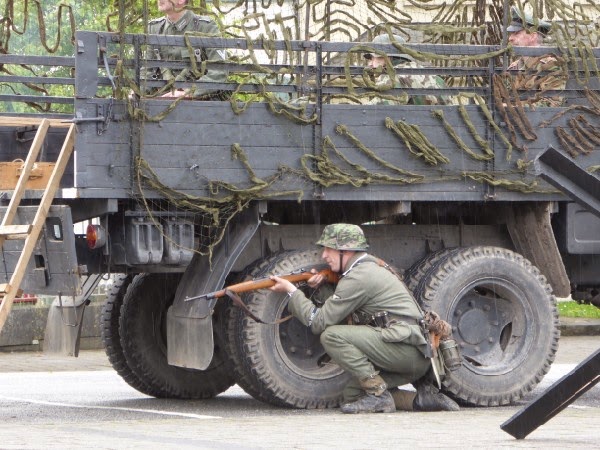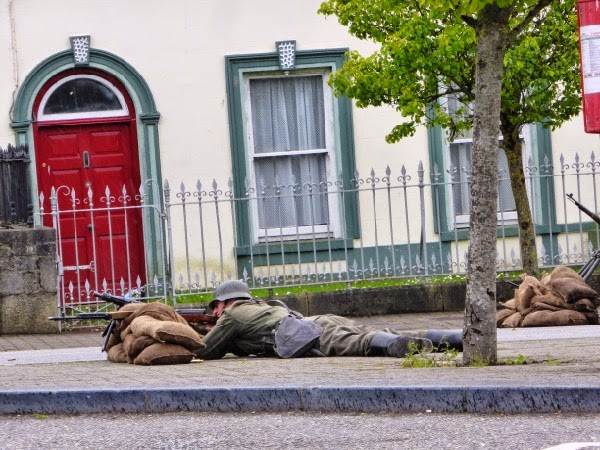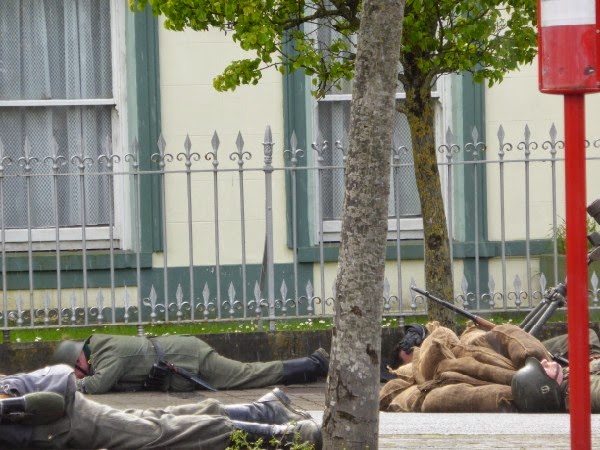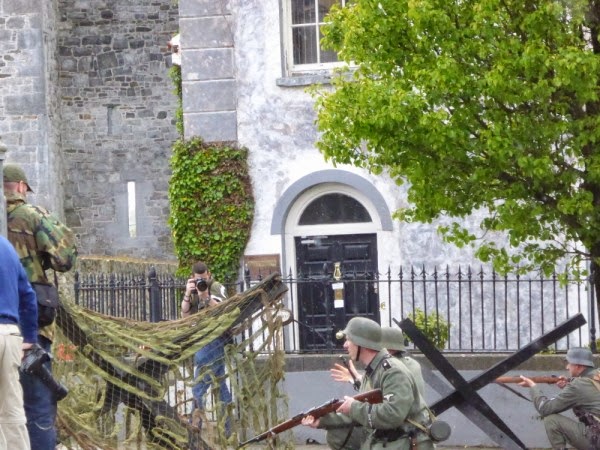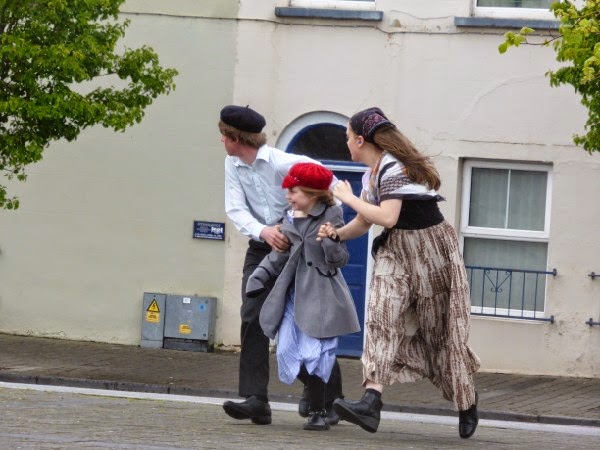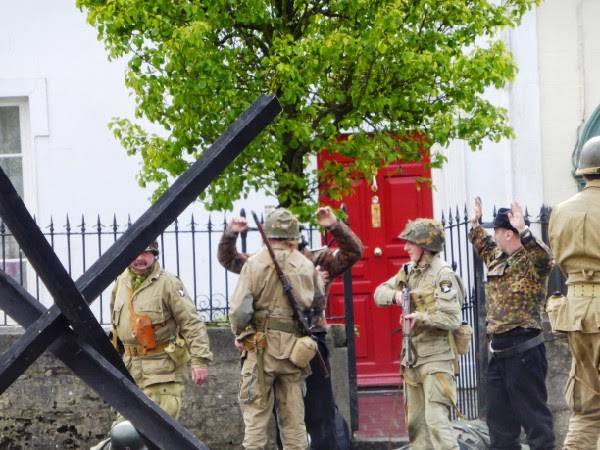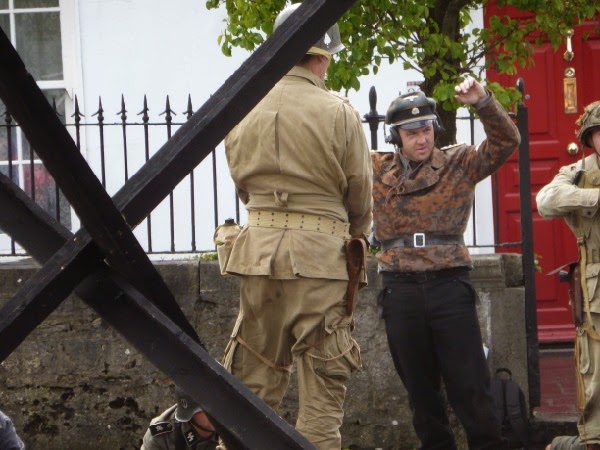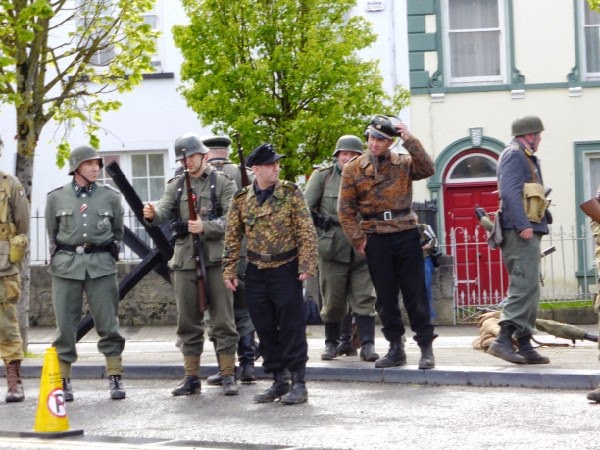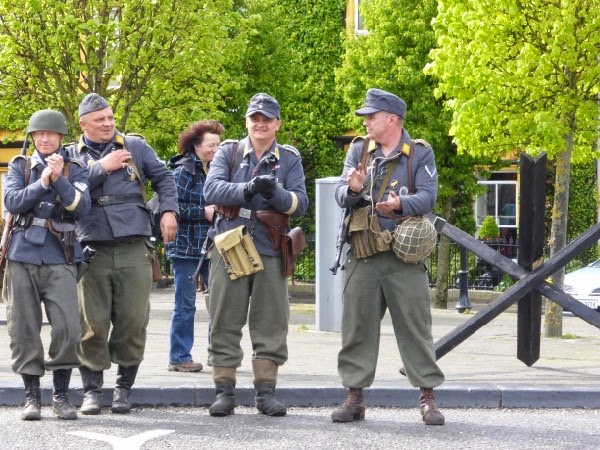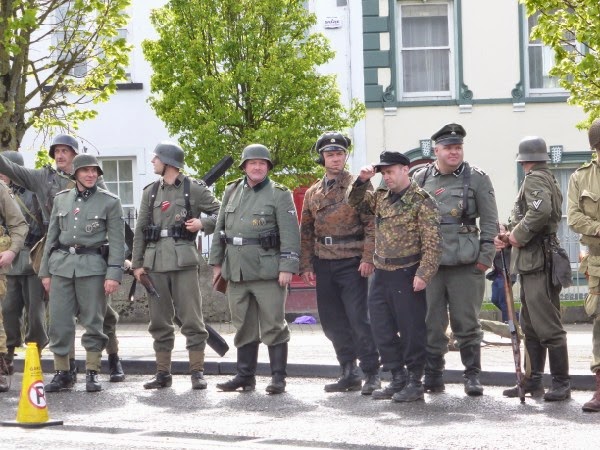 The rain held off and everyone enjoyed themselves. We are ready to do it all again next year.
<<<<<<<<
Success in Dublin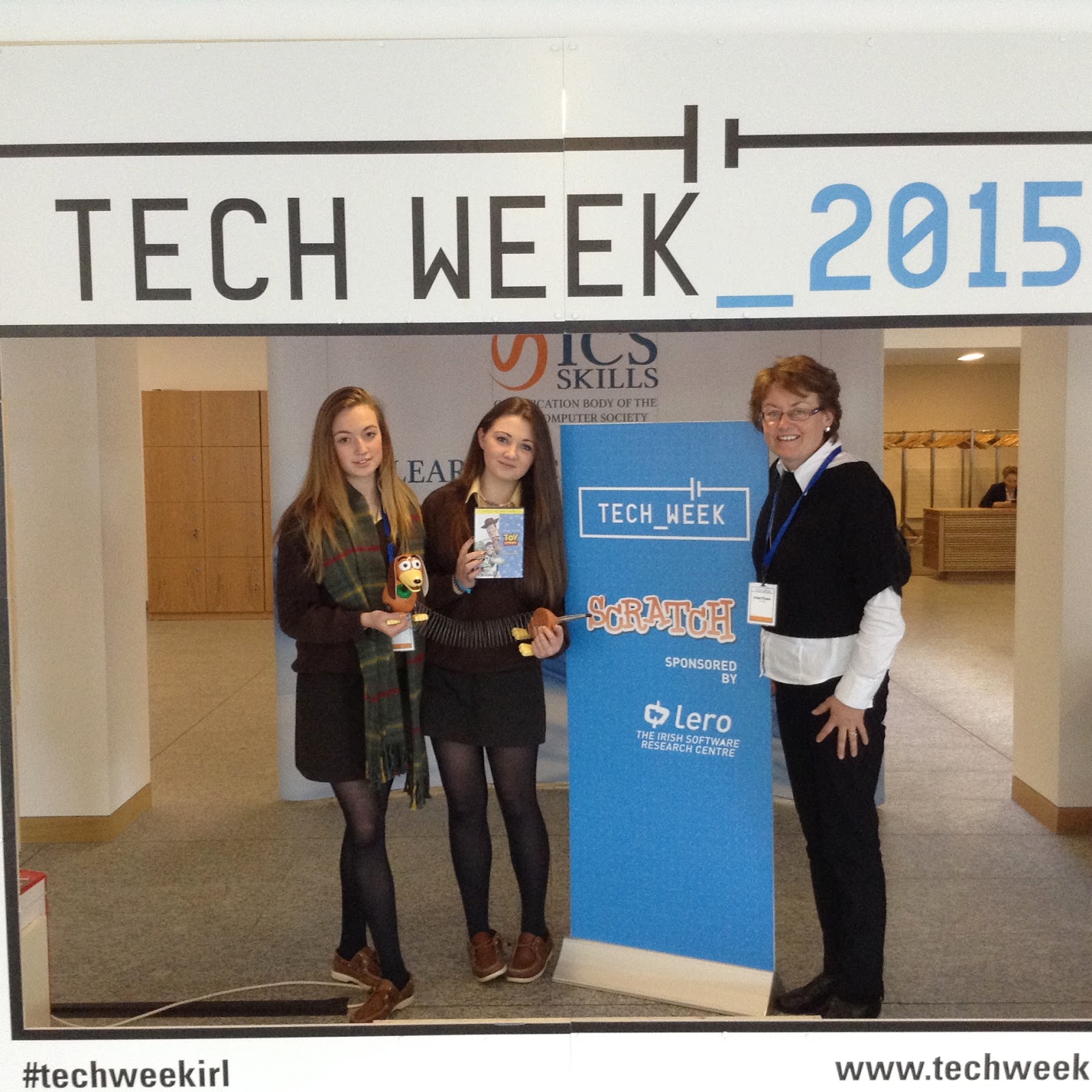 Ciara O'Brien, Aoife Hennessy and Ms Bridget O'Connor attending Tech Week in Dublin Castle last week.
Ciara, a pupil in Presentation Secondary School, Listowel won a prize for 'Best Social Project'. Ciara created her winning animation using 'Scratch' coding in her Computer Studies as part of the Transition Year Programme.
<<<<<<<
Tom Dillon on The Royal Munster Fusiliers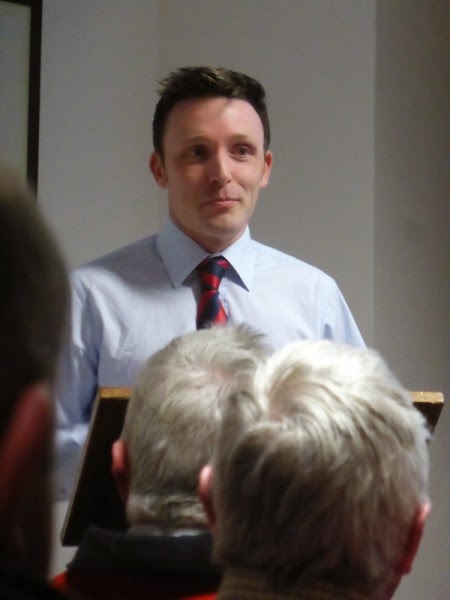 Tom Dillon, local historian, is the acknowledged expert on the Kerry men who took part in WW2.
Below is the link to Forces TV where he talks to Fiona Weir about The Munsters.