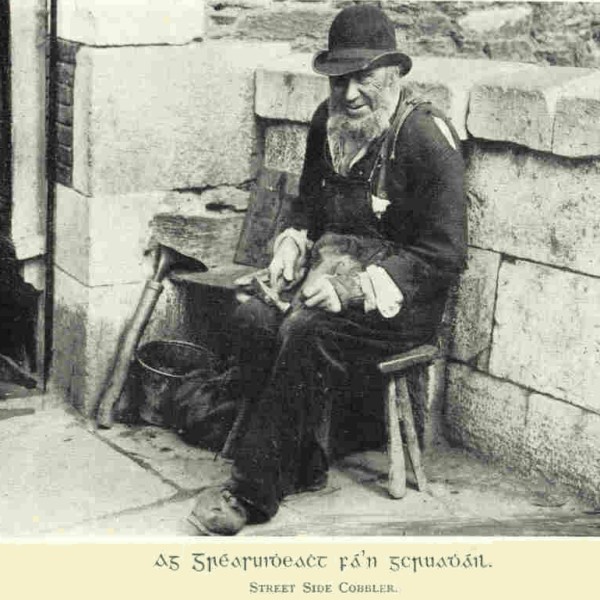 This is a street cobbler. Beside him you can see his last and the poor man is sitting on a rickety stool as he tries to make a living in hard times. The craft of the cobbler is a dying art and I have not heard of anyone apprenticed to this trade in a long time.
>>>>>>>
Here I have transcribed for you an account of a famous cobbler who plied his trade in Newmarket, Co. Cork. I found the essay in an old edition of Seanchas Dugh Ealla.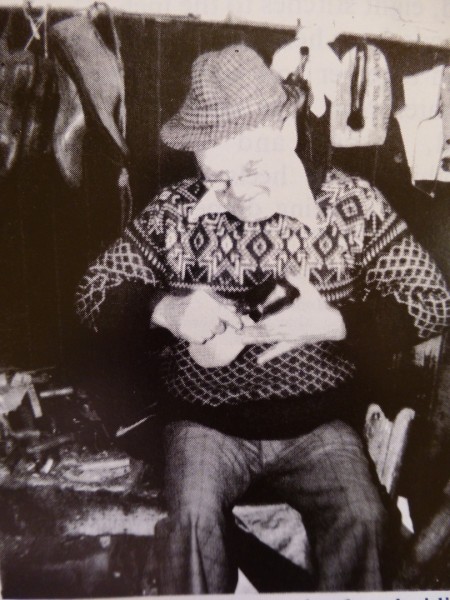 The Shoemaker
by James Cross, Newmarket
I remember old Jimmy when I was a lad. He was still old
Jimmy when I was a man and he hasn't changed in any noticeable way. Jimmy
Cronin was his proper name, and he was the shoemaker in our town. He was the
most interesting man that I have ever know. I used to rush home from school to
sit up on the corner or the spare seat, near the window, and listen to him
talk, as he worked. He had many hobbies. He was a very good trombone player, he
fished and he had played football in Kerry in his young days. He was a great
huntsman and he always kept two greyhounds and two or three fox terriers at the
back.
It used to gladden his heart to see a fall of snow. He was
sure to be off, early in the morning, tracking hares is in the fresh snow. He
seldom killed one of them but he loved the chase.
He arrived in our town after The Troubles, having spent some
time in jail with the boys. He got married and settled down and put out a sign
which said, "we make or mend shoes". I never saw the place empty.
There seemed to be always a crowd of people there standing and sitting in
amongst the footwear and pieces of leather.
My father got his boots there and that it is maybe the first time I really got interested in shoemaking. I was afraid that,
"old Jimmy" wouldn't make them right and my father would be cross.
After looking at two or three kinds of leather, they settled on a brown box
calf type. This was in one sheet, lovely and glossy. Jimmy had a kind of ruler which he called a size stick . It had a guard on the back and he pushed this
against the heel of my father's boot. There was a moveable guard in front which
he pressed against the toe of the boot. He also had a tape measure which he
placed across the toe and instep and ankle, writing in his book, as he went
along. He enquired about corns and bunions, saying he could make room for these if required. In this way he
measured the foot.
He got out his patterns and, after deciding on the size
required, he cut out the quarters and afterwards the vamp and the tongue. These were stuck together, and then the linings and quarters
were sewn. The uppers were left aside, for the moment. Next he took his lasts
which were of the required dimensions. These were made from timber and he measured them
with the size stick and tape. Then he cut the insoles and clinks and gave them
a dip in a pan of water, to make them malleable for hammering on the lap-iron. He blocked the insoles on the lasts. Then he
shaped the clinks and stuck them in between the uppers and lining, after giving
them a rub of paste to harden them. The insoles were then feathered. By
feathering is meant, to make a ridge all around to hold the stitch binding the
welt, (a strip of leather 5/8 of an inch wide), and upper to the insole.
The upper was pulled over the last and tacked in place with
the pincers. This process was called "lasting". Before the toecap was
lasted he placed the toe puff in position. This had already been pasted, in
order to give a hard toecap. Then he sewed on the welt all round the boot, with
a heavy waxed thread.
The soles were then cut and put in water. While they were
soaking, he cut the filling piece and fitted it inside the welt. The soles were
hammered and blocked onto the boot and pared all round. They were channelled
and made ready for stitching with a light thread, eight stitches to the inch.
The thread was made from hemp, lengths of which were twisted together and waxed
to keep it firm and waterproof. The soles were trimmed all round, waxed and
gloss knifed for smoothing. The heels were then cut to shape. After being
dipped in a basin of water, the leather strips, making up the heel were put on, lift by lift. The final strip to be put on was made of rubber. The whole boot
was shaped, rasped, sand papered and inked. Heelball was then applied and when
it was rubbed off, it left a beautiful
glossy shine on the boots. The lasts were then pulled out and after cleaning
and smoothing the insides, the boots were ready to wear.
Needless to say, the boots were a perfect fit, and my father
wore them for many years afterwards. My earlier fears regarding old Jimmy's
ability to make a pair of well fitting boots were completely unfounded. My father and the
shoemaker remained firm friends, and I was able to continue my sojourn in the
shop where I spent many enjoyable evenings, listening to interesting
conversation, and watching the craftsman at his work.
The light of other days…….
>>>>>
News from KnitWits
As regular followers will know, I am a member of a knitting group called KnitWits. We knit and chat in Scribes Café in Church St. every Saturday from 11.00 to 1.00 p.m. We knit for ourselves and we knit for charity. Our local charity is The Society of St. Vincent de Paul and our global charity is Cancer charities in general and
https://www.facebook.com/pages/Kozy-Kaps-4-Kids/132602910091359?fref=ts
in particular.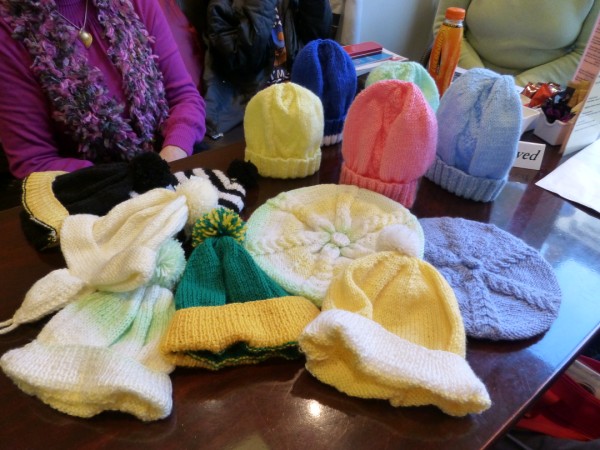 This is the first crop of caps. These were all knitted by 2 of our members. We expect our stash to double by next week when everyone else gets involved.
This is Patricia Borley. She is a very experienced and skillful knitter and a very generous lady to boot. She has knitted a beautiful throw/beadspread/rug for a cancer charity, a cause close to her heart. KnitWits is raffling it with the help of Namir in Scribes. Tickets are €2 each or €5 gets you 3 and they are available in Scribes where the throw is on display.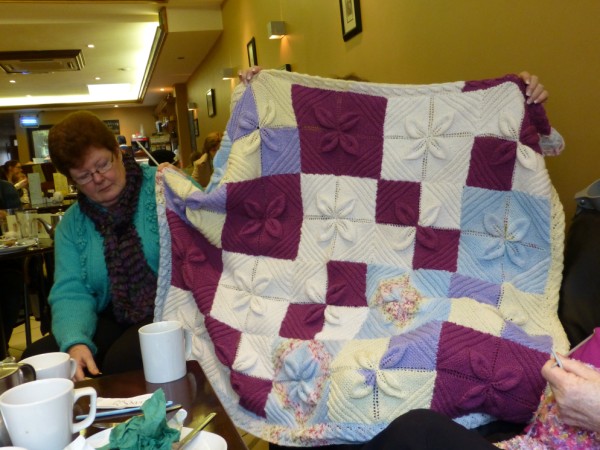 >>>>>>
Mattie Lennon is putting together a DVD about Famine Pots. I looked them up and they are huge pots that were used during the Famine by Quakers who distributed food to the starving.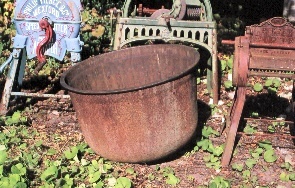 This one is on display in Castlebar. If anyone knows anything bout these pots in Kerry or elsewhere drop me an email and I'll pass the information to Mattie.
<<<<<
Yesterday I told you about St. Maury. I did not realize that January 15 is also the feast day of a saint much nearer to home, St. Ita of Killeedy. There is a tradition in that area of Co. Limerick that people leave their Christmas decorations up until today, the day after St. Ita's day.