Margaret Dillon has kindly given me copies of the witness statements from 1918 when local people took on Lord Listowel in an effort to get him to open the Cows Lawn for local people to plant root crops to alleviate food shortages .
I'll remind you first of Kay Caball's account:
"In February 1917, with shortages & rising food prices due to the
war, Listowel Urban Council requested the Earl of Listowel to 'make two large
fields, known as the "'the two lawns" available for cultivation for the poor people of the town'. There was an unproductive series of letters
exchanged between the Urban Council and Lord Listowel. Jack McKenna, Chairman
of the Urban Council pointed out that all they were seeking was permission to
use 'vacant' land as tillage. He stressed how important this would be in the
context of food shortages being experienced at the time due to the Great War,
that 'even in London the Royal Parks are being ploughed for tillage'. His plea
was in vain.
Finally the UDC and a number of other prominent citizens formed the Sinn
Fein Food Committee with a view to acquiring this land as tillage. There was a
general feeling of frustration building up with the petty restrictions and the
number of permissions which had to be sought from Lord Listowel.. 'Negotiations'
were opened by Sinn Fein with two local men who had permission to graze the
Lawn at the time, in order that the Food Committee might proceed with their
aims of turning the ground into tillage. It would appear that 'negotiations'
might be a misnomer, something that rankled with the families concerned in the
following years.
Getting tired of waiting for permission, the Food Committee with the
help of Volunteers from Moyvane, Knockanure, Finuge, Rathea, Ballyconry and
Ballylongford, ploughed up the 'front and back lawns' concerned on 25 February
1918. The members of the Committee were jailed for a month on May 23rd."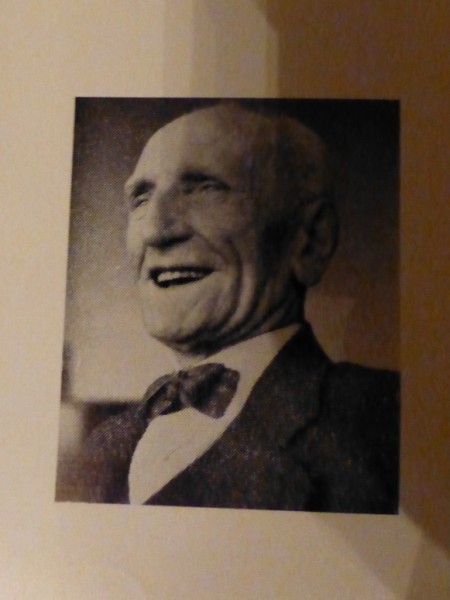 John McKenna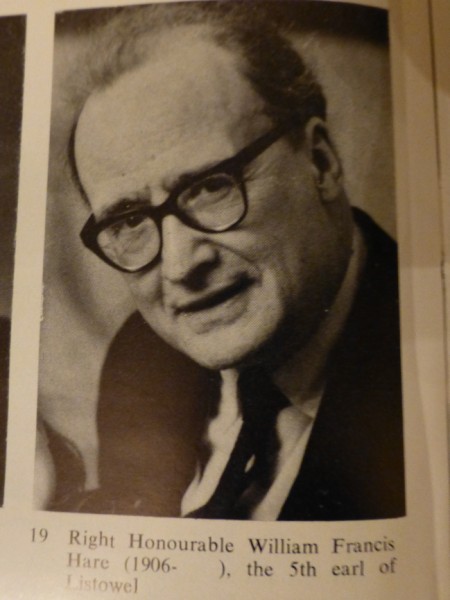 The 5th Lord Listowel son of the 4th earl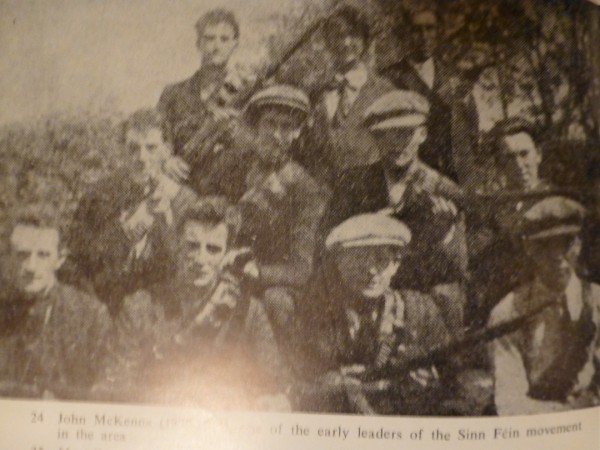 Sinn Féin

Pictures from Listowel and Its Vicinity by Fr. Antony Gaughan
>>>>>
I have not done these valuable historic documents justice. The only way I could save them from my scanner was as pdf files and then I couldn't copy and paste them here so, in the end, I just photographed the documents for you so forgive the overlapping please.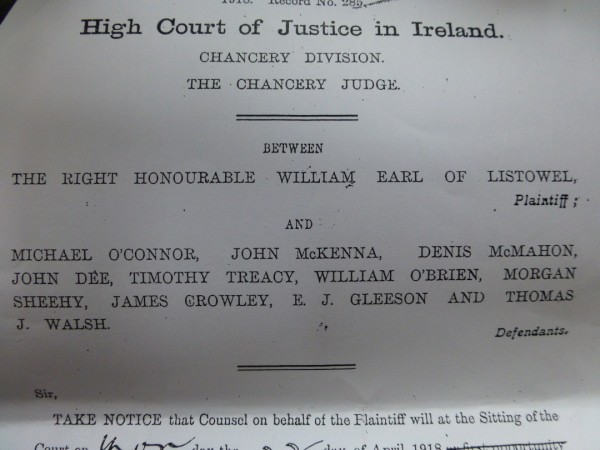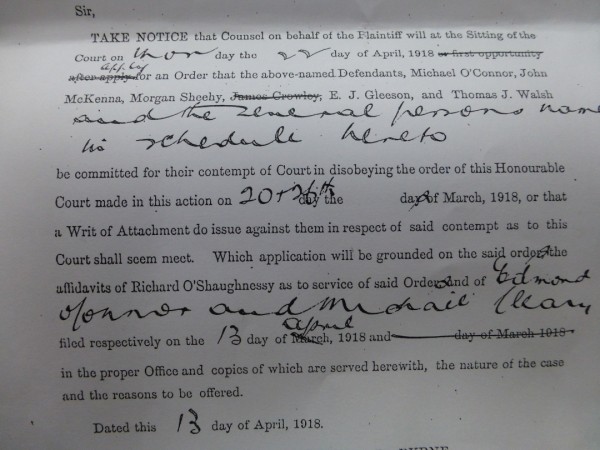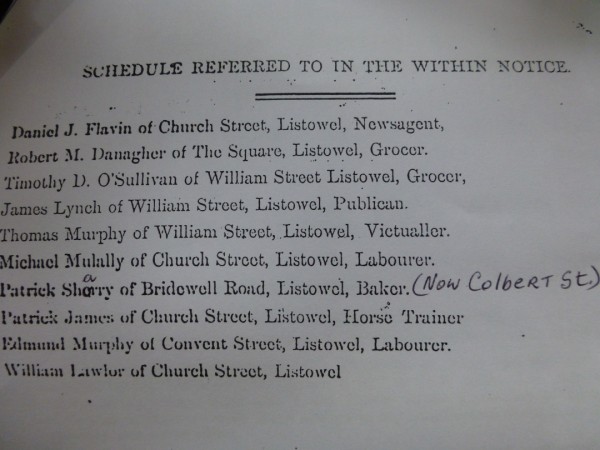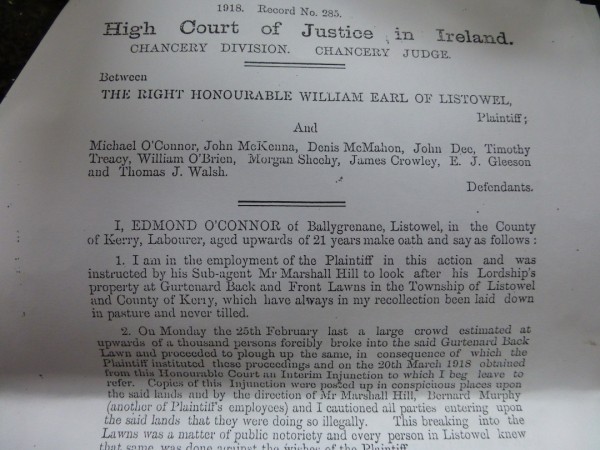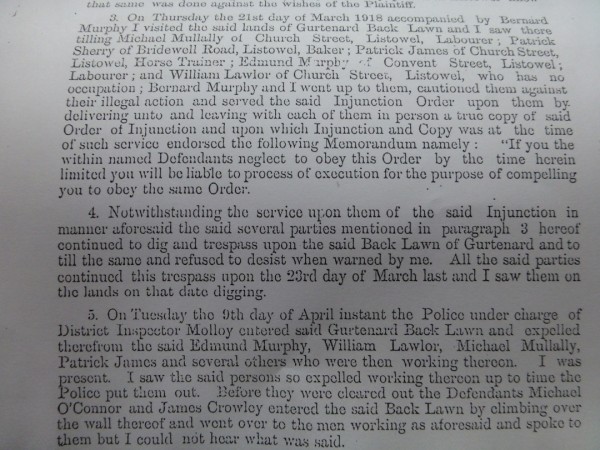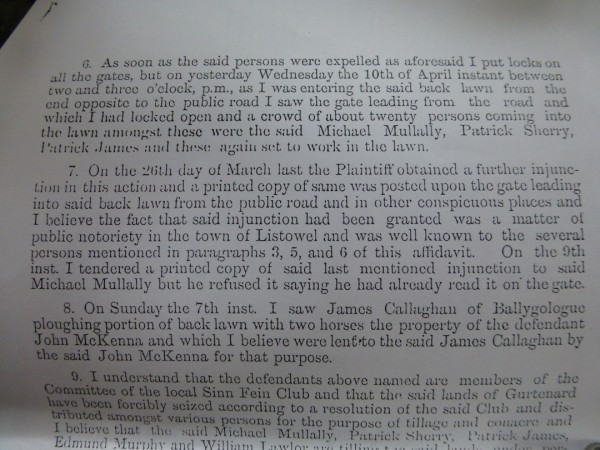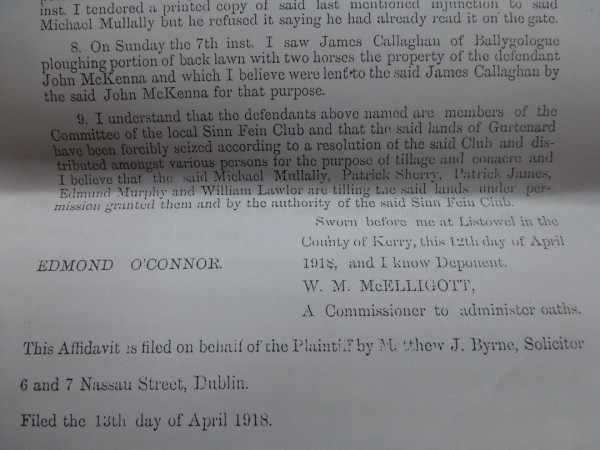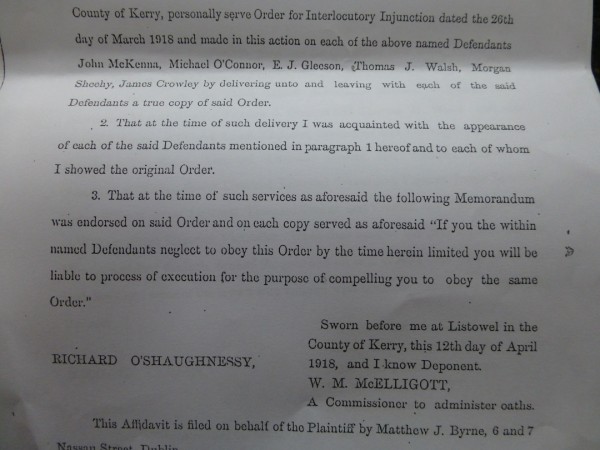 These brave men who took on the might of the landlord served one month each in Cork jail.
<<<<


By a strange co incidence, as I was writing today's post , my husband drew my attention to an article in the paper about a conflict between the present Lord Listowel and his local council and some local activists.
Earl of Listowel told to find common ground with campaign group fighting to block his proposals to knock down Swains Lane shops
Published: 15 November, 2012
by DAN CARRIER
A PROPERTY-owning peer who plans to knock down a parade of shops in Highgate has been told his scheme will not get planning permission and he needs to scale down his proposals.
The Earl of Listowel, who owns property in Swains Lane which includes a café, florist, greengrocer and deli, has earmarked the street for redevelopment.
It is the third time in 10 years the Earl has tried to replace the parade with a larger, four-storey mix of homes and businesses. But his plans have been dismissed by council planning officers.
Now he has been asked to attend a meeting with people from campaign group Save Swains Lane to find common ground.
The 1,100-people-strong Save Swains Lane group have organised a survey of views on the plans via their website. They have garnered over 500 replies to date.
They have suggested thrashing out ideas with the owner, which could include looking at whether high-priced flats on a new low-level first floor could help finance smaller retail units on the ground floor. Rents could be capped to make it affordable for independent traders.
Group member and architect Julian de Metz said: "We are not surprised at the council's response. It concurs with advice that they gave in 2001 and 2003. Nothing has changed since then."
Council officers told the Earl's designers the block was too high, and that they were not convinced of the design nor the size of the retail units.
A spokesperson from the Earl of Listowel's planning company Nathaniel Lichfield said: "We are now reflecting on how we could revise the scheme. We have met with the Save Swains Lane group and have had constructive discussions.
"We will meet again and we will seek to strike a balance between the needs of the community, the council and the client."
>>>>>>>
More Likely lads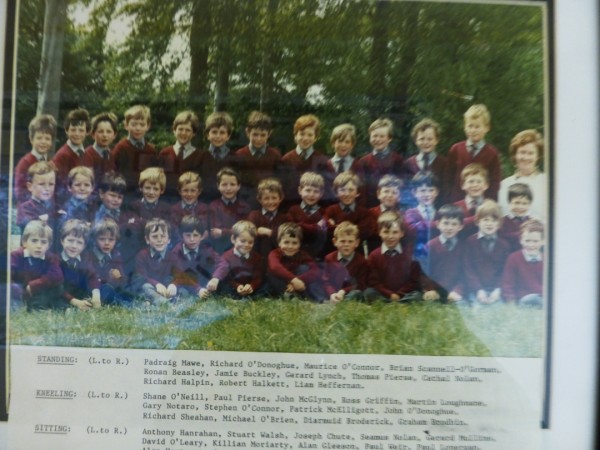 No year for this one, I'm afraid


>>>>>>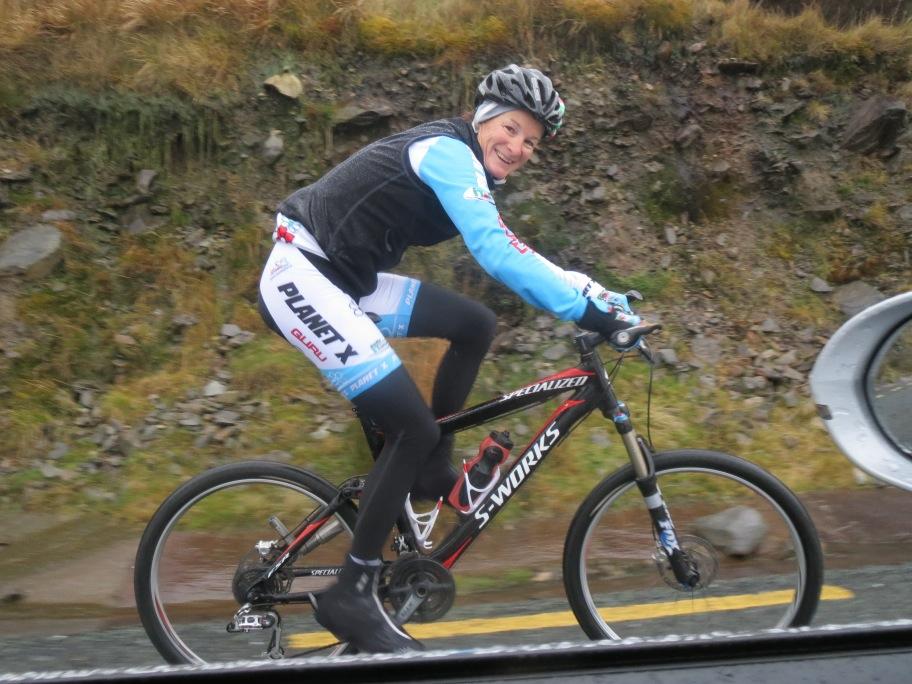 Sonia O'Sullivan on The Connor Pass yesterday