St. Michael's Graveyard, Listowel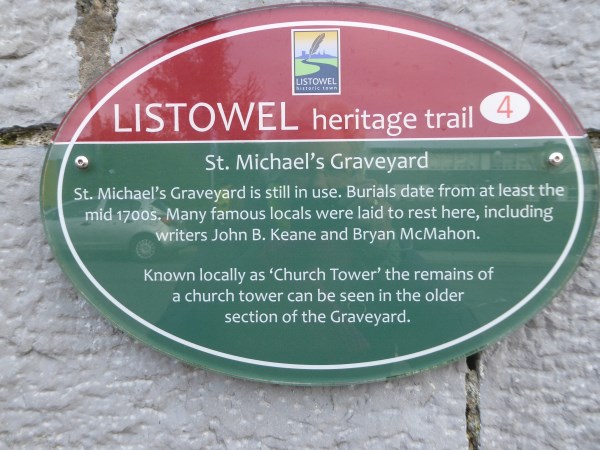 <<<<<<<<<
A Love Poem
Today's love poem is about the practical side of love.
Atlas by UA Fanthorpe
There is a kind of love called maintenance
Which stores the WD40 and knows when to use it;
Which checks the insurance, and doesn't forget
The milkman; which remembers to plant bulbs;
Which answers letters; which knows the way
The money goes; which deals with dentists
And Road Fund Tax and meeting trains,
And postcards to the lonely; which upholds
The permanently rickety elaborate
Structures of living, which is Atlas.
And maintenance is the sensible side of love,
Which knows what time and weather are doing
To my brickwork; insulates my faulty wiring;
Laughs at my dryrotten jokes; remembers
My need for gloss and grouting; which keeps
My suspect edifice upright in air,
As Atlas did the sky.
<<<<<<<,
Johnny Barrett remembered in film
The late Johnny Barrett of Dromina in North Cork was a local legend. He had a one man band doing weddings and socials in my part of the world when I was a young girl. In later life, Johnny turned to entertaining in old folks homes and day centres. His unexpected death in 2008 left many of his loyal fans bereft.
He is the subject of a film in St. John's on Friday evening.
Fri 23rd
On The Road With Johnny Barrett
A film presentation on one of the best known entertainers in the south west. Join Johnny on the road to Lisdoonvarna, Killarney, Charleville and Nenagh. With Kay and George Devlin – Irish and international ballroom dancing champions, Irish dancers and musicians.
<<<<<<<<
Upper Church Street, Listowel in February 2018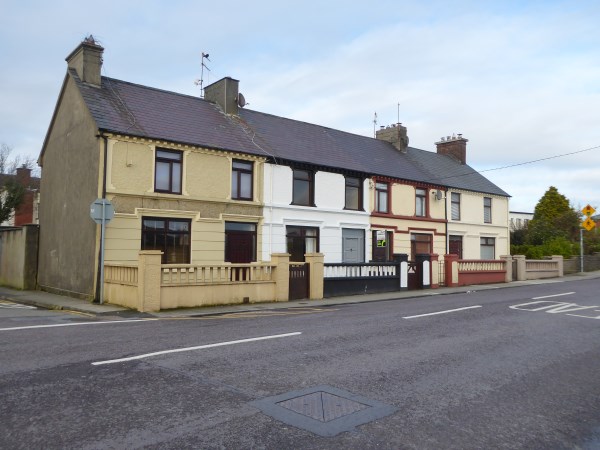 <<<<<<<
Newspaper advertisements in the 1980s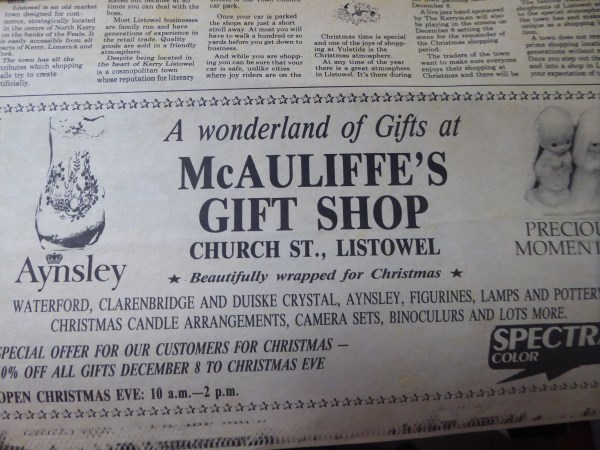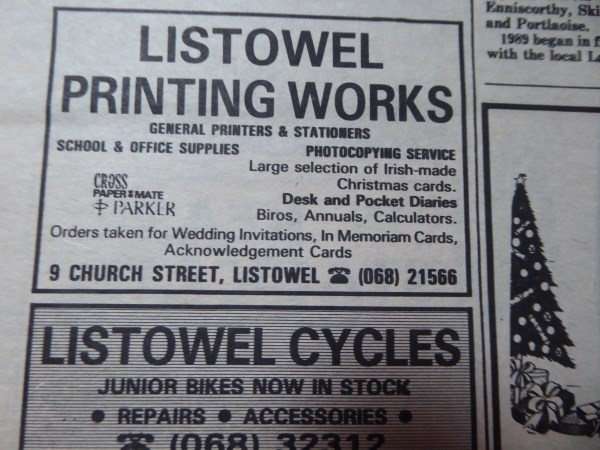 <<<<<<<,


Another library story


Today's library remembrance comes from Vincent Carmody.
The Library has special memories for me, the large upstairs room, the full length of the building, housed our babies class, when we went to school first.
On a personal note, I often think how amazing our particular senses are to us, many times in the past, even as late as last year, I have had occasion to climb the beautiful original stairs to the upper floor, every time I have done so, the same type of smell and empty sound the building emits comes flooding back, identical to the smell and sound of nearly 70 years ago.
Our teacher was Mrs Pidge Scanlon (Bean Uí Scanláin, Eleanor Scanlon's mother) from Scanlon's pub on Market Street. She was (to me anyway) a very kind woman, as my story will tell.
Mrs Scanlon, over the years, had built up a very sizeable collection of toys. Among these were a lot of little tin soldiers and cowboys and Indians. These she would keep on display on the many window sills, facing on to the street. On many a day, when she would have her back turned, I would stuff as many of these as I could manage, into my pockets and take them home. When at home I would take them out and start playing with them. Invariably, my mother would see them, ask me where they came from, and when I would say the school, she would put them back in my bag the following morning, warning me to hand them back to Mrs Scanlon. This happened on many occasions, and I would hand them up. Mrs Scanlon would never say a word, only take them and put them back on the windows. Years later, she had retired, and had filled me a drink in the pub, I reminded her of the robberies and asked, why did you never give out or beat me. She put my drink on the counter, looked at me and said, "To tell the truth, I was very fond of your father and mother."