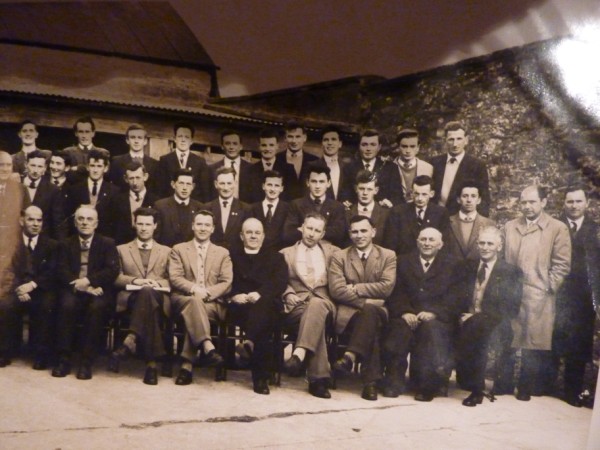 Back Row L.toR.Tom Costello, Danny Lane, Bill J. Kirby, Sean Stokes, John MacNamara (agri instructor), Chris Goulding, Patsy O'Sullivan, William Stack, Tim Buckley, John Collins, Toddy O'Sullivan
Middle: Paddy Finucane(cut out of photo),_________ James Murray, John Broderick, Paddy Carroll, John O'Keeffe, Dan Molyneaux, Tim MacMahon,Paddy Maher, John Joe Galvin,Tom O'Sullivan, Vincent Brennan,Jerh Galvin, Liam McElligott, Dick Stokes, Maurice Stack
Front: Paddy Drummond, Dan J. Moloney,———–,————, Canon P. O'Sullivan, Jerry Moyles (C.A.O. Kerry) Bob Fitzgerald, ———–, Tom Sheehan
This is a photograph of Vincent's photograph. He has all the names except 3 and 2 of them are not local and may have been instructors on the course. The photo has both students and teachers in it and was taken in the old VEC school on Church St.
___________________________________
Here is a man I found on the internet. He has a Listowel connection but I wonder if he is related to any Fitzgeralds who still live around here.
FITZGERALD: John Fitzgerald and Mary Conway Fitzgerald, of County Kerry, Ireland saw their second son, Thomas off to Canada in 1862. Thomas, who was born in Listowel, County Kerry, Ireland, came from a long line of gardeners and had worked at this since he was a boy in Ireland, managing the grounds and hothouses of Lord Colliss, of Tarbert township, County Kerry, Ireland and for 15 years an estate in Glin, County Limerick, Ireland. Thomas was leaving his beloved land to earn enough to bring his intended over and get married. After 3 years of work in Hamilton, Ontario, Canada, he was successful and brought Mary Healey, his intended over and they married. Their first child was Patrick, born in 1865. At this time Thomas and his family moved to the Pittsburgh, Pennsylvania area where he worked as a gardener on a nearby estate. While in Pittsburgh, Mary and Thomas had seven more children; John, who became manager of the Plumbers Supply Company in Erie, Pennsylvania; Thomas M., who was sent to study in Ireland for 3 years, and returned to open a large florist business in Beaver, Pennsylvania; James F.; Annie; Mary Catherine; Edward, who married Catherine Conville and was sent to Erie with his four children to help his brother John with the business in Erie; and William. Thomas and Mary later moved to Beaver to help in their son Thomas M. Fitzgerald's greenhouses.
Two published biographical sketches provide great insight into the life of the Fitzgerald's of Allegheny and Beaver County Pennsylvania
Update: 10.00a.m. Vincent has looked him up and this Fitzgerald gardener is from Tarbert. He was married in Ballylongford on July 24 1832.