Where Things old are valued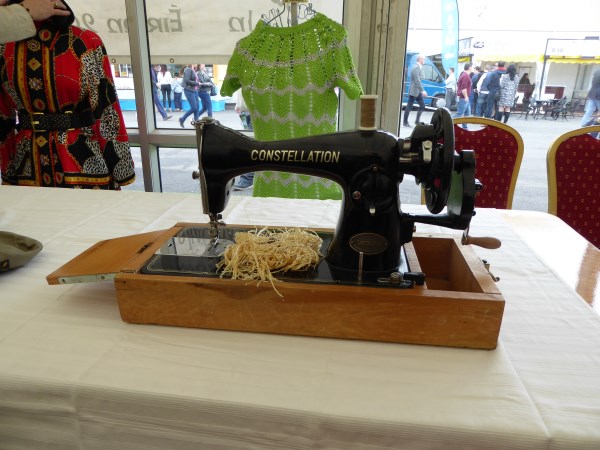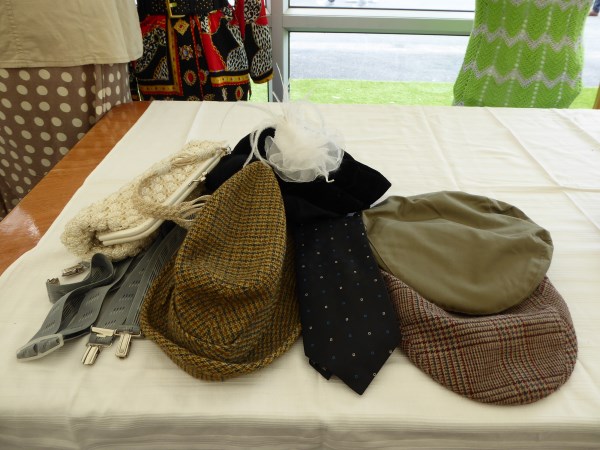 Vintage Day at Listowel Races
is my favourite of all the side shows that take place during race week. It is
the brainchild of Listowel Tidy Towns and every year it goes from strength to strength.
The marquee was packed on
Saturday Sept 16 2016. There was none of this pink wristband palaver. We were
all welcomed in . The interviews, sympathetically conducted by Orlagh Winters,
were entertaining and enjoyable. None of this "I bought this here and that there," of Friday's fashion fest. This was trips down memory lane, charity shop finds
and a few obvious lies…all part of the fun.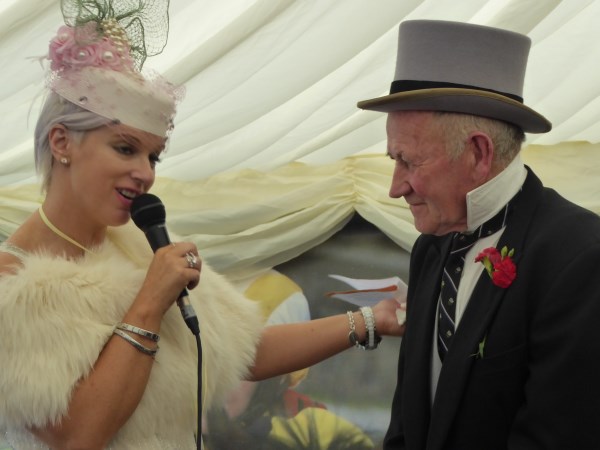 First up were the men and Joe
Broderick stole the show. He spun more yarns than a silkworm but he is such a
lovable rogue that we all played along. He flirted with Orlagh, flattered and
amused the audience and best of all he looked a million dollars. He was a hard act
to follow but the stag on the inflatable horse came close. He had come from
London with 14 friends and they were having a great time at The Races. Stag
parties at The Races is a growing trend in recent years. There was also a hen
party but they were from closer to home, from Limerick.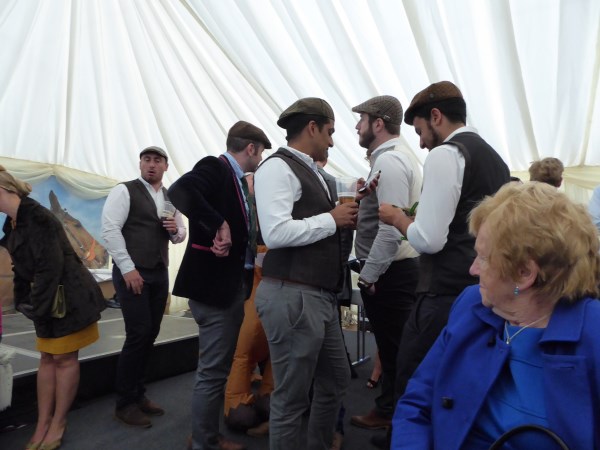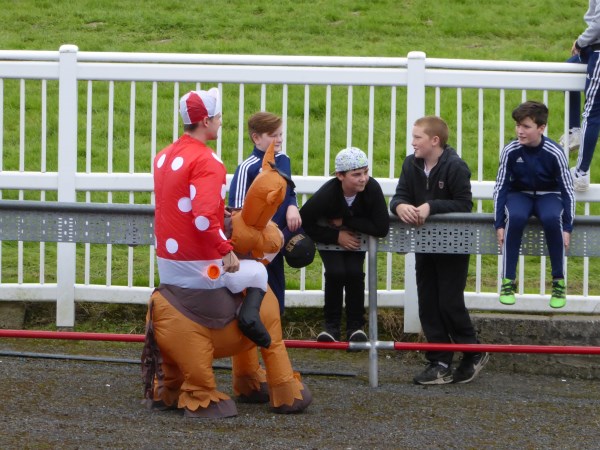 In this competition, the story of the outfit is
part of the fun.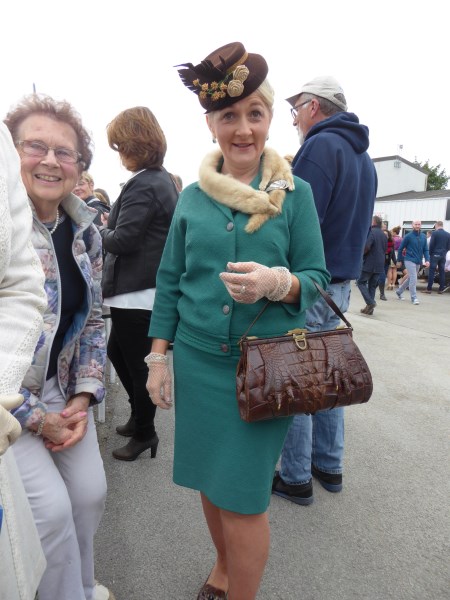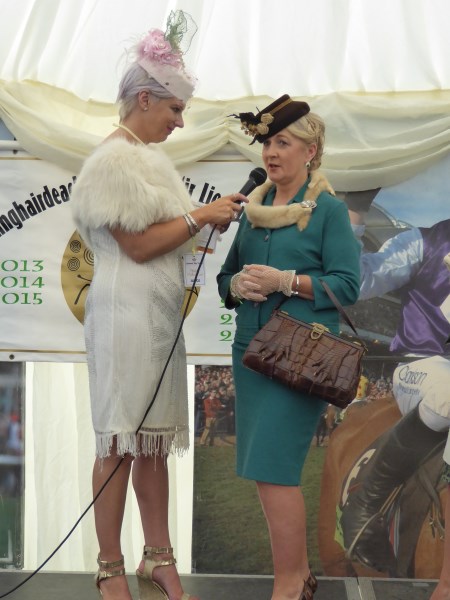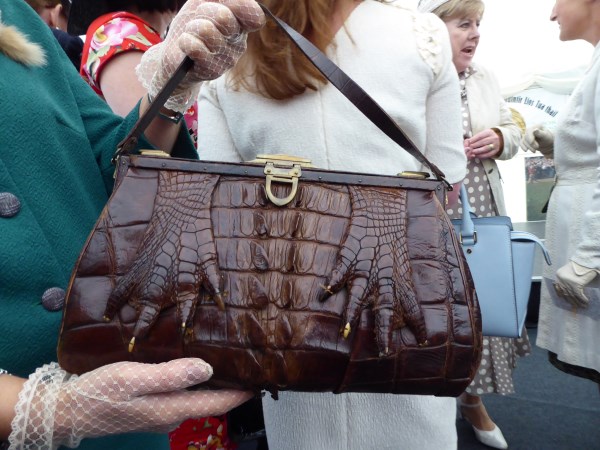 Anne Leneghan of Kanturk and Bishopstown was sponsored by the
Kanturk St. Vincent de Paul shop. She asked them to be on the lookout for
anything vintage for her to wear and they found just the ticket….a 1970s bottle
green crimpelene suit and they also sourced the alligator bag, with the claws on
show, for her.
I recorded part of Anne's interview with Orlagh.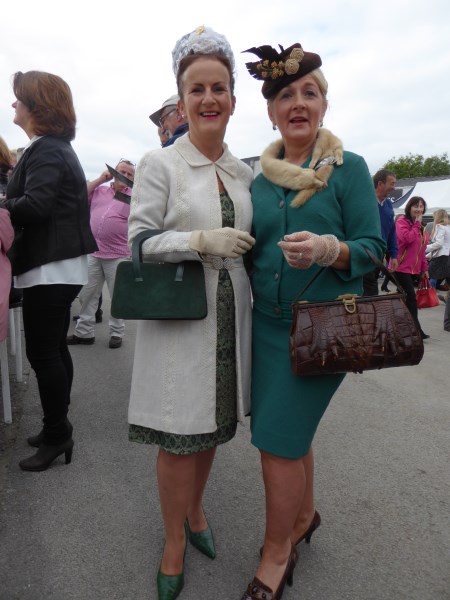 Anne's friend, Listowel girl, Maria Stack had a great story to tell
about her accessories. Maria bought her bag for €4 in The Killarney St. Vincent de Paul shop. When she got it home, she examined it more closely and this is what she discovered.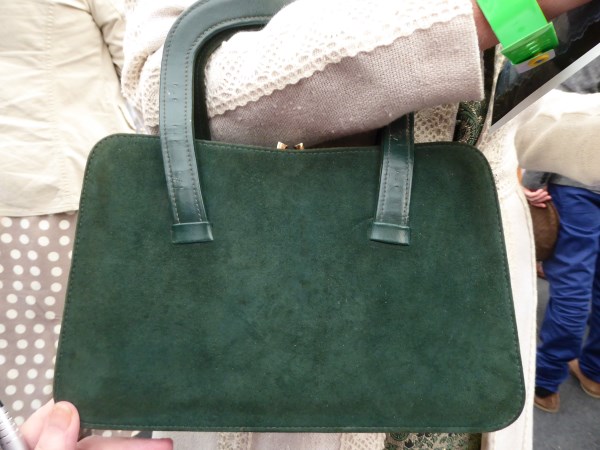 Maria's charity shop find was a Beverley bag. When she Googled Beverley bags she found out that the wife of Ireland's first Uachtarán, Seán T. OCeallaigh carried a Beverley bag on her arm on their first state visit to the U.S. for St. Patrick's Day. That bag is now in the National Museum of Ireland.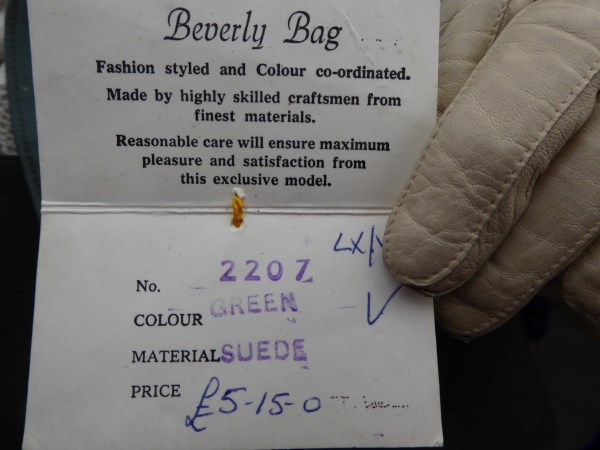 Inside Maria's bag was the original tag. Maria's bag cost £5. 15s first day.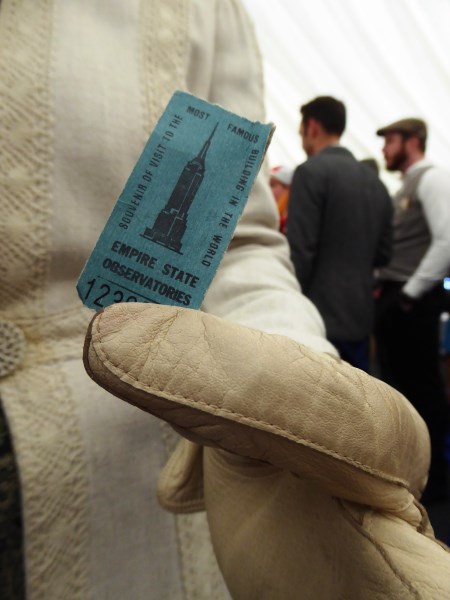 In the bag Maria also found a ticket for the viewing gallery at The Empire State Building. So Maria's bag had a trip stateside too.
Above is a photograph of the christening dress Maria's mother, the very talented Betty Stack, made for her children. She permitted Maria to use it to make her hat for Vintage Day. Maria knew that the treasured christening robe was a family heirloom. She used all her millinery skills to create the chapeau without ever taking a scissors to her mother's creation.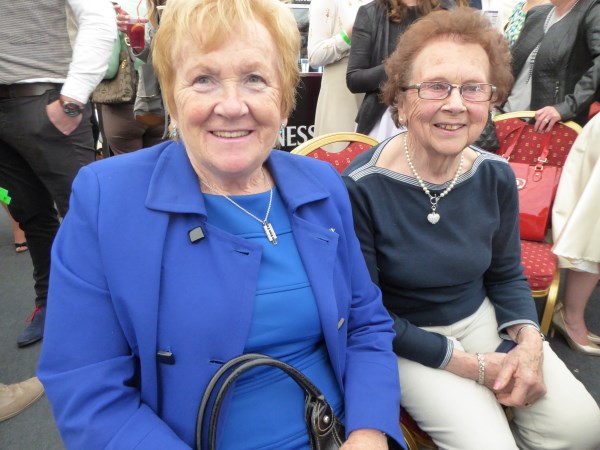 That's Betty on the right of her great friend, Nora Sheahan.
Norella Moriarty
was in her going away outfit, set off by her great grandmother's silver brooch.
Her uncle posted it to her in an
envelope to wear at her wedding in America.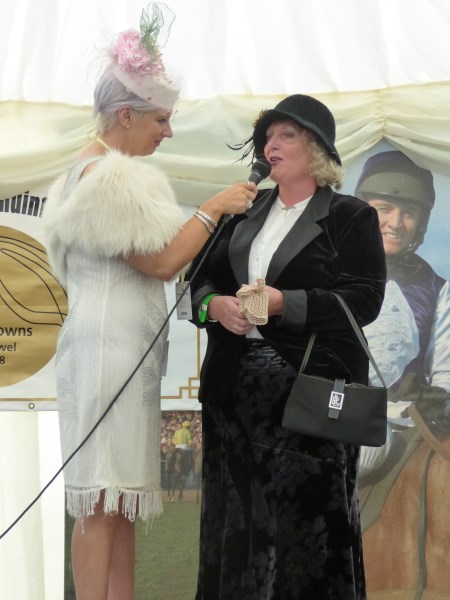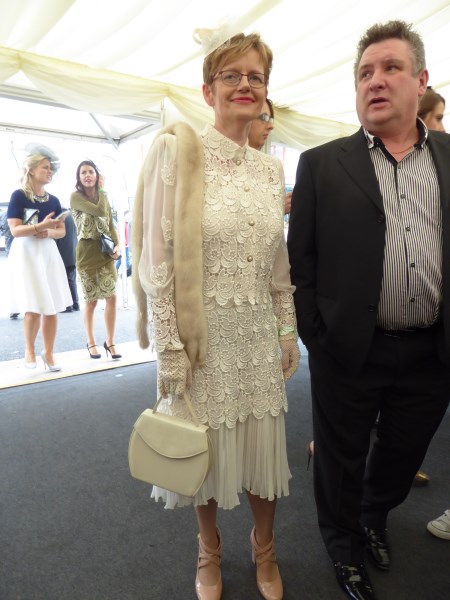 Helen Carmody wore her wedding suit. She looked stunning.
Other outfits were sourced from vintage shops and relative's wardrobes.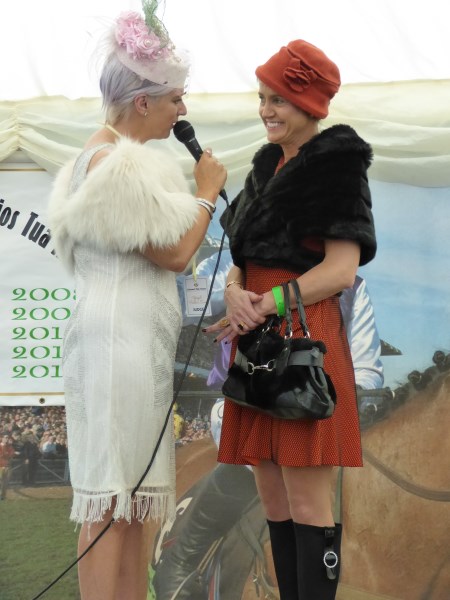 Many of the contestants were attired in such timeless style that they could have entered the best dressed lady competition of the day before and outshone many of the very expensive ensembles on parade.
Deirdre O'Sullivan's orange and black outfit was a typical classic.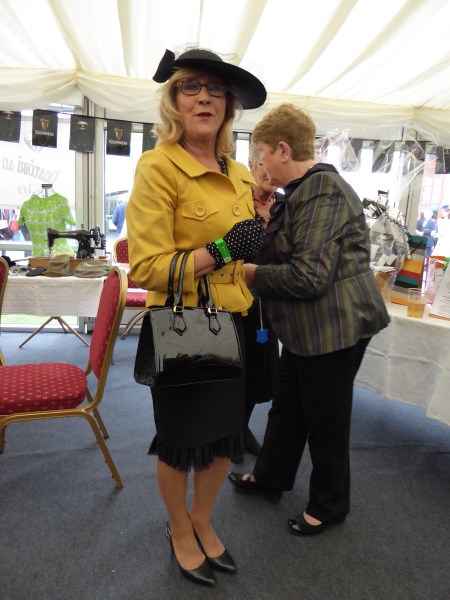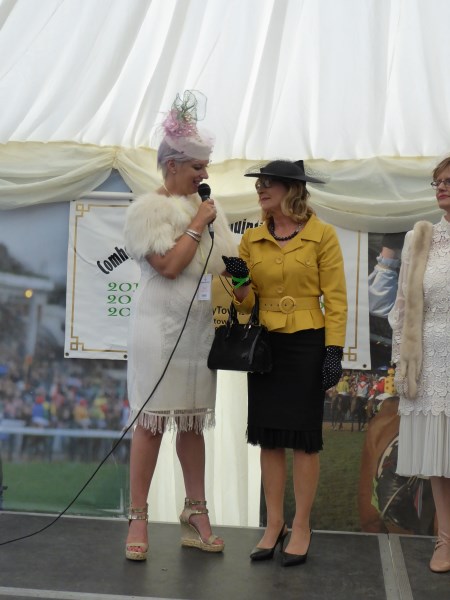 Stylish Eilish described her fetching ensemble as last minute dot com. Her first choice failed to work out, so she begged, borrowed but didn't steal to put this yellow and black stunner together.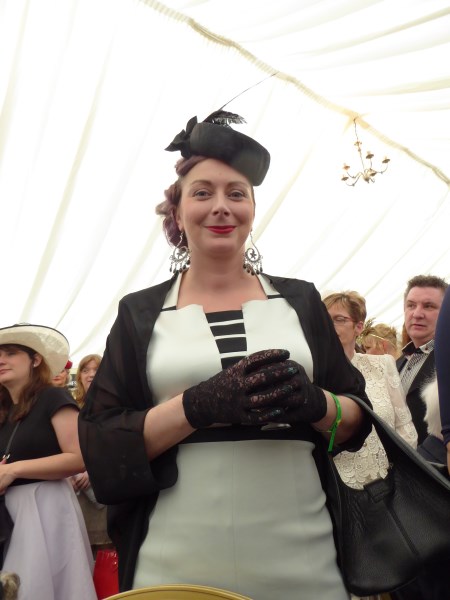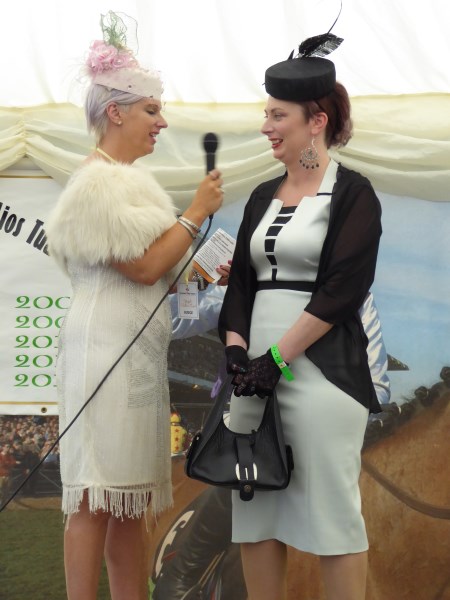 Miriam O'Connor dyed her hair a vintage shade of grey to set off her eye catching style.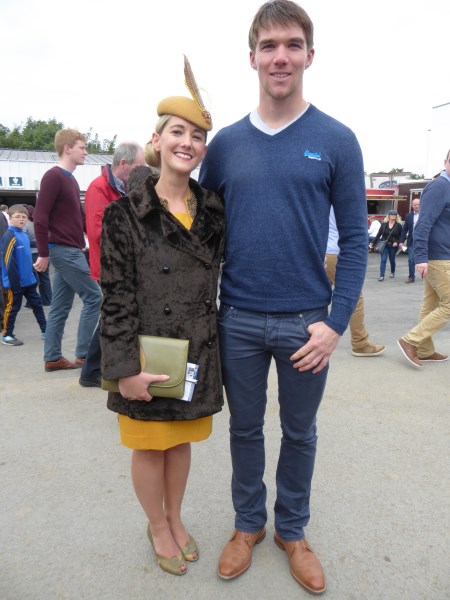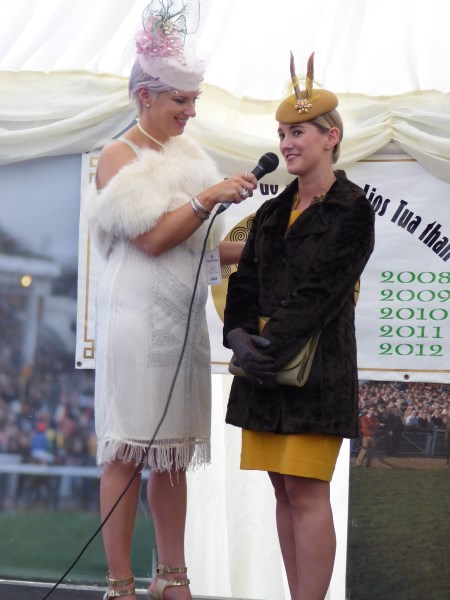 Niamh Kenny was resplendent in a timelessly elegant outfit Her coat she picked up in a shop in Cork and her gorgeous shoes and bag were once worn by her mother.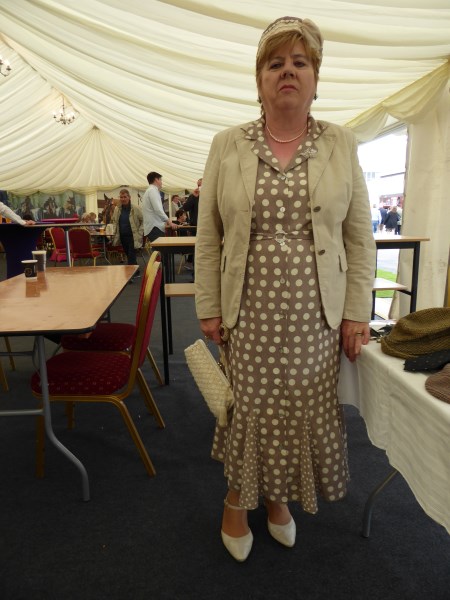 Imelda Murphy was beautifully turned out. She couldn't enter the competition as she was involved in organising it.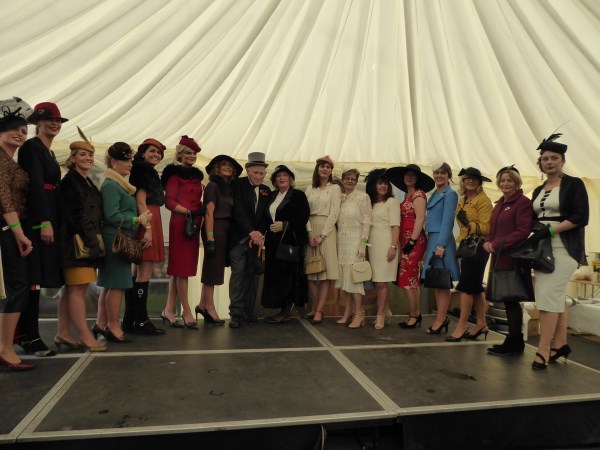 The entrants on stage.
Tomorrow I will tell you about the winner and the runner up.