A Lovely Little Corner of Town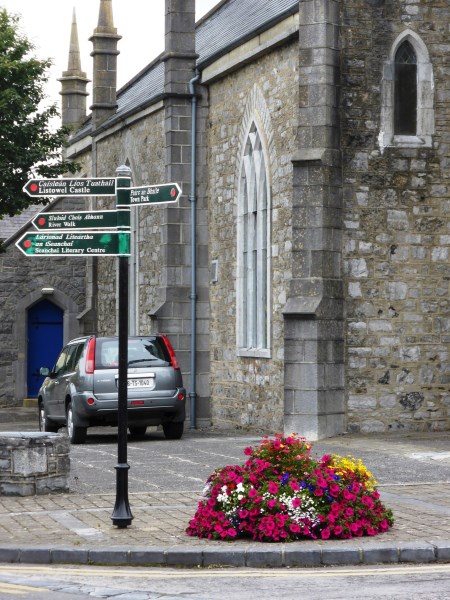 <<<<<<<
Promising Golfer with a strong Listowel Sporting Pedigree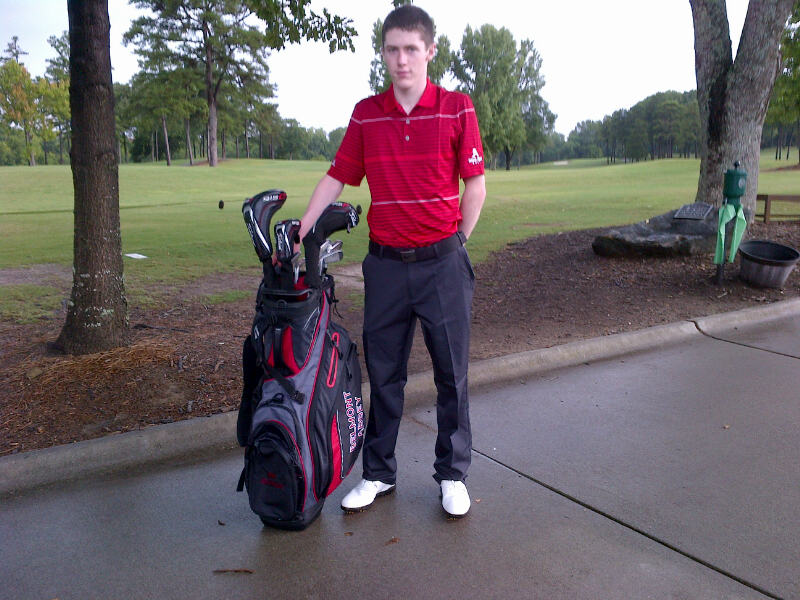 John Molyneaux Jr. goes to US on Golf Scholarship
John, son of Des and Elaine Molyneaux, and grandson of John and Georgina Molyneaux Charles St., and Tommy and Alice Sheahan of the Square, having just completed his Leaving Certificate has now joined Belmont Abbey College in North Carolina on golf scholarship where he plans to complete a Business/Finance Degree. John spends his summers and as much time as he can at other times of the year in Listowel with his grandparents and in Ballybunion. Having played golf as a tot with his grandfather on the bag at the now closed Listowel Golf Club he subsequently joined Ballybunion Golf Club. In the last couple of years he won an All-Ireland Junior Cup Winners medal in 2013 with the Club, is the 2014 Club Scratch Match Play winner, 2014 Kerry Boys Championship runner up, and was named the 2015 Club Junior Captain. This summer he played on Ballybunion's 2015 Munster pennant winning Junior Foursomes team and for Munster in the 2015 U18 Irish Interprovincial Golf Championship.
Footnote: John attended secondary school at St. Benildus College in Dublin, which has had a long-time Listowel connection through now retired teacher Maurice McMahon and author of "Mr Mac – A Blackboard Memoir".
<<<<<<<
Thade Gowran Descendants
Thade Gowran was a naive poet born in Meenscovane, Duagh. Thade, "was a part-time labourer, water-diviner, ballad-maker, composer and holder of Raffles at his cottage home in Knocknacrohy. He died at the youthful age of fifty seven probably from acute ulcers. He is remembered as a pale-faced, rather lanky man, the kind of man country people would describe as rawly." John B. Keane.
Thade was constantly writing verse and thankfully he wrote his compositions down. So, unlike Paddy Drury, a local poet of similar ilk, his ballads have survived to this day .
Thade's descendants are anxious to learn more about him and to keep the memory of their famous ancestor alive. To that end Fran Blyth and family came to North Kerry this summer. They felt at home and connected to the landscape here. They'll be back!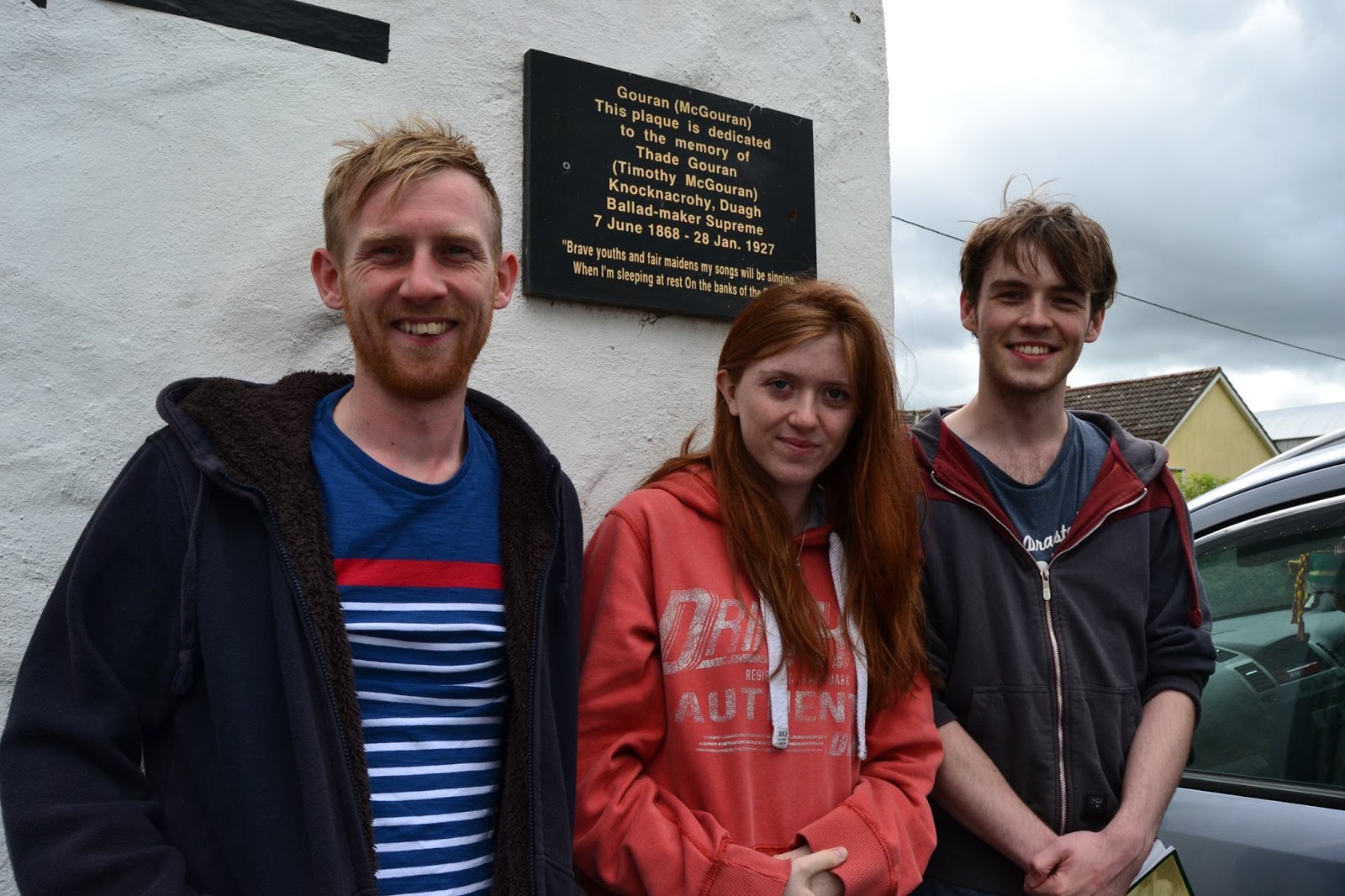 Michael, Alexis and Sean, great great great grandchildren of poet and balladeer, Thade Gowran at his plaque in Duagh earlier this year.
This is Thade Gowran's granddaughter, Hannah Flaherty who passed away in 2003. She never forgot her Irish roots and her famous grandfather.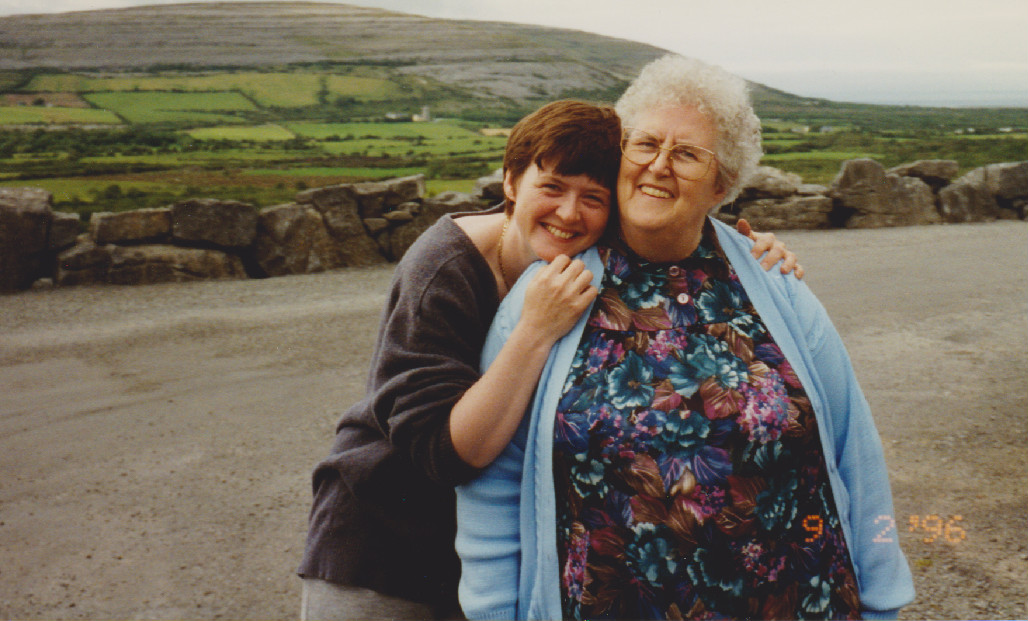 Fran Blyth with her mother, Hannah Flaherty R.I.P. on a previous visit to Ireland.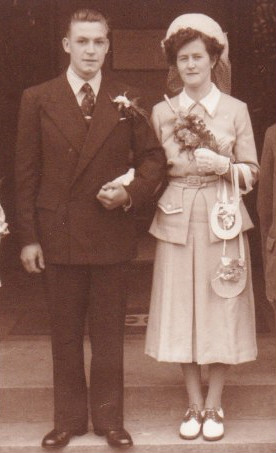 Hannah Flaherty Bardsley on her wedding day. Note the horseshoes which all brides used to carry (for luck) back in the day.
Thade Gowran was a great composer of impromptu verses. He followed in the ancient bardic tradition of writing ballads to chronicle the story of the times he lived in and the people who shared the locale with him.
Below is his poem about a neighbour of his who married late in life.
"I'll sing a song about a man, O'Connor James is he,
A man who led the airy life to the age of sixty three.
One day as he sat in his lonely cot the sun was shining grand,
His temperature was rising high and the heat he couldn't stand.
The day passed on and night came on the ramblers they showed up,
The brothers Keefe, Tom Danagher, Jeff Morrissey and Buck.
'Cheer up'
Says Tom to Jim, 'Cheer up again and aise your troubled mind,
The first of May's not far away and a wife for you I'll find.'
They tackled up Tom Frank's grey steed as the bells did loudly ring,
And heading out beyond Knockmaol the arrived that night in Glin.
They got a great reception, they got porter by the tierce,
And then and there poor James did swear he'd marry Minnie Pierce.
But now that he is married his troubles are not o'er,
For when he's out he wants no man to stand inside his door."
John B. wrote of Thade Gowran;
"Thade Gowran never had a poem published in his lifetime. The intellectuals or so-called intellectuals of the time were trying to move away from the folksy rhymes which were so popular in the countryside. It was the dawn of modern verse, most of which was without rhyme or reason. The more nebulous and meaningless the poem the more praise was heaped on the head of the composer. Anything which was easily understood was frowned upon. There were some honourable exceptions but by and large there was little room for Thade Gowran's ballads in the papers or magazines of the time. In fact, Thade would be looked upon by his urban contemporaries as a bit of a hick. His work failed to confuse and was, therefore, of little importance to those who might have encouraged its publication.
It is a shame indeed that he was not taken seriously beyond the countryside. Whatever it about the urban Celt there is a destructive drop in him which has little tolerance for his rustic brother or for his own beginnings."
<<<<<<<
A Little Hubris for All Ireland Weekend?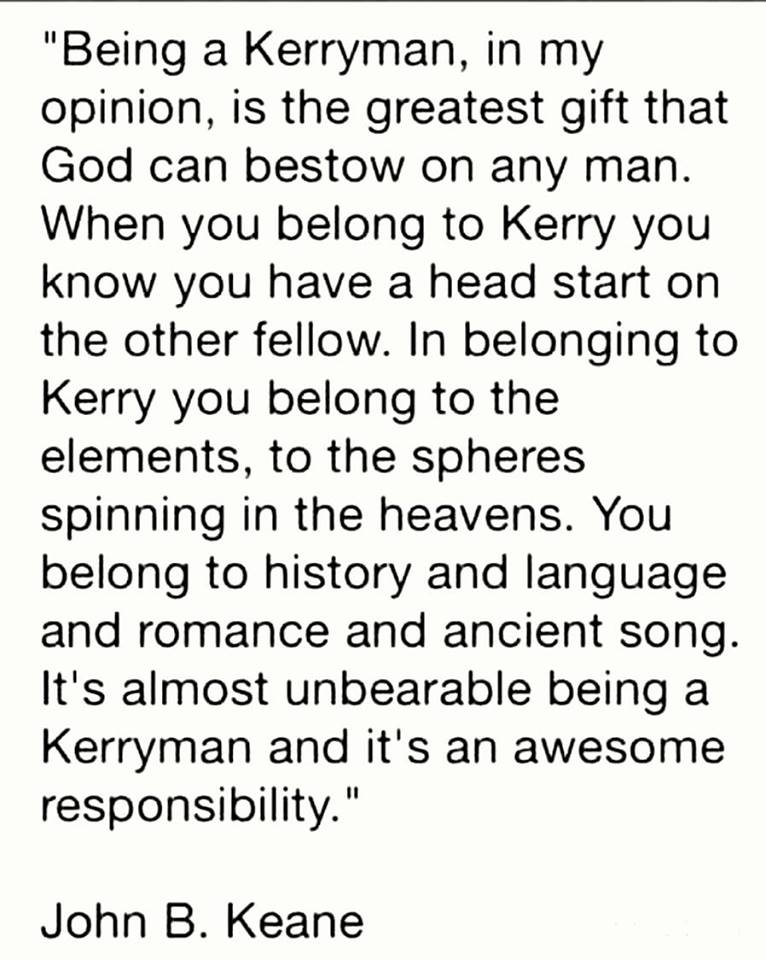 <<<<<<<<<
Pinning his colours to the mast