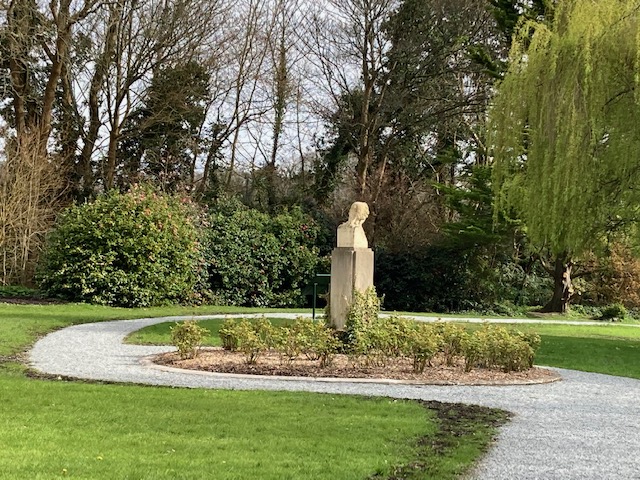 Schiller in The Garden of Europe in April 2023
<<<<<<<
Now and Then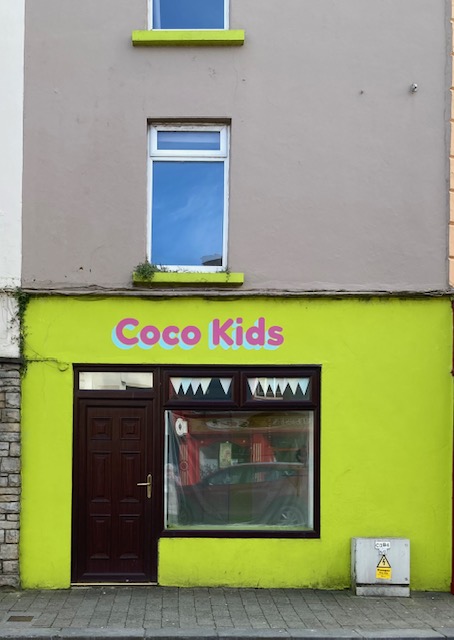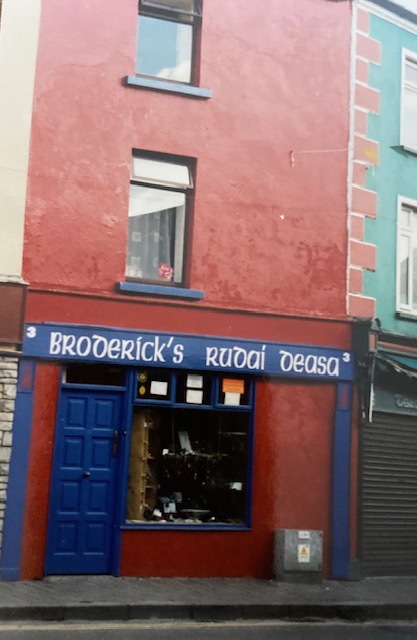 <<<<<<<<<<<
A Different Kind of Lending Library
Do you remember this?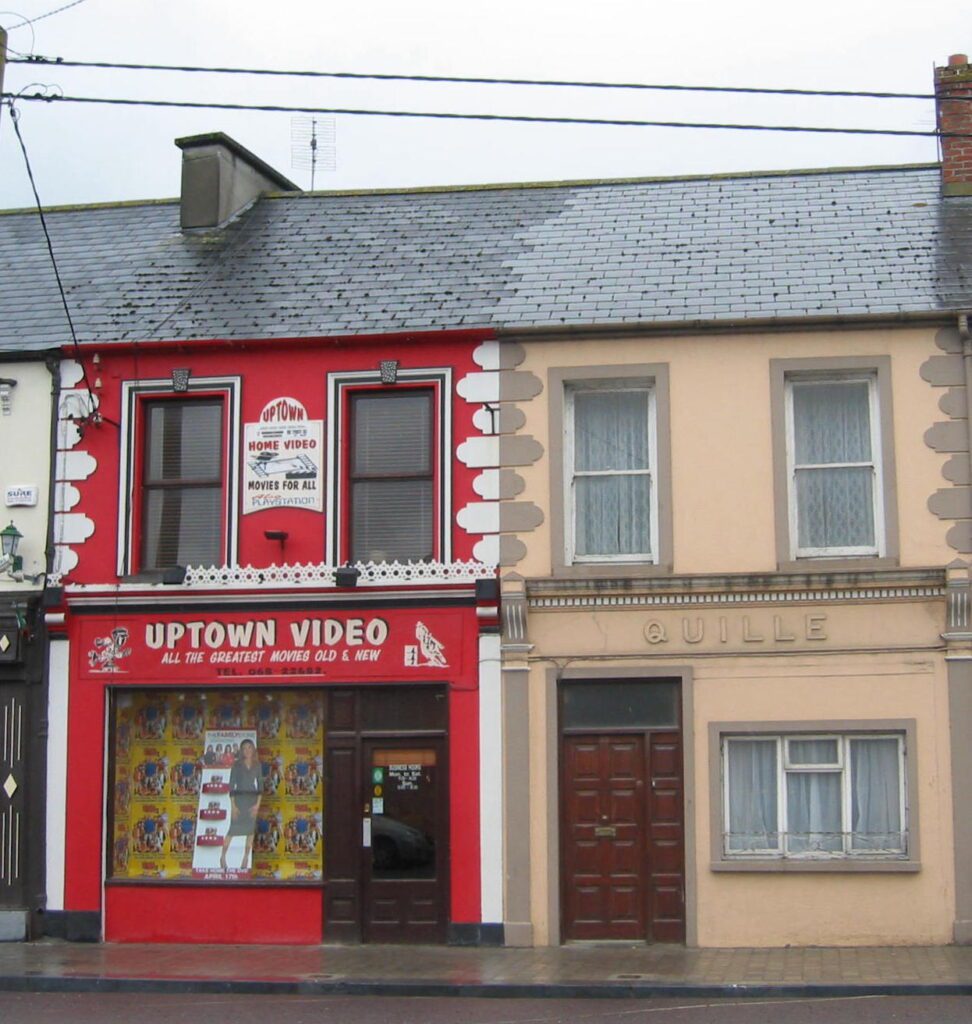 Uptown Video on William Street was just one of many video lending shops in Listowel in the 1980s.
They had members like any book library and you had a membership card and a membership number.
The library was stocked with VHS tapes. These you played on a machine connected to your TV. There were hundreds of films available, classics and new releases. The children's section was oh so popular. The challenge when you were organising a youngster's birthday party was to find a title that not everyone had seen.
VHS tapes were not at all as sturdy as DVDs. They wore out from constant playing. Then there was the problem of dirty players and you had to run a cleaning tape regularly to keep your player in working order.
Technology overtook the tapes. First there were dvds and then everything was overtaken by the streaming services.
Another point of social interaction was removed from the entertainment industry.
<<<<<<<<<<
Michael Dowling Commemorated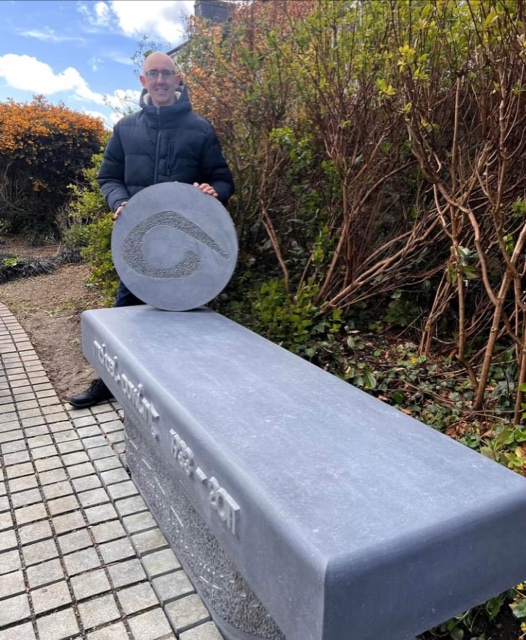 Darren Enright, local artist in stone, was commissioned to make the commemorative seat. Now we can all rest our weary bones in this beautiful and functional piece of public art. The Michael Dowling seat is located in the grounds of Listowel Castle/ Kerry Writers' Museum, looking towards The Master, Bryan MacMahon. The seat features a bodhrán, an exact replica of the late Michael's preferred instrument.
The memorial was unveiled on Sunday April 9 2023 by Labhrás ÓMurchú of Comhaltas Ceoltóirí Eireann.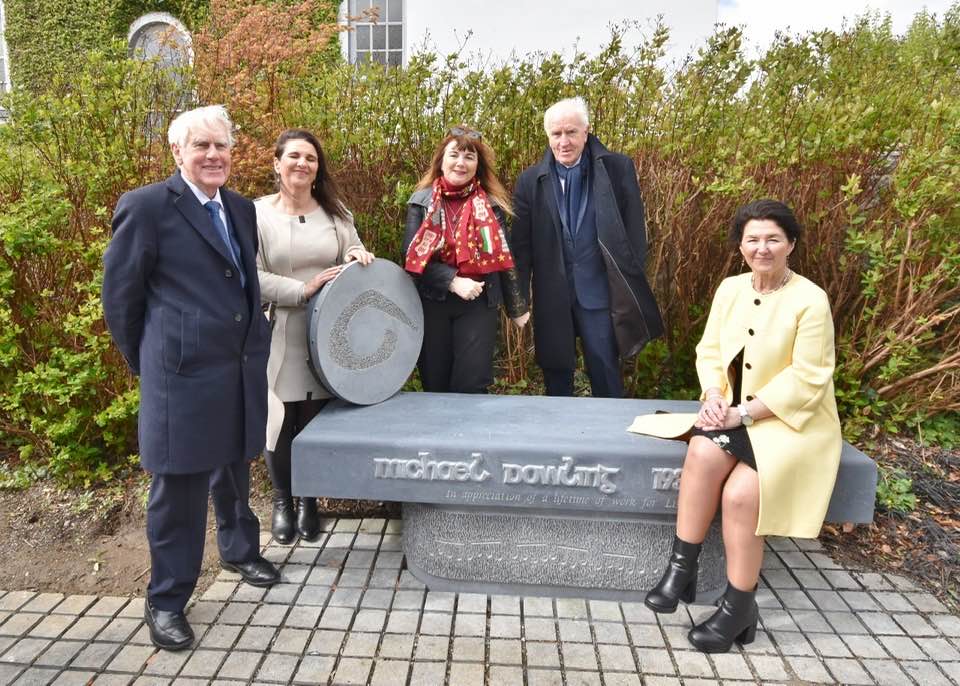 Labhrás ÓMurchú and Jimmy Deenihan, who spearheaded this project, with Michael's family, Imelda, Anne and Muriel. Thoughts on Sunday were with Geraldine, who sadly passed away shortly before the project reached fruition.
<<<<<<<<<
Paul Muldoon is Coming to Listowel Writers' Week 2023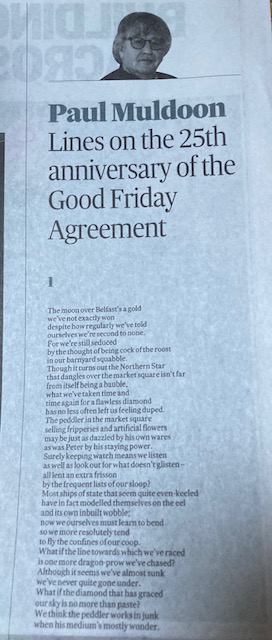 Muldoon's poem in Sunday's Irish Independent is a realistic look at Northern Ireland post Agreement. It's a great poem about perception and reality, about hopes and the realisation or not of hopes.
It's a powerful poem, not about the "architects" of the agreement but about the essential workers who keep the ship of state afloat.
The poem ends with the thought provoking lines
"We think the plumber works in lead
when his medium is mainly water."
You can see Paul Muldoon in conversation with Nick Laird at Listowel Writers' Week (Friday June 2 2023)
On Saturday June 3 is a not -to– be missed event; Crazy Dreams, Paul Brady in conversation (and maybe a few songs) with Paul Muldoon.
<<<<<<<<<
A Fact
The expression 'to get his goat" comes from horse racing circles. Racehorses are notoriously highly strung and there used to be a custom of keeping a goat stabled with a thoroughbred to keep him calm.
If you wanted to scupper your rival's chances in a race you could upset his horse by stealing his goat. The expression spread to humans and means to rile someone by jolting him out of his comfort zone.