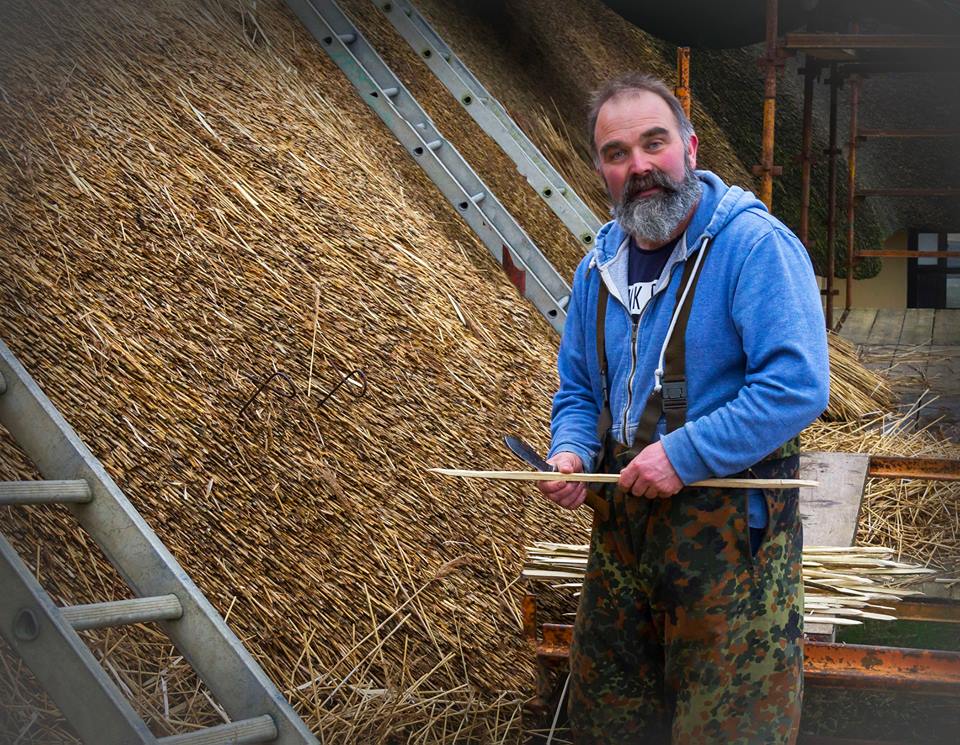 Peggy O'Brien of Mallow Camera Club is the photographer
<<<<<<
John B.'s Annual Visitor
By summertime many of my
readers will have heard a particular cuckoo. It is possible that substantial
numbers may have heard the same cuckoo. If this is so console yourself with the
fact that just as no two cuckoos are alike so also are no two notes from any
one cuckoo alike. The cuckoo's voice changes from day to day and fades away
altogether after a week's residence in his summer home.
Recently I read a distressing
story about the decline in numbers of cuckoos visiting this country during the
summer. Despite the fact that the same applies to featherless visitors from
America and England should not make our concern for the cuckoo any the
less.While man multiplies all over the globe, the number of birds, particularly
cuckoos tends to decrease. The chief reasons for this is that man requires more
room and sacred retreats where cuckoos once advertised themselves are now
housing estates and factories. I am not arguing against these. What I am trying
to do is warm readers against a time when we will hear fewer and fewer cuckoos.
A time will come when certain luckless individuals will wait in vain for that
magical call which is part of the fabric
of every summer. This is sure to give rise to shock and distress among the more
susceptible of readers and it is only fair that they should be warned against
the likelihood of summers without cuckoos. Personally I dread the thought but I
have long since insured against it and I would strongly advise others that they
should do the same. In the event of cuckoo failure in the not too distant
future we should be on the lookout for other signs of summer.
It takes a long time for
summer to establish itself. For a week or two it's no different from its
predecessor. Gradually, however, it takes hold. More flowers appear and birds
grow excited. The sting dies in the wind and all the cows are calved. There are
many manifestations and each of us has his own special means of confirming that
the season is well and truly launched.
For me summer comes with the
arrival of a sixty year old balding Clare man, a chap of roving eye and rosy
cheek. For many years now he has presented himself at my bar counter at this
precise time. He is as constant as the cuckoo or, if you're that way inclined,
as the Northern Star.
On each visit he brings a
female companion of far tenderer years than he. Yesterday, which was Sunday he
presented himself for inspection at 12.30p.m. He had with him a stout lady who
might have been twenty five or thirty. He seated her and called for a drink.
Two brandies with the barest tint of port wine in each if you please and where
would we get a good lunch, nothing too exotic.
I shake hands with him and he
introduces me to his girl of the moment. This is pure exhibitionism. He wants
to show me what a randy womanizer he is.The girl smiles demurely, adjusts her
buttocks and pulls an inadequate tweed skirt affectedly over fat red knees…….
John B. Keane
<<<<<<<
Athea Revisited
I had little visitors during the school holidays. Athea is a place we all love to visit. Jim Dunn had told me that he has resumed work on his masterpiece and that he has refurbished his other mural so we headed for County Limerick at our first opportunity.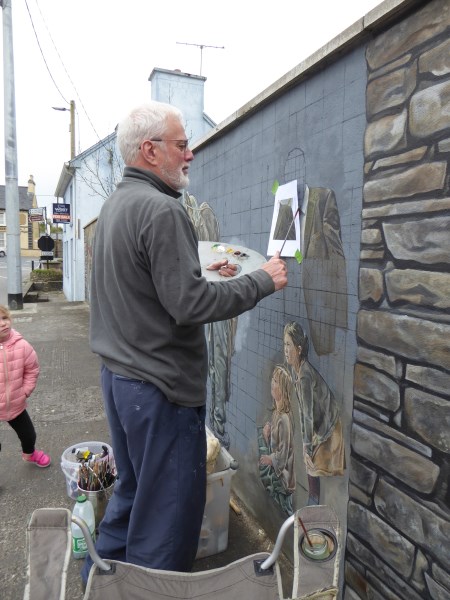 We were in luck. As we drove into the village we spotted him. Artist at work.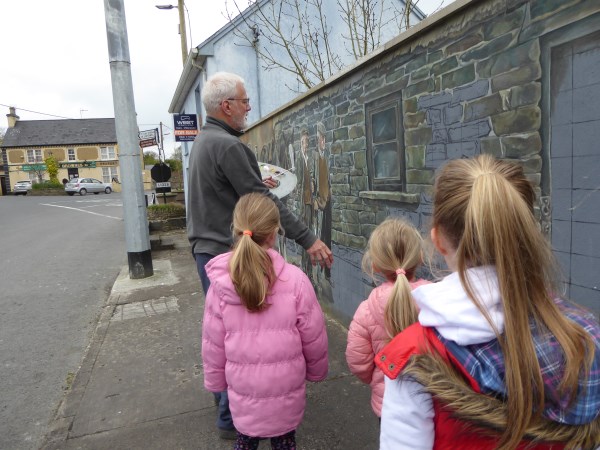 The girls were fascinated to be part of the village history. If they pass through Athea as adults with children of their own, they will point out Jim Dunn's mural and say, "We were there when that was being done. We saw the brilliant artist paint a small piece of this magnum opus."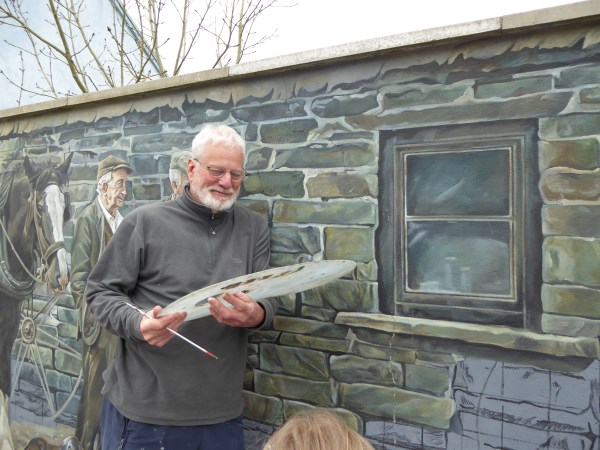 Isn't this lovely? I think Jim should definitely paint himself into the picture. As he poses here to show us how one of his characters will look, I think he fits in perfectly with this rural idyll.
We proceeded along down the street to view the upgrading work on the old mural. It has taken on a whole new lease of life. Jim has got an art student from UL to help him for a while and she and he have restored this local scene to its former glory or, in actual fact, a state exceeding its former glory. Below is some of the detail from this magnificent artwork. All the characters, both real and mythical have local significance.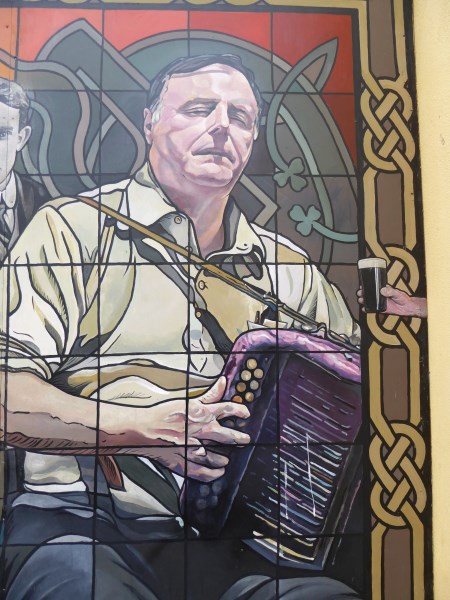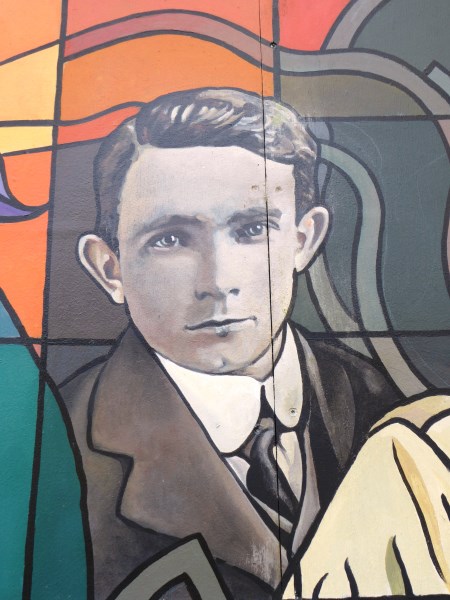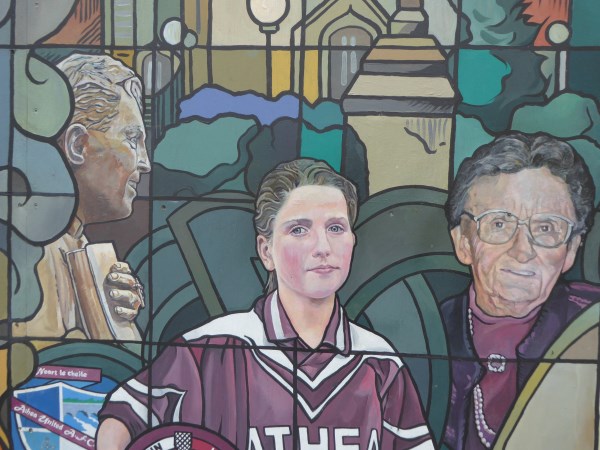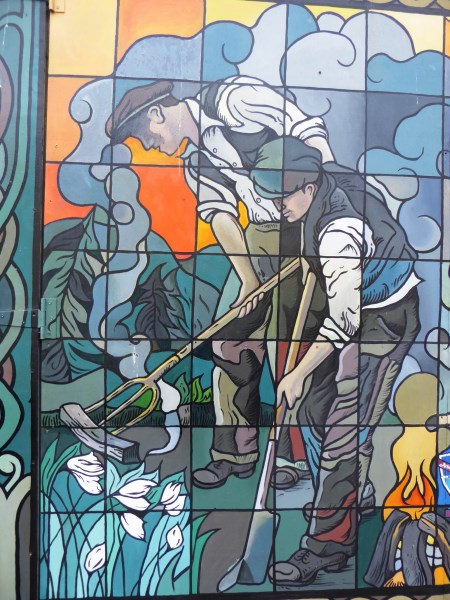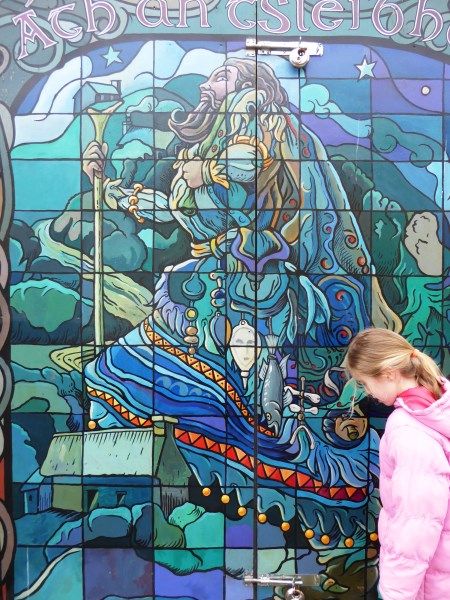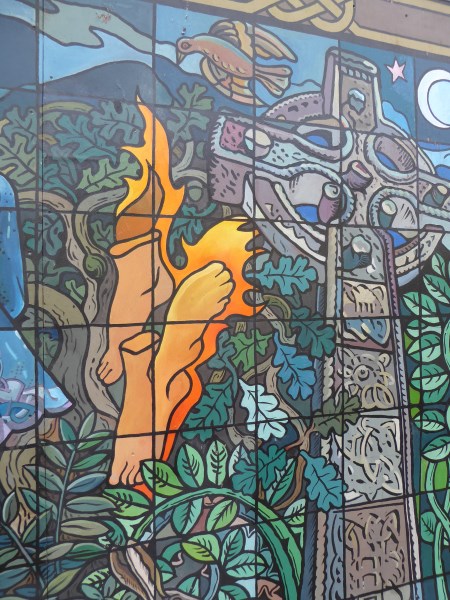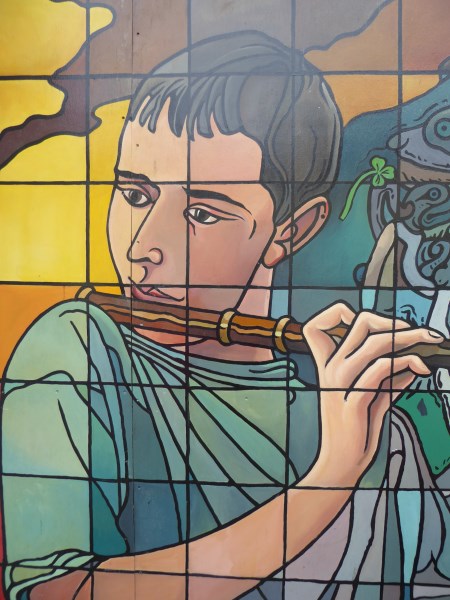 <<<<<<<<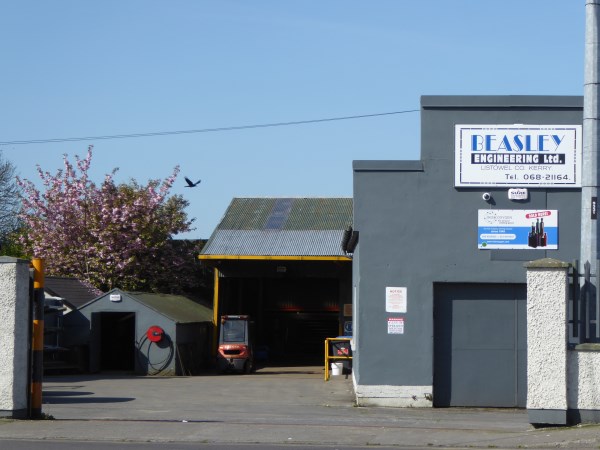 Jim Beasley's Engineering Works in O'Connell's Avenue in April 2017

<<<<<<<
Brand New Business Opens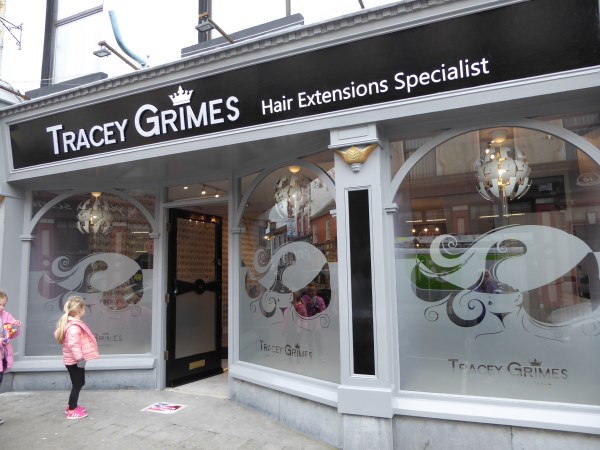 Tracey Grimes has done a great job with the old Moriarty's Drapery. She has transformed it into a luxurious and inviting hair extensions salon. I hope she is successful in her new venture. She deserves to be.
<<<<<<<<<


Mayday, Mayday!
Today is May 1st. There are many traditions associated with May Eve and May Day. Here are a few from the National Museum of Ireland's website
As in much of northern Europe, May Day in Ireland, was a celebration and welcome of the summer.
---
The May Bush was a decorated bush, which in rural areas was left outside the house. In towns, it was erected in a communal place.
Originally tall trees were used but later these were replaced by formal poles erected in the town centre.
May Flowers were picked on the evening before May Day and this was often done by children who went garlanding for flowers.
Dancing was a feature of May bonfire celebrations. It also featured around the May Pole or where communal May Bushes were burnt.
Much of the traditions associated with May have been incorporated into the Marian processions found throughout the country.
May Day was especially associated with butter stealing: the stealing of the butter profit of the home.
May was also a time to study the weather and weather in the month of May would forecast what was expected to follow in the summer.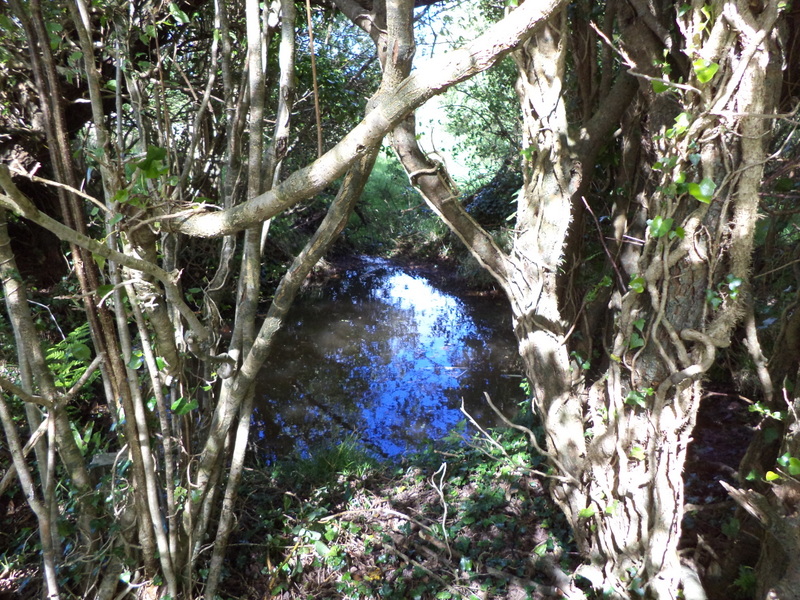 Closer to home people always visited the holy well in Knockanure on Sundays in May
<<<<<<<


I'll miss David Davin Power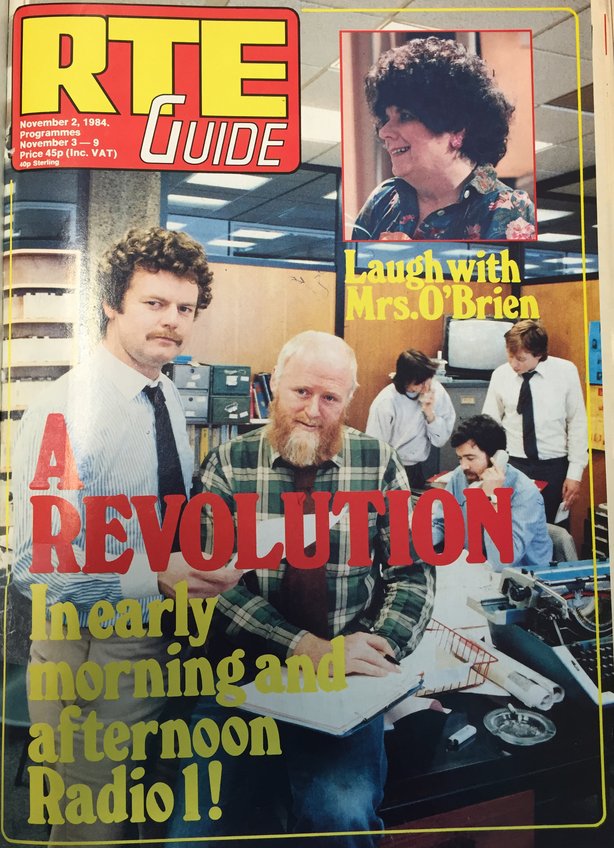 To mark his retirement, RTE shared an old RTE Guide cover featuring David with his colleague David Hanley in the early days of Morning Ireland.