Victorian Post box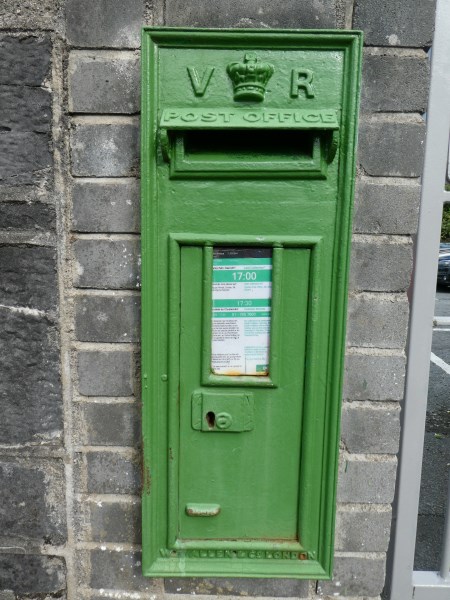 This victorian post box in beautiful condition is in the railway station in Thurles. Isn't it so much nicer than our modern rusting functional boxes?
<<<<<<<<


Harriet Owen …A History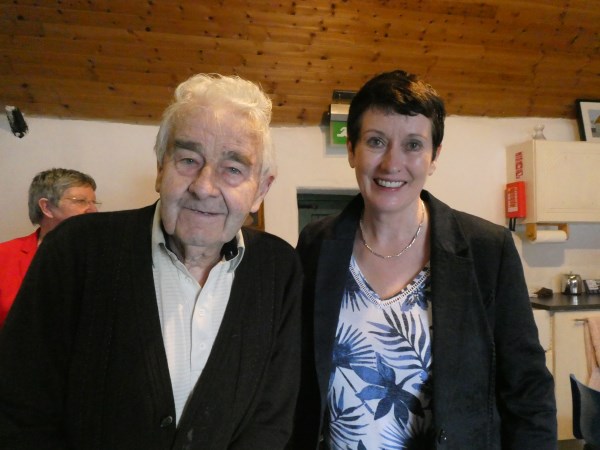 This is Harriet Owen who has family roots in Lixnaw with Paul Kennelly at a recent family reunion and celebration in Sheahan's Cottage in Finuge.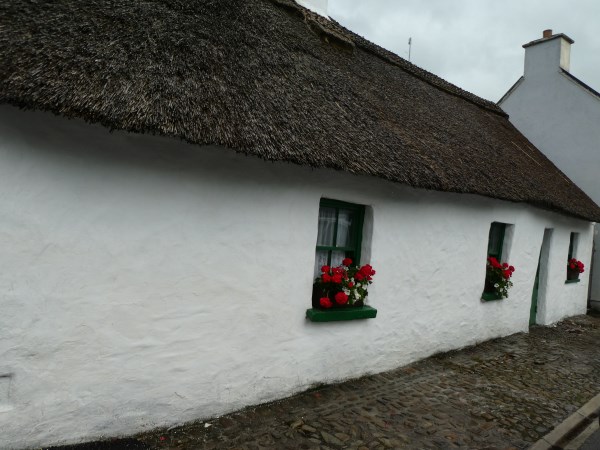 Here in a nutshell is Harriet's family connection to North Kerry
Harriet Owen
In 1750 William Owen (Miller) came from Wales to Rathdowney with his wife, Rebecca and three children. These were Rowland who married Isabella Scissons, They had no children, Robert married Sarah Hely and they had 8 children and Rebecca Owen.
The 7thchild of Robert and Sarah was John Hely Owen (1793-1870). He married Frances Smith in 1827. They had 6 children.
Henry Amyrald Smith Owe, son of John and Frances married Maria Frances gentleman in 1874. They lived in Ballyhorgan, Lixnaw. In 1860 Maria's father was instrumental in bringing the first bank to Listowel, The National Bank. Until then the nearest bank was in Limerick. Henry and Maria had 2 sons, John Hely Owen and Henry George Owen.
John Hely Owen (1877- 1952) married Lurline Ellis (known as Kitty) of Glenashone near Abbeyfeale. Her father, Richard Whateley Ellis was singer with Carl Rosa Opera Company. The Ellis' can trace their lineage back to Thomas Ellis of Co. Monaghan in the time of James the second. John Hely and Kitty lived at Ballyhorgan in the house known as The Cottage which had been built by old Goodman Gentleman as a dower house. They later moved to Glenashrone, formerly an Ellis house. When this house was burned during the civil war in 1922, the family moved back to Ballyhorgan. They had 5 children. The eldest, Henry Robert Owen sold the house and farm at Ballyhorgan in 1952.
Henry George Owen (1879-1955) married Olive Margaret Jane Eva Eager in 1910. When he married he moved to Aghatrohis, Bedford near Listowel. His wife Olive was the daughter of Major Oliver Stokes Eager, an army surgeon who served in the Ashanti War of 1873/74. The Eagwers were an old Kerry family The first Irish Eager , Robert was granted land in Queen's County in the reign of Charles the First. His son, Alexander sold it and settled at Ballymalis, Co Kerry in 1667. The Stokes family had also lived in Kerry for many generations, being descended from The Knights of Kerry.
John Hely Owen and Frances Smith Owen's granddaughter Frances Ayres married Sir Thomas Myles in 1888. He was a distinguished Dublin surgeon. As surgeon on duty, he attended Lord Cavendish and Mr. Burke in the Phoenix Park. He was an active supporter of Charles Steward Parnell's Protestant Home Rule party. He owned a yacht, Cholah. In 1914 he was recruited along with Erskine Childers and Conor O'Brien to help in the importation of guns for the Irish Volunteers. Childers landed his part of the consignment from The Asgard at Howth on July 26 1914. A week later Myes's cargo which consisted of 600 Mauser and 20,000 rounds of ammunition was landed by the Cholah in Kilcoole, Co. Wicklow. From 1900 to 1902 he was President of The Royal College of Surgeons of Ireland and was knighted on completion of his term of office. He was honorary surgeon in Ireland to King George V and during World War 1 he was consulting surgeon to HM Forces in Ireland. For this he was made a C.B.
<<<<<<<
Who was this lady?
I'm only a little bit wiser as to who this lady was and I have found no-one yet to tell me what the os in her name is all about. Could it be Oide Scoile? Was she a teacher?
Bibiana was a member of the Board of Guardians. They were originally in charge of the workhouse but their roles expanded to include all issues relating to Health and Welfare and it is here that this lady came into her own.
Bibiana from Ballyahill was the wife of a local well -to -do merchant, Jeremiah Foran. She was a friend of Lady Aberdeen and she was very supportive of this lady's Health Train initiative. This was like a travelling clinic that went round the country advising on women's health.
Bibiana also initiated school meals and she backed the purchase of a field close to the town for the purpose of putting up a sanatorium.
<<<<<<
Listowel Vintage Wireless Museum
Eddie Moylan, collector, restorer, curator, owner and guide at Listowel Vintage Wireless Museum is a Corkman. He has made his home in Listowel and he fits right in with this town's great respect for artefacts from a bygone era. No town deserves Heritage Town status more than Listowel.
In his privately owned museum, Eddie has collected a mind blowing array of wireless, gramaphone and broadcasting memorabilia. Eddie is often visited by radio enthusiasts and people with a love for the old sounds and the old voices. He very kindly gave my visitors a tour recently and they were mightily impressed.
Breeda used to work in the post office and she remembered well the old radio licence.