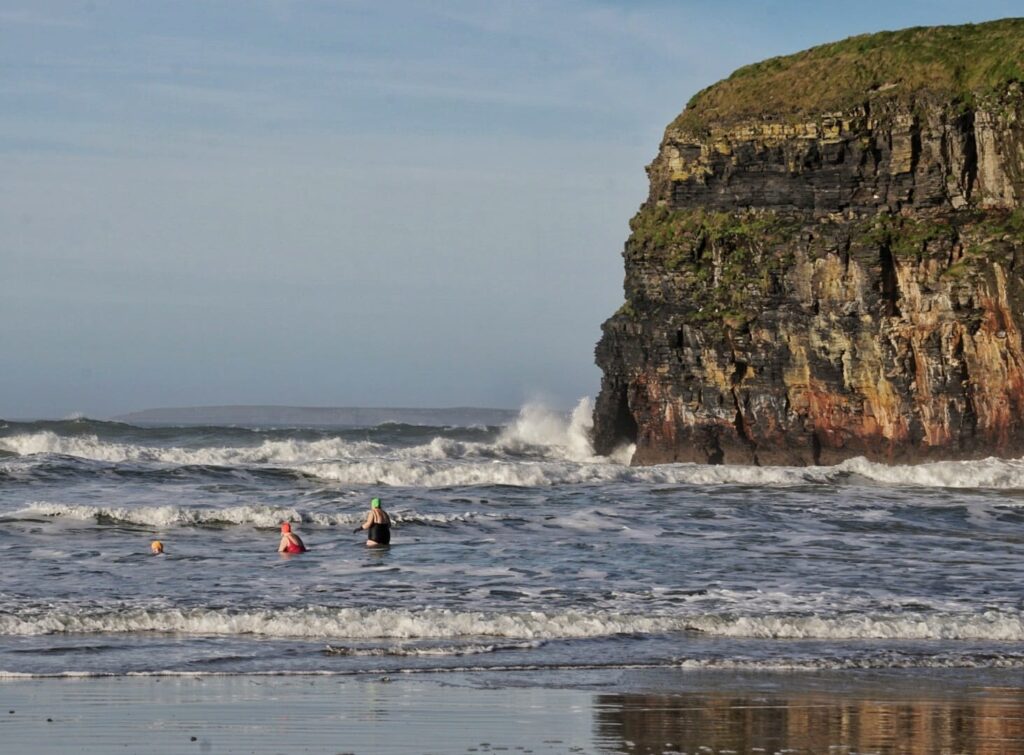 <<<<<<<<<<<
Relocating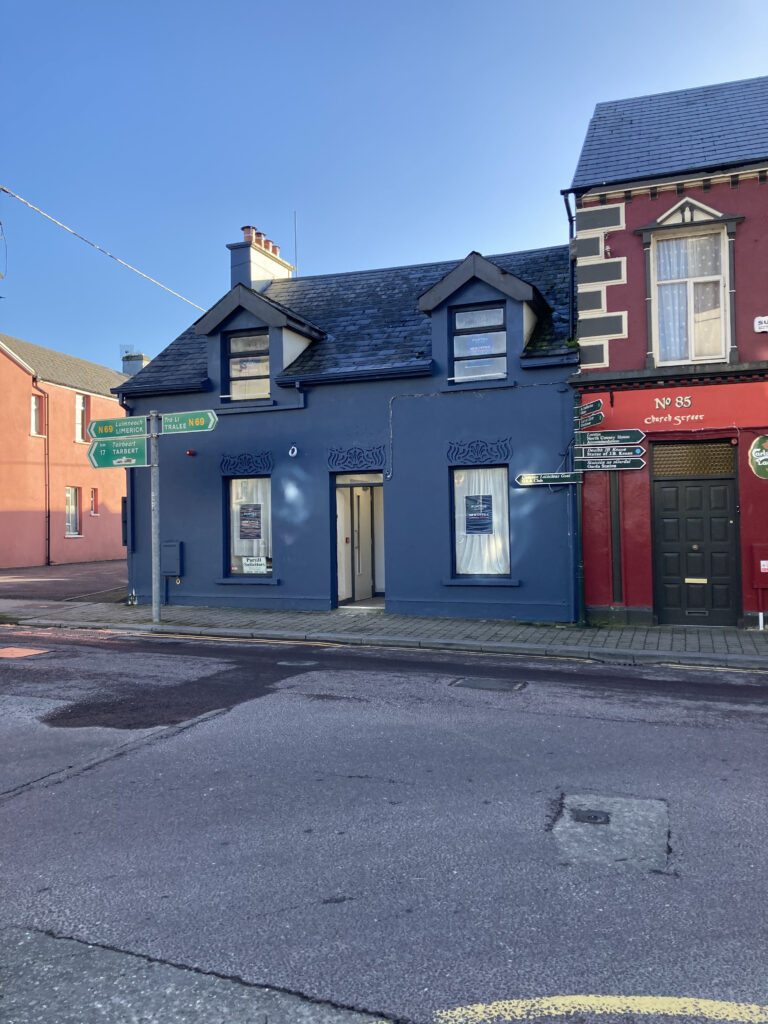 Purtill Solicitors has relocated from The Square to Church Street
<<<<<<<<<<<
1983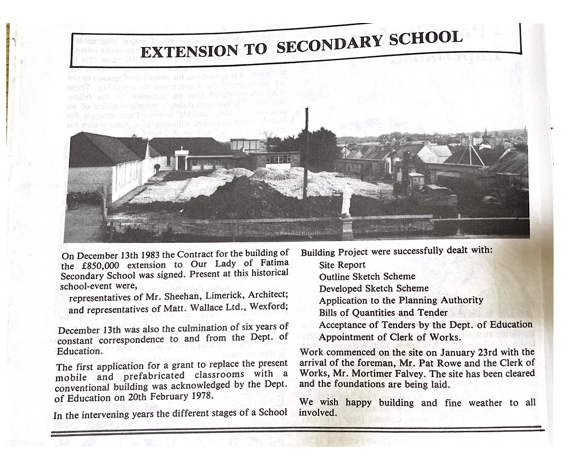 In 1983 the secondary school was extending its footprint. another extension is planned soon.
<<<<<<<<<<<<
The Land
by John McGrath
I stand in fields where my forefathers stood once
And feel the dreams of those who've gone before me.
I tramp through damp and half-remembered pastures,
The folds and features of the land that bore me
All around. Above the sound of lark's song,
Below the spring of earth beneath my feet,
The green and gold of April in the hedgerow,
The purple haze where sky and heather meet.
Where mighty men have thought to mark their passing
The furze creeps back to mock the spade and plough,
Those futile epitaphs of generations
In Folk Museums condemned to moulder now.
Where men have raised a fence or tilled a furrow
The land, as if to scorn their simple gains,
Erases each proud trace until tomorrow.
The men have gone; the land alone remains.
<<<<<<<<<<<<
A Timely Song
Here we come a wassailing
Among the leaves so green
Here we come a wassailing, so fair to be seen…..
So what exactly is wassailing?
Singing and drinking, usually associated with Christmas time.
Going around orchards at the beginning of a new year, blessing the trees and praying for a fruitful year.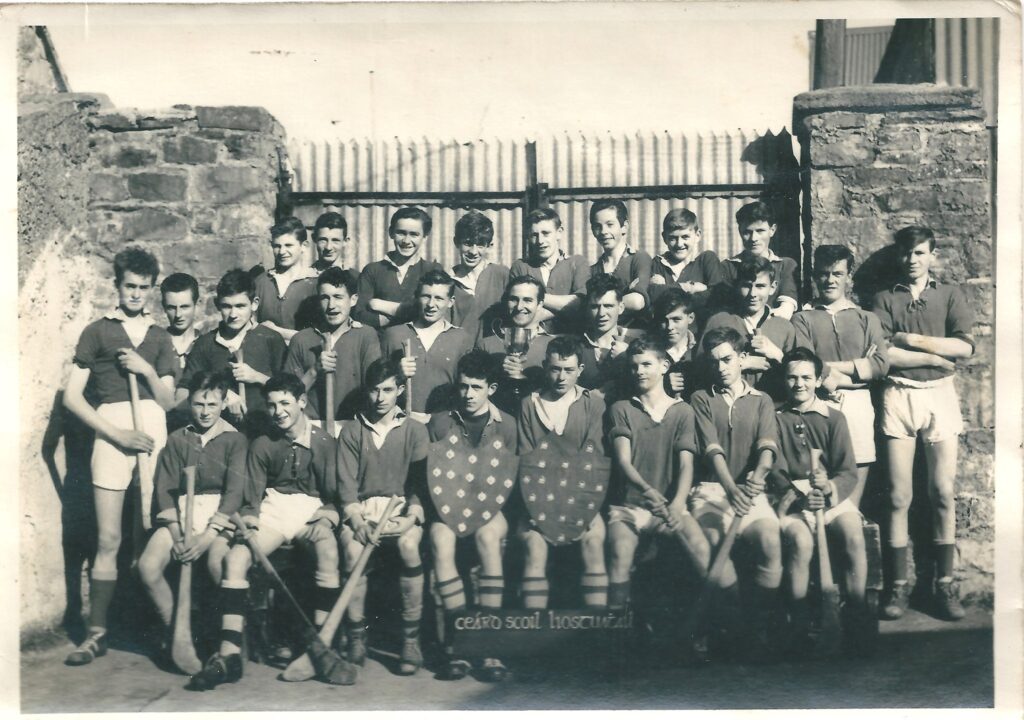 Listowel Technical School Hurling and Football teams back in the day.
The late Tom Galvin posted this photo on Facebook and Marie Shine supplied some of the names;
Back row, left, 2nd – Tim Hartnett.Ennismore, 6th: Danny Fealey, Ballygologue Road.
2nd Row left: Now Garda Tim Reidy, Lixnaw, 3rd: Roger Connor (Mike The Pies), 5th: Billy Walsh Greenville 7th: Gerry Carey Convent Street 10th: Michael Nagle, Ballybunion Front Row: Right of Tod Nolan (RIP): ? Costello Ballybunion.
<<<<<<<<<<<<