<<<<<<<<<<<<<
John Molyneaux R.I.P.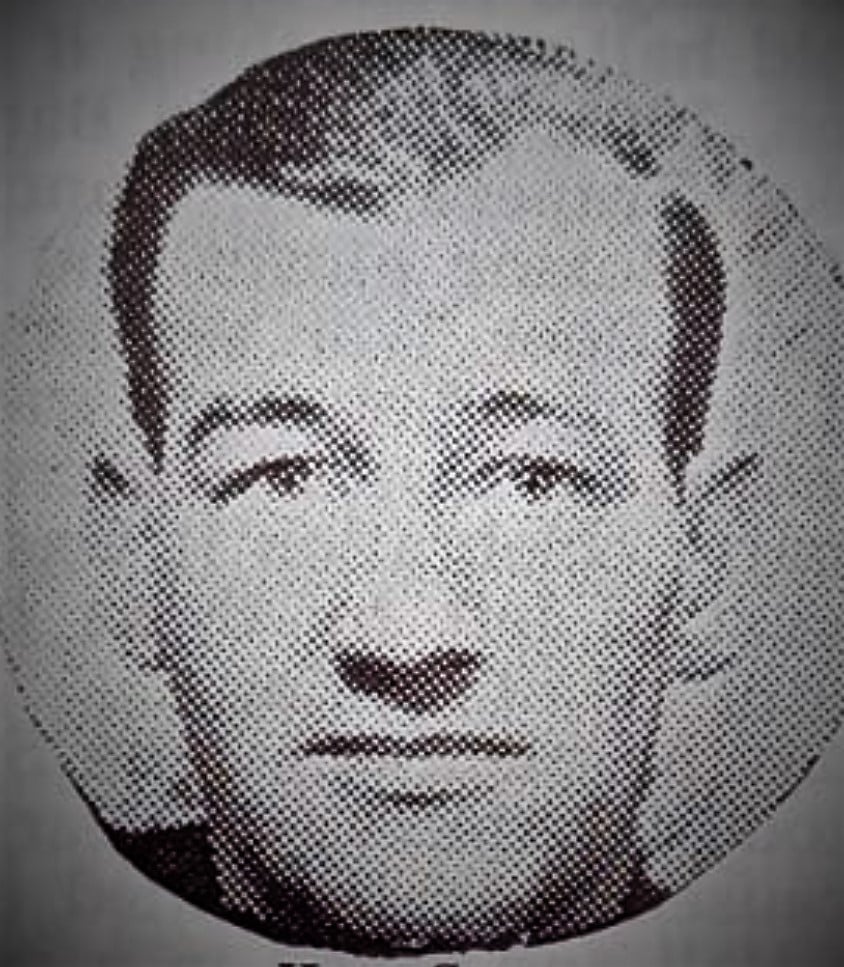 David Kissane's Tribute to the late John Molyneaux concluded
On one particular occasion, my father hadn't finished the Western he was reading and I went into the college on Saturday Western-less. Scared stiff and I had forgotten the name of the book! If you failed to bring back the book, Mr Molyneaux would ask you what the plot was and who the main characters were. He was not pleased if you weren't reading these Westerns. Around he came to each desk to collect the books. I could sense a cloud coming over my desk as I struggled to remember the name of the book I hadn't read! "Well, Kissane, what book have you been reading?" he boomed as I fumbled in my school bag under the desk for the book that wasn't there. A thick, deep dark silence followed. My fate seemed obvious and inevitable, a feeling so very of those times. Red-cheeked and broken, I called out the name of the only Western I could remember, "Something to Hide" and added with embarrassment, "I think my father borrowed it!" A smile from the teacher and a titter around the class. He passed on but when he was distributing the Westerns a few minutes later for the coming week, he read out the titles so that the students would put up their hands to choose which one they wanted. "And we have one left" he said with a smirk, "Something to Hide"! A dead silence permeated the class and I was ready to sink down through the ground. He allowed the moment to expand as the class awaited an execution! But it was Saturday and all he said was "Kissane, I think you have something to hide all right!" and dropped the book on my desk as the bell was rung outside the door. The great escape.
I read every Western after that and began to manage the complexity that was John Molyneaux.
School days are happening days and very soon after starting in St Michael's College, the sporting side of John Molyneaux revealed itself to us. It was then his dimensionality was fully experienced. First it was football. With Johnny O'Flaherty, there was a dynamic duo who were charged and innovative in training methodology and intensity. The two Johns taught the full forwards (I was corner forward) to get possession of the long balls sent in and, instead of turning, pass it quickly to the half forwards rushing in. It worked in the Dunloe Cup final against St Brendan's Killarney in 1970. High ball in from Jerry Kiernan at centre field landed in my hands and I could hear John Molyneaux's imperious voice on the sideline saying "To Carroll" and before I knew it, I had let the ball into Eamonn O'Carroll's hands – he was like a jet plane when in flight – and the net was rattled. And the referees were not safe from a Molyneaux-boom if he considered that the whistler was incorrect in his blowing! Total engagement in everything he was involved in. That was the Molyneaux way.
And of course there was athletics. In the mid-1960s, John Molyneaux was the driving force behind the formation of a BLE club in Listowel, assisted by Pat Kiernan, Michael Crowley and Johnny O'Flaherty. St Michael's College benefitted hugely from the club, and from having the club personnel on the staff. Jerry Kiernan and co were generated. Along with Kiernan, John O'Connell, Pat O'Connell, Eamonn O'Carroll, John Hartnett (our own classmate from the class of '72) and Gerald Leahy were the young stars of the times. It wasn't just running…the O'Connells and Hartnett were jumpers of the top calibre. John O'Connell won the All Ireland Colleges gold medal in Santry in June 1970 with a leap of 43 feet 11 and a half inches in the triple jump. There was a broad smile on John Molyneaux's face that day and for years after. Kiernan's career is well known and it took Eamonn Coghlan to best him in the All Ireland schools 1500m in 1971 but Jerry was soon to run into legend. Athletics fires lit by John Molyneaux burned for a long time.
From doing running on the football pitch, sometimes without the ball, I was asked by Johnny O'Flaherty to run cross country but compelled by John Molyneaux to compete. And track too and there was the 17 mins something I ran in the 1971 North Munster 5000m to snatch a silver medal at my first North Munster schools attempt behind Mick O'Shea. Hopes were high for the mystical quest of the Munsters but inexperience allowed me to look back a few times on a hot afternoon in Rockwell College track and I got a good look at the leaders pulling away from me. I was bereft. Immediately after the race, John Molyneaux approached me and suggested, with that glint in his eye that "we'll have to provide you with blinkers the next time, Kissane!" Ice broken. Lesson learned.
But while dreams were shattered that Rockwell day, a love affair with athletics had begun. It was a treasure John Molyneaux and John O'Flaherty gave me for life.
On a fine June evening in 1972, our class walked past the budding apple trees outside St Michael's College for the last time as students. The past had happened and the future was there for the taking. There was no formal goodbye to the teachers but it did dawn on us that something special was being left behind. And special people too, like John Molyneaux.
When the Leaving Cert results reached us in the burning August 1972, there was an A beside Latin on the paper. Vital for college and a grant. My after-vision of John Molyneaux increased even more and his name was mentioned in the celebrations that followed in a Birmingham night club. I even took Latin a subject in first year in UCC but the lectures there never reached the pitch of Mr Molyneaux's classes and it was jettisoned for second year.
The next time I met John Molyneaux was in 1979. A fair few of the class of '72 were also teachers now, scattered all over Ireland. The Clarence Hotel along the Liffey in Dublin and a meeting of the Dublin-based past pupils to assist with the centenary celebrations of the college. St Michael's had been opened in 1879 in the recycled building that was the Fever Hospital. We never knew that while in the college as students!
John Molyneaux led the committee members who met us that rainy night in Dublin. A chat about how we were faring and it was only then we realised how proficient John Molyneaux was at golf. He was promoting the centenary golf event to be held later. In fact that year, 1979 he was a member of the Ballybunion Golf Club that won the Jimmy Bruen Shield in Portrush. An All Ireland winner. The first team from Kerry to win the honour and John was a key member along with such golfing names as Seán Walsh and Gerry Galvin. The college centenary celebrations were a huge success. Of course they were, with a committee man as effective as John Molyneaux on board.
Our paths were to cross again when I returned to Kerry as a teacher in 1984. I was representing Tarbert Comprehensive School on the Kerry Colleges Football Board and there was John across the table at my first meeting. A different John now, settled into age and not at the top of the class in front of me. Was still my past-teacher though and he regained his past visage as we got to re-know each other. He was proposing to start a "Silver Circle" fundraising scheme for the Colleges Board. This was something he had been a big fan of and had recruited his students to get involved in over the years. It brought out the sales acumen in many students and accentuated their business skills. It entailed selling lines but with a commitment of a month or so by the punters and an incentive of a percentage stake by the seller. Jerry Riordan from Dromerin was particularly adept at it during our years in the college, partly because the Riordan family had a shop in Dromerin and had a consistent supply of customers.
John retired in 1990 after a long stint at the profession. He had a long and productive retirement too. He was to be seen in The Town Park (aka the Cows' Lawn) where he had spent the many happy hours coaching and training footballers and athletes. And he could be seen down by the Feale also. That's where I met him on that day I last laid eyes on him.
When a relation, colleague, neighbour, teacher, friend passes away, it is felt by all who are or were acquaintances. When we are shoving on in years, their deaths mean an empty place in the world we know, the irreversible change that lessens what it means to live. That was the feeling I got in the church in Listowel a few weeks ago on the day that John Molyneaux was laid to rest. When Canon Declan O'Connor told the congregation that John Molyneaux was the only son of an only son, was born and died in the same house in Charles St in Listowel and was a hard-working parent and husband, as well as an energetic, resourceful and innovative community and club man, it seemed strange that we hadn't known some of these facts before. As students we had known only a fraction of the man he was.
But many people who are gone still continue to grow in our existence. In our after-image of them, we often understand the whys behind the whats. Some of these people indeed become legends. John's positivity for everything makes him eternal. As John Milton said "Hope proves a person deathless".
John Molyneaux. Semper Invictus. Always undefeated.
<<<<<<<<<
A Laugh for You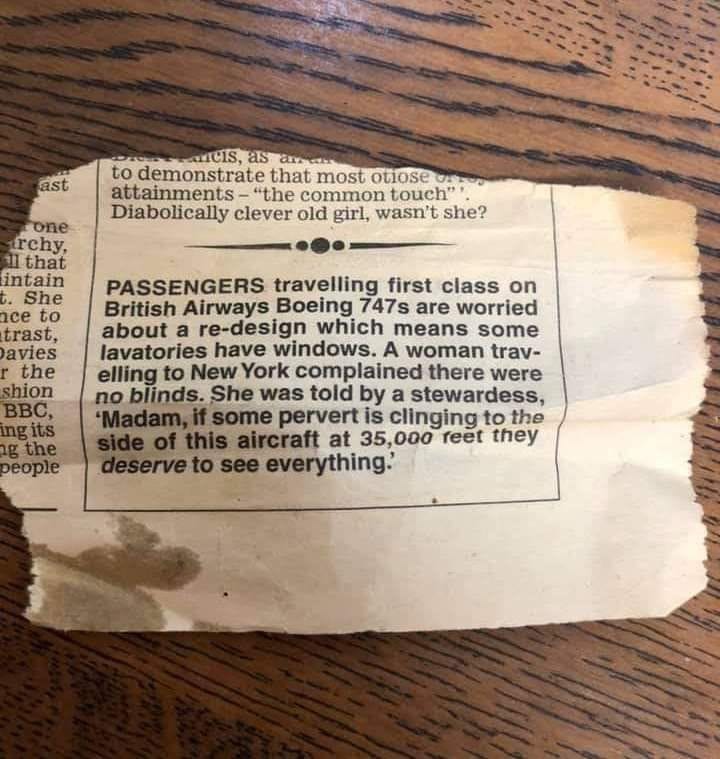 <<<<<<<<<<<<
Junior Infants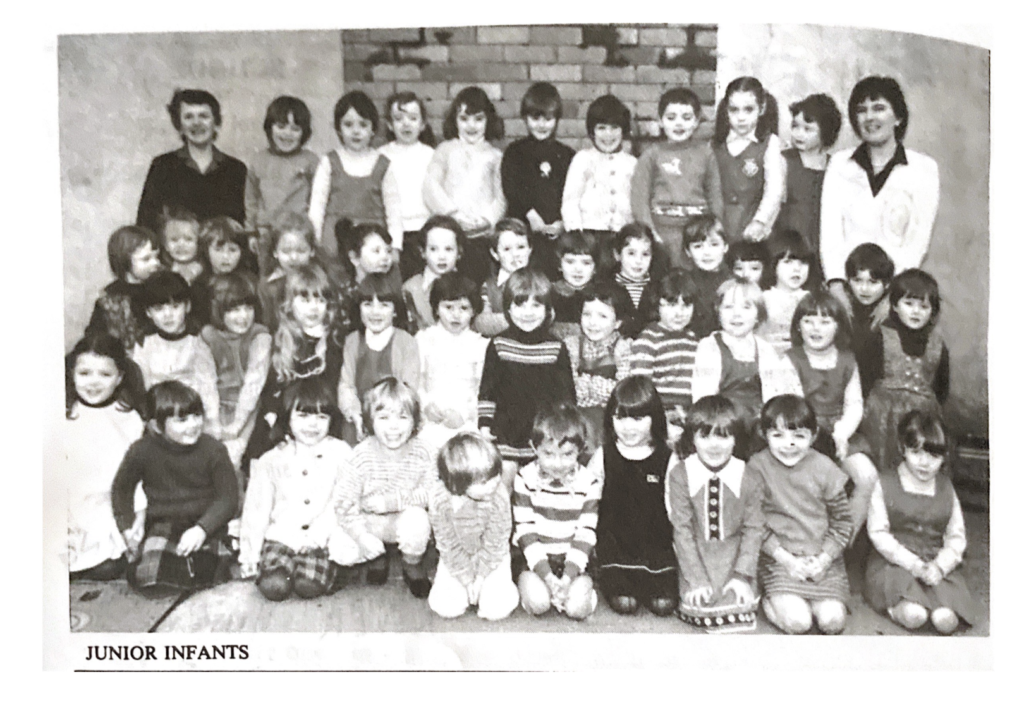 Junior Infants in Presentation Primary School from the 1983 School yearbook.
<<<<<<<<<<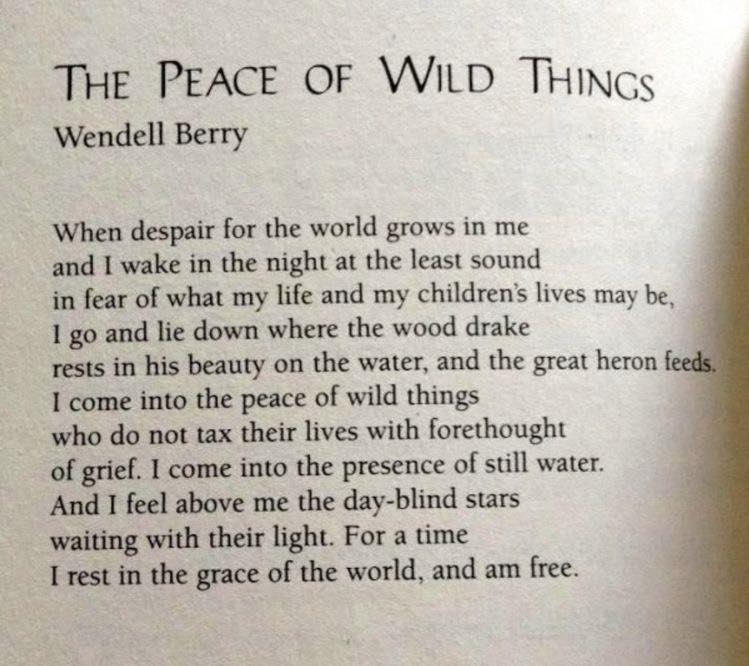 <<<<<<<<<<
Our Outdoor Dining and Performance Space
The promise:
Kerry County Council has received funding to provide a covered outdoor meeting, dining, and performance area at the existing pedestrian area in the Square in Listowel.
It'll comprise three 7×7 metre covered structures on steel frames, LED lighting, as well as seated benches and picnic benches.
The story so far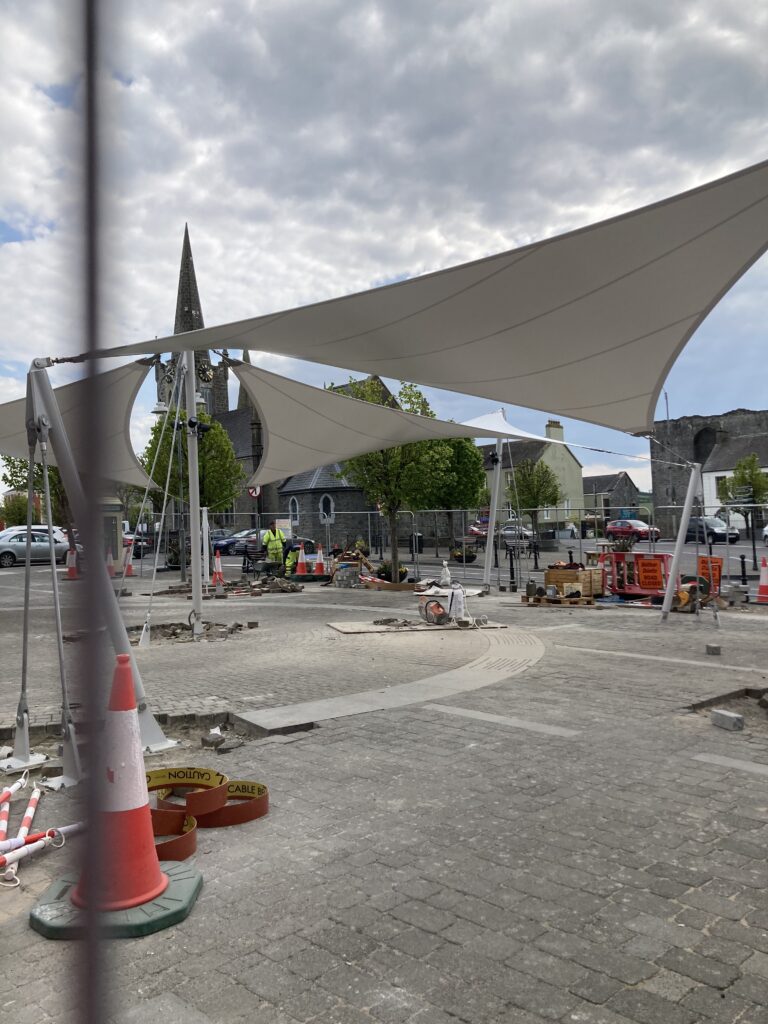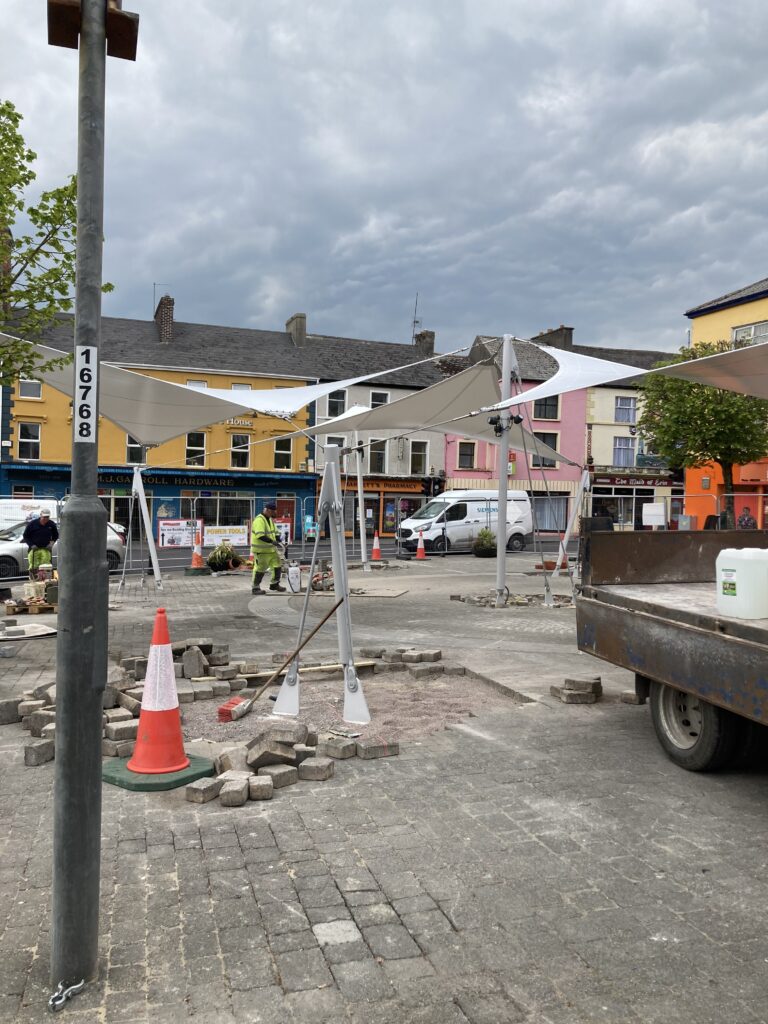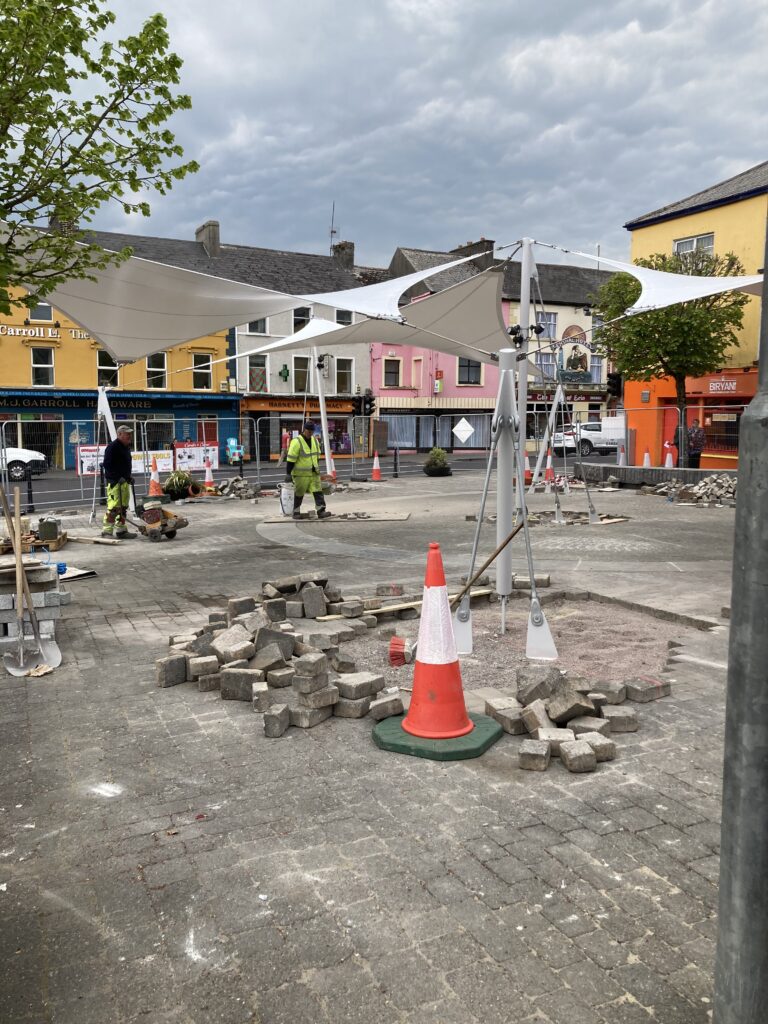 I don't like to be negative about a new initiative but I'm disappointed. The covers are more for ornament than use. They may protect you from the sun but they won't keep out the rain or the wind.
However the project is not finished yet. There are lights to go in and the seating to be restored.
<<<<<<<<