People have been wondering about Molly. I'm glad to report that I met her in Cork recently and she was in great form. She has loved lockdown with her family at home all the time and lots and lots of attention.
I told her her Listowel admirers were asking.
<<<<<<<<<<<
Tralee Artist, Mike O'Donnell
Last week I found myself in a part of Tralee that I am not familiar with. I'm sorry I should have noted the name of the area. I was delighted to see the work of one of my favourite muralist's adorning the walls. The pictures are fabulous but I have no idea what exactly they depict. Looks like Famine times and a few extra unrelated images.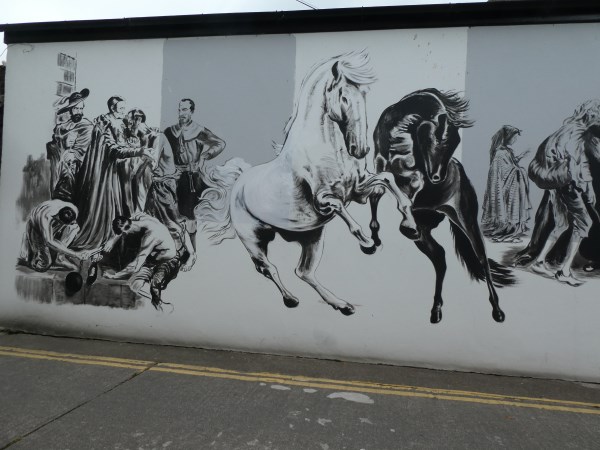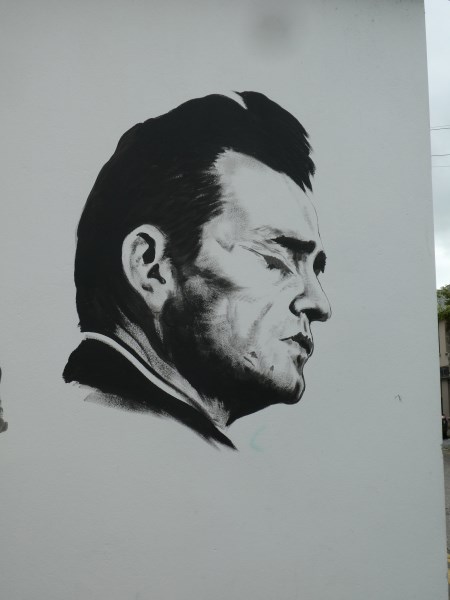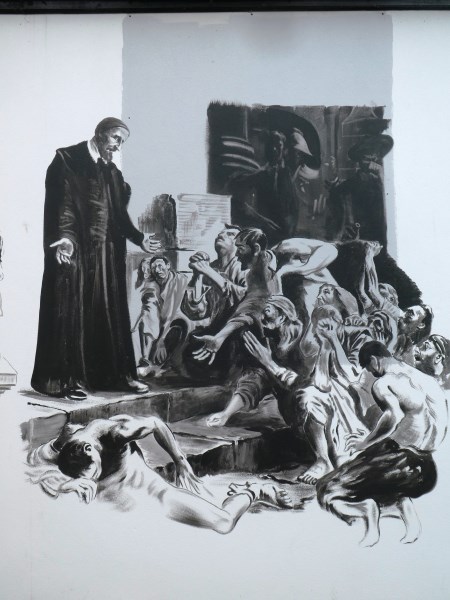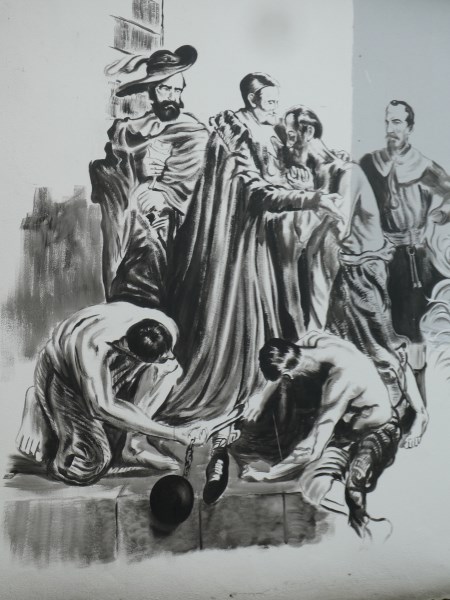 <<<<<<<<<<<<<<<<<
Bíonn Siúlach Scéalach
I am old enough to remember when homeless men walked the roads, travelling from parish to parish in search of seasonal work. They often called asking if they could sleep in the hay barn for the night. It was unlucky to refuse such a request but my poor mother, who was a widow, never slept a wink if there was a man sleeping in the barn. She was in dread fear he would smoke and burn the barn, hay and all down.
This is what I found in the school's folklore collection about these spailpíní.
Beggars seldom stay in the same house more than one night unless when the next day is bad. They always have their own food which they collected during the day but sometimes the people of the house give them their supper and breakfast. They also give them a bag of straw to sleep on for the night. Tinkers usually travel in families but the poor travellers go singly or in twos.
About five or six years ago a poor travelling woman stayed at our house for three days and she used to tell us a good deal of funny stories every night.
The best known travelling folk in my locality are as follows:- Paddy Flynn, Bob Landers, Jimmy O'Leary, the O'Briens, Mrs Fitzgerald and they come the most frequently to my locality.
These travellers usually come at Easter and Christmas and before the Pattern and Listowel races.
COLLECTOR James Maher
Gender male
Address Knockaunacurraheen, Co. Kerry
INFORMANT Mrs Sheehy
Gender female
Age 75
Address Ballintogher, Co. Kerry
<<<<<<<<<<<<<<<<
Bridge Road
These businesses are on opposite sides of Bridge Road as you approach town from the Tralee side.
<<<<<<<<<<<
On This Day, June 30 1922
(information from a book, On this Day by Myles Dungan of RTE)
June 30 1922 was the day that future genealogists' and family researchers' hearts were well and truly broken. On that fateful day, the biggest explosion ever seen in Dublin destroyed records of Irish administrations from the 13th to the 19th centuries. Earlier damage had already been done during World War 1 with the pulping of census returns for 1861, '71, '81 and " 91.
What was lost in the explosion of 1922?
Census returns for the years 1921, 31, 41, and '51
One thousand Church of Ireland parish registers
Wills and deeds and land transactions
Court Reports
Military Records
Was this explosion an accident?
Sadly, no.
The public records office was housed in The Four Courts in Dublin.
On April 14 1922, anti treaty rebels under Rory O'Connor occupied this building.
Pro treaty forces of the Free State government under Michael Collins attempted to dislodge them.
On June 30th the rebels in The Four Courts, now under Ernie O'Malley, surrendered.
The arsenal of ammunition and explosives the rebels had stored in The Four Courts was torched and thus was lost a millennium of official Irish records.
<<<<<<<<<<<
Jimmy Moloney, Mayor of Kerry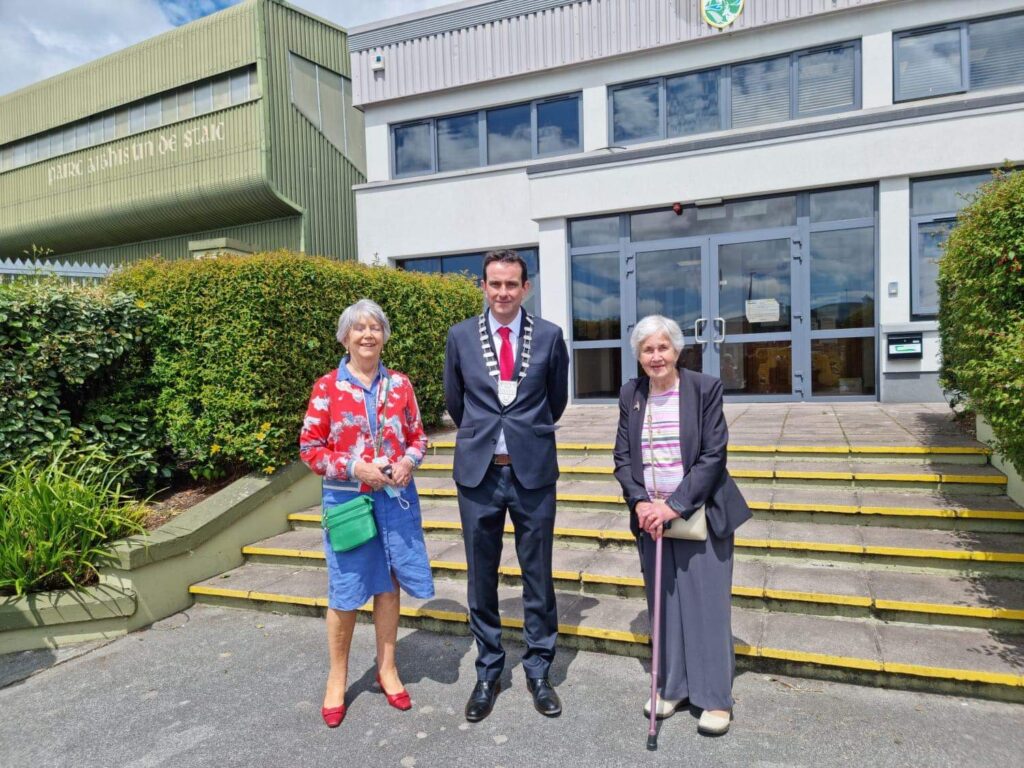 Jimmy Moloney was installed as Mayor of Kerry yesterday. Here he is with his two aunts, Kay Caball and Eila Moriarty.
<<<<<<<<<<