Past and Future Power Generators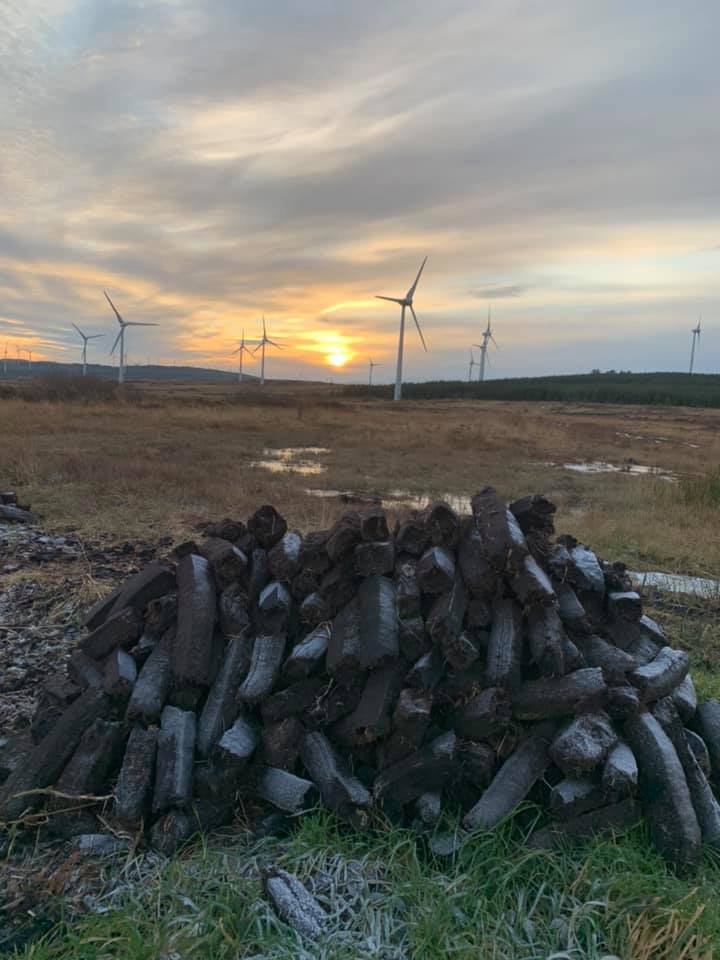 Caroline O'Sullivan posted this on the internet with the caption, "Near Listowel"
Bord na Mona has announced that it is ceasing peat extraction. From 2024 we'll have no more briquettes and peat for horticultural purposes will be sold until stocks run out. End of an Era.
For some great old photos and stories of Bord na Mona, visit the below website.
<<<<<<<<<<
When There was Singing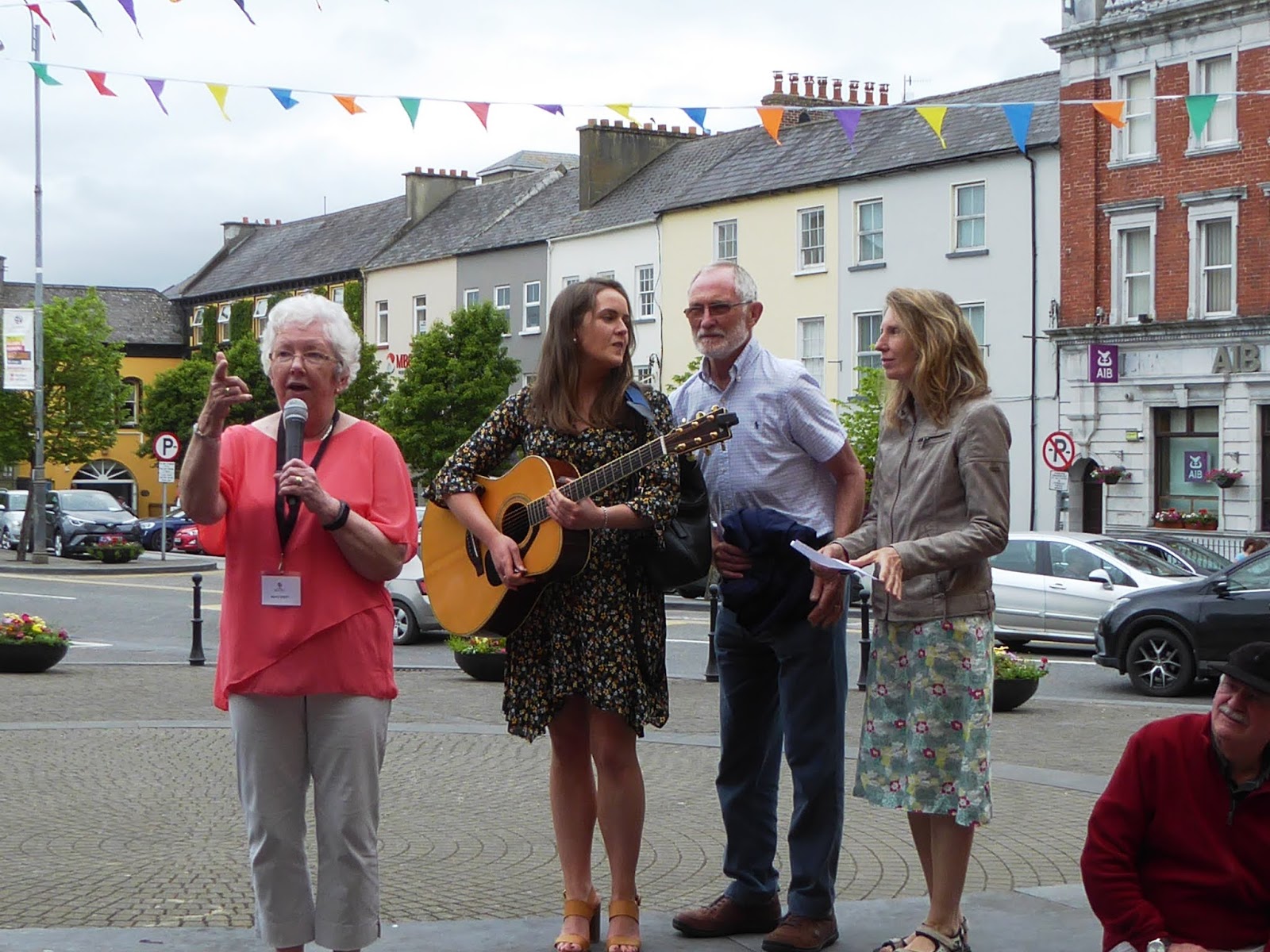 Myself, Mary Moylan, Mike Moriarty and Mary Fagan.
At Writers' Week 2019 we had a great time singing in The Square.
<<<<<<
Home Cooking and Home Ec Cooking
Jenny Carey wrote this last week;
All About Home Economics brought up a lot of memories for me and many expats in one of my Facebook groups called Irish Mammies of New York. There were many pictures shared of pages with recipes such as Spaghetti Bolognese & Lemon Cheesecake. Apparently the best Spaghetti Bolognese is made with rashers. Do you remember this book? According to my cousin, Sinéad Stack, it was a popular Christmas gift at home this year. I ordered my copy after reading the post and look forward to making its recipe for Lemon Cheesecake.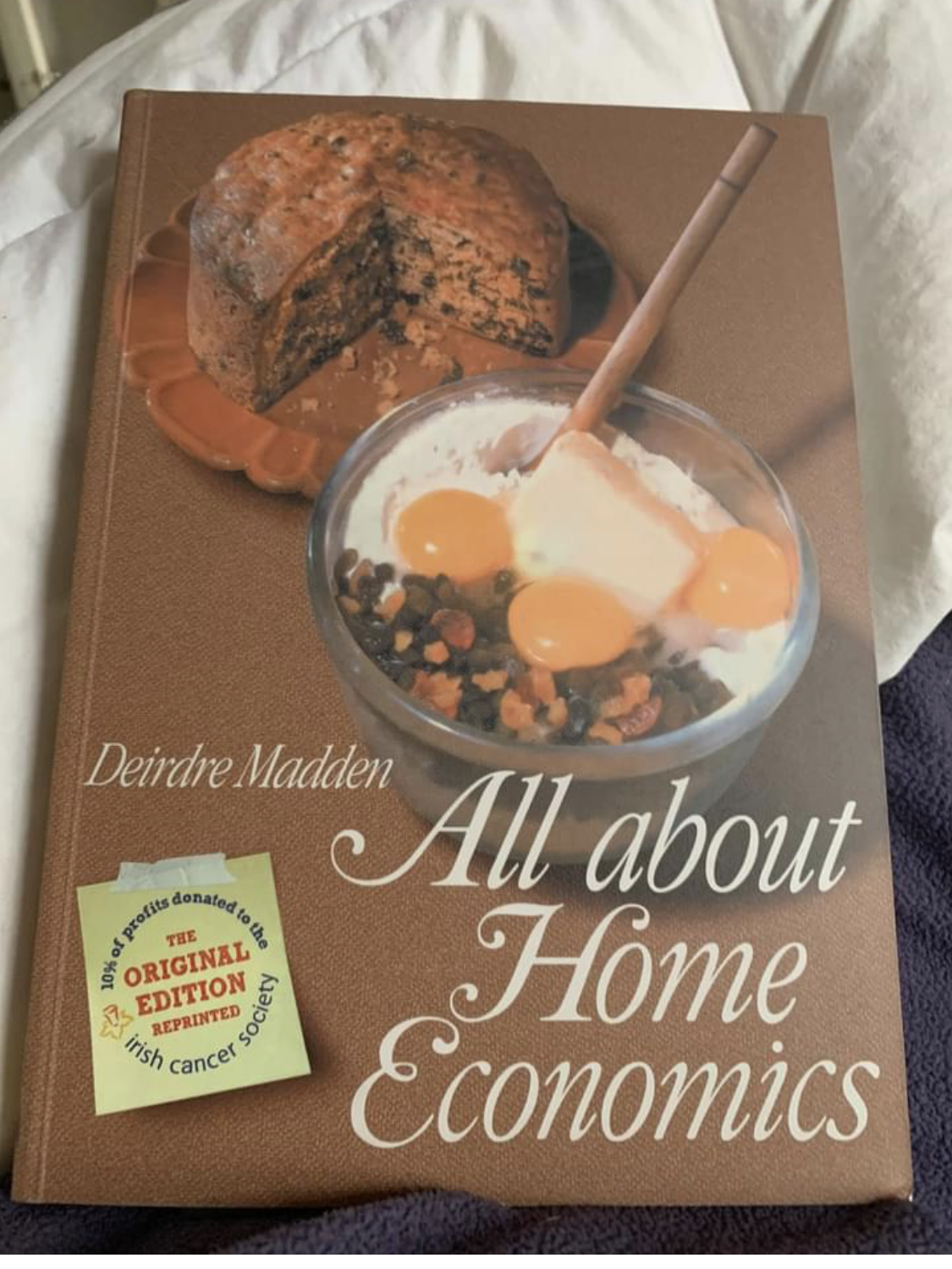 Lots of you of Jenny's vintage will remember this. I've always felt that that all- in -one cake mix on the cover looks like it would take some hard mixing with a wooden spoon to make it into a cake.
I've written before about people's attachment to their old Home Ec. books.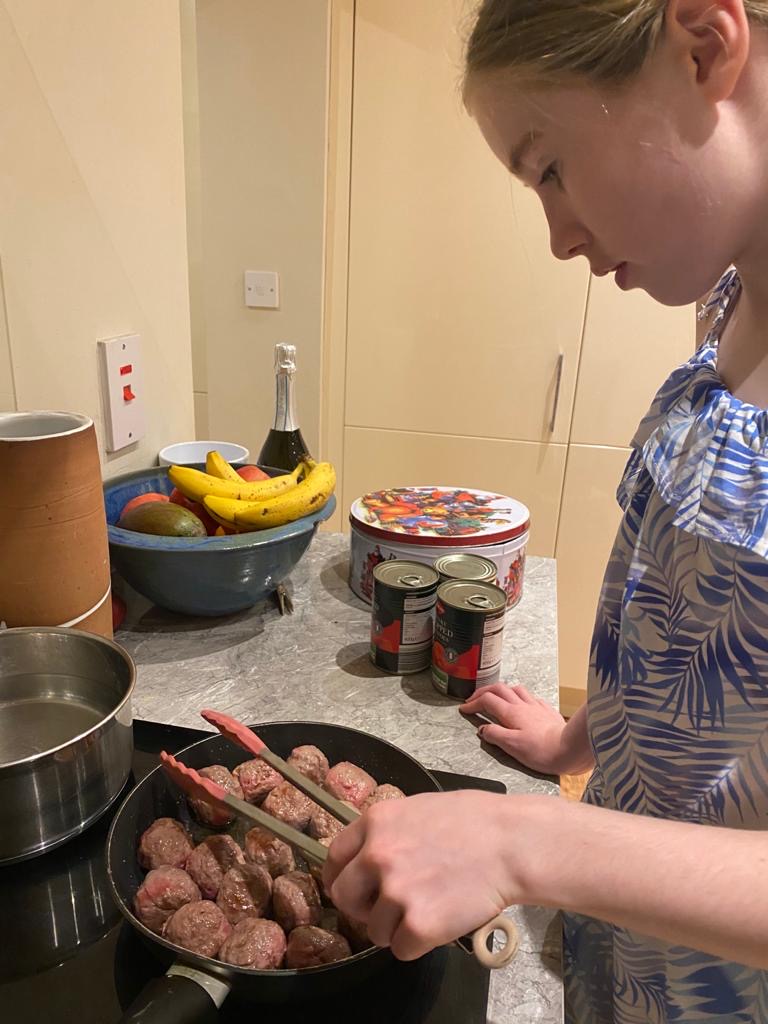 My granddaughter, Róisín, making meatballs for the family dinner.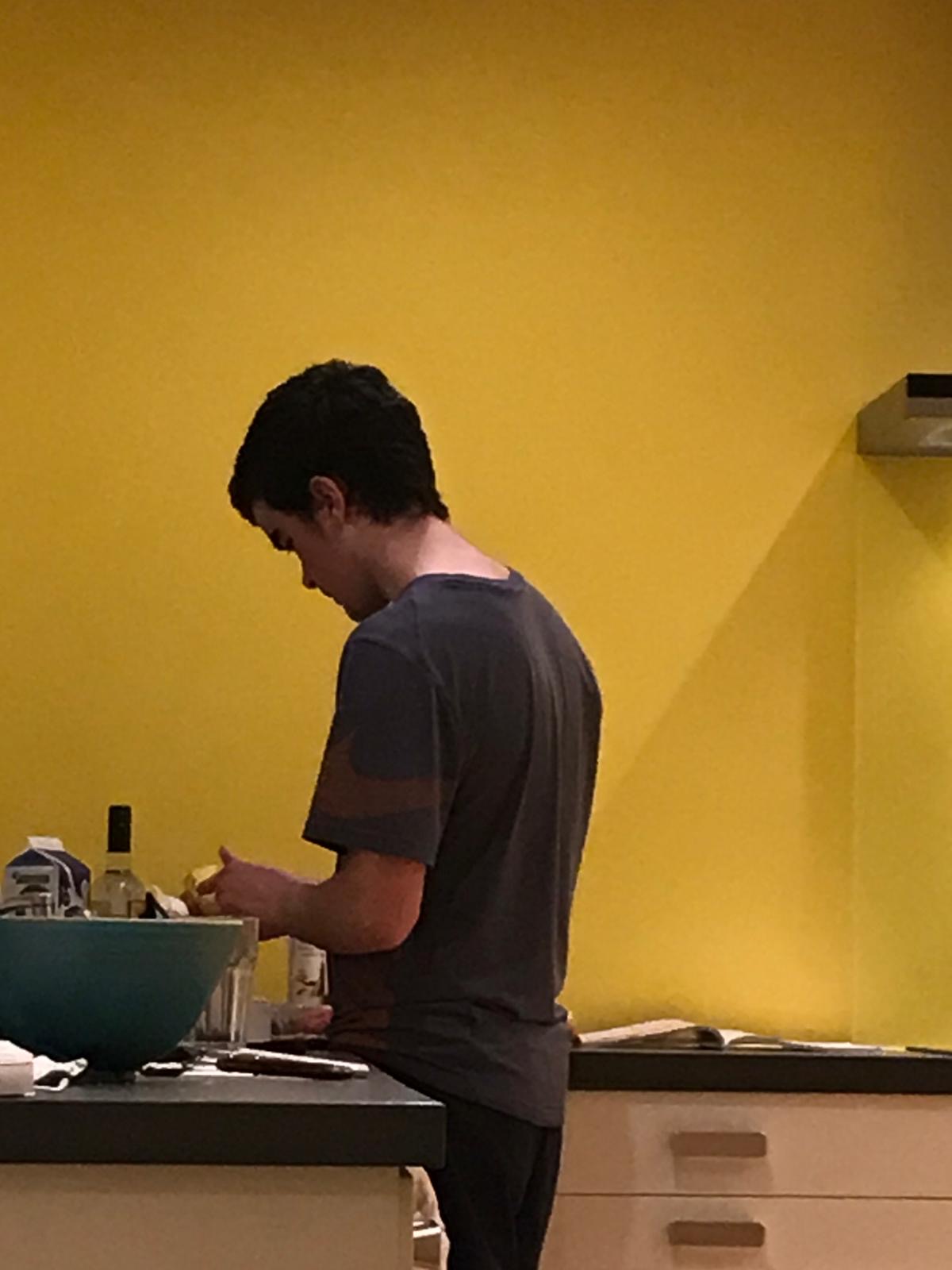 Killian is making Shepherd's Pie from Laura Healy's @ Home with The Practical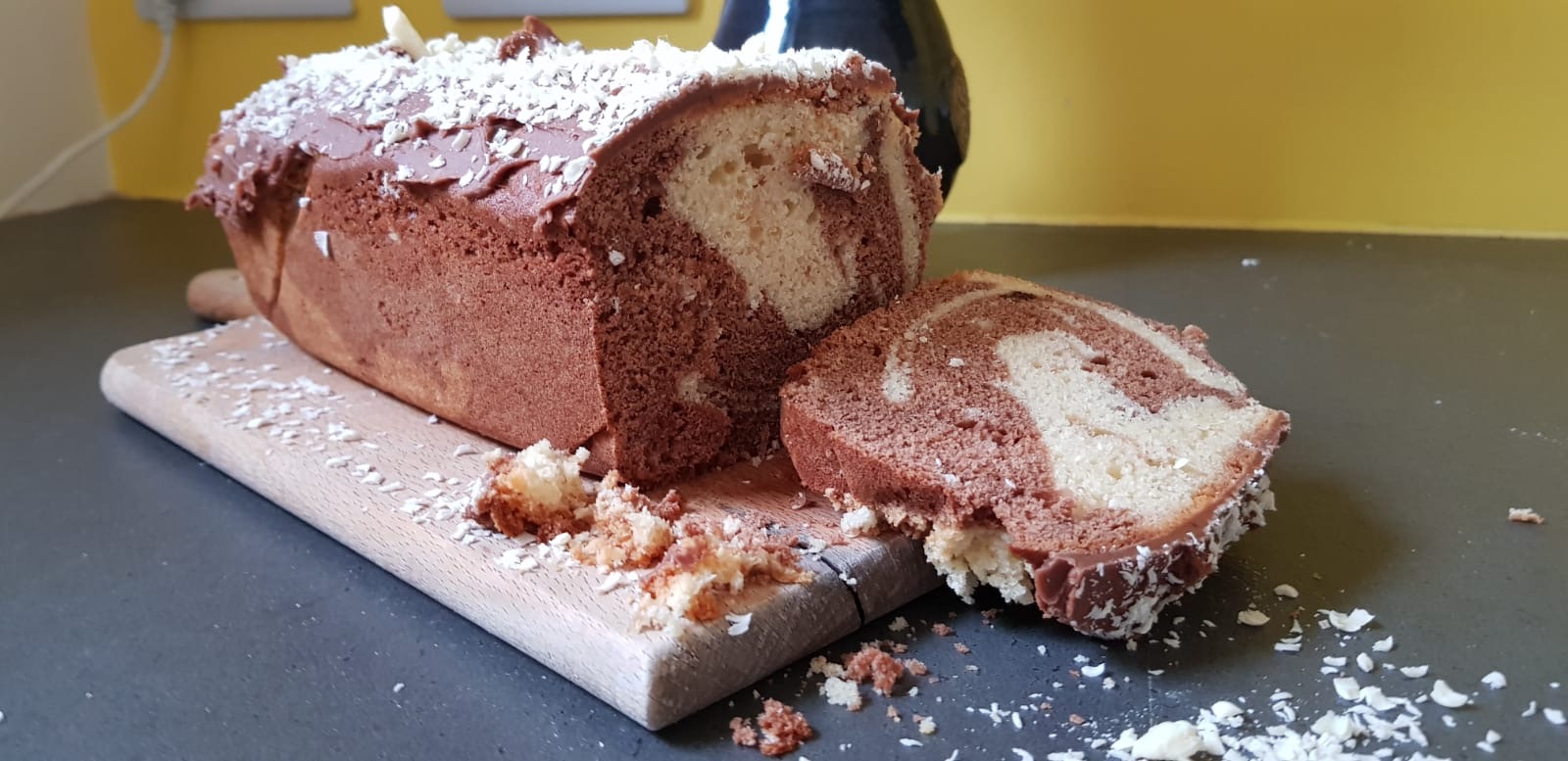 Bobby made the marble cake from @ Home with The Practical.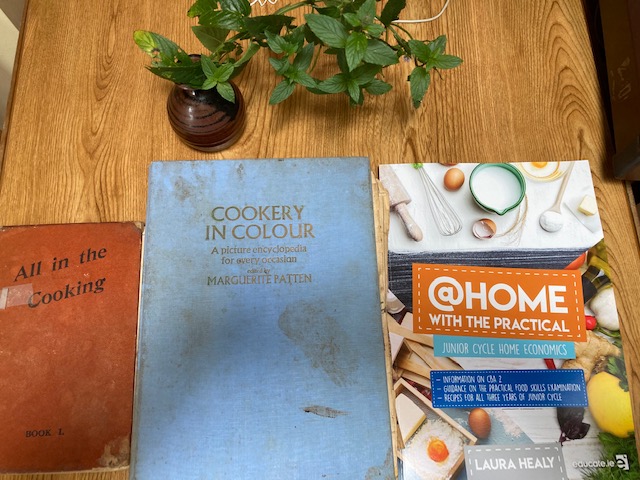 I did Home Economics, or more correctly Cookery, as a subject in primary school. On the left is our cookery book, simple, practical with no colour , no photographs and no frills. I was in national school in a time when many girls left school after the Primary Cert. (there was no free education and no school transport) so it made sense to teach us all the rudiments of cooking early. In 5th and 6th classes we has Cookery once a week and we had an exam at the end, a practical exam that is, where setting a tray, and serving the inspector tea and toast was one girls project. AND there were no toasters in those days either.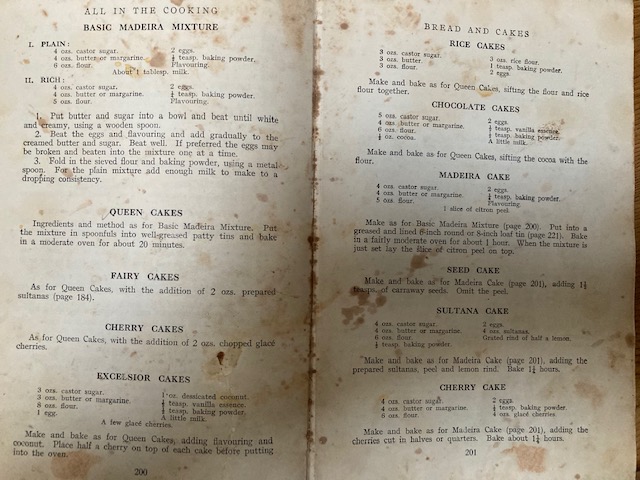 This is a well used page with about a dozen variations on one basic recipe. See what I meant when I said, no frills.
<<<<<<<
A Good Life Lost
The Irish Times is running a series called Lost Lives in tribute to people who have died with Covid 19. Here is what it has about Listowel man, Joe O'Carroll R.I.P.
Joe O'Carroll
1962-2020
Joe O'Carroll was a happy-go-lucky, gentle soul who was deeply connected to his hometown of Listowel and Kerry roots despite living abroad for nearly four decades.
Born on October 1st, 1962, Joe was one of 10 children who grew up on a farm in the townland of Tullamore. His sister Mairéad, who was one year older, recalls the happy years her brother and siblings spent growing up in rural Kerry.
"Life on the farm was mad but they were the happiest times of our lives. Joe was a very happy-go-lucky chap who loved the outdoors and machinery. But like so many others, he went abroad to look for work in construction."
Joe moved to London aged 19 where he started working on a cousin's construction site. He would continue to drive machinery on sites for the rest of his life and returned home to visit family in Listowel twice a year.
Happy
"He loved to go to the Listowel races and always came back at Christmas. It was such a joy for my mother to see him coming through the door, she loved him coming back."
Joe loved Irish music, particularly traditional Irish songs, and never lost his Kerry accent. "It was kind of like he never left home. He spent all those years in London but his Kerry roots were very important to him."
Joe worked long hours in construction and never missed a day's work. "He was happy to get up early in the morning and work hard all day and then meet friends at the weekend," remembers Mairéad. "He had a huge number of friends and was very sociable. He loved hanging out with all nationalities, he got on with everyone.
"He had total generosity of spirit with his time and money and he'd light up a room. He was always smiling."
On March 27th, Mairéad called her brother and discovered he was feeling unwell with a suspected tummy bug. She could hear his laboured breathing on the phone and urged her brother to call the emergency services. Joe was brought by ambulance to the Royal Free Hospital and spoke to his sister by phone on the 28th to reassure her that he was feeling okay.
However, early on March 29th he was transferred to ICU. His family was contacted on April 11th and told his condition had deteriorated and the priest had been called. Joe died on Monday, April 13th aged 57.
"It was devastating, right up until the day he died we never gave up hope. He hadn't been ill before that, he was a very healthy man all his life."
On May 6th, Joe was cremated at Kensal Green in West London. The hearse carrying his body to the crematorium was followed by a JCB draped with the Kerry colours. "All his friends lined the route and the JCB drove behind all the way through the streets of London. It was such a beautiful tribute. He had so many friends, that's the measure of the person he was."
Joe's ashes were sent back to Ireland and he was buried with his father and sister on June 13th in Listowel. "It was deeply upsetting but it gave us some comfort that he was going to join his father. Joe was a beautiful, gentle soul who was dearly loved by family and friends alike."