Jer Kenelly sends us this account of some of Ireland"s unsung heroes
Irish Priest received accolade from Emperor of JapanFr Stan Brennan, Irish priest who received accolade from Emperor of Japan, diesWednesday, July 11th 2012Tributes have been paid to an Irish priest who after he passed awaythis week after a long illness and was one of only eight people in theworld to receive a prestigious honour from the Emperor of Japan.Just last month Roscommon born Fr Stan Brennan received the 6th classGrand Order Award of the Rising Sun Silver and Gold rays for his workin the South African City of Boksburg where he was dedicated to thedevelopment of social welfare and the preservation of the environment.The accolade is awarded by the Japanese Monarch for exceptionalservice internationally. The Franciscan priest had been working inBoksburg since 1965 where he had established projects on education,drug and alcohol abuse, AIDS, childcare and domestic abuse.Born Seamus Brennan, Fr Stan was born in the village of Fuerty inCounty Roscommon in 1929. At an early age, Fr Stan dedicated his lifeto work on the missions in South Africa and arrived in Boksburg inSouth Africa in 1957 after studying in Rome.His first post was as spiritual Director of the Diocesan Seminary inBoksburg and he was later to work in Rieger Park as parish priest ofSaint Francis Church. His greatest work will always be synonymouswith helping AIDS victims.As a Franciscan, he personally took up the challenge and drewsymbolism with the story of St Francis of Assisi who dismounted hisdonkey to assist a leper and confront the general fear people havetowards the disease with human kindness. In 1992 with Fr Stan's helpSr Francis Care Centre in Boksburg opened its doors after a lengthilylegal battle.The clinic prospered and is now funded by George Bush's PEPFARprogramme. St Francis Care Centre administers essential daily ARVtreatment to 4,000 people.As well as his work for AIDS victims, Fr Stan was also involved ineducation and helped fundraise to build Africa's largest second-leveleducation college and technical skills centre.Saint Anthony's College has 5,000 enrolled in its classes every dayand its technical skills training college a further 600 who areobtaining a 45-day crash course in the fundamental skills required insectors like welding, plumbing, car mechanics, dress making as well asa host of other practical courses.In 2004, he started Mercy Haven, a multi-racial drug and alcoholrehabilitation in Boksburg.During his time in the city, he received more than 50 awards and in2009, he received the Michael Memorial Award for dedicating his lifeto the uplifting of the poor.On June 19, last Fr Brennan was too ill to receive his Grand Orderaward. His brother Andy travelled from County Wicklow to receive theaccolade at the Japanese embassy.His funeral will take place in Boksburg on July 12 and afterwards hisremains will be cremated.His ashes are to be spread both at St Francis Care Centre and inCounty Roscommon.The South African ANC party will perform a full guard of honour at thefuneral ceremony.by Sean RyanJuly 2012 Vatican declares Irish Nun Venerable.Venerable Mother M. Angeline Teresa was born Bridget Teresa McCrory onJanuary 21 1893 in Co Tyrone. However, when she was just seven yearsold the family moved from Ireland to Scotland. At nineteen, shejoined the Little Sisters of the Poor and made her novitiate inFrance. The Congregation was engaged in the care of the destituteaged. After profession she was sent to the US.In 1927, she and six other members of the Little Sisters of the Poorwere granted permission by the Vatican to begin a new community thatwould be focused on care of the aged. In 1931, the fledglingcommunity affiliated itself to the Order of Carmel and became known asthe Carmelite Sisters for the Aged and Infirm.When she died on January 21 1984, Mother Angeline Teresa'scongregation had blossomed beyond her expectations. She is rememberedfor having said, "If you have to fail, let it be on the side ofkindness. Be kinder than kindness itself to old people."ST GALL: This year the Abbey of St Gallen in Switzerland iscelebrating the 1400th anniversary of the arrival of St Gall in theregion in 612 AD. St Gallen is situated between the Swiss Alps andLake Constance. St Gall was one of the twelve companions whoaccompanied St Columbanus on his mission to the Continent fromIreland. After his death around 646 AD, a small church was erectedwhich developed into the Abbey of St Gall in the city of St Gallen.This later devloped into one of the largest Benedictine Abbeys inEurope.

I had heard of St. Gall but I had never heard of the other two. Sounds like it is high time their names were known.
>>>>>>>
Video from North Kerry Reaching Out here
http://www.youtube.com/watch?v=I_xtYMYYqzc
>>>>>
Washday in times gone by!!
I think that this photo is posed because the chair , the good dress and the bracelet do not ring true for me but the washtub and the washboard are items that I remember from my childhood.
I remember our first washing machine which we got in 1957.
My mother had to boil water in a Burco boiler to fill it.
She filled the machine with boiling water and turned it on. It washed the clothes. Then each item had to be lifted out with a wooden tongs. The washed item was rinsed in a bucket of cold water before being fed into a mangle/wringer. The mangle was a pair of rollers which, when you turned a handle, squeezed the water out of the clothes. If it was a "whites" wash, here was another final rinse in water coloured blue by a Reckitt's Blud bag. My mother then hung the clothes on the clothesline to dry. Then she proceed to drag the machine to the back door in order to empty it.
Washing was always done on Mondays. it usually took up most of the day.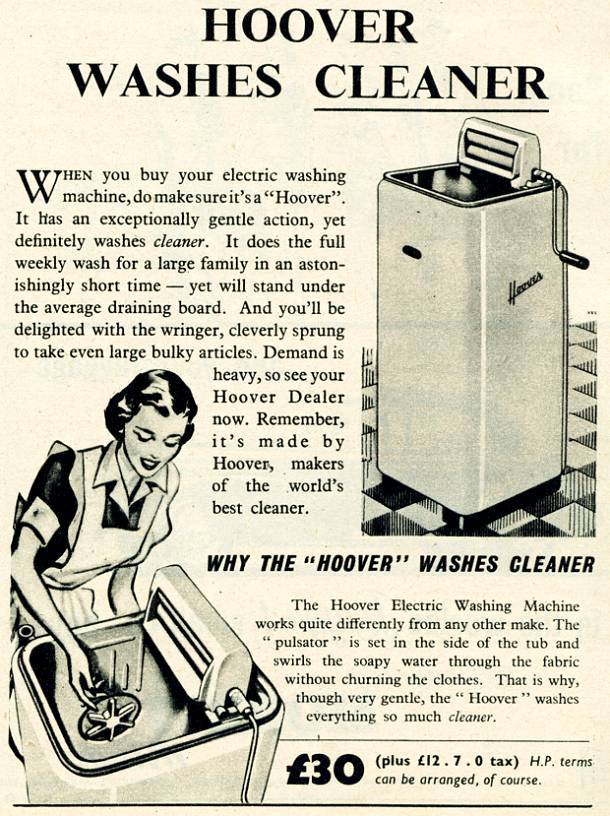 Biological washing powders were a long way off.
Remember this?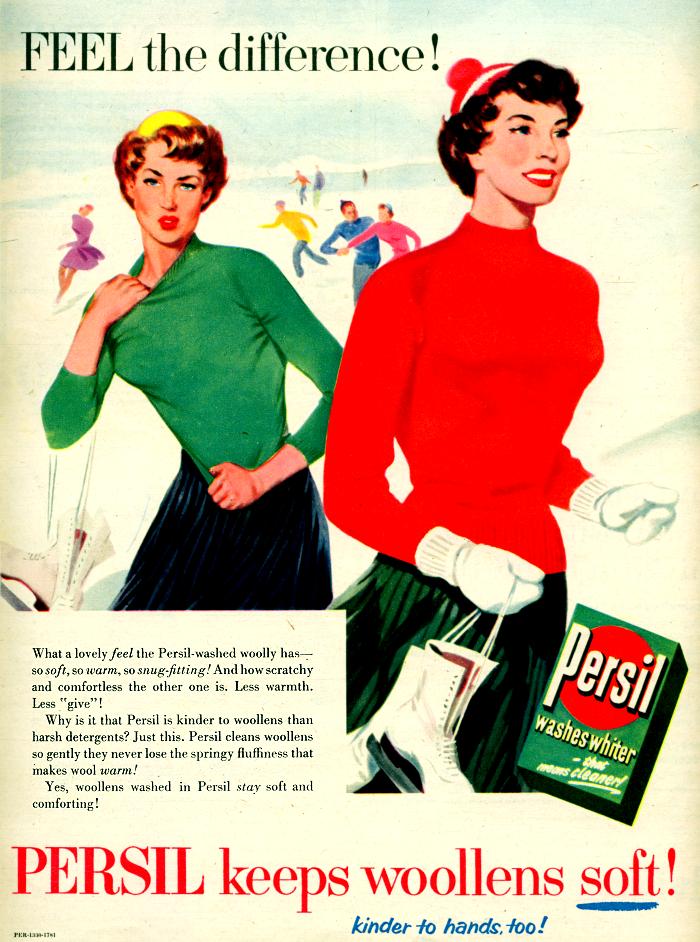 And do you remember when toothpaste came in a tin?
Before this great product hit the shops, some people cleaned their teeth with soot! Yes, soot from the chimney.